Video content, according to the Content Marketing Institute, will account for 55 percent of all the Internet traffic at an increasing pace. It's clear that to stay in the market, creating relevant video content with great landscapes and chirpy background music will capture the attention of your audience.
I've gotten my hands of some of these apps and published video content on my Instagram and Facebook Pages. They've worked really well for me and I would suggest you all to make use of some of these amazing free tools that are out there up for grabs!
Here are 9 Cool Apps you can use anytime on your phone and create some fabulous videos while you're on the go:
#1. Quik
A video editing app created by GoPro which is known for making videos in minutes. With great features they analyze the pictures/ videos selected and immediately select the best moments and also offer you the choice to select them manually.
Features:
75 photos, video clips, boomerangs can be added together to make one video
23 video style themes to choose from. Every theme is designed with different transitions and graphics.
Trim the video according to your convenience. (You can make it fast or slow) Add text overlays, filters, font, title slides and even emojis to enhance your videos.
80+ free songs to choose from. You can also use songs from your own collection.
Easily save your masterpiece right into your gallery. You can also share it via Instagram, WhatsApp, Facebook, text, mail and many more. There is an option to fit the video to make it more Instagram-friendly.
Pricing: Free
Compatibility: Compatible with iPhone, iPad, iPod touch (iOS 9.0 or later) and Android.
#2. Filmora Go
An incredible video editing app with effects which will give you stunning videos. It helps in making funny videos and relive memories anywhere.
Share your work on Facebook, YouTube, Instagram, WhatsApp, Vimeo, Tumblr and Email.
Fascinating themes and filters to choose with full featured editing tools.
With the PIP feature you can add picture-in-picture and create stunning videos.
Transitions like wipe, dissolve, shutter, slip and zoom to seamlessly combine videos. Still, motion, slow down and speed up, reverse features are available as well.
The best thing about this tool is that it can be fit into various kinds of ratios. The app also has preset soundtracks with customizable soundtracks option as well.
The watermark is present
Pricing: Free
Compatibility:  Android (4.2 and above) iPhone, iPad, iPod (9.0 and above)
#3. Videoshow
VideoShow is a 3-minute video editing app that can treasure your special moments forever.
This all in one editor allows you to cut, trim, convert, compress, convert the video to personalized GIF and beautify it with text.
Video dubbing allows you to add your own voiceover and change that according to your preference. Also, make doodles on your videos to enhance it more.
With powerful shooting add motion stickers, selfie filters, GIFs
Professional editing features like fast/slow motion, reverse, zoom in/zoom out, rotate and split.
Square themes for Instagram users
Colourful effects like stickers, filters, motion texts, FX transition
Supports more than 30 languages and offers easy sharing on Facebook, YouTube, WhatsApp, SnapChat, Vine, Wechat, Vimeo etc.
Price: Free
Compatibility: Android, iPhone, iPad, iPod (9.0 and above)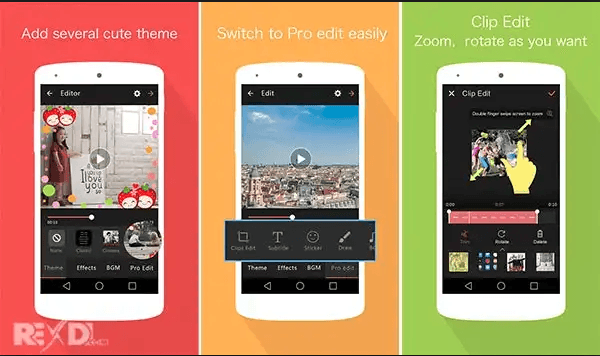 #4. Kinemaster
A fully-featured professional video editing app equipped with variety of tools that can help in creating high-quality videos.
Features:
Multiple layers for videos, images, text, stickers, and handwriting. Added features like B-roll, Chroma key, and PIP.
Frame by frame trimming, slicing and splicing
Transition effects like 3D, wipes, fades and a lot more.
Free music available and additional can be downloaded. Also offers a variety of animations and visual effects.
Price: Free to download and for a few features with the KINEMASTER watermark.
Other than this, they have two plans:
Monthly subscription: 3.56 € p/m
Annual subscription: 28.46€ p/m
In the paid version you can
Export your video without the watermark
You can make use of premium assets and libraries that are available at the store
Make use of the Chroma key feature which is not even available as an option in the free version
Compatibility: Android, iPhone/iPad, Web-based
#5. Viva Video
Viva Video is an incredible video editor, photo slideshow maker and a movie editing app.
Features:
Trim, merge and add subtitles with transitions and live subtitles/dubbing to your video clips with professional editing tools.
With color reverse and background, effects add texts, fonts, FX, animated stickers, music, and filters.
Exclusive selfie camera with multiple fascinating lenses which can optimize your selfies in a natural and whitening way.
Slideshow maker that can easily turn your photos into a movie masterpiece and create slideshow in just a few clicks.
Price: Free
Compatibility: iPhone and Android
#6. VUE
VUE is a video camera and editor tool helping users capture art videos to make their moments more memorable. It gives excellent opportunities to create cinematic videos.
Feature:
12 filters from film professionals that can cater to your needs like documentary effects and artistic expressions.
30+ designer stickers from weather conditions to emoticons
The montage effect via juxtaposition in up to 60 seconds of video
Wide and ultra-wide ratio aspect is supported which complies with the standard of the video.
Add background music to enhance your videos and then keep sharing!
Price: Free
Compatibility: iPhone and Android
#7. Alive
Alive is a Video Editor, iMovie Maker, Photo slideshow editor and YouTube film making app. With its intuitive video editing tools all you have to do is add and change animation effects according to your requirements.
Features:
Trim, crop and record. Add motion track animation and easily format it to cinema or square.
Moving filters like lens flares, film effects, light leaks, and light overlays with dynamic filters that can make your videos stand out.
Text effects allow you to custom design text in calligraphy, typography, add comic bubbles and emojis. Add even titles and subtitles.
Video effects such as infographics, natural effects, explosions and transitions, light rays and many more can be added to the videos from the library itself. With it add your own music track or music from Alive's library and then easily share your masterpieces.
Price: 100% free
Compatibility: Android
#8. InShot
InShot is an app I personally use a lot for my Instagram posts. It allows me to add stickers and also top and bottom strips where I can add text with some of its other amazing features.
Features:
Trim your videos as you require
Merge/join two or more videos
Video compressor allows you to change the aspect ratio
Add stickers and subtitles choosing from an array of options
Speed control feature allows you to speed up or slow your videos down
Pricing: Free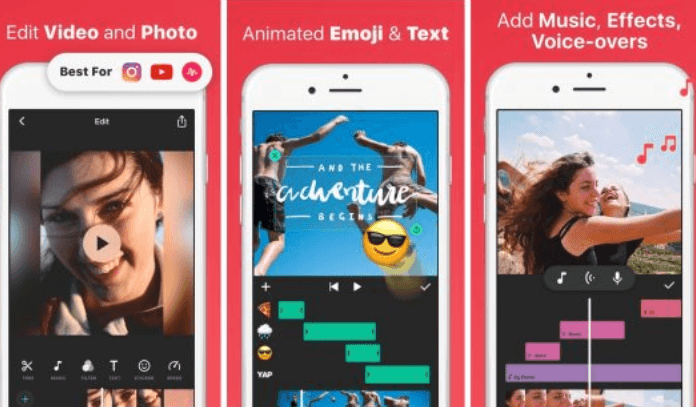 #9. Magisto: 
Magisto is a Video Maker and Smart Editor that allows you to create outstanding videos in a matter of minutes. It helps you in making scintillating videos for your social media platforms to grow your followers and become an influencer.
Features:
Preset styles like birthday video, wedding video, real estate video etc. that you can choose from
Automatically makes movies out of your gallery and presents it as a surprise video
Single tap sharing directly to your social media profiles
AI that auto-detects the best parts of your video to suggest for the final out
What video tools do you use on a regular basis for your social media posts? Let me know in the comments section below!