Google Analytics platform has been a saviour for marketers, bloggers and publishers for all the traffic data it offers for free or for the minimum premium. For a digital marketer it is necessary to be analytically strong in order to evaluate the results of the campaigns, accuracy of traffic sources, track conversions of advertisement campaigns and understand the website / blog/ portal visitor's behaviour. Google analytics is free of cost to try, you just have to login using your gmail on Google Analytics platform.
Google has a Google Analytics Academy which has video tutorials and recorded events from the stalwarts of Digital Marketing Analytics industry: Avinash Kaushik, Justin Cutroni, Paul Muret and more.
Analytics Academy has about 22 video tutorials which can be accessed for free on YouTube. Here is a video sample from the academy:
Taking Up Google Analytics Exam for Certification: 
This exam includes both the basic and advanced concepts. The topic covered are:  1) planning and principles, 2) implementation and data collection, 3) configuration and administration, 4) conversion and attribution, 5) reports, metrics, and dimensions. The online exam has about 70 questions which needs to be answered in 90 minutes and the validity of the certification received is for 18 months whereas, the validity of Google Adwords Certification is just 12 months.
How to Prepare for the Exam?
Follow the Exam Study Guide. This course has 4 lessons only:

Lesson 1: Digital Analytics Fundamentals (Learn the basics of Google analytics here. This will help you understand the principles and help you create a measurement plan for your business. You can understand the possible objectives that you can set for your business from this lesson).
Lesson 2: Google Analytics Platform Principles (For you to discover analytics you should learn every single attribute of the google analytics platform. This guide will help you implement the google analytics basics and organize the business data that you need for reporting and analysis)
Lesson 3: Ecommerce Analytics (Ecommerce analytics is about setting up the right goal and defining a value, this guide will help you make your ecommerce experience analytically strong. Suggestive of learning this course in detail and practise it with a startup ecommerce company).
Lesson 4: Mobile App Analytics Fundamentals (Remember 2020 is the era of Mobile applications! By learning this you are mastering the complete analytics)
Sample Google Analytics Examination Questions for your reference.
Tips for Cracking Google Analytics Exam: 
Don't plainly take this exam without any practise. I would not recommend you to study the material unless you practically experience the platform. So start a blog and integrate Google Analytics and start analysing data.
Get your blog indexed on Google. Write blog posts and add a UTM code to the same before you start promoting it on Social Media channels, this will immensely help you track accurate data.
Set up Goals on Google Analytics platform and give a conversion value in order to understand how it completely works.
Analyse both real time and recorded data and draw distinctions from both.
Write down 10 things you understand about your business from Google Analytics. For example: I work with one of the leading Dental Clinic Chain of India and after discovering their data of 2014 we realised majority of the visitors are expensive mobile phone users and this immensely helped us understand that we will have to communicate about costs to the world so that we can break the myth that the treatments offered are expensive.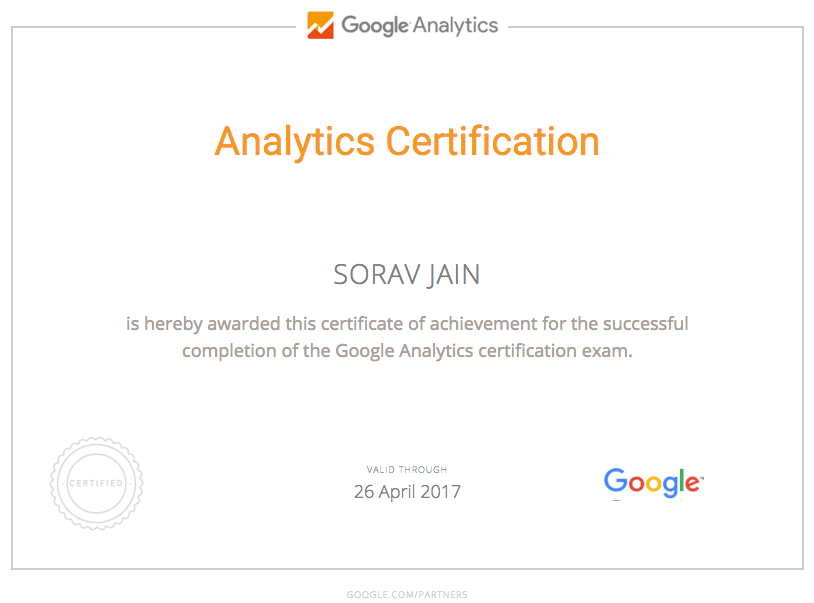 I hope you will work towards getting your Google Analytics Certification. I have also compiled a blog post on 'How to Get Google Adwords Certification do read to learn and explore how to add that certificate in your kitty.