As a blogger and an author, one of the biggest challenges I face are spelling mistakes and grammatical errors. Proofreading an article is a tedious task; I always outsource this particular task to save time and to ensure that the blog posts submitted are perfect. I found a new tool in the market called 'Grammarly' – this tool has helped me greatly to eliminate the mistakes, to run a spell check and has enhanced my vocabulary skills. This blog post is all about how you can write better without having an English professor breathing down your neck. Grammarly infact is a better alternative.
5 Noticeable Things About Grammarly:
No 1: Grammarly is flexible with its usage and gets quickly integrated with your browser. So next time when you draft an email, update a status or your blog, you will see Grammarly working for you.
No 2: Grammarly detects all the errors and gives an immediate solution with corresponding examples.
No 3: There is a paid version and a free version. The free version comes for a lifetime but works with limitations. Grammarly is now offering a discount for its free version users. You'll see the premium version is available with an annual plan of $11.66/month. You can also avail the one-week-money-back-guarantee policy, if not satisfied.
No 4: A plagiarism checker is also available in Grammarly. You can easily copy-paste or write the text which is to be checked in the text box and run it for plagiarism. Grammarly compares the text with billion other documents that are put up online.
No 5: It analyzes your strengths and weakness by giving you scores on every document that you've verified.
10 English Problems that Grammarly Solves
Rectifies spelling error.
Helps with punctuations.
Displays the wrong usage of a preposition.
Gives synonyms in the form of alternatives for words.
Helps in changing the style/ structure of the sentence.
Omits the excessive usage of words, if any.
Shows confused or misled words present in the document.
Enhances your vocabulary and suggest citations.
Comes with a built-in personal dictionary to save your words.
Option to change British English to American or vice versa.
Difference between Paid and Free Feature of Grammarly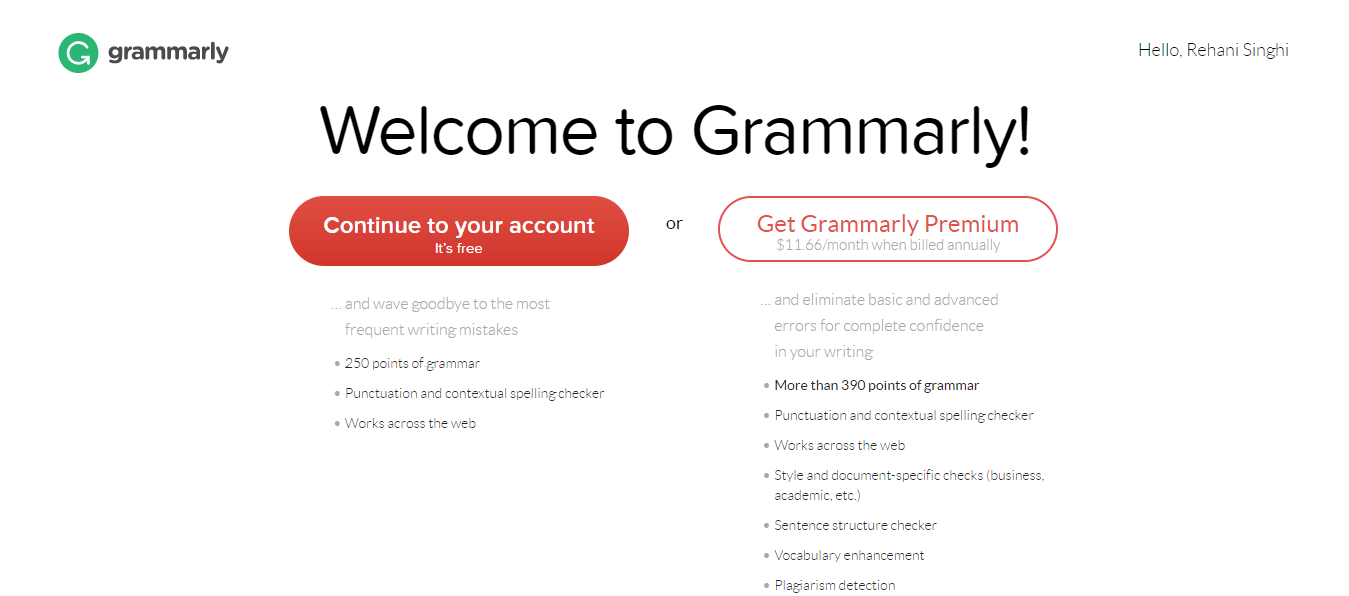 Some loopholes of Grammarly tool:
Grammarly cannot match up with a human proofreader. Often, it overlooks the mistakes and does not give due feedback. Grammarly does offer to its users, a human proofreader who charges USD.02 a word, though I didn't test this feature.
Step by Step Process to Install Grammarly in your Browser:
Click on grammarly.com to get started or click on the banner below: 

Step 1: Click on Add to Chrome and create an account by filling in the following details.
Name
Email
Password
Select what describes you the best
After submitting the info you'll be redirected to a page which will ask you for payment. You can also choose the free version if you don't have enough budget. After choosing the package of your criteria you're officially signed into Grammarly.
Step 2: You can download Grammarly for Chrome browser so that it can detect errors while you type.
Step 3: The next way to use this Grammarly is by uploading the document. You can also copy/paste it by clicking on New and then pasting it in the text box.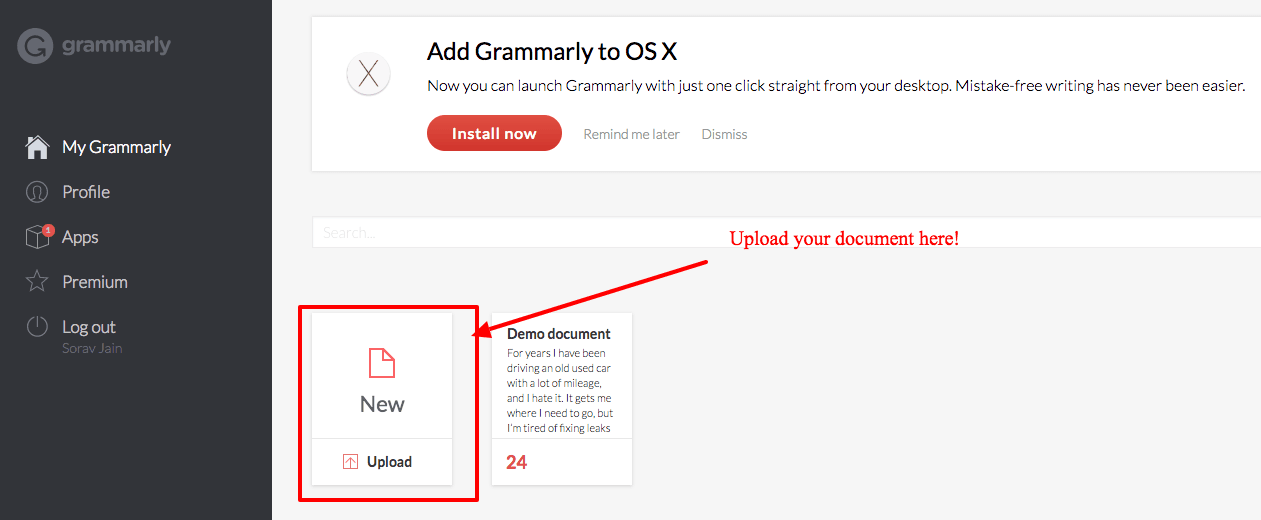 Step 3: After uploading the text, all the mistakes are reflected in red and green. You can know more about the mistakes by clicking on the drop box that appears on the same line as that of the mistake. The document that I checked showed a total of 4 critical issues and 1 advanced issue which appeared on the bottom of the page.
After having used Grammarly, I personally think that it's great. The premium pack is useful, affordable and gives an advanced research. Students, teachers, beginners and even writers can make use of this digital mentor called Grammarly and keep their writings error free.
So have you used Grammarly already or have you not? Do let us know!