Instagram just proved that it's far from done with Snapchat. Instagram's latest big announcement rolling out over the next few months– is bringing live-streaming to Stories and disappearing photos and videos to direct messaging.
The photo-sharing app has an interesting approach to live-streaming, taking a different angle to Facebook Live and Periscope. Instagram live is designed to allow a user to live stream to their followers. To start a live broadcast, just swipe right from your feed and tap the Start Live Video button. Once you go 'live,' Instagram selects followers who have shown interest in Live video and push notify them on the stream. When you're broadcasting, your friends will be able to see that you're live via your Stories icon in the app – a 'Live' badge will be attached to your picture.
Once streaming, followers can add comments or tap to add hearts. The streamer can opt to pin the top comments or not display anything. Tools have already been put into place to block or report users who harass them. The live content on Instagram only exists while it's happening. As soon as the broadcast is over, it's gone. The update will not allow for replays.
Instagram is also adding a 'Top Live Videos' section within the Explore tab to highlight live content happening at any given time. The listing will be displayed based on view count, relative geography and language for each user, the purpose being to showcase the most engaging examples.Interestingly, this will give celebrities, in particular, another way to reach a wider audience.
Disappearing Messages
If you'd rather send a message that deletes itself after a set amount of time, you'll be able to do that now too. Given the rising interest in messaging on the platform, Instagram's working to enhance this with an option to send photos and videos that auto-erase upon viewing.When you swipe right to open your camera and snap a photo or video, you'll get an option to send a disappearing message to your friends privately, just like Snapchat or send it to a group, which is unavailable on Snapchat. Recipients can replay each message once and you would receive a notification if someone has taken a screenshot or replayed any message that you've sent.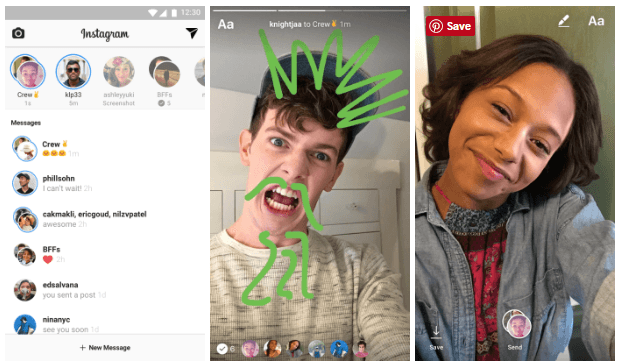 The tools are clearly more focused on individual sharing, as opposed to broadcasting. Let's watch out if the new features will win more audience from Snapchat.