It's the era of Instagram! Over the years, many Social Media platform rose to fame and had their peak points where they flourished. This space was dominated by Facebook for almost a decade. But now, beating this giant is its own subsidiary, Instagram.
Facebook acquired Instagram in 2012, and that proved to be one of the most successful deals for the parent company. The photo-sharing app soon became a hit with its easy to use interface and instant photo sharing features.
The popularity grew among the youth rapidly and the stats which came in were insane. Check them out:
Here are a few Instagram Usage Statistics:
Instagram was fast enough to touch the 1 billion user mark with its popularity among the youth. The growth of usage of Instagram is a great success story when seen in numbers:
Instagram has over 1 billion monthly active users.
Instagram is the 6th most popular social platform in the world after WeChat
5 PM on Wednesday is considered the best time post on Instagram.
Selena Gomez has highest followers with over 124 million followed by Cristiano Ronaldo with 108 million audiences.
It is predicted that by the end of 2019, Instagram will have ad revenue of $10 billion.
Instagram has 2 million monthly active advertisers.
The cost of Instagram ads is higher than Facebook ads.
Take a look at stats relating to the User's activities:
Apart from easy photo uploading, Instagram has tones of other options that are easy to use and interactive. Stories, filters, IGTV and many more features on the app makes the users spend more time on Instagram.
Instagram is 2nd most engaging network after Facebook with more than 60% of its users log in to their account.
There are 500 million daily active users on Instagram
More than 400 million users use "stories" feature per day.
Over 51% of users access Instagram daily, 35% access it several times a day.
Every day over 95 million photos and videos are shared on Instagram.
Instagram is the most important social platform for 32% of teenagers.
8% of accounts are predicted to be fakes on the platform.
Take a look at the Engagement Statistics on Instagram:
Double tap has made the like option on Instagram different from the rest and easy to use. It connected well with the Millenials. And searching similar posts with hashtags is yet another feature that worked in Instagram's favor.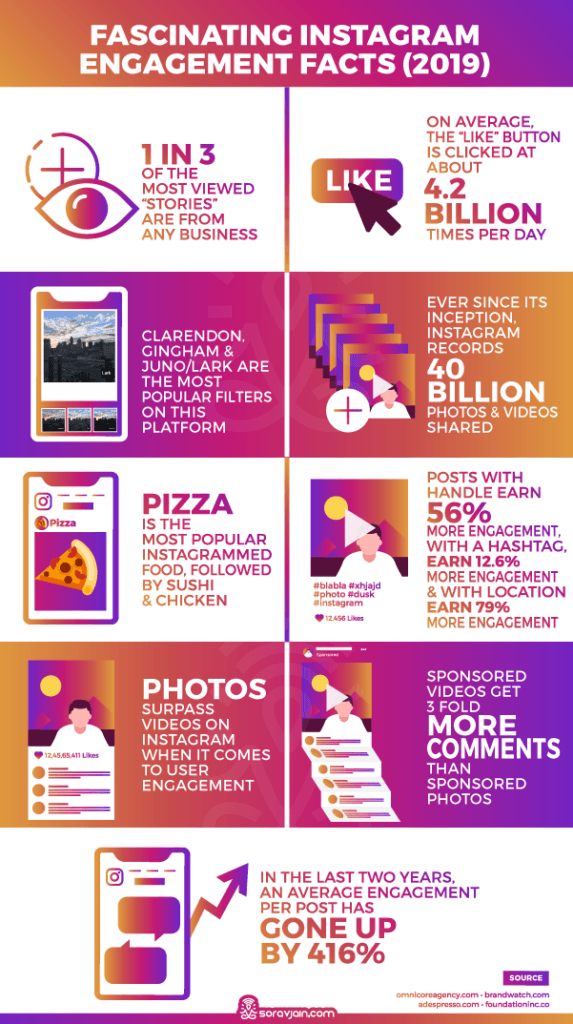 1 in 3 of the most viewed "Stories" are from businesses.
On average, the "Like" button` is clicked at about 4.2 billion times per day.
Clarendon, Gingham and Juno/Lark are the most popular filters on this platform.
Ever since its inception, Instagram records 40 billion photos and videos shared.
Pizza is the most popular Instagrammed food, followed by Sushi and Chicken.
Posts with handle earn 56% more engagement, with a Hashtag, earn 12.6% more engagement and with location earn 79% more engagement.
Photos surpass videos on Instagram when it comes to user engagement.
Sponsored videos get 3 fold more comments than sponsored photos.
In the last two years, an average engagement per post has gone up by 416%.
How brands play the Instagram game:
Being a photo sharing app, Instagram has made brands to be creative, which connected well with the audience. Many brands have fared really well on Instagram that made the app and important arsenal in their Digital Marketing Strategy.
This platform has 10 times higher engagement with brands than Facebook.
4% of brand's total followers engage with them regularly.
A brand on an average post 28 times in a month
70% of users search for brands on Instagram, making it important for Brands to maintain an account.
More than 60% of the users say they learn about a product, service or brand on Instagram.
90% of the top 100 brands in the world have an Instagram account.
Indians on Instagram:
India has the 3rd largest user base in the world after the U.S. and Brazil. Here a few Indian stats related to Instagram: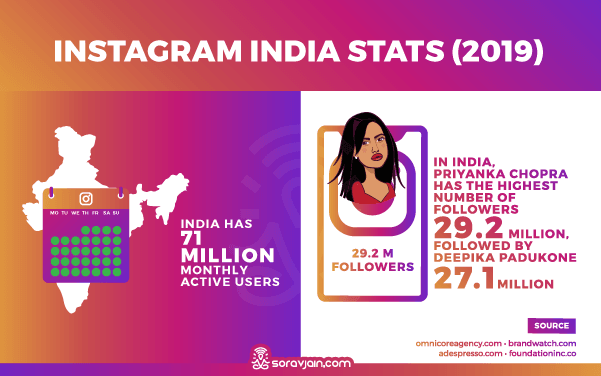 India has 71 million monthly active users.
In India, Priyanka Chopra has the highest number of followers – 29.2 million, followed by Deepika Padukone – 27.1 million.
Instagram Demographics:
The demographic data of Instagram wasn't a surprise. Being a more youth-centric app, Instagram does not have many people over the age of 40. Here are a few demographic stats of the app: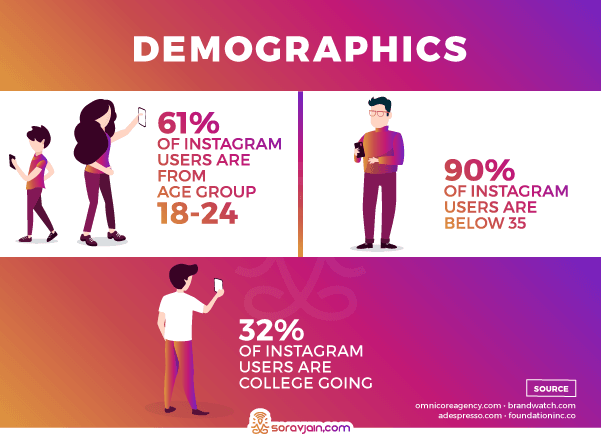 61% of Instagram users are from age group 18-24
90% of Instagram users are below 35.
32% of Instagram users are college going.
These statistics prove how far the reach of Instagram is. It is the most happening app right now and will continue to grow for a while. Creativity is the key to success here and that is how the brands play. What are your thoughts about the app the world is talking about?