Advertiser's request of sharing sequenced stories in beautiful and compelling ways has been accepted by Instagram. After a month long of trial with its non-profit partner Pencils of Promise, Instagram is now rolling out carousel-style ads for all advertisers and already been used by many including, Banana Republic, Old Navy, L'Oreal Paris and Samsung. Carousel is nothing but a post with multiple photos and a call to action button that user can flip through more like a slideshow. It also comes with a Call to Action button, which redirect user to a website to learn. You can have up to five elements on Instagram ads, Video and Photos adding 60 seconds of video capped.
 "you have the ability to share a combination of static photos and video with carousel ads. The swipeable ad format lets businesses showcase three to five videos or photos within the same ad unit. That means you can use any combination of videos or photos you'd like. Advertisers also have full control of the order of the content, so photos and videos will appear in a sequence you choose" added by Instagram Business Blog
Here is how Old Nayy's Carousel Ad look like: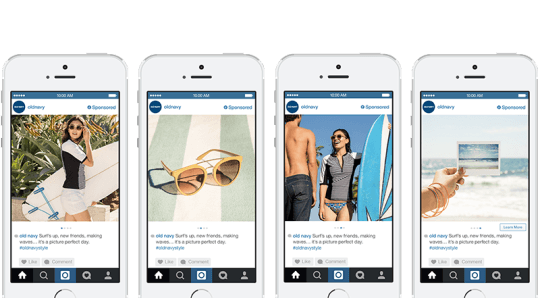 Old Navy's Carousel ad display different ways the brand offers on trend to their targeted audience:
Here is how L'Oreal Paris Carousel Ad look like: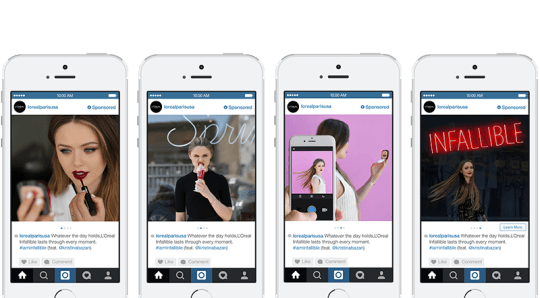 Nicely put forward using carousal-style ad to explain the longevity of L'Oreal Paris Infallible Makeup line:
How Carousel Ads can be Trendy?
Here are some stats advertisers should consider:
People watching videos on Instagram has been increased over 40%
More than 300 Million active users on Instagram – Surely advertisers need to pay attention here.
30 Billion photos shared per month and 70 million photos per day.
Instagram's mobile ad revenue for the year 2015 was $595 and expected to grow 2.81 billion by 2017.
46% of marketers believe adding photos are crucial to their marketing and storytelling strategies.
Content with relevant images grab 94% more views that without.
85 percent of top brands make use of Instagram for their business causing then 4.21% per-follower engagement rate.
Photos engagement on is half a time higher than video engagement on Instagram.
74% of all Internet traffic is expected to come from video by 2017.
Along with releasing Carousel ads for all, Instagram also announced this long-awaited feature called Instagram Business Profiles. Now every company with business profile will have access to its new analytics including followers demographics, impression, gender and age and reach and more.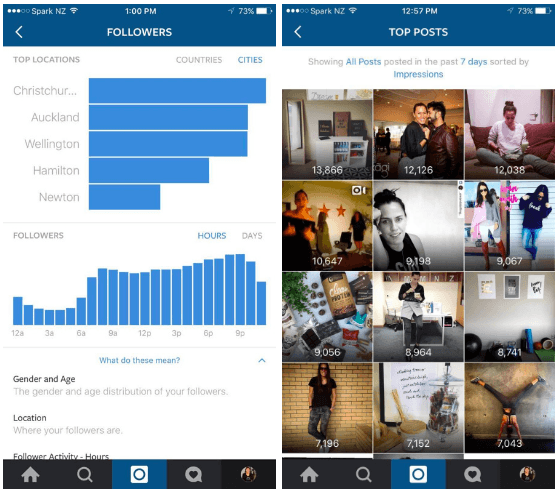 All new analytics will be called as "Insights" which is segregated in two areas – followers demographic (Gender, age and location) and post analytics (Impression, reach, clicks, and activities). Along with that a new "White Contact Button" has been added beside the "follow" button for user to easily contact brands and business owners. Many features that were lagging behind Facebook Analytics have now been added, so that it benefits both advertisers and users. Here is the first look of new Instagram analytics from Later.com