Introduction:
The biggest and the most happening carnival of India has taken over the nation by storm yet again. The teams are fighting day after day, turf after turf, just for that one top spot. And what does that signify? Months of pure entertainment for cricket fanatics around the world.
While there is action going on between the teams on-screen, there is a lot more going on behind it. With teams having their own TV shows, Ad campaigns, Sponsorship programs, Online series, Social Media Campaigns, and a lot more than what meets the eye, IPL is heaven for marketers to learn from.
Let's have a look at what goes on into a very flavorful dish that is IPL.
The Digital Points Table:
The points table on their Social Media looks pretty much the same how the actual points table of the IPL teams was, with a few exceptions. The teams that were consistent and winning throughout the 11 seasons of IPL are seen having more Social Media Following than the rest.  And hence you can see Mumbai Indians (3 wins), Chennai Super Kings (3 wins) and Kolkata Knight Riders (2 wins) with a surge in their follower count.
Yet another reason a few Teams have a great follower count is their affiliations with popular stars, brands and franchises. Some of the best examples of such partnerships are Mumbai Indians and the Reliance Group, Royal Challengers Bangalore and Kingfisher and Kolkata Knight Riders and Shah Rukh Khan.
Being played the most number of matches and won the most number of times, CSK and MI own the Social Media game. Or is that because of their popularity on Social Media and the ability to pull more crowd and more brands, they are seen till the playoffs or even finals season after season? Let' see if the trend continues this season? Oh..wait.
HashTags:
Every year, the few months are dedicated to some super viral Hashtags, courtesy, the IPL. The craze begins in the early months of the New Year when the IPL Auction takes place and each minute of it is tweeted about by thousands of fans with the Hashtag #IPLAuction. This trends online for 2-3 days where people talk about their favorite players changing teams, most valuable players and many other topical discussions.
When the Season begins, the official handle of the IPL account gives updates about each and every happening of the match, ball by ball, and with a common hashtag, interact with every fan watching the match. And automatically, the hashtag #VIVOIPL trends worldwide, for the entire 2 months course of IPL.
Who gets the maximum User-Generated Content on Social Media?
The clutter about the team was directly proportional to their performances in IPL. Let's take a look at the most talked about teams: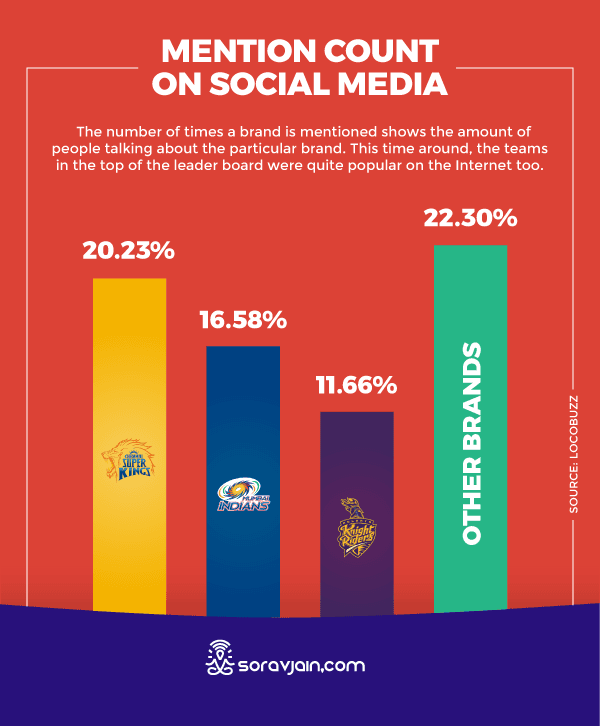 Source: Locobuzz
We used a tool called Locobuzz to listen to the sentiments of people with respect to
IPL. There were major mentions about CSK and Mumbai Indians when compared to
other brands accumulative of all platforms.
Which Team had the highest Engagement Rate?
The engagement by and with the teams had nothing to do with their number of followers. Where Kolkata has more followers than Chennai and Mumbai, the engagement of Kolkata was lesser than their followers, whereas for Chennai and Mumbai it almost tripled.
Source: Semrush
Which was the most popular team based on the search volume?
Compared to last year's search volume, this year's search volume per month was relatively low.
This might be for the fact that the IPL was sandwiched between two major happenings in India, which the Internet is crazily talking about, which didn't give the netizens enough time to dedicate to the IPL.
It fell right in line with the 2019 General Elections, which was trending for a long time and was preceded by the 2019 Cricket World Cup, which the entire cricket fraternity is waiting for.
Source: Semrush
A Mixed Feeling
Even after the drop in search volume, Social Media had enough to talk about. There were positives and negatives.
But not everything mentioned about a certain team was positive, with every match, there were some high moments and some lows and the users across the Social Media were quick enough to point that out. With a series of bad performances in the end with 6 losses and some tension within their camp, KKR disappointed their fans in spite of starting with a high with Andre Russell's heroics. And this is evident with them being highest on the list of negative engagement. The same reason can be said for Rajasthan that were at the bottom of the table along with RCB.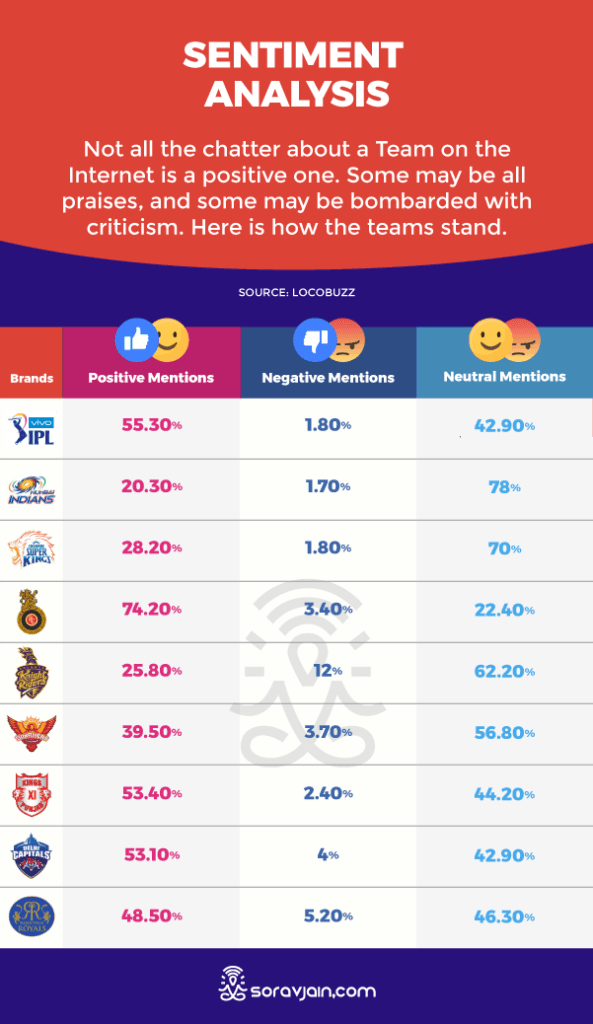 DIFFERENT TYPES OF CONTENTS USED BY THE TEAMS DURING THE IPL:
1. GIFs and Sticker Takeover:
GIFs and Stickers were integrated into many platforms due to their ability to express emotions in a very easy and interactive way. This being said, a few teams saw that as a great opportunity to make their presence even more prominent by getting a photo shoot done and rolling out their own GIFs and Stickers.
[Best_Wordpress_Gallery id="11″ gal_title="IPL"]
Kolkata has probably the biggest collection of stickers and GIFs involving all their players in their roster. Mumbai, being the most popular IPL team in Instagram and Twitter, didn't miss out on this feature as well. Rajasthan is the only other team to join the Sticker gang with a few hand-picked ones on Instagram.
These stickers were widely and creatively used, and there was no better way to add the creative edge to the User Generated Content.
2. Festival Posts:
IPL fever is sort of fixed year after year to the month of March to May, and any festivals falling in those months call for a campaign within the team members. They capitalize on these celebrations to expand their Social Media fan base. Fans enjoy getting a sneak peek into the dressing room and watch their favorite players, Domestic and Foreign alike, celebrate their favorite festival. A simple technique to make people follow them is, keeping it as personal as possible and knowing where the team stands among the audience. Here are some regional and national festivals celebrated by the teams.
Holi:
[Best_Wordpress_Gallery id="12″ gal_title="Holi"]
Easter:
[Best_Wordpress_Gallery id="14″ gal_title="Easter"]
3. Vernacular Language Content:
Every team used their Vernacular treasure box to connect with their fans online. And this brings crazy engagements to them.
[Best_Wordpress_Gallery id="16″ gal_title="Vernacular Language Content"]
This Tamil new year CSK team members practised a few words from the Tamil script, wrote it down and displayed it to the fans in this Viral Video.
The fans embrace this campaign very well. Apart from this, RCB and Punjab were also seen frequently engaging with their followers in their native slangs and languages.
4. Video Anthems
Right from IPL in 2008, every team has their own Theme Anthems, some in English and some in their Native language. The 'Korbo Lorbo Jeetbo' by KKR with SRK's dance album is still a huge hit in the IPL market. This year around the team Delhi had a complete revamp, both in name and game. This called for an entire branding campaign, and we had a lot to learn from this.
Their anthem for the season was an interesting one and so was their hashtag #ThisisNewDelhi. It was fresh, lively, funky and full of colours. It seemed like they wanted to target the younger crowd. Delhi Capitals is also a team with young players and that was why they wanted that appeal. This video was promoted in all their digital platforms.
Delhi Capitals targeted youth this season on their Digital front, by sharing videos of the youngsters Dancing on their soundtrack.
Involving and encouraging people to post and market their Brand was a well-received move that worked in the favor of  Delhi.
5. Social Media CSR:
Corporate Social Responsibility, in spite of being a mandatory corporate practice, has been a big tool to boost and market a brand online. And few IPL teams used this tool to win over their fans. Some of the most successful campaigns that stood out were:
ESA(Education and sports for all) by the MI:
Remember seeing Mumbai Indian Ads with children? Yes, every year during the IPL season, you would be able to see ESA in a lot of MI's marketing initiatives.
Reliance group runs an initiative to provide unbiased sports and education to children all over India. MI has been supporting this initiative since 2010. It is focused on developing the quality of the sporting ecosystem in India by providing, facilities, coaching and equipment for underprivileged and specially-abled kids.
They promote it by adding various Social Media posts, running TV ads and bringing children to view a Mumbai match in the stadium. Their owner Neeta Ambani is the face of the campaign and is present along with the kids in all the fronts.
Green Initiative by RCB:
The go green initiative was started by RCB in the year 2011(IPL 4) and is being followed every year since then. In the initiative, one match in season is played by RCB in Green jerseys to show their support on environment conservation. The Captain of the RCB team shares a plant with the opposition captain during the toss to spread the message.
Apart from this, RCB has been a part of many such campaigns. In 2016, RCB players took a rickshaw to the stadium to send a message on fuel conservation.
 6. Women's IPL: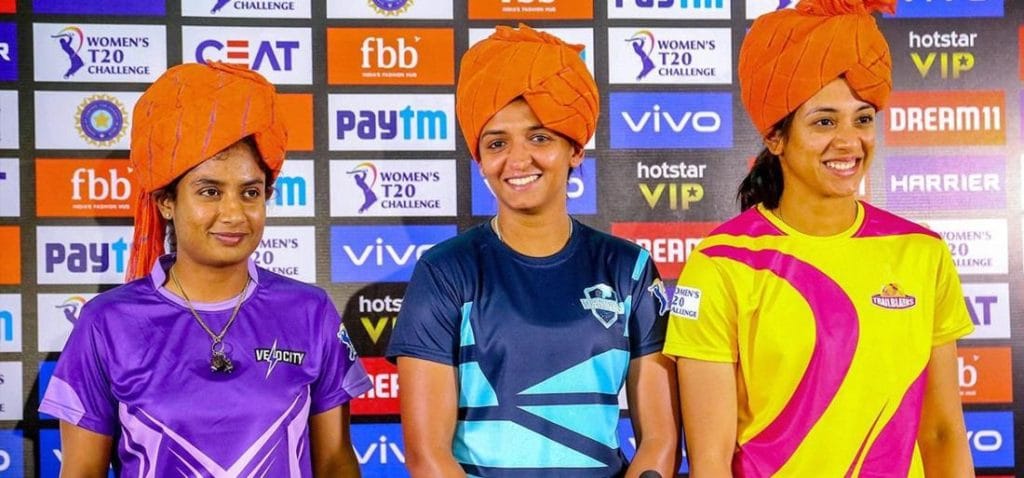 After a one-off match between 2 Women teams last year, Women's IPL included one extra team and many bigger international names this year.
Last year, the match did not receive the expected number of audiences at the venue because of the scorching heat in the stadium, as the match was held in a summer afternoon. This time the matches were given evening slots, along with several other changes, making the WIPL 2019 an exciting affair.
Even though the teams did not have a separate Facebook page or Twitter handle, we can see a strong digital boost for the WIPL. Their main promoter is the Indian Premier League with good support from various other IPL teams. And with the timings changed to a more viewer-friendly slot, there was more buzz online, and thus lead to a better reach.
Contest Posts:
[Best_Wordpress_Gallery id="18″ gal_title="Contest Posts"]
Giving away match tickets, merchandise, or a chance to meet the players is the best way to increase engagement and traffic for an IPL team. They feel more connected, involved and a little closer to their favorite team that increases brand loyalty like nothing else can. Almost all the teams ran some sort of contest on their Social Media Pages and Websites to attract their fans.
Conclusion:
Social Media is a great medium to put your point across and get to know what exactly your audiences want and get an edge over competitors. While comparing RCB and Delhi Capitals, both the teams, in their 11 years stint haven't won a single title, and yet RCB's presence on Social Media is way more prominent than Delhi.
So did a team's Social Media activity made you switch from your Fanbase? Let us know in the comments.