With the sudden social media explosion, it's no surprise that every business and event promote themselves on social media sites. Now that's mainstream. What's not mainstream is, how well they have made use of these blessed platforms. These social media channels are exploited as pathways to connect to a large number of fans and followers. Apart from giving regular updates about the matches, scores and position, various quizzes, contests and other innovative online events are conducted to entertain their fans thereby enriching their fan base. Each team focuses on its own unique strategies to actively establish themselves in the social media platform. Here's an overview of the number of Likes and Followers of every team in each channel:
Facebook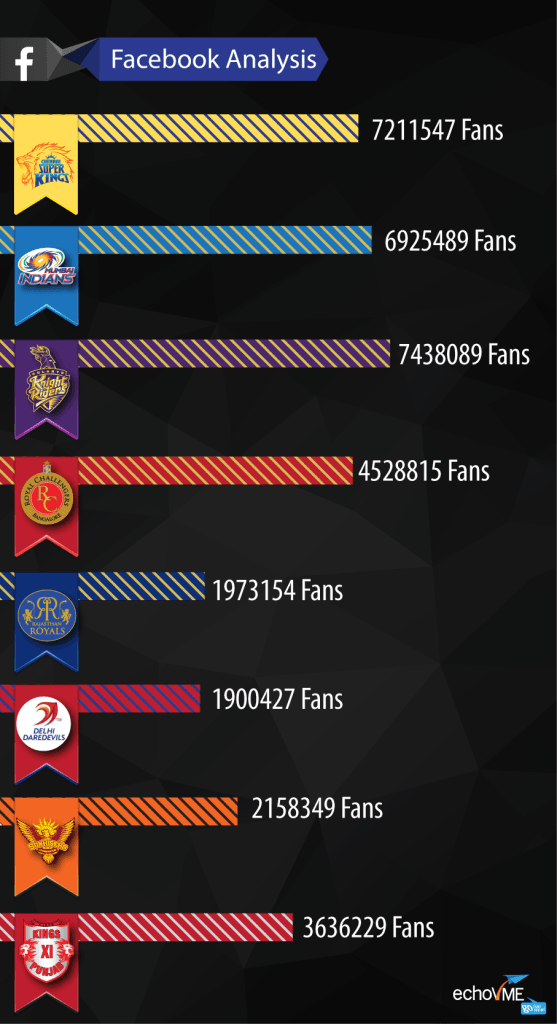 Google+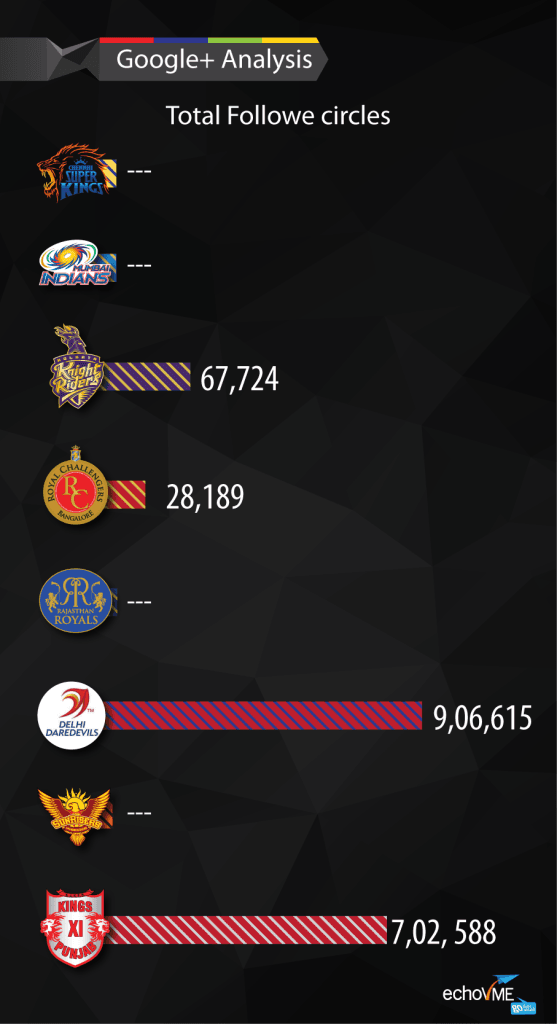 Twitter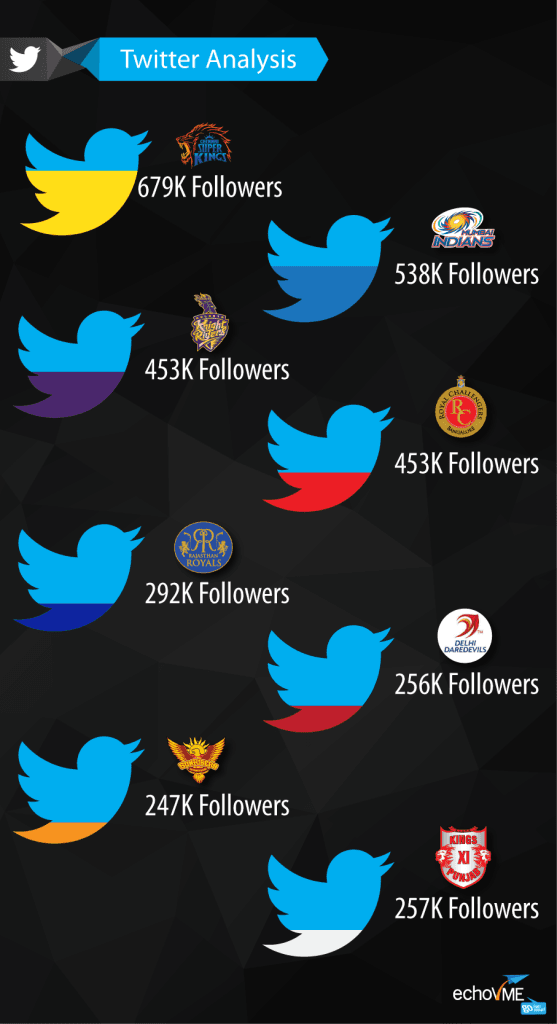 YouTube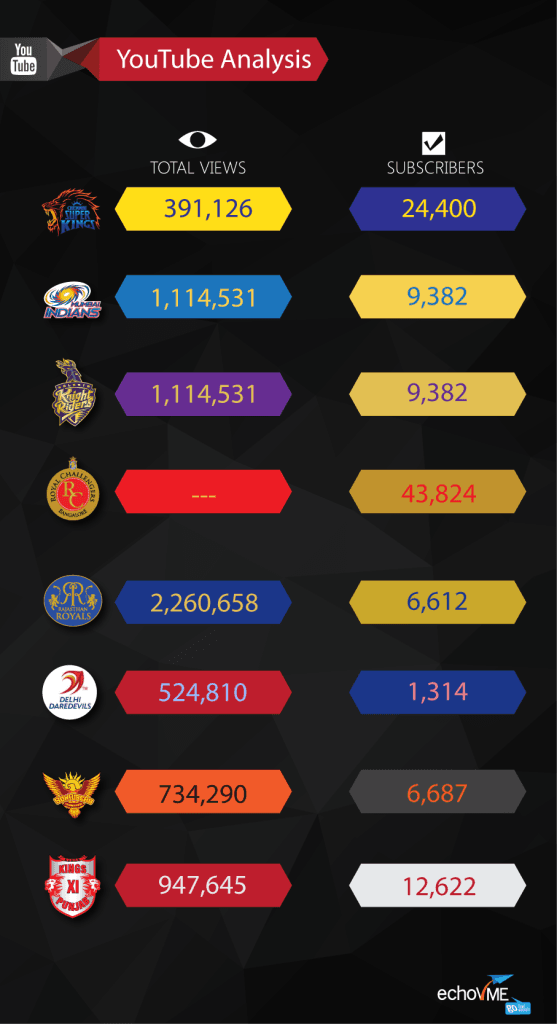 Mumbai Indians have the strongest presence after which Chennai Super Kings follow on Facebook. As far as twitter is concerned this is slightly topsy turvy as Chennai Super Kings top it with 679k followers and next Mumbai Indians with 538k followers. Apart from these individual IPL Teams, the team players also play an important role in promoting their teams in the social media platforms. Many players have their own Facebook and Twitter pages through which they engage fans with polls, contests, events, memes etc.
From the above statistics Virat Kohli has the highest presence in social media given that he has the highest number of followers both on Facebook as well as on Twitter. MS Dhoni follows Virat, with the second highest number of followers both on Facebook and Twitter.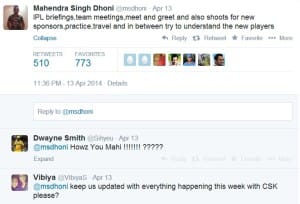 The above is a snippet of MS Dhoni's twitter profile. The followers are very eager to know more about his whereabouts and experiences.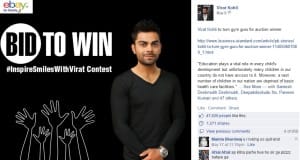 Unveiling an altruistic side of his, Kohli is set to conduct a contest in which all the money raised go to the charity while Kohli promises a special day with him for the winner of the auction. The contest went viral on social media with more than 45k likes and 1271 shares.   KKR's presence is complemented with the team owner SRK's active presence on Twitter and Facebook too! Shah Rukh Khan conveys his heart felt wishes to the team through social media channels like Facebook. Bollywood stars, being the most adulated, completely divert their fan base's interests to the IPL Cricket team, KKR.
SPONSORS ROLE: PEPSI INTERN Pepsi introduced new ideas of branding as they sent their interns to travel around and give a live feel of the IPL matches through their tweets. The interns rode the social media transport as got millions of fans connected to the virtual and exuberant world of IPL. Their role involved interacting with the IPL players during practice sessions as well as fans who were spectators of the matches. Their frequent news updates and tweets got people vicariously engaged.
Pepsi's posts and branding beautifully revolved around the matches and the teams and it completely revamped it's social media presence as seen below: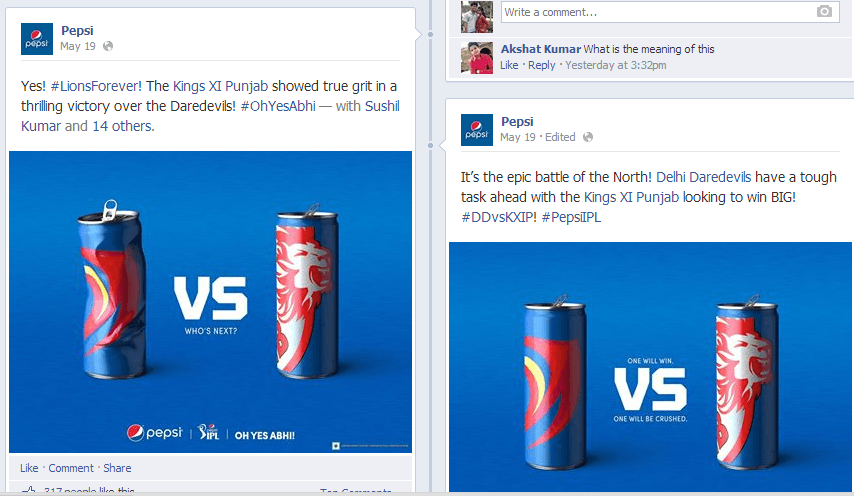 Vodafone: With the entire nation struck with the cricket craze, zoozoos did nothing better than intensify the craze. With their appealing offers and humorous advertisements, they helped Vodafone promote itself and the IPL world in an exquisite manner.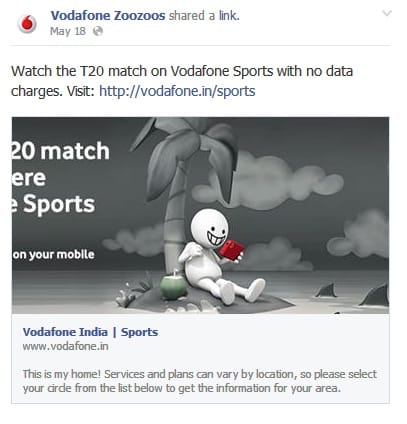 On rummaging through Vodafone's page, one may find a lot of tweets that are mind boggling and funny!
Cadbury  Cadbury, in an attempt to instil happy emotions into people during the cricket season, came up with the  phrase "shubh aarambh" implying "an auspicious start". A lot of people have responded positively using hashtags, conversations and comments. Contests were conducted and gift hampers were given. Here's Cadbury sending it's wishes to Suresh Raina on his success.
Different types of informal posts: Memes: Memes are a very subtle way of advertising. They instantly pull attention from the people through their quirky appeal and humour. Using a colloquial style to which people easily relate, they not only get fans engaged, but also promt them to share the memes. It emotionally engages the fans and followers.
#IPLSelfie #IPLSelfie is one of the most popular hash tag trends in Twitter as  it creates an exuberant atmosphere in social media where people are given the freedom to post their pictures or 'selfies' on the social media world. Some of the selfies were posted on the official  IPL website. It encouraged more number of fans and followers to expose their responses and emotions towards the IPL in the form of photographs.   IPL Mobile Application( IOS) The IPL Mobile application is designed to render a thrill of being a part of the IPL by giving out news, live updates,commentaries etc. This smart phone application is the smartestand the  fastest way of contacting people on their personl phones. Therefore, to the people's mind, IPL is just a touch away! Brands and their usage of IPL Not just the established brands but up and coming brands cleverly made use of the IPL aura that is circulating around them currently. Cashkaro, India's no.1 leading cashbacks & coupons site made the best of the Twenty20 cricket by interacting their audience with IPL based posts and contests: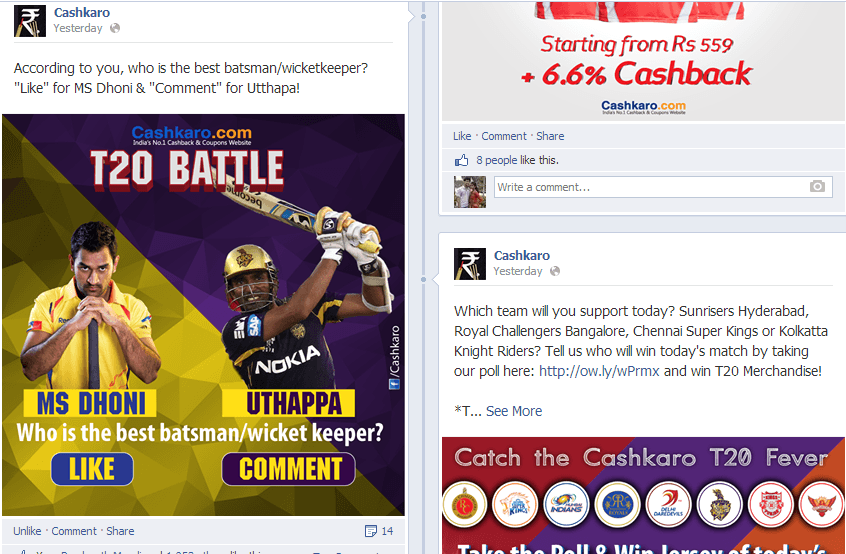 Audience and the IPL IPL is a great crowd puller on social media. The crowd goes wild on any given post about the teams, captains, etc. The brands have wisely made use of this resource in their social media pages and have also been rewarded well. One could see fights, arguements as such in the comments sections. Tweets relating to the IPL are always enthusiastically  received. Influencers on Twitter had a field time posting spoofs, memes and sarcastic tweets on the IPL that cracked up the audience:
Amul's take on Kieron Pollard-Mitchell Starc's ugly spat:
Right from sponsors to owners, from players to official team pages, everyone is driven by the spirit to capture their fans' attention. As a result IPL this year established its presence on the social media platform with over 8.6 million fans (on Facebook) and 1.32 million followers (on Twitter). This has enabled the fans to constantly stay updated about their favourite team and interact with it. Updates regarding off field and off match sessions are also possible via social media. Not only has this ignited a spark of enthusiasm among them, it has also engendered a feeling of common world in IPL through which millions of people connect with brands and with one another. Online question and answer sessions, post match and pre match conversations, is possible with the teams. It brings the fans closer not only to the team but to IPL on the whole. The brand popularity of IPL has increased immensely due to the impact that social media is creating on its audience. As we near the end of IPL7, we cannot but think of how IPL8 will fare, to what levels of amazement the world of social media would take this game to. For all we know, the digital era will catch us completely off gaurd too!