Nine days to go, says the official IPL website as of today (March 16), and the organizers have taken the social media world by a storm. With a widespread presence on all major platforms as well as one-to-one interactions, it looks like the teams are leaving no stone unturned in garnering support. And about time, too, if you ask me, considering the less than satisfactory performance by the Indian cricket team in the recent matches.
Previously I have covered many case studies dealing with new-age marketing on social media, but this kind of trust-building exercise is unique on its own. Let's have a look at what the teams are doing.
Mumbai Indians
The IPL are out projecting a friendly image and trying to engage fans, hence the smiling faces with the tagline "The Mumbai Indians would like to be your Friend".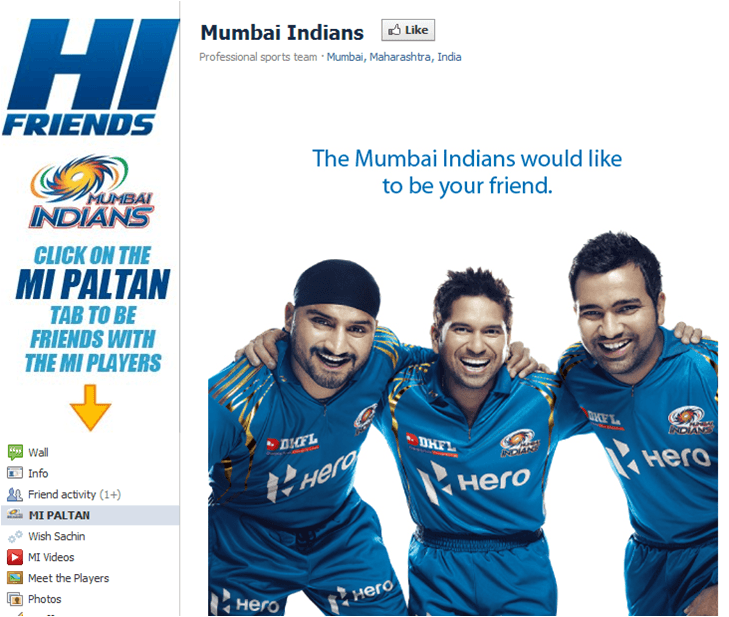 Once you hit "Like", you are taken to the wall page, which is quite unlike the traditional wall page. Instead of being formal and communicating one-way, Mumbai Indians have decided to spice things up by sharing team photos, running small contests, and posting videos featuring the players.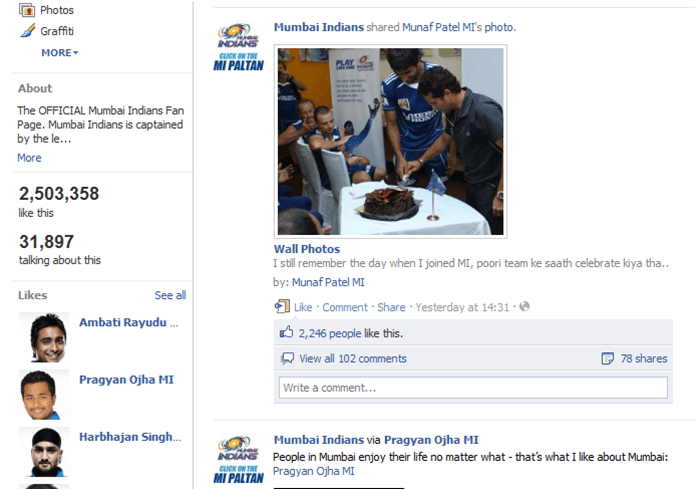 Here we see Munaf Patel reminiscing about the day he joined the team. On the left you see the unmistakable proof of the team's popularity – over 2.5 million fans, which is next to impossible in social media campaigns! Of the course part of the charm lies with heavyweights the likes of Sachin Tendulkar and Harbhajan Singh.
The players have also been given their separate pages, where fans can interact with them individually. Consider the fan page of "Bhajji", where he just posted something personal and fans are loving it!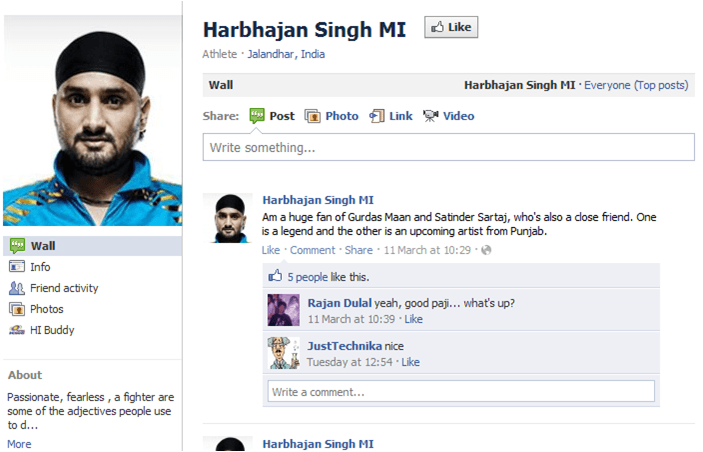 The Mumbai Indians are also active on Twitter, and are taking the pains to interact with followers one on one – a demanding exercise, for sure, but one that pays off handsomely.
Delhi Daredevils
Next up is another interesting campaign being run by Delhi Daredevils. You see it as soon as you visit their official Facebook page.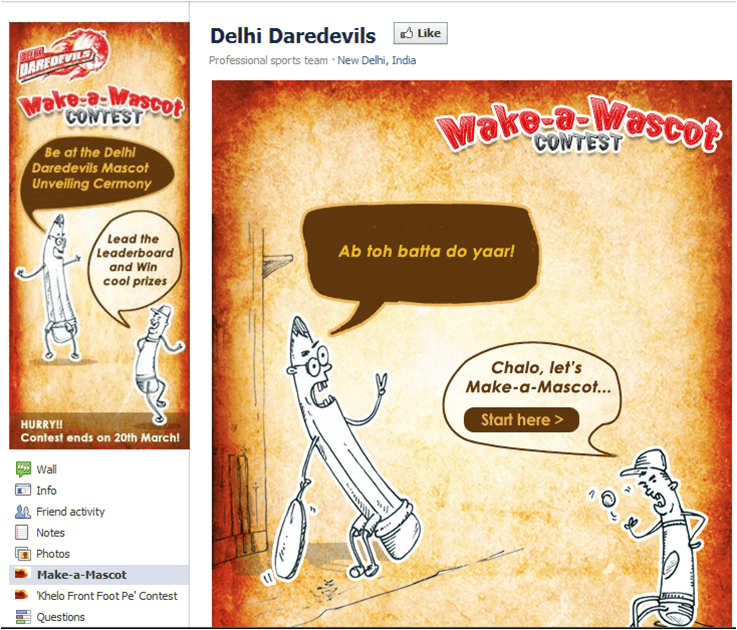 That's right: create your own mascot! It looks me that Delhi Daredevils have come up with a "daredevil" strategy of killing two birds with a stone – they want to engage fans in the best possible manner, and at the same time want to have an awesome mascot developed by crowdsourcing it! I think this provides a wonderful opportunity to all the fans out there to connect, express themselves, and win some cool prizes. Let's see what mascot comes out of this intelligently planned exercise!
Step inside to see the team present analysis of Sachin's innings against the match against Bangladesh today, as well as another interesting interactive campaign going on: The Delhi Daredevils' Advocate.
Click on http://www.dddevilsadvocate.in/ and you find that the team is looking for three ultra-passionate fans to prove their mettle and cover the Delhi Daredevils during IPL 5 – talk about dreams coming true! The three positions are for Photographer, Videographer, and Blogger. Online journalism indeed! There are a few other contests also being run, such as the "Khelo Front Foot Pe" contest, which is an interactive Facebook app. This shows that they are tapping into all the available channels. All said and done, Delhi Daredevils doesn't have as many fans as the Mumbai Indians do, though.
The team also has an active Twitter presence, and as the screenshot shows, they are involved in one to one interaction, posting fresh updates, as well as retweeting tweets by the fans. One look is enough to convince me that it is working – people are thrilled at the attention they are getting, and are cheering for their team. The Twitter page also has photos by the team, adding an extra dimension to interactivity.
Social Media reach and Influence
It's interesting to compare the number of fans and followers across the nine teams. Here's a break-up:
| | | |
| --- | --- | --- |
| Team | Facebook fans | Twitter followers |
| Chennai Super Kings | 902,686 | 27,588 |
| Deccan Chargers | 191,258 | 16,296 |
| Delhi Daredevils | 230,127 | 10,157 |
| Kolkata Knight Riders | 776,340 | 68,585 |
| Kings XI Punjab | 12,382 | 16,873 |
| Mumbai Indians | 2,503,358 | 29,174 |
| Pune Warriors India | 86,156 | 7,520 |
| Royal Challengers Bangalore | 616,886 | 33,204 |
| Rajasthan Royals | 239,853 | 18,951 |
The Facebook arena is dominated by Mumbai Indians, with over 2.5 million fans, as I already discussed. However, the true Twitter champions are Kolkata Knight Riders, with over 68,500 followers!
At the same time, the numbers reveal that Kings XI Punjab has not been doing much on the social media front, and is lacking on both the platforms. Same goes for Pune Warriors India, who has very poor Facebook and Twitter presence by comparison. A large part of such failed social media marketing is blindingly simple: failing to engage the people.
Have a look at the Kings XI Punjab's Facebook page: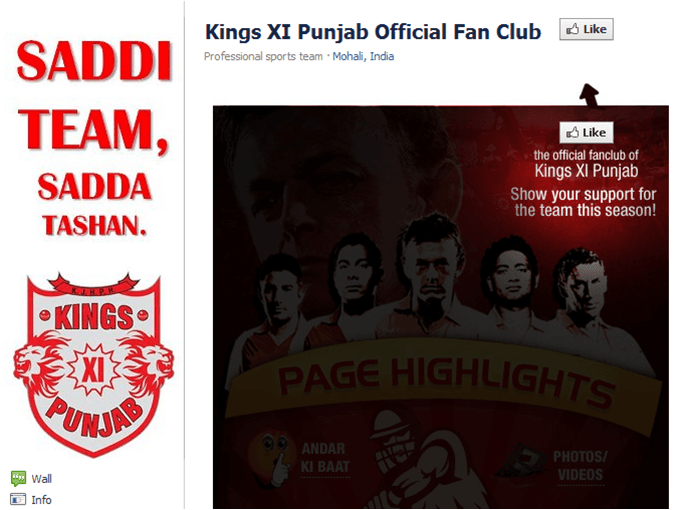 There we go: no special attractions, no challenges, no contents. This reminds me of the golden rule: do to others what you want other do to you. It seems that on social media, people really don't care how big you are. If you fail to communicate and extend a hand of warmth and trust, you're out! It's too late to be making corrections now, but I hope they learn their lessons from here.
While it's not possible to do a detailed analysis of all the teams, I hope this case study has revealed something interesting.
Conclusion
The massive effort and thought put into these campaigns has some important lessons for all of us:
• Social media has become a force to reckon with, and is increasingly being seen at par with traditional media when it comes to reputation management.
• No matter how big your brand, social media is not going to work unless you offer something exciting and keep the conversations going, day in and out. Sorry, but, it's an impatient world out there!
• The best form of publicity is word of mouth, of which social media is the direct proof. People see others doing something fun and they want to join in – it's as simple as that.
As a matter of fact, I can confidently predict that very soon, social media will surpass all other available channels as it increases reach, especially in highly niche campaigns.
Also looks like many of these brands loves to Buy Twitter Followers with lots of freebies and contests integrated.