I have been attending conferences across India and have organized quite a few Digital & Social Media Marketing summits in Chennai, but this conference has given me an absolutely fresh perspective on how to organize a spectacular event and has helped me gather some fantastic insights and inspirations.
I always see people going to such events for networking but the key is that you shouldn't network all the time. People say you can watch such videos and talks on YouTube. My purpose of going to events is different, I spend 50% on networking grounds and 50% on key sessions. Remember, learning is the fuel for growth.
My recent International gig was Affiliate Marketing Asia 2017 – A conference that discusses various trends in Affiliate, Digital, Social Media industry. If you are into dropshipping, eCommerce, affiliate marketing and digital marketing this is a place for you to be. There were close to about 100+ stalls and these stalls were of traffic sellers, traffic buyers, and affiliate networks. Majority of scenes were from dating and beauty perspective. A fresh perspective was given to healthcare and beauty which are probably the best segments to in with respect to earning affiliate commission.
In this blog post today I am going to share 75 key takeaways, these lessons are for marketers, social media marketers, affiliate marketers and event managers: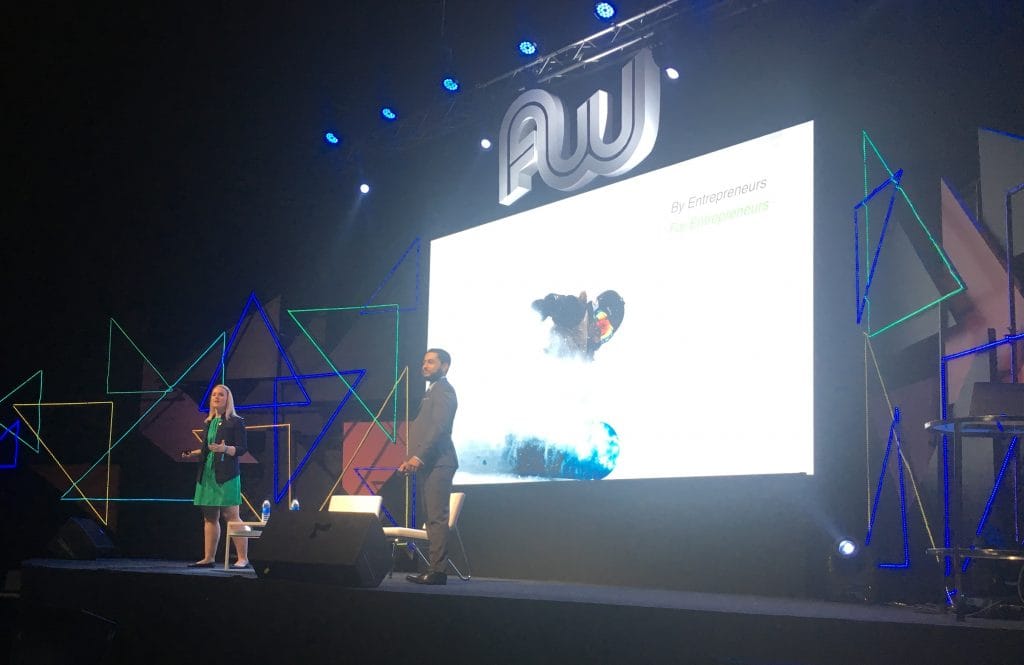 DropShipping at Affiliate World Asia 2017: The workshop started out with immense energy with the hosts Katie Hudson, Mohd. Ali Aguel to help novices in learning about how to set up their own e-commerce site with shopify, dropshipping and how to source products. Modh. Ali Aguel is quite a known face when it comes to eCommerce affiliate. Starting out with arbitrage sales on eBay and moving into CPA style campaigns through TeeSpring, Mohamed has spent 12 years selling online. He is a well seasoned affiliate but is mostly known for his knowledge and expertise in eCommerce. These were some key takeaways from the session:
1. It is extremely easy to build a store on Shopify with a lot of existing templates.
2. Make use of Oberlo app, which can help you in automation and do dropshipping.
3. Oberlo can help you pick from different categories and how you can set your payment gateways, legal terms sorted with Shopify.
Rishan Bhagowat's Experience on Coming Out of Retirement at 24 to Build an 8-Figure Performance Marketing Empire: This speech was a perfect kick-start for the second half of the day, with Rishan Bhagowat who started off playing on poker to travel and ended up building an 8 figure marketing empire with over 40 employees from across continents. Rishan is a fighter and wore a Louis Vuitton's customized white shoes which looked fab on this gentlemen. Rishan brought in some beautiful slides and thoughts on display and here are some key take-aways from Rishan's session:
4. What is absolutely not negotiable for you? For what are you willing to do whatever it takes?
5. Rishan shared how travelling helps you in learning different people and develop empathy as he took a break life to travel across the world for a year, just to understand cultures and people.
6. He started an information business and sold the course series that he had launched.
7. He believes opportunities arise from events out of your control that were not a part of your plan. Don't let it go.
8. It is essential to thrive, it's your job to asses the opportunity – shift gears and navigate on uncharted waters.
9. There is No BALANCE when you want to build an Empire, Be OBSESSED, it's only TEMPORARY. 
10. You're only ONE person, there are so many hours in the day, to get to the NEXT LEVEL: AUTOMATE & DELEGATE. 
11. You Can't be the Master of Everything. Master the art of SELLING VISION that drives COLLABORATION.
Some Key Take Aways From Eric Dyck's Panel on Facebook Creatives: Eric Dyck is one of the best hosts I have ever come across, at-least in the domain of Digital. He asks right questions and got the right tuning with the audience. The panelists where James Van Elswyk (From Purple Fucking Leads), Patrick Dermak and Tim Burd a team of expert Facebook Marketers who shared the ideas on what kind of creatives topped in 2017 and what some awesome Facebook Marketers have in mind for 2018. Here are some interesting insights from the experience of people who have been spending millions of dollars every month on Facebook advertisements: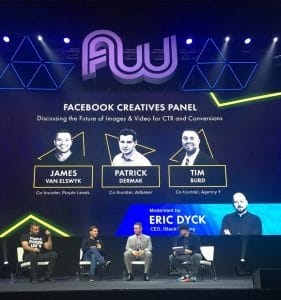 12. Slideshow ads is a great tactic to run advertisements, as sometimes, you might not have ability to drive video based advertisements.
13. Static image now only gives 30% good response when compared to past.
14. Video is a must for every brand, as it allows you to create audience out of it, especially create 75% audience.
15. Longer videos (2 – 3 mins) are good as they will allow you to build quality audience, shorter ones will have more ratio of people watching but with no purpose. So when you build audience here, quality becomes a challenge. But, remember a high quality short video is much better than shitty long video. Make a custom audience out of those people who have watched 50 – 90% of it.
16. Run advertisements with testimonial based videos if you cannot create videos on the first go.
17. Stories Matter – run ads when an expert talks about your product. When they talk about your product it makes your product more appealing and convincing to buy for your audience.
18. Your video's length is totally dependent on the complexity of the product you sell. For example an event might just require 30 seconds video with high energy music and key content based graphics on top of it but if you are selling an expensive product which needs more explanation then create a longer video.
19. For Mobile targeting, less than 30 seconds video can do more justice.
20. For every brand you try to market, create a shorter video and longer video and then perform the Split Test with both videos to see what works.
21. Graphical Representation matters most. Sometimes video graphics can make a huge difference.
22. What makes more sense is to get the split testing of the Thumb Nail which we don't do. Create Thumbnails which might not be even there in the video, people are more likely to watch the entire video to just wait to see what you have showed them in thumbnail.
23. Once your audience clicks on the play button of the video – there should be some movement from left to right, right to left or top to bottom or bottom to top – some kind of pop up that makes them aware subconsciously that video has started. (This is an absolutely great tip)
24. According to Patrick, a lot of people just don't create Canvas advertisement.  Canvas is a great idea for CTR – You can do some great shit with it, this will make a lot of people interact. Start with a video, followed by text and then comes the photo. Create a funnel out of people who have interacted with your canvas.
25. Spying is a great way to learn, if you don't have the creative vision. Learn from what is working for others.
26. Having a full time video person is a good idea for every brand today.
27. Clients need to have a video team to – especially in cool sector. So that they can record things then and there.
28. Simple videos that are about 10 seconds long and are zoomed in and out appropriately, can make sense. Please test and innovate.
29. Some emotional stuff in the beginning of a video is a good idea. For example: OMG! I just can't believe this. This makes people watch the video.
30. How video interacts with full funnel – it should be the pre-seller (A long video should make a lot of sense) – When you plan your video, plan it as a journey. If its the beginning of the funnel , always think of what's next?
31. Split test the following formats: professional, amateur, testimonial, sales, informational, emotional, 20 seconds, 3 minutes etc.
32. Use subtitle in your video, it is a good idea.
Case Study: 1 Man Show to 40 Person Team – 7 Digits a Year with Outsourcing: Ido Ozo smoothly walked us through the common obstacles and new ways of creatively bringing in solutions for our brands and the how to's to build yourself into 7 figure super-affiliate. He also spoke about how he managed to start along have about 40 people team. Lets learn more:
33. Your chances of Solo Affiliate to make it to next level to become a super affiliate – is going to be solo.
34. As a CEO you should list down a list of task that you do, all the tasks with respect to your personal and work life. And circle down all the non-brainer tasks – 85% of your tasks are non brainers.
35. Get virtual assistants  who would all your work with respect to content, who would develop so that there is enough automation you can bring into process. Ido has 40 people team and he takes care of finance and strategy, there is an another Israeli guy doing PPC. 10 guys are on customer support and dealing with drop shippers. He has built team across India, Pakistan – the labour is cheap and hardworking.
36. To build a team, seek & hire, train, monitor and scale. There are platforms like UpWork, Freelancers where you can get a lot of talent. When you hire people through these sites ask them basic questions, like how many people live in your country, 5 key qualities about them etc. So that you know how serious they are. If they can't google and find you an answer, they are not fit to work with you.
37. Do face conversation and video conversation with them before you close on them.
38. Once you hire create a training collateral that guides along with a referral note. Keep a 30 days grace period and if they don't fit your bill let them go. Don't waste your time with them.
39. Take the best tow of all the Virtual Assistants and let them know that you believe in them , I trust in them, I want to set up source around them. They will do the rest of the job for you in identifying the right resources who can work for you.
40. Use tools like Trello, Asana to follow the progress of the task.
41. Tag red flags Virtual assistant who gives too many excuses, too demanding and too time consuming.
42. Remember, the beauty of outsourcing is Divide and Conquer.
One of the panelists of Facebook Advertisement panel, Cofounder of Adbaker – Patrick Demark shared with us his bleeding edge hacks to optimize our campaigns. Apart from that, he also shared a few tips to monetize our comments on our Facebook ads to boost our ROI. The session was titled as 5 Facebook Marketing Hacks You Must Deploy in 2018 and here are the key take aways from the session:
43. Don't incorporate keywords like Weight Loss, Credit, Loan (They are penalty keyword that Facebook doesn't like)
44. Add hyperlink in description, as sometimes they garner more clicks.
45. Do value first comment – hide the very negative comments, if its tolerable then respond. Appreciate queries and quick response. The more queries you get the better it is for your brand.
46. If you have a video follow headline style, where the headline is static and the video content is moving (meme style posts) – this will help you get better ROI.
The "TICKLE" Method: How to Legally Manipulate Major Native Platforms for MILLIONS in Cheap Clicks: This session was a fantastic one by James Van Elswyk, James through his years has spent millions in ads and has discovered three simple steps to turbo boost our ROI by tricking the ad servers. James has spent more than 1 million dollar in Facebook and Google ads and he is obsessed with media buying. Believes in White Hat Lead Generation.  Here are some thoughts from James: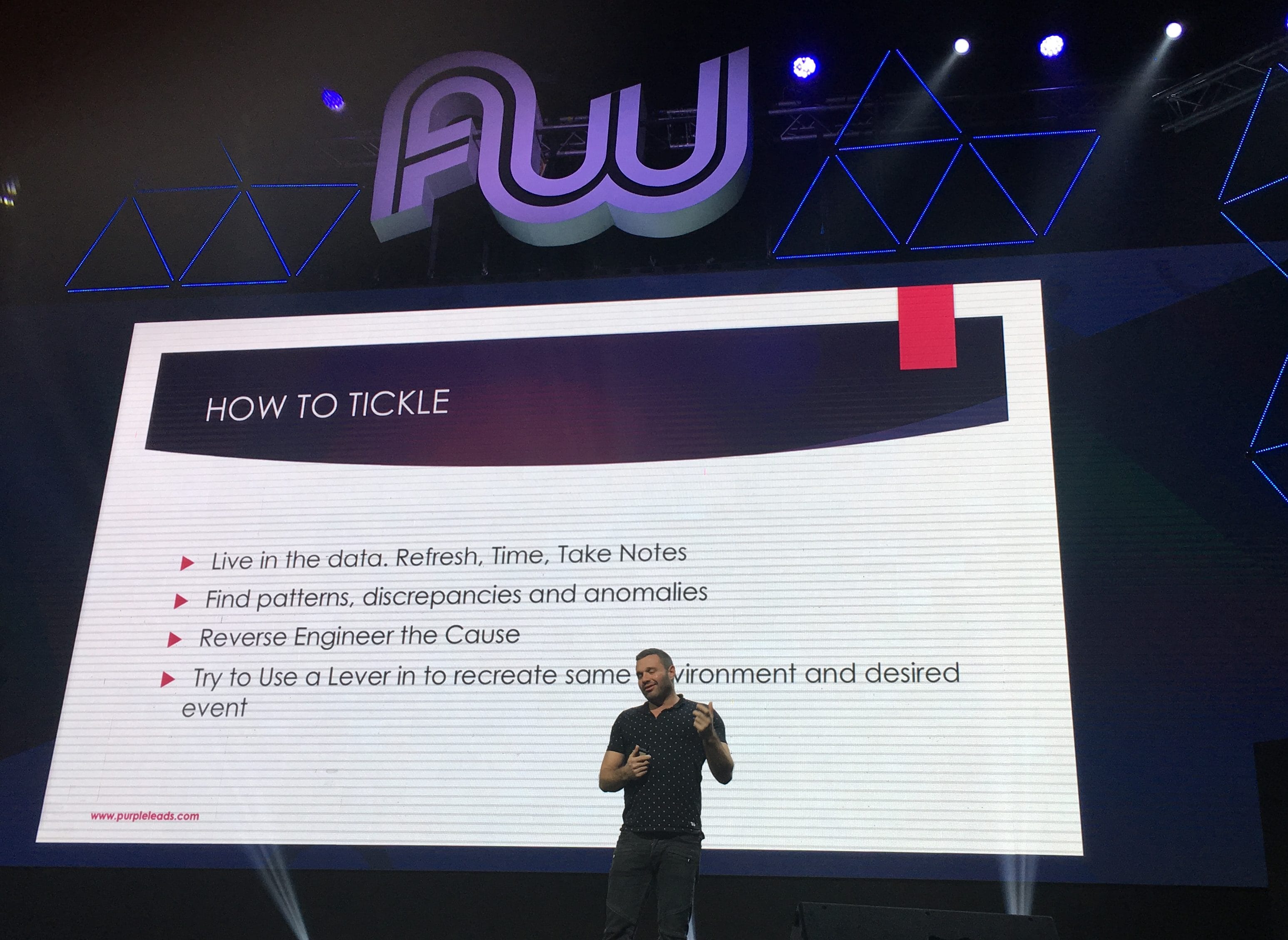 47. JAMES used Tickle Method which is all about tricking the platforms to get cheaper clicks and more profits.
48. TEST, VERIFY, LAUNCH. Launch an ad every single day – Launch an image, try new ads, launch new tests, pick a streak (60 days, 90 days) – Launch everyday and when you do that, you can kill everyday. Keep killing and launching. People are going to fizzle if they are going to see the same advertisement. So there will be no one who is going to buy it after a certain point of time.
49. Live in the data. Refresh & Take Notes.
50. Figure out what are your LEVERS, ADSERVER LEVERS: Bid, CTR, Time of Day, Publishers, Type of impressions. The best way to learn your own tickle: Live in data, look at what others are doing, observe, check their hacks.
On day 2, the sessions started from 2 PM and one of the popular session was of Neil Patel,  Neil Patel after having designed thousands of Landing Pages himself taught us the most essential landing page hacks by breaking down some of the best performing landing pages. I have covered a few take aways from his session.
51. Don't give away too many options and get your audience confused. Give them a well curated list of relevant options.
52. Engage People with something like quizzes and also be sure to make them customized. Keep asking them questions!
53. Always remember that engaging your audience comes first and only then will your audience be motivated to take any action.
54. Collect leads when people are about to bounce with an exit pop-up. He explained how using a GIF in the pop-up boosted his conversion rate phenomenally.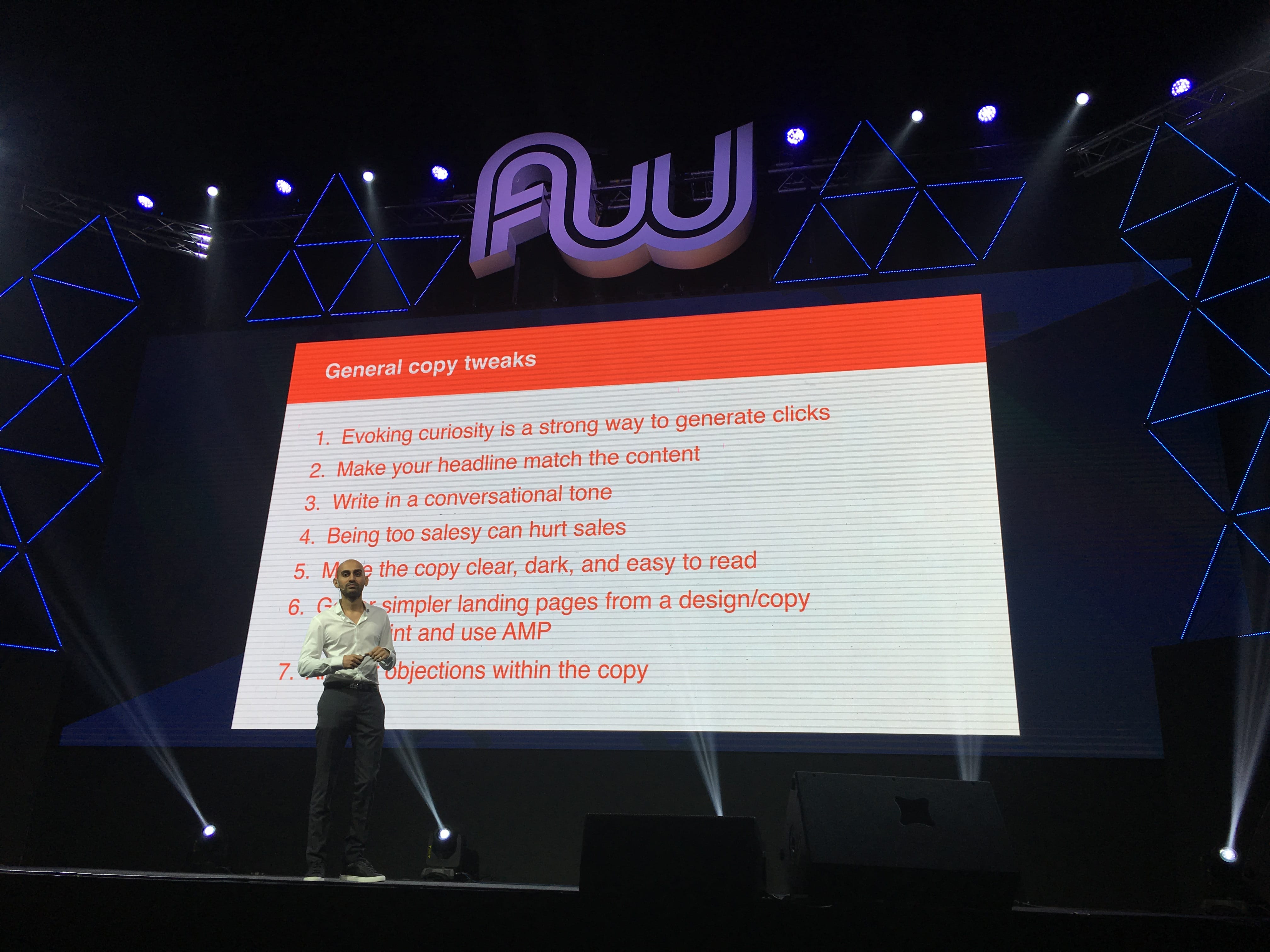 55. Add a call-to-action button in your blog content. This way you would've already had them engaged and it is the right time and place for them to take the action.
56. Add Check-Out Bumps to your product page offering discounts because people will immediately fall in love once you do this. But always give them a considerable discount and not one that they'd walk away from.
57. Use numbers on the head-line of your landing page headline because it invokes curiosity. Odd numbers attract more attention, so make sure you use them.
58. You can always scare the shit out of people to make sure they buy. He gave an example of a VPN application that displayed people where they are from and what computer they are on and that this only scratched the surface what a hacker can know unless you had a VPN. This scared people and the conversion sky-rocketed.
59. I asked him a question on the role of artificial intelligence on Landing pages as well which are best landing page tools and he had suggested Leadpages.
60. Neil also suggested not to have really long landing pages and also make it hard for people to buy. He gave an example how you can qualify people by making them take basic quiz to decide if they are eligible to buy the product you are trying to sell.
It didn't end there, there were many more session and I didn't get chance to take notes of all. But, I will try my level best to cover more stories in next conference I be part of. I tried going Live on my Facebook page and my Facebook group.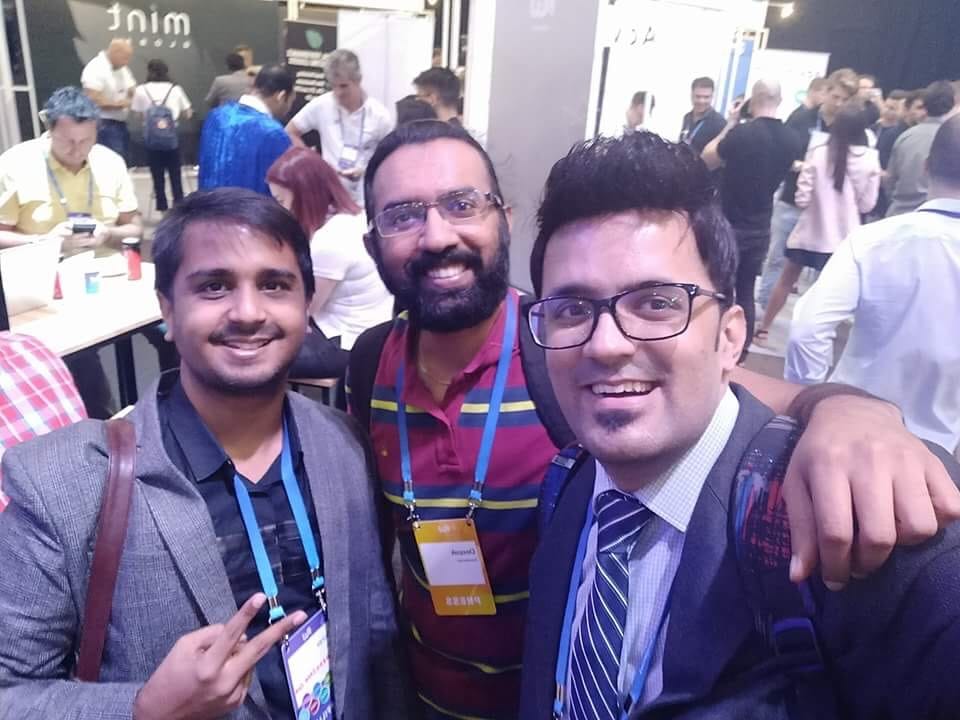 61. I had an opportunity to meet some bloggers from India: Kulwant Nagi who was sitting like a sincere student on the first row and going live then and there for his followers to enjoy the show, as much as he did. Whereas, Deepak Kanakaraju from DigitalDeepak.com was busy extending his networking hands. Deepak and I had a great conversation and this was the first time we met in person. It is always good to meet people in person and understand visions and objectives we share. Deepak spoke about the agency course he is planning, his current lifestyle and what his aspirations are with respect to digital marketing education in India.
62. I met quite a few people from Affiliate networks, advertising network, publishers, affiliates from across the world and most importantly, some great people from cool tools like Outbrain and Biteverify.
63. The vibe of the entire expo was so cool. There were guys dressed casually in just t-shirts and shorts throughout the summit (unlike in India where we are so professionally dressed).
64. The stalls had some super cool things to look at – someone had a tablet in give away, someone was offering a drone, someone gave away chocolates and the surprise was when someone had a vodka shot to offer. Look at the image below:
Here are some great lessons to learn from Event Management perspective.
65. Right Tags And Stickers: As I reached a day before I went to the venue to collect my card and found a small booklet along with multiple stickers. You can pick those topics in which you are most interested in and stick it on your card so that when you network around people can know your objectives of attending affiliate marketing summit. This is a great idea to connect with like minded people.
66. Media Space: I love the idea of the Media space that was a little elevated in center of the expo hall so that interviewer can have a view of expo in the back ground of the interview while recording the video.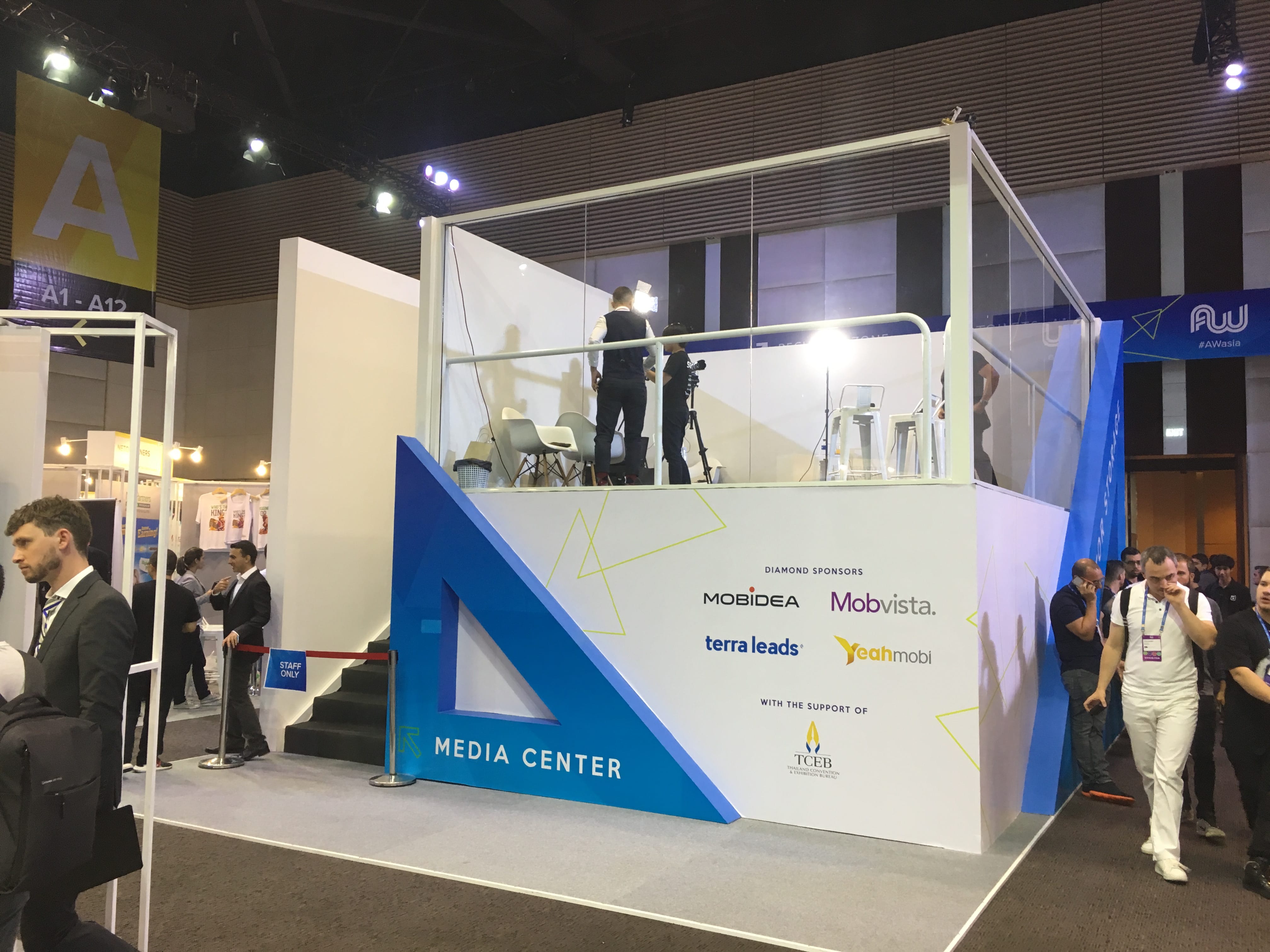 67. Pay For Your Food: Unlike Indian conference where Food is part of your conferences, you had restaurants in middle of the expo and even outside the hall for people to peacefully network and eat. There was also a small bar right near the exit for the participants to network over drinks.
68. Table Tennis: If you wanted to take a break from work and get some sweat rolling you had a table tennis board right near the cafeteria.
69. Re-Charge Station: This was the best part of the entire event. The hosts had planned three to four recharge zones. Two recharge zones had comfortable seating area outside of auditorium and there was a speaker and a screen of the main stage and the breakthrough stage. People can sit down on the recharge stations and could continue to watch the show. This makes you not miss any session just because your mobile is getting drained.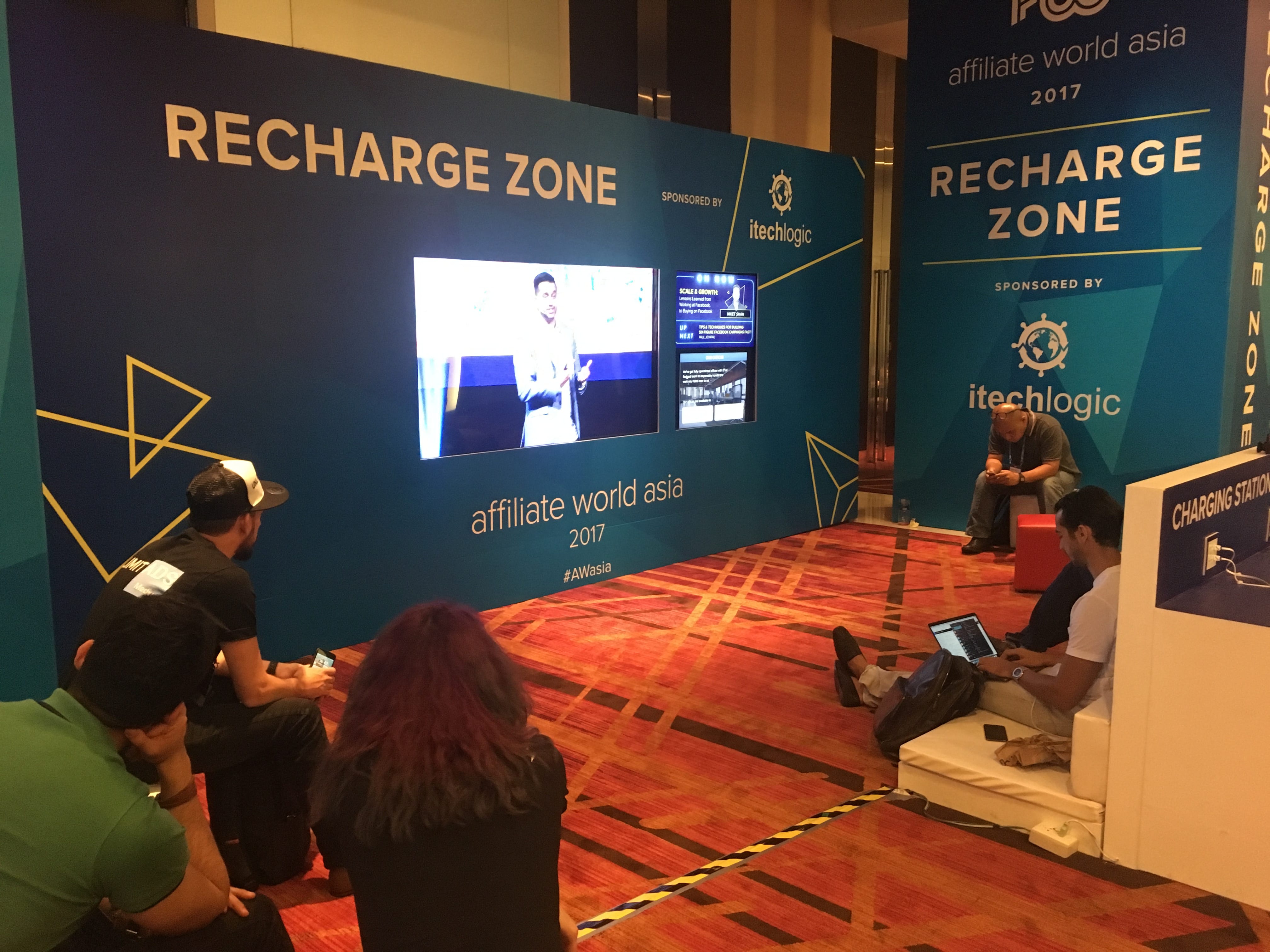 70. 10 Minutes Massage: You had 4 kiosks to get your 10 minutes Thai massage. This definitely was a great stress buster.
71. Photo Booth 1: I loved this photo booth that you need to tilt after you click a pic.
72. Photo Booth 2: This was a video booth that uses close to about 10 cameras to make quick clicks and collate those images to give out an amazing effect.
73. The Host Eric Dyck was too good at his hosting with the right questions to the speakers. I must say he is a great sales person; he complexly sold his iStack Training's Facebook Mastermind. Something to learn from him is how to subtly sell on stage.
74.  The Magician Guy: There was also a cool magician who had quite a few tricks up his sleeve that left people baffled.
75. Networking Opportunity: Wrapping it up, the campaign was a wonderful platform for learning and also presented me with a brilliant opportunity to network with fellow affiliates from around the world.
The next conference is in Barcelona Spain in July 2018 and I would be most likely attending the same.
Let me know how useful you found this article and if you're planning to attend a conference anytime soon!