The art of making landing pages from the scratch is a challenging task and not everyone is a professional at it. You can always hire an IT developer but that would be an expense you wouldn't want to meet with every now and then. We understand that creating landing pages is an added advantage to our business but what we need to understand is that this task of making landing pages can also be made easy with Leadpages. In this blog, I'm going to talk about everything that you need to know about LeadPages.net
But before I start, here is an example of the landing page which I created using Leadpages:
Reasons to use LeadPages-
# 1. Making Life Easier:  LeadPages has made my life easier. I'm now able to create landing pages with great conversions in a matter of minutes.
Any tech handicapped person who is looking to create landing pages without the codes should use LeadPages. Its 'drag and drop' features make the whole process seem like a piece of cake.
LeadPages helps you to grow your business online and offline with the help of various elements/ features that it has to offer.
Templates- LeadPages has hundreds of templates to choose from which are completely drag and drop enabled.
Free Landing Page Video tutorial and e-books- The most highlighting feature of LeadPages is the free tutorial that it has to offer. The tutorial is a 6 minute video which you can have an access to after giving your mail Id. They have also compiled a 30, 000 word E-Book which features six chapters inclusive of videos, Infographics, episodes, etc
Mobile opt-in codes- Mobile opt-in codes help you reach hundreds of people through LeadDigits which captures opt-in via text messages. In short, LeadDigits helps you in getting people to join your mail list or register for your webinars. I am getting my hands dirty on this currently shall keep you posted on this soon.
Lead capture Pop ups- Helps you make LeadBoxes which is a mobile-friendly pop up box that captures the E-mail address of the user and other information. This pop ups can be integrated with the websites.
Integration services- LeadPages has applications with which it is either officially connected or is compatible to work with. You can simply create your LeadPage and then integrate it in a click with applications like Google AdWords, Facebook, AWeber etc. I have integrated Leadpages with Aweber, my email marketing platform this directly routes people to my email list.
Here is another example of the landing page which I have built using Leadpages for my Facebook Marketing Masterclass.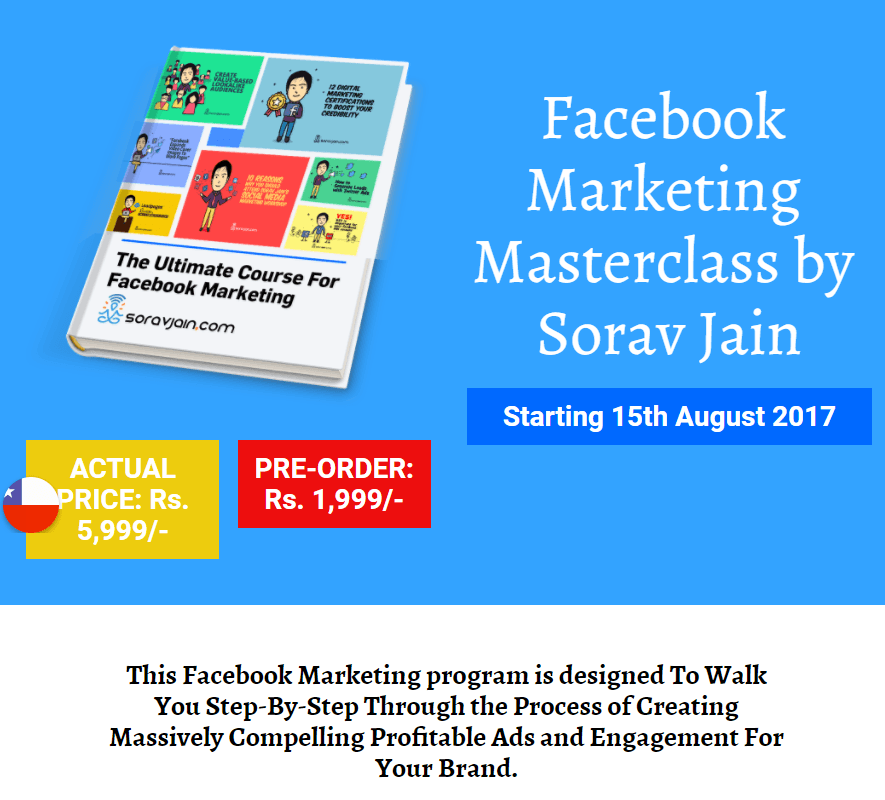 #2. Mobile Friendliness: With the whole world at your fingertips through your smart phones you would want to create pages which are easily customized on your phones without any interruptions.
#3. Easy to Create Thank You Pages:  I created a Thank you page to acknowledge the audience who've visited my page. It appears after the visitors give us their email id in return for an E-book or a Video.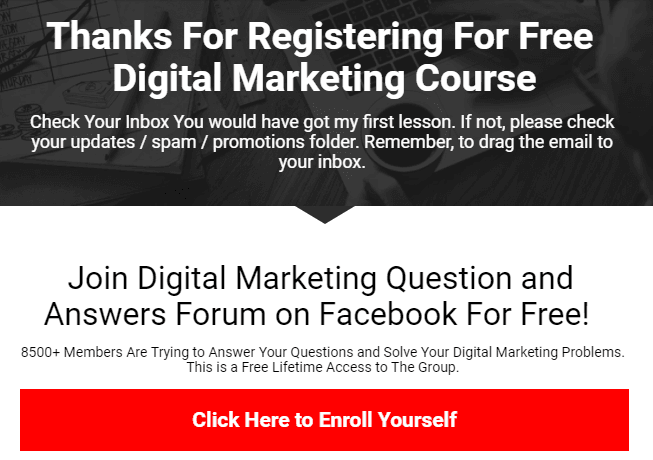 #4. Result Tracking Made Easier:  You can also track your results with LeadPages. When you track for leads you also get the conversion rate and the no of visitors that have visited your page. All that information is available the moment you log-in in your account. This way you can decide on highly converting landing pages.
#5. Easy Ways to Add Pixels:  The analytics section enables you to gather data by pasting tracking codes from your service provider. It also lets you customize the codes which makes Facebook and Google tracking easier.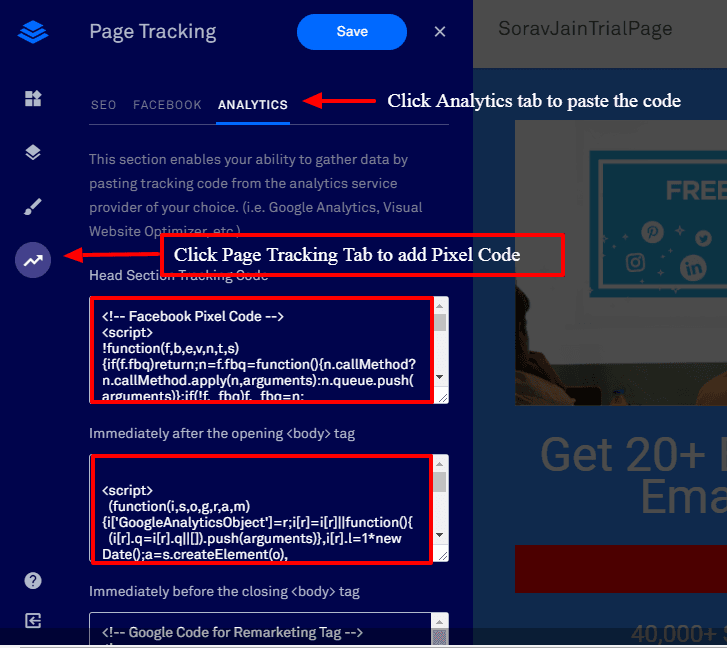 #6. Easy to Upload On WordPress With Help of Plugin LeadPages helps you make great addition on your WordPress site by uploading your landing pages with the connector plugin.
Step by step process to create better converting landing pages- here is an example:
Getting started on Leadpages is a very simple task. Click on leadpages.net to get to the home page.
Step 1: After opening the link on the right-end corner of the page you will find the Login option.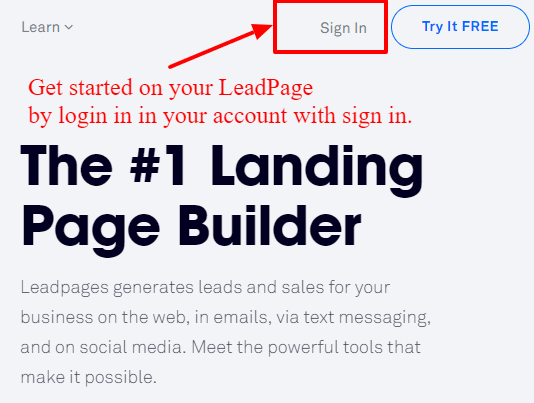 Step 2: In case you don't have an account you can create an account by clicking on 'need an account' option available under the login pop-up.
Step 3: The next step is to choose the plan that fits with your kind of business. There are three types of plans to choose from, the criteria of which depends on the business you own. You can also choose the 30 day money back guarantee plan.

Step by step process to create landing pages with the help of Leadpages-
Step 1: After creating an account with Leadpages you have to sign in by entering your username and password.
Step 2: Click on "Create New Page." You can also choose the option to create Leadboxes, Leadlinks and Leaddigits here.
Step 3: You are opened to a new page which is inclusive of around 300+ templates. Select the template that matches your landing page requirements. And all you have to do is "Drag and Drop" the template of your choice and use the widgets wherever needed. You can also sort the templates according to your needs. Here, I'm creating a landing page for my "Free Digital Marketing Course."
Step 4: After selecting the template, you have to name your landing page. I've named my landing page as, "FreeDigitalMarketingCourse." Once you get done with that, you can start building your page.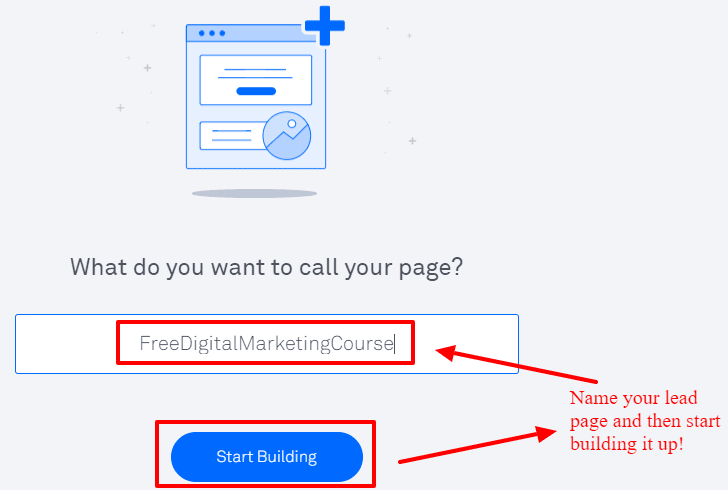 Step 5:Fill in the details you want in your Landing page. You can design a perfect landing page by including all the practices that I've mentioned in my previous blog- (Name of the blog). You can add buttons, space, forms, headline, text, videos, HTML, countdowns and make your landing page absolutely awesome to convert your visitors into potential customers.
Step 6: The next step is to publish your page. You can also preview it once before publishing it.

Once you publish a landing page, you've successfully done the job of a web developer in a matter of minutes and that too without using codes!
LeadPages has been my favourite landing page creator and has aided me in phenomenal conversions. In a nutshell, Leadpages is the safest bet to go full pro with landing pages. Give it a try and tell me how you like it!