From the time Microsoft has acquired LinkedIn there is some serious copying going on! Facebook's advertisement innovations are upfront copied by the professional social networking giant LinkedIn in the recent times. First they copied lead generation advertisements, now re-targeting and other cool custom audience feature.  I am not complaining about it, I am sure this comes as a relief to all the B2B Digital Marketers across the world. This is their time to create some magical Digital Marketing Campaign which has a distinct ROI.
In our last article on How to Create LinkedIn Lead Generation Advertisements, we learnt about how to use LinkedIn to create form based advertisements. Users can look at the ads, click on them and submit their responses in no time.
Audience Targeting on LinkedIn:
Unlike Facebook, LinkedIn has its own limitations. You can target people on the basis of:
Location
Company Name
Company Industry
Company Size
Job Title
Job Function
Job Seniority
Member Schools
Fields of Study
Degrees
Member Skills
Member Groups
Member Gender
Member Age 
Years of Experience 
From the above suite the most used ones are Location, Company Name, Job Title, Gender, Age and Years of Experience. This can be used to narrow down your audience and target specific numbers.
Similar Audiences: 
1. Audience Expansion
LinkedIn gives you option to expand your audience by allowing LinkedIn to pick up similar audience from what you have defined. Malhar Barai, one of the B2B marketers and a digital marketing blogger has practised this and believes it can help you have good ROI. Of course this is a little old feature but not many have explored Audience expansion in the past hence this should be something marketers must test.
Matched Audiences- New targeting tools
With newer methods to collect data comes newer ways to target your audience.  LinkedIn introduces MATCHED AUDIENCES, audience that is similar to your company's customer database. Here, it gives us the ability to create audiences in three ways:
2. Website Retargeting:
Create an audience based on the visitors of your website. Add a LinkedIn insight tag to all the pages of your websites and create an audience of the same at the tool section of campaign manager. You can take the LinkedIn pixel code and it on your website, LinkedIn will hold your audience for 90 days from the date of their visit. You have options of targeting using the exact URL or URL that contains specific keyword which you area aiming to target. For example: Contact Us page url.
3. Account Targeting:
An audience you would create to reach the decision makers of companies. Upload a CSV file with company names (database of companies you have engaged with) to be matched with 8+ million company pages on LinkedIn.
4. Contact Targeting:
Unlike the account targeting, here you can upload a customer email lists and then match based on the list of email contacts in it.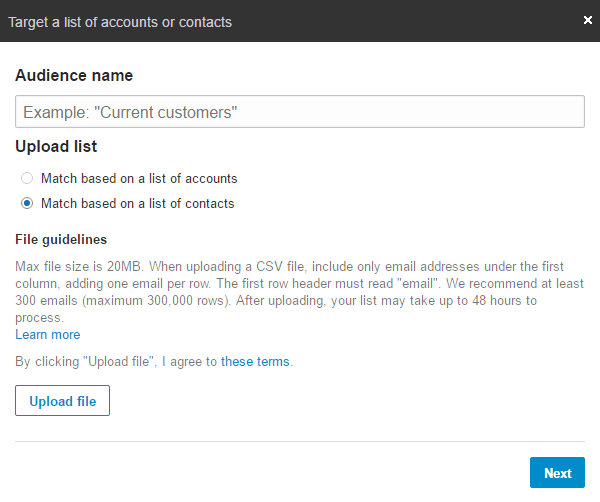 The capability of combining our own customer data and the matched professional data that LinkedIn indentifies for your business can help drive more sales/leads.  Matched audience is now available along with other targeting options on LinkedIn but have been one of the most used targeting methods on Facebook as look-alike audience. These audiences matter the most to your business as they are familiar with your website and/ or have similar characteristics as of your existing customers.
I have just incorporate LinkedIn Re-targeting pixels on my blog after a week or so I would be able to test this feature.
Meanwhile, what else would you love to see on LinkedIn ads dashboard? I am eager to know. Please share your thoughts in the comment section below.