This professional face of Social Media, LinkedIn began way back in 2002 and is still running strong with the platform being the first choice of both recruiters and job seekers.
LinkedIn began only as a business networking tool but grew to be a total online business solutions portal. Currently, apart from networking, LinkedIn helps you connect with recruiters, find jobs you like, create CVs, write blogs, and so much more.
At present, LinkedIn is the most trusted Social Media platform for brands and businesses.
Here are a few amazing statistics and facts related to LinkedIn:
LinkedIn Users Stats and Facts:
Despite being a business only platform, LinkedIn has a very high user base with hundreds of millions of users all around the world. Here are a few LinkedIn usage stats: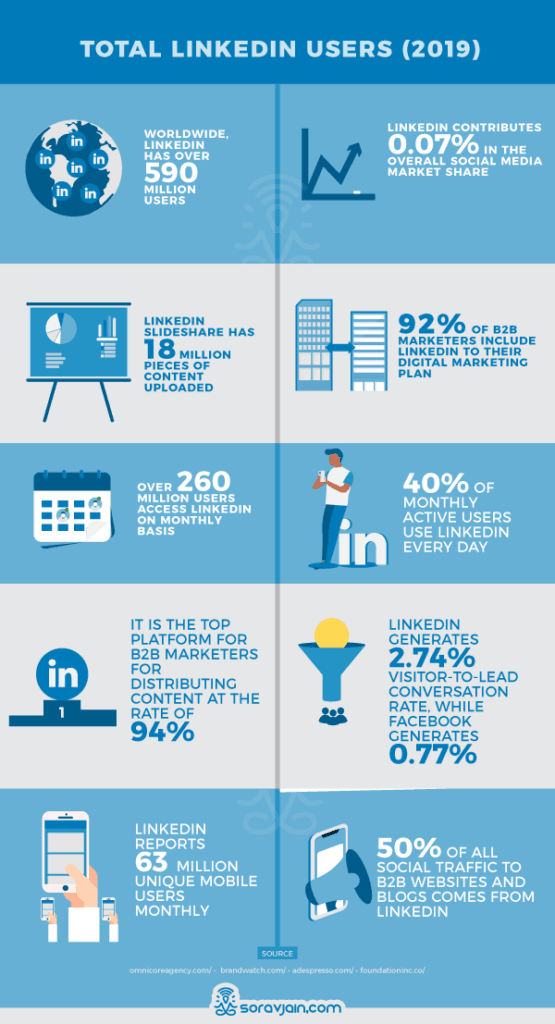 Worldwide, LinkedIn has over

590

Million users
Over

260

million users access LinkedIn on a monthly basis

40%

of monthly active users use LinkedIn every day.
LinkedIn reports

63 Million

unique mobile users monthly.
It is the top platform for B2B marketers for distributing content at a rate of

94%

.
LinkedIn contributes

0.07%

of the overall social media market share.

92%

of B2B marketers include LinkedIn to their digital marketing plan.
LinkedIn SlideShare has

18 million

pieces of content uploaded.

50%

of all social traffic to B2B websites and blogs comes from LinkedIn.
LinkedIn generates

2.74%

visitor-to-lead conversation rate, while Facebook generates

0.77%

.
Linked Content Stats and Facts:
LinkedIn networks being more on the professional side have the same approach towards its type of content. They are more informative than informal. Here are a few stats related to LinkedIn and its content: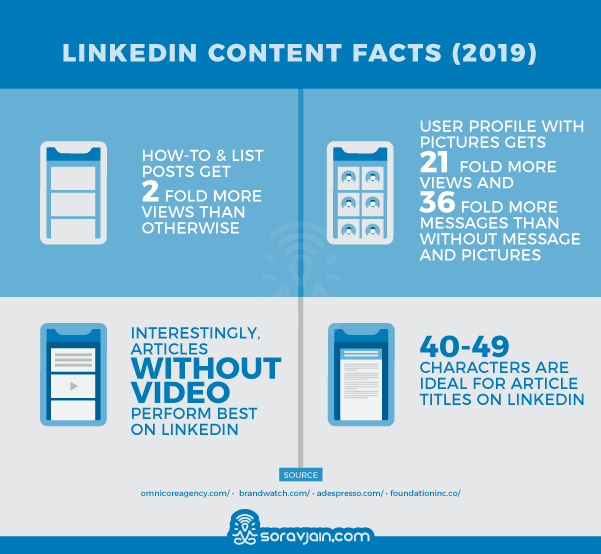 User profile with pictures gets 21 fold more views and 36 fold more messages than without message and pictures.
How-to & list posts get 2 fold more views than otherwise.
40-49 characters are ideal for article titles on LinkedIn.
Interestingly, articles without video perform best on LinkedIn.
LinkedIn User's Activity Stats and Facts:
LinkedIn is majorly filled with Job seekers and Employers, so it's a great platform to follow and connect with your Industry mentors and CEOs. Here are a few facts about the user's activity on LinkedIn: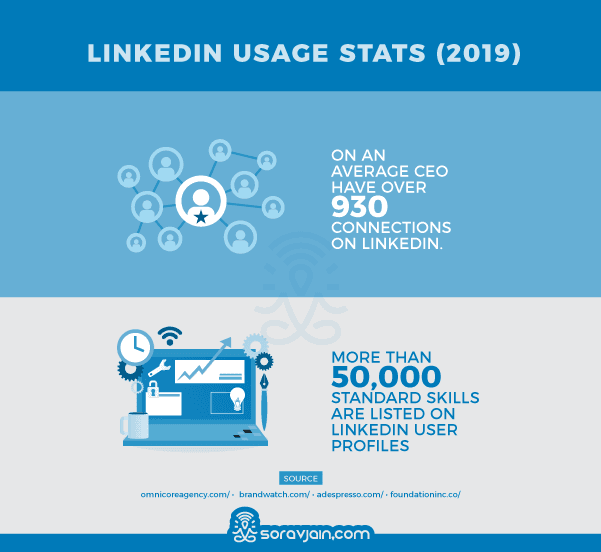 On an average CEO have over

930

connections on LinkedIn.
More than

50,000

standard skills are listed on LinkedIn user profiles.
LinkedIn Brands Stats and Facts:
LinkedIn is the top preference for brands to maintain their presence as the lead conversion rate here is very high here. This is where brands stand on LinkedIn:
Over

3 million

companies have LinkedIn accounts.
LinkedIn contributes

80%

of B2B leads coming from social media.

1 in 3

B2B marketer says the platform generates revenue for them.

71%

of B2B marketers have adopted LinkedIn under their advertising plan.
By now

65%

of B2B companies have acquired a customer using this platform.

92%

of B2B marketers include LinkedIn to their digital marketing plan.
LinkedIn India Stats and Facts:
With the employment opportunities increasing in India and more and more companies opening their branches in the country, LinkedIn is seeing a rise in Indian users. Here is where India stands in the platform:
India has over

52 million

users on LinkedIn that is the 2nd largest user base.
LinkedIn Demographics Stats and Facts:
This is one of the few platforms where the number of people with the age above 25 is higher compared to the other Social Media Platforms. Here are a few demographic stats and facts about Social Media:
Female LinkedIn ad audience is

43%

, while the male ad audience is

57%

.

28%

of overall ad audience on LinkedIn are below 25 years old.

61 million

LinkedIn users are currently at senior-level and

40 million

are at decision-making positions.
Among 2 billion millennials,

87 million

use LinkedIn.
Right now LinkedIn is the fully owned subsidiary of Microsoft and is facing a lot of competition in the Job Portal front. Despite that, LinkedIn is steadily growing strong, thanks to its 17 years of experience. Do you use LinkedIn for as a part of your Marketing Strategy?