It was a usual evening and I was going through the my Facebook profile. Along with the news feed, its my regular practice to go through the targeted ads which gets displayed on the right hand side of my FB profile. It helps me observe how different brands advertise themselves via the top social network. Some of them could be utilized for my training workshops to tell my trainees about good way of advertising and the not-so-good way to do it.
Many a times, I have got amused by the ads from Snapdeal as their ads are very captivating but doesn't deliver anything that is promised. Its just a pseudo presence and it doesn't mean to provide the end-user with offers as promised in the ad. One such example is here :

Very nicely worded, the ad tempted me to click and proceed to the landing page. Oops ! It just took my contact details and ended nowhere. OK ! Very cleverly framed ad, which I lost my contact details to. I just let it go and didn't care much as I had lot of other stuff to concentrate on.
Yesterday, when I was facebooking, I again came across another ad by Snapdeal.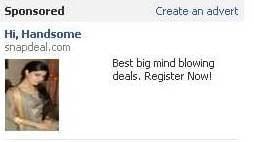 I looked at it and smiled first, later I thought this is something that needs to get mass attention (especially by bloggers and tweeters) as this advertisement which said "Hi Handsome" was funny yet cheapest act by a popular brand 'Snapdeal'. Once I tweeted about this act by Snapdeal few others re-tweeted and thus gathered a lot of attention with more than 200 views, opinions and buzz about @snapdeal's cheap act.
I was not alone. Ranjani – a social media enthusiast blogged about @Snapdeal's cheap advertising strategy in one of her blogs. This blog contained detailed information about the ads and got lot of views and added to the negativity that was spreading about the brand.
After the negative buzz, Rohit Awasthi (Head – User & Communities at snapdeal.com) replied back apologizing for such advertisement, in Ranjani's blog (Please read the complete blog post with comments in order to understand the conversations between brand and consumer better). Rohit has taken his time and efforts to explain me on phone what had probably went wrong and promised to clean up such ads.
It was so positive from the brand, to admit the mistake that it has made and take immediate action towards rectification.
This just proves me one thing.. If you are able to raise your voice against something which is misleading or inappropriate and get enough support from your social circle, any brand will definitely listen to it. Especially in the Social Web, the brands reaction would (should) be faster, if the concern proves to be very much negative and which has the potential to tear apart the reputation of the brand.
Lesson for the day : To ERR IS HUMAN. But, how positive you (the brand / business) are to admit, accept and rectify it makes the big difference. Mature businesses will document it as a great learning to be avoided in future.
On the other side @Snapdeal.com should consider changing its poor advertisement / communication tactics to attract healthy customers and avoid distracting the same.