This wasn't the expected start of the week; Microsoft purchase LinkedIn for a whopping $26 billion. The deal looks like the biggest tech deal in the history that perked up LinkedIn's share price by 50% just after the announcement.
https://www.youtube.com/watch?v=-89PWn0QaaY&feature=youtu.be
About LinkedIn –
LinkedIn founded by Reid Hoffman in 2002 is the most popular social network for professionals. There are more than 433 million users of LinkedIn worldwide out of which 60% are mobile users. The company has 7 million active job listing that left the network with stand alone among all business professional social network market.
The news of acquisition came Monday afternoon when Microsoft said Jeff Weiner will remain as CEO of LinkedIn and will report of Satya Nadella (Microsoft CEO). For Satya this is the first ever big deal made since he became CEO. The deal was approved by both the parties and will nearly close by year end. LinkedIn will be an independent unit within Microsoft and nothing much will change in terms of titles and managers.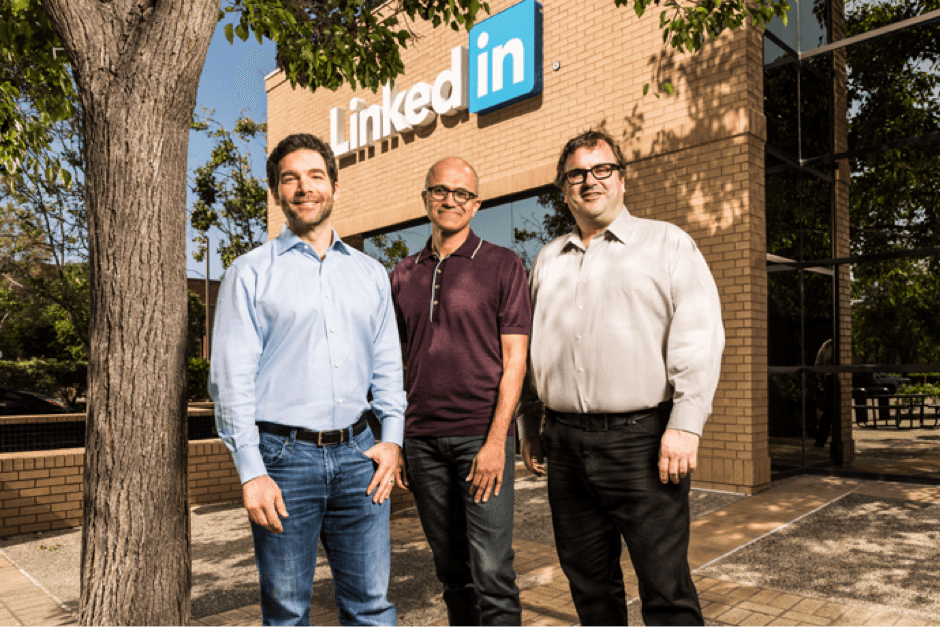 Nadella in a statement said –
"The LinkedIn team has grown a fantastic business centered on connecting the world's professionals,"
"Together we can accelerate the growth of LinkedIn, as well as Microsoft Office 365 and Dynamics as we seek to empower every person and organization on the planet."
Jeff Weiner, on other hand believes it is "a re-founding moment" for the company and added "relationship with Microsoft, and the combination of their cloud and LinkedIn's network … gives us a chance to change the way the world works."
While many like me are surprised at the huge price for deal, the actual question why did Microsoft acquire LinkedIn? Here is what I feel about the purchase:
Top 6 Reasons Why Microsoft Acquired LinkedIn
Instant Access to 433 Million User – Although Microsoft believes that this deal would not bring any profit till 2019; it does get instant access to 433 Million users and a chance to sell all of its business tools, cloud services and related products. The rapidly budding company desire to be the biggest professional service provider, to both individuals and enterprise level customers. LinkedIn's wider social network will give Microsoft a sales channel to sell more of its product enterprises. It will also help create some great packages that complements to the offers that they currently have for collaboration and communication.
2. To Become Socially Strong – Microsoft was never really successful in the field of social networks, although it cleverly invested in most popular social network Facebook, but it is juggernaut on its own. LinkedIn will probably help the giant to boost company's social network presence. "In a section called "Selling to Social Selling" in the deck below Microsoft shares how LinkedIn is going to help them in completing their CRM products . A user can find a lot of background information using LinkedIn sales navigator and transform the sales cycle with actionable insights. This will eventually help users find leads, strike conversations and close deals. In nutshell, this deal with help them compete with salesforce big time.
3. Magic behind connecting Graph – Both companies provided its respective social graph, where Microsoft brought in information related to entities like Messages, Contacts, Documents, and Calendar. LindedIn's graph was all about information pertaining to jobs, Co-workers, Recruiting, Learning and Prospects. Imagine, weaving LinkedIn graph into Outlook, Office, Windows, Calendar and other apps of Microsoft – magic will happen!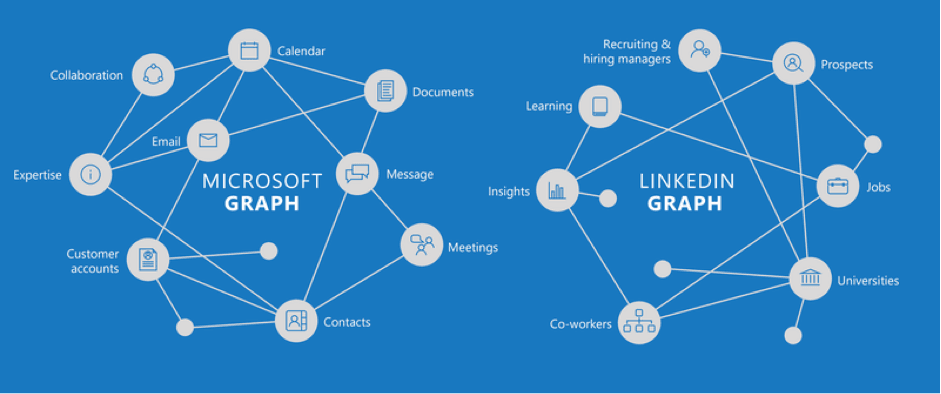 4. Cortana – Microsoft's Cortana is already a hit product that helps you find things on your PC, it helps to find things on your PC, manage your calendar, track packages, find files, chat with you, and tell jokes – all in all it's your personal assistant. Now, the company is looking to integrate data from LinkedIn to Cortana, which can push behind Apple's Siri and Google Now. In future, you may see Cortana locating LinkedIn contact and tell you about mutual friends.
5. Because Yammer did not help – In June 2012, Microsoft acquired Yammer, a leading provider of enterprise social network for $1.2 billion in cash. However the social business did not flocked as well into Office 365 as the company expected. LinkedIn will probably provide much better reach in terms of social networking services and professional content. Also note that LinkedIn is currently in a healthy state and it won't be like Microsoft acquiring Nokia either.
6. Revenue Source – LinkedIn is already a popular product which has premium tire service user by many reputed professionals, in-turn can become a great source of revenue for Microsoft. Not to forget, LinkedIn makes money by allowing brands to run ads, selling premium subscriptions, allowing HR managers to do a passive and active searches and by creating sales navigators that helps B2B companies sell their services and products.  So it's clear – for Microsoft this is a big acquisition, both in terms of revenue source and development that LinkedIn would bring to company.
Explore more in the deck below:
Would you like to add more reasons to it? Please add them in the comment section below. Would love to explore.