Voice search is growing as the virtual assistant in the market more actively.
Sundar Pichai, CEO of Google announced that 20% of the queries on its mobile app and voice searches in the Android devices during his Google I/O keynote.
Google Executive Chairman Eric Schmidt in September 2010 said that 25% of the Android Searches made in US are voice searches. The 20% figure mentioned is lower much lower than mentioned in 2010. Regardless of the percentage it is clear that voice searches are growing rapidly.
According to the survey report from MindMeld, it was found that there is significant growth in the voice search and voice assistant usage. 60% respondents said that for the past 12 months they had started using voice search and virtual assistant more frequently.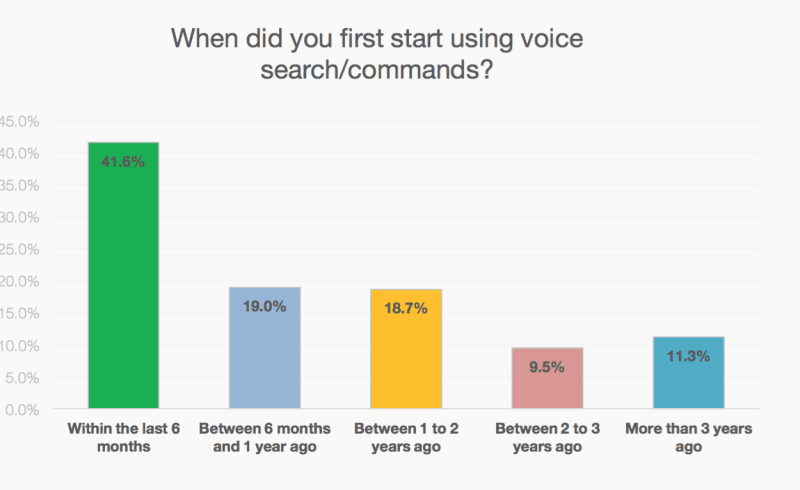 Source: https://mindmeld.com/press
The ranges of virtual assistants are training their employees to use their searches and become more familiar with the search and the mobile devices. The higher percentage of the queries that are initiated by the voice are SEO implications and content search. Google Home announced that it has integrated third party transactional services including Watsapp, Uber and Opentable.
The age of writing reliable content and keyword stuffing is over now it is era of conversational search queries.
Here are few digital marketing tips that would help your content to be visible in voice search
As voice search queries are longer you must begin targeting long tail keywords.
Start using FAQ strategy. "Who, What, Where, Why and How" are the questions frequently asked by the customer so address those in your websites or social media pages.
Make the content in the simple  language which makes you sound more conversational.
Semantic search is the future where search engines need to understand the intent for the query in order to deliver more accurate results.