Rajinikanth on day 1 of his Political Career made an announcement on Twitter. He made a quick 1 minute video about his new website and mobile app launch. Check out the video here. 
This is the wisest move a politician can make in Tamil Nadu. Why? As per a Tamil Nadu Social Media Political Scenario research done in January 2016, many parties took a deep plunge on Digital for the sake of garnering votes during elections. None had a very strong story telling agenda for a long term. The channels were created either to boast about the party's roadshows or to tarnish opposition's image. Many parties like PMK had even done influencer marketing campaigns where city bloggers were invited to cover a story about their talks at one of his public shows which got the PMK leader a lot of attention through the digital influencers in the virtual world.
I have been personally involved in one of the Political Party's Digital agenda and from the traction I have got, I have learnt that the scope of Digital for Tamil Nadu politics is exponential. Here are some of my observations and stats that proves Digital is the future for Tamil Nadu Politics' communication agenda:
Increasing Facebook Population in Tamil Nadu: Out of 200 Million Facebook users in India 14 million Facebook users are from Tamil Nadu, of which only 6.4 millions are from Chennai the rest comes from the 2-tier cities and rural parts of Tamil Nadu. This number is going to increase exponentially.
Rising Tamil Nadu Internet Users: As per a report released in Jan 2016, Tamil Nadu has 2nd highest Internet or broadband subscribers. There is no report out since then. As per Google Adwords dashboard there are close to about 

18,834,399 google users who uses Google for search. 

But, if I take all probabilities into consideration we have about 450-500 million Internet users in India at this point of time, almost 40 to 50 million Internet users are from Tamil Nadu.
Jallikattu Protest: We can't forget the fact that Jallikattu Protests in January 2017 was entirely a student movement. Hashtags like #WeDoJallikattu, #IsupportJallikattu, #WeDidJallikattu, #SaveOurCultureJallikattu, #JusticeForJallikattu and #MarinaProtest were created by the students and propagated by them through the means of Whatsapp, Facebook and Twitter. Students gathered over Social Media channels to bash brands that were against Jallikattu. It was truly an eye opening movement.
Tamil Nadu Bigboss Votes on Internet: Big Boss Tamil took the Internet by storm with people creating #OviyaArmy on Social Media to support one of the contestants. Since the show involved voting mechanism to declare the winner. Bigg Boss has garnered 76.76 crore votes (exact figure: 76,76,53,065) during the season and this figure is Massive. This show became a household talk and sensation for internet conversationalist. The votes were garnered through missed call and internet voting mechanism.
Now let's look at Rajinikanth's Website and the objective. As per his video, Rajinikanth wants to unite all his fans who want to do good for Tamil Nadu. Here is my observation on Rajini's website:
His fans and people who want to change Tamil Nadu could register using email id and phone number.
Website is hardly a 3 page website. 1 – Home page, 2, Maghizichi (Happiness) Page (That features all his political activities), 3. Contact us page (that shows no call to action or purpose of approach)
Website Only Supports Tamil Script:  Though the website title says all India Rajinikanth's Fan Association in English, the website currently is not bilingual. However, you can use Google Translator to look at the content. But it changes the meaning and doesn't look all that professional.
Mobile Site & Video Embeds: The Video embed is too small for desktop version but good for mobile. The website is just a two scroll website and doesn't give enough reasons for people to stay on this website for long.
What's In The Website After You Login: Once you register yourself on the portal, you can comment on the journey posts on the Magizhchi page and there is a separate detailed registration form that asks you about your occupation, socio-economy background etc. However, the website is not very safari browser friendly. Looks like a proper browser friendliness check wasn't done for the site before it was launched.
How Does the Mobile App Differ? Well, mobile app is almost the same and serves the same purpose, nothing more – nothing less. On day 2, Rajini Mandram app has close to about 10,000 thousand downloads and 3,000+ reviews which is too less for Rajini's Fan standards.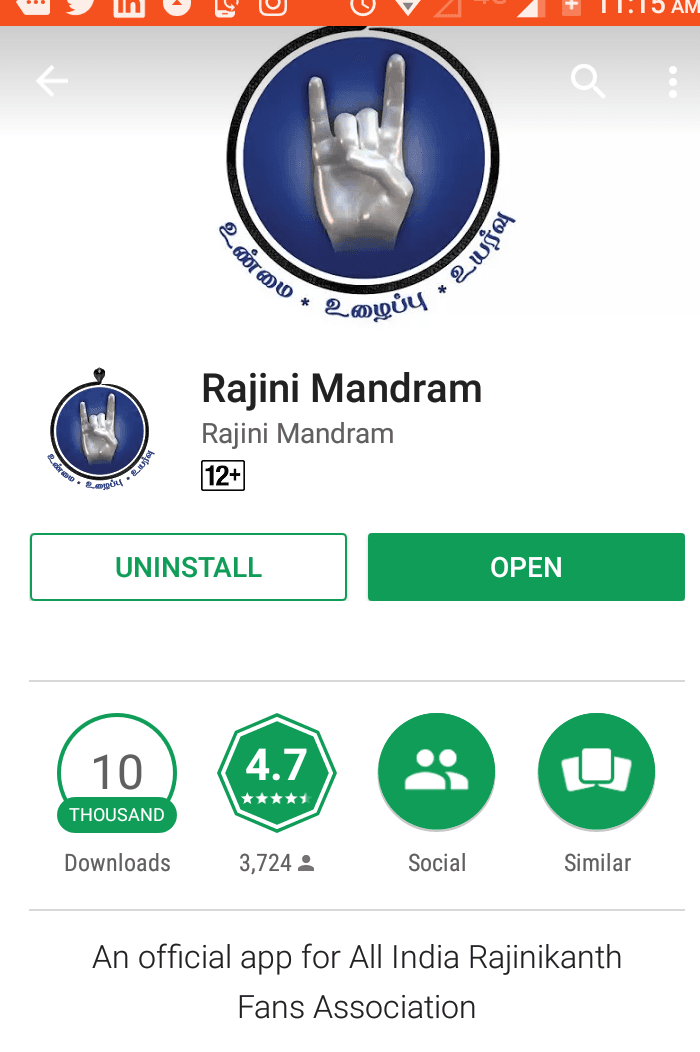 Does the Website Serve The Purpose? 
To make a difference you need to start from day 1 and Rajini has got that right. He launched a mobile app and website unlike any other politician in Tamil Nadu. How will it really help him? It will help him reach out to his fans through the means of Mobile (SMS), Email and Whatsapp, which will in turn get him a lot of shares, likes, comments and Word of Mouth. Every Tamil politician invests in creating their communication channels for example: Jayalalitha had Jaya TV, Karunanidhi has Kalaingar  TV, Vijaykanth has Captain TV probably Rajini should his own channel too if he intends to go with the trend. But if he is a trend setter then he can strongly drive Digital as digital is the means to reach the mass and the mass media.
I would rate 5/10 for the current website as there are lot of loopholes. The website  and mobile app could have made a huge difference in Rajini's Political Career onset and here is how he could have added the following avenues
Research About Tamil Nadu: Showing interesting stats about Tamil Nadu and where the growth parameters have been. What has stopped the growth of Tamil Nadu. What's the ratio of people unemployed, what's the ratio of poverty in Tamil Nadu. What kind of law and disorder takes place etc. Basically, eye opening facts that inspires people to stay tuned to this channel.
Showing The Purpose Of Life: Rajinikanth is a spiritual person, his talks have been inspiring. If these talks are added in a separate page it could help fans watch this videos to stay inspired. There could be a few to several videos that can be added to address the Youth of Tamil Nadu.
Shocking Facts About Youth Lifestyle: With the kind of things that are garnering youth's attention and what measures should the government take at this point of time in order to make a difference to their lives and lifestyle.
Games: How much do you know your state? A simple game or quiz could have been part of these platforms so that people could take it up to crack their knowledge or understand Tamil Nadu more. This should have been in truly Rajini's style to make people come back to this channel to score high and learn about various components of Tamil Nadu. Moreover, increasing the time people spend on the channels.
Social Media Connect: The website doesn't show any connecting dots to social media channels. He should feature the following channels: Facebook, Twitter and Instagram for his users to follow him there.
Finally, the purpose of the page should shift from garnering data of fans to inspiring voters to subscribe to the channel.
I am one of the biggest fans of Rajinikanth and his talks, especially when he quotes Mahatria. I have always maintained this relationship by watching his movies on the first day and hence this blog is from a true fan who wants to do good for Tamil Nadu. I know Digital can transform but let's define the purpose. I believe in the coming days, Team Rajini takes that big leap.