echoVME – Digital Marketing agency and training company based out of Chennai is a specialised healthcare digital marketing firm, we have offered industry reports on how doctors in India use Social Media and how healthcare industry is using Social Media in India. Some of the healthcare brands we worked with in the past: Amrutanjan, Santosh Hospitals, Apollo White Dental Care, Oliva Clinic, Dr. Paul's Clinic and many more. This report is an attempt to understand how some of the top hospital brands are using digital platforms for their communication.
Healthcare Industry has been growing at a very fast pace. The need of doctors and affordable medication is on rise. Most of the hospitals cater to this need. A few of them are good enough to go online and publish information about the kind of facilities they provide. This report is about the social media presence of top hospitals in India which are focused in providing a high level of service to the patients. Out of the hospitals that were analyzed we found that 20 hospitals' social media presence and website ratings are outstanding. A detailed explanation about each hospital's online presence is explained below.
 1. APOLLO HOSPITALS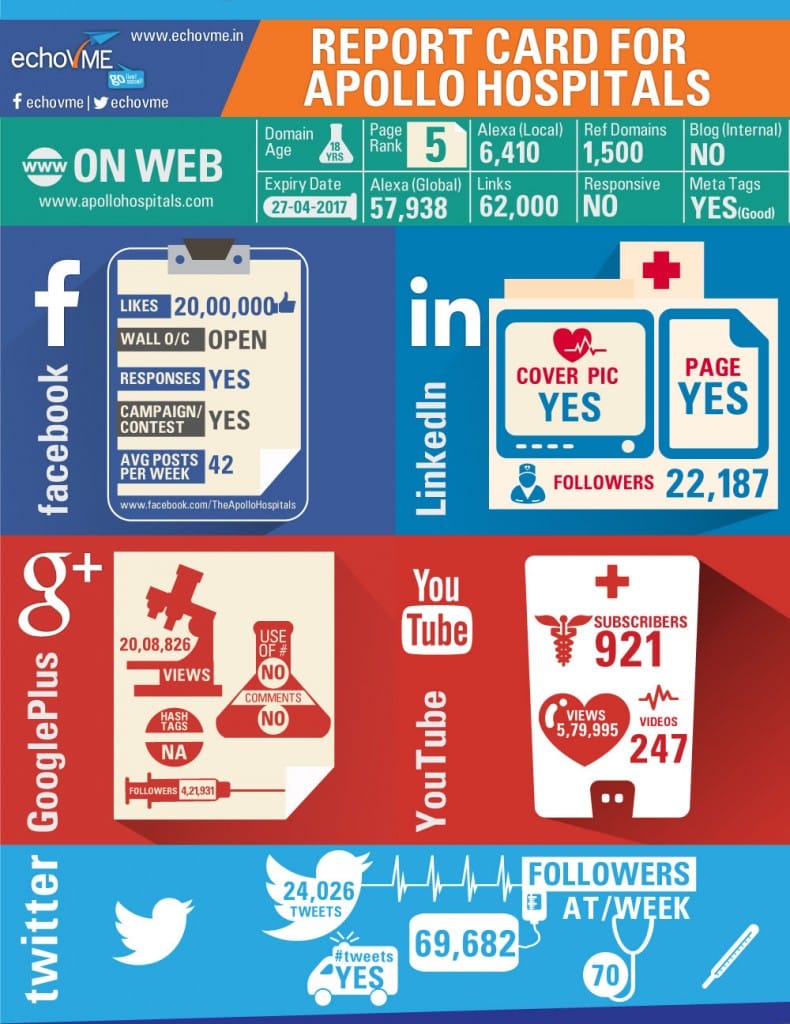 Apollo Hospitals is India's leading hospital with a PAN India presence, they stand out of the crowd for the accreditations, exceptional service and for providing good quality healthcare solutions to people.  Undoubtedly, they have faired exceptionally on Social Media and Digital space too.
Apollo's domain is about 18 years old – this is a tremendous achievement in itself. Oldest domains have the best visibility equivalent to how older wine has the best taste. Google considers and respects older domains more. With a page rank of 5/10 and the global Alexa score of 57938 they have built more than 62000 quality backlinks from 1500 reference domains which is acting as a huge bonus to their search engine rankings. Apollo's website is yet not very responsive and we believe that would be one reason for their search engine ranking failures. However, we currently see Apollo is optimized for many keywords and stands on top for some of the best healthcare associated words.
Apollo's Social Media presence is spectacular with about 2 Million Fans on Facebook. Brand posts about 6 updates per day with an objective to educate people and responds to all the queries and comments received. On an average they get about 200 people engaging to their posts. Also on Twitter, the brand has 69800 followers. Its tweets per day is 10 which itself shows that it is very active.  Also, the hospital conducts campaigns/contests regularly. Some of the commonly used campaigns/contests are #Healthquiz #eatsmart etc.
Overall, the posts are pretty much informative and engaging. #healthquiz is one of the engaging posts wherein people actively participate and come to know about various do's and don'ts' for a healthy living.  Another campaign #eatsmart educates people on certain specific foods that is required for a healthy living.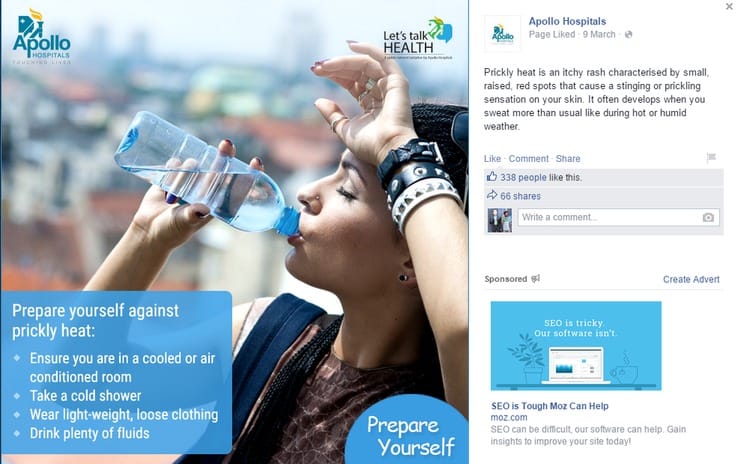 On LinkedIn, it has 22817 followers. It also stands tall on Google+ with 42000 followers which makes it the only hospital to have such a strong Google+ presence. The brand has 921 subscribers on YouTube. This can be attributed to the informative videos on its channel. The hospital is absent on Pinterest.
2. MAX SUPER SPECIALTY HOSPITAL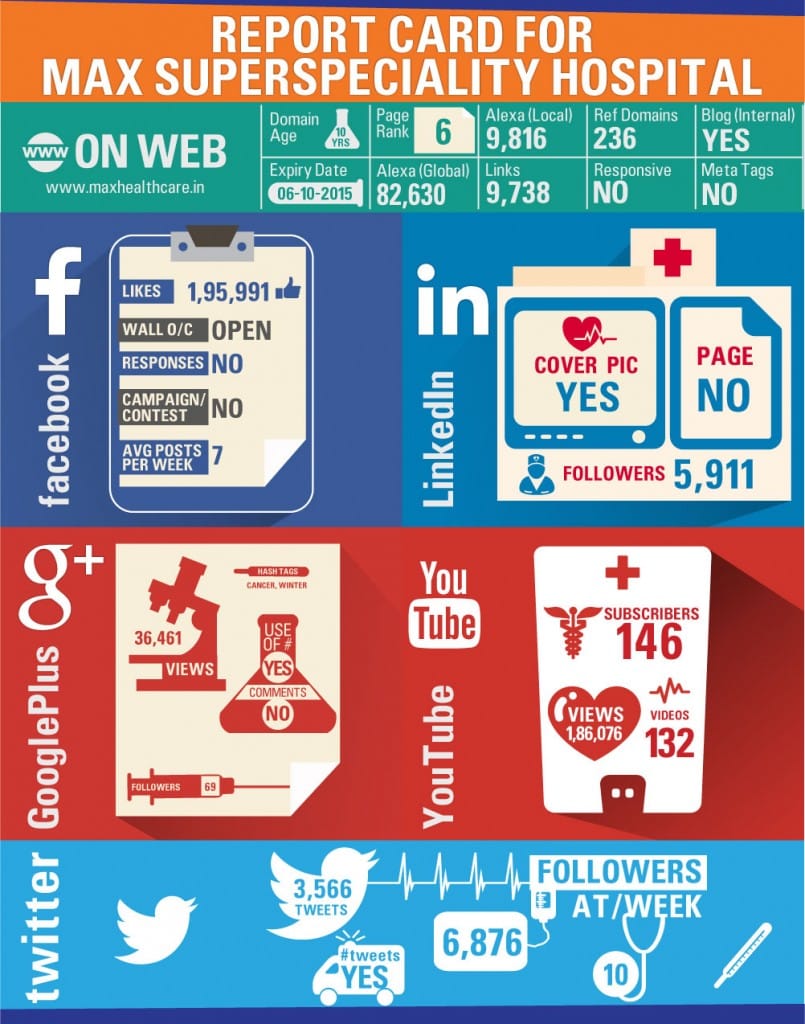 Max hospital is located in Delhi and attracts millions around the place. This is because of the level of service and detailing in all aspects of healthcare service. It also makes sure its service level is of the
industry standards. Likewise it has been holding a strong position across different social media platforms too.
Max's website has a domain age of 10 years. This is good as it can gain consideration from Google. With a Google page rank of 6 and global Alexa rank of 82630, the brand has 9738 backlinks from 236 reference domains. Its large number of backlinks helps in good search engine rankings. But the less number of reference domains might hamper its rankings. It doesn't have a responsive website and its keywords are not optimized for healthcare related search words and we believe that this could be one of the reasons for a poor Google page rank.
On social media the hospital is highly active with 7 and 10 updates every week on Facebook and Twitter respectively. Moreover, its Facebook posts gets an average of 35 likes. The posts and tweets are informative and interactive. It responds to patients queries within 24 hours. Moreover, it posts about certain commercial details. E.g. the #didyouknow educates people on general health benefits.
The above image shows how it responds to customer queries with care.
On LinkedIn the brand has 5911 followers and on YouTube the brands has 146 subscribers. This shows that the hospital is moderately active on these platforms. The use of contest/campaigns like #cancer, #winter etc. makes them a strong member on Google+. On Pinterest, the brand has 190 pins and 67 followers.
3. FORTIS HEALTHCARE
With a PAN India presence, it is active on all social media platforms except Pinterest. Fortis hospital is labelled fastest growing healthcare group. Operating in four nations, this hospital was ranked 2nd among 30 most technologically advanced hospitals in the world by 'topmastersinhealthcare.com'.  With such service levels that commands respect
Its website has a domain age of 13 years with its expiry coming in around 3 years from now. Again, this shows that it has had an online presence for a very long time. This way it gains Google's recognition. It has a Google page rank of 5 and global Alexa rank of 60403, which is considered very good. Moreover, Fortis has 364 reference domains spread across 5108 links, which if increased can boost its search engine rankings. We have also observed that the website doesn't have an internal blog and the website is not responsive. The lack of a responsive website might be the reason that it doesn't have a good search engine ranking.  Moreover, Fortis has been optimized for keywords which helps it to be listed top on a search result page.
On social media, the hospital has a very good presence with 21 and 14 updates every week on Facebook and Twitter respectively. Its strong presence can be attributed to the frequent contests/campaigns running on their pages which are very timely done. E.g. the hospital's latest campaign was #NepalEarthquake which portrayed its relief work carried out in Nepal. Another common e.g. would be #stomachflu which is very much informative by suggesting people to follow a healthy diet. One such campaign is shown below.

On LinkedIn, it has a good number of followers, 13704, which adds to the credibility of the page. On Google+, the brand is very active with the use of # like #worldheartday, but has less number of followers, 216. On YouTube the brand has a whooping number of subscribers, 2146. This can be attributed to the good quality of videos posted.
4. MANIPAL HOSPITALS
Present only in Bangalore, this hospital has an astounding presence in social media. The focus at Manipal Hospitals is to develop an affordable tertiary care multispecialty healthcare framework through its entire delivery spectrum and further extend it to homecare. This hospital for sure has leveraged digital marketing to its advantage.
We observed that the brand's website has a domain age of 7 years and expiry around 4 years from now. A domain of 7 years is neither very good nor bad. However, in a couple of years' time it can gain Google's recognition. It has a global Alexa rank of 171989 which is not bad but has to be improved. It has 854 links from 192 reference domains. The hospital's not so good Alexa ranking can be attributed to the very less number of backlinks. Though the website is responsive and has an internal blog, it is not optimized for more keywords which can hamper it from coming on the top results on a Google search of healthcare associated keywords.
The brand has a sound presence on social media. The hospital's Facebook page has 236225 likes. It posts on an average 10 and 21 updates per week on Facebook and Twitter respectively. Moreover, the hospital conducts lot of contests, which is one more reason for its strong presence on these platforms. These campaigns and contests ensure that the followers are engaged well. Also they provide a lot of information on improving health. One example would be the #stayhealthy which gives general health tips. Another contest #ans2win is a kind of a contest post wherein the visitors are encouraged to answer for the questions posted and the winner is rewarded. A few such campaigns are shown below.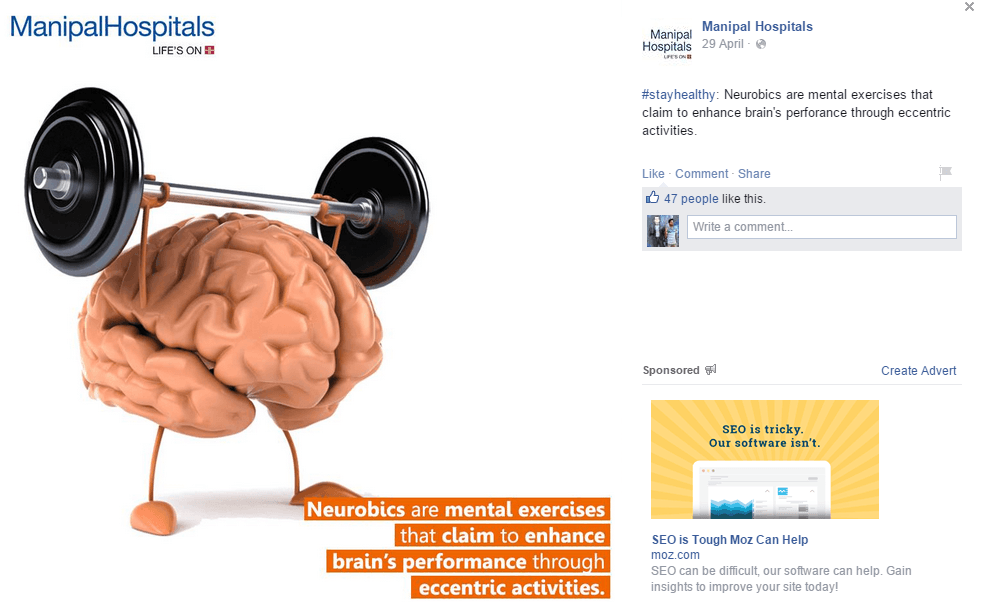 On LinkedIn, the hospital has 1798 followers. Though it is active on Google+ with the use # like #worldhealthday, #cancer etc., the followers are very less. This can be because of the less number of people active on Google+. On Pinterest, the brand has 98 pins which results in only 25 followers. Again, Pinterest is a growing platform, in India, that doesn't have a large number of users.
5. MEDANTA MED CITY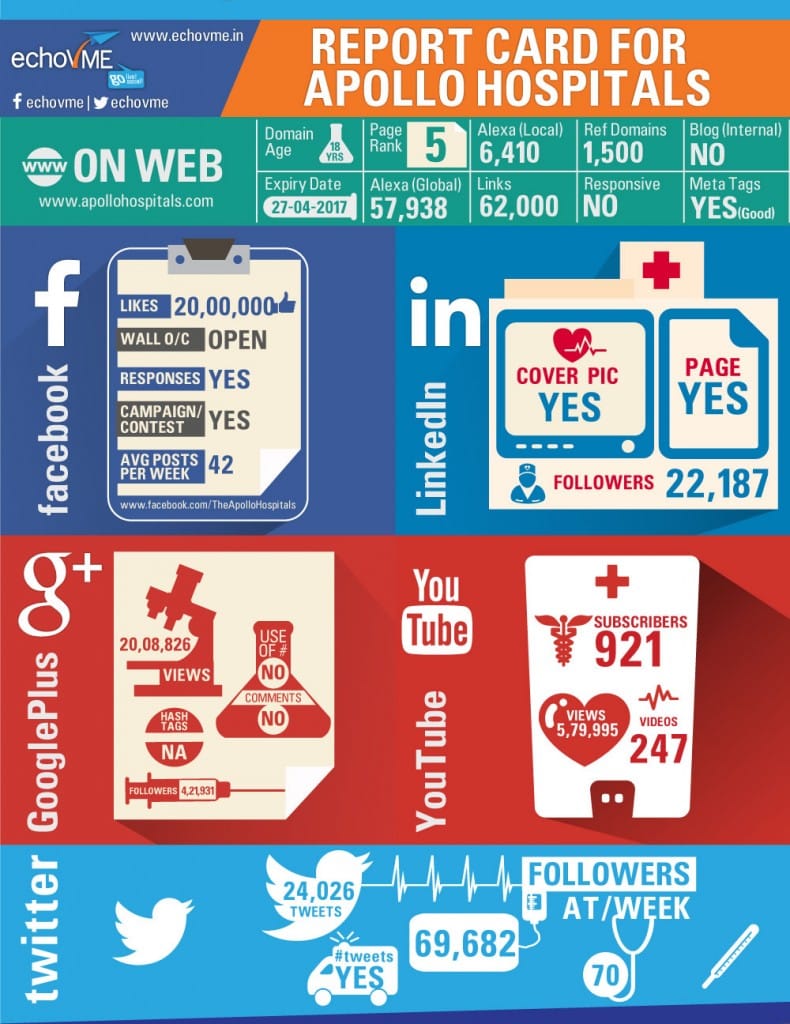 Present in Delhi, this hospital is present in all platforms which were analyzed. It is founded by an eminent cardiac surgeon and is aimed at bringing highest standards of healthcare to India. To do this, it has used the social media platforms to its advantage.
Medanta's domain is 7 years old. This is neither old or nor young. But it is old enough to gain Google's respect. With a global Alexa rank of 111743, the brand has 1371 links from 119 reference domains. The poor Alexa rank is because of the less number of backlinks and lack of a responsive website. Medanta has optimized for keywords which helps them to be listed top on a search result page.
The brand's social media presence is of a major concern as it doesn't post regular updates on its Facebook and Twitter pages. Its posts are engaging but without the use of any common contests /campaigns like in other hospitals, it tries to spread information. For e.g. the image shown below shows how the hospital leverages its twitter page to collect blood for an urgent requirement.
On LinkedIn, the hospital has 4302 followers and its YouTube presence is good with 129 subscribers. But this can be improved by sharing their YouTube videos on its social media pages. On Google+ it has 2291881 views but very less number of followers and their Pinterest pins, 139, is very less. As explained earlier, the number of active users on Pinterest and Google+ is less.
6. NARAYANA HEALTH
Present in Bangalore, this hospital has a pretty decent social media presence. The hospital is also known as Narayana Hrudayalaya. Moreover, it is India's most economical healthcare service provider. The information on this aspect has to be known to all. To check this, we analyze its social media presence.
We observed that their domain age is just 2 years. This shows that the hospital is very new to the online world. But hopefully, it can get Google's recognition by updating its website on a regular basis. The brand has an Alexa global rank of 139545 along with 2309 links from 336 reference domains. The presence of an internal blog and the brand has been optimized for keywords which helps it to get listed on a search result. But the website being not responsive is a minus. Since the brand is young online, it has a less number of backlinks.
On Facebook, apart from the fact that the hospital has 289000 likes, its high average number of posts per week at 7 and conducting campaigns such as #healthquiz, #knowthesymptoms, #detect2protect etc. adds to its strength. These campaigns help people know the symptoms of diseases. However, the hospital can post more as it currently stands behind its competitors like Apollo and Fortis. The posts are much about the hospital's information like any successful operation conducted.  Currently, it is running a rigorous campaign on #breastcancer – this helps in knowing the symptoms of breast cancer.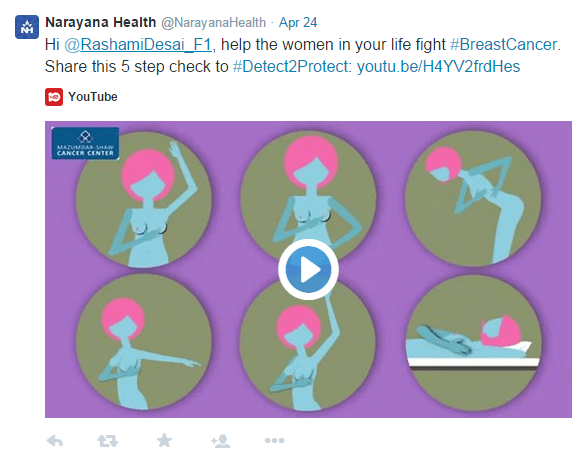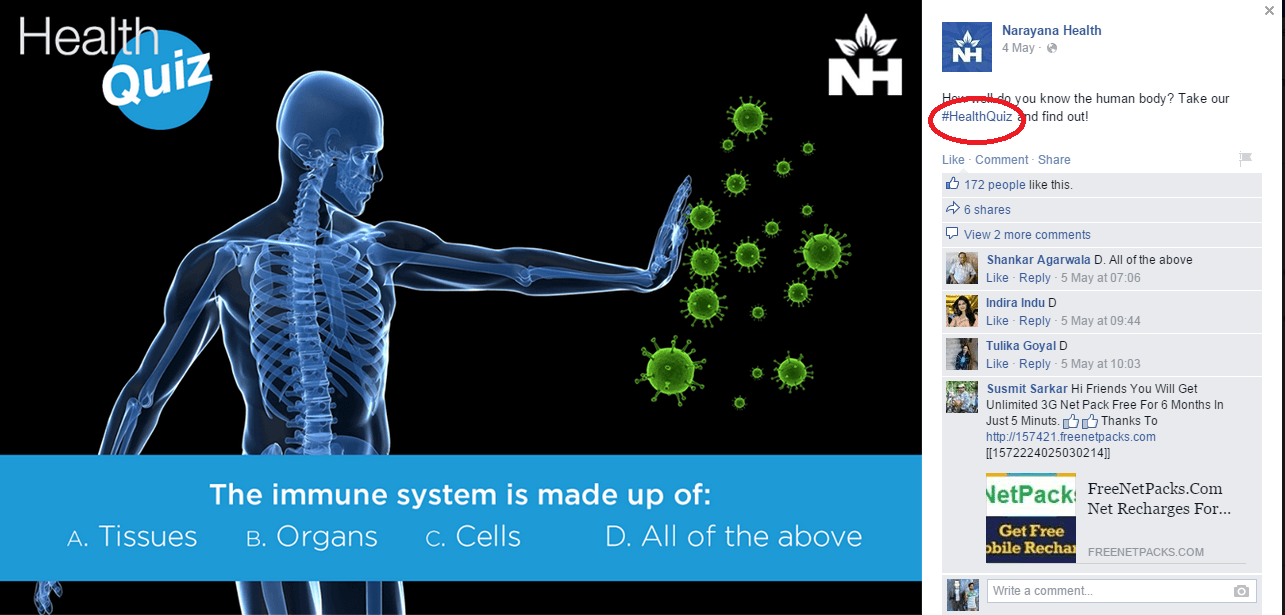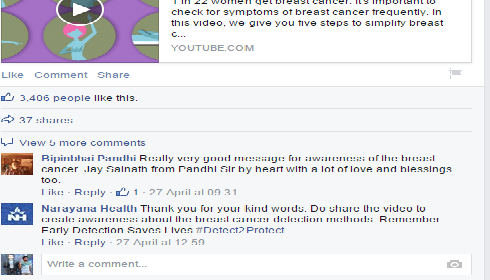 On LinkedIn, the hospital has 6664 followers. But on YouTube the brand has only 44 subscribers and 51 videos. The less number of subscribers could be because of the quality of videos posted. The brand is not very active on Google+ and Pinterest.
7. WOCKHARDT HOSPITALS
Having a PAN India presence, the hospital's activity level is pretty decent on Facebook and Twitter. Many of the Wockhardt group of hospitals has accreditation of the NABH (National Accreditation Board of Hospitals & Healthcare), the highest and the most stringent quality standards institution in India and the National authority in healthcare accreditation.
When its website was analyzed, we found that its domain age is 14 years, Google page rank is 5 and Alexa global rank is 513669. These numbers show that the hospital must have Google's recognition for being very long.  It has 1428 links from 202 reference domains. Its less number of backlinks could be a reason for its bad ranking status on Alexa.  Though the website is responsive it doesn't have an internal blog and it is not optimized for more keywords which makes it almost invisible on a search result of healthcare related keywords.
The hospital is very active on Facebook and Twitter by posting 2 posts on an average every day. Moreover, the hospital has 989 reviews and gets 12 likes per post on an average on Facebook. The posts are generally aimed at creating awareness about health. The main parameter that adds strength to it is the campaign and contests it conducts. For e.g. #MediQuiz helps in letting people know or share their knowledge about human body facts. Another e.g. #InterestingBodyFacts throws light upon certain amazing facts about human body which is not known otherwise.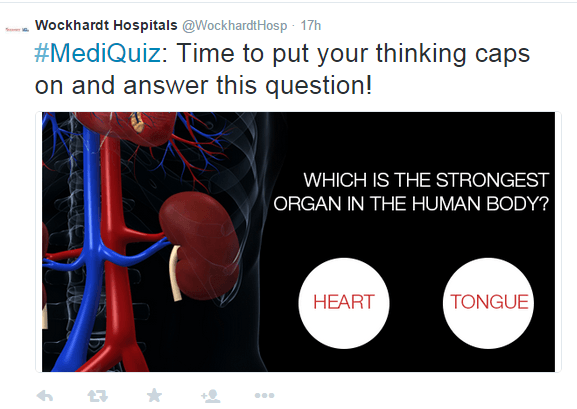 On LinkedIn the brand has 2812 followers. The 119 videos of moderate quality on YouTube is supported by just 48 subscribers. The brand is not active on Google+ and absent on Pinterest.
8. ADITYA BIRLA MEMORIAL HOSPITAL
Having presence only in Pune, the hospital's social media presence is pretty good and versatile and absent only in Pinterest. The hospital employs the finest talent in the medical industry as full time consultants using ultramodern medical technology to provide high quality cost-effective medical services. It lays special emphasis on preventive care towards which is hosts a complete Wellness Assessment Center under one roof.
When its website was analyzed, we found that the domain age is 13 years. It has a Google page rank of 4 and global Alexa rank of 527791. With an age of 13, it has a matured online presence and a regularly updated website. It has 10000 links from a less number of reference domains, 32. The number of reference domains has to be increased.  Though the website is not responsive, the presence of an internal blog and the brand being optimized for a good number of keywords helps it stand tall among health care related searches.
On social media, the hospital is very active by posting 2 updates everyday on Twitter and Facebook. The updates are mostly healthy tips and much informative. One such update is shown here

But one drawback is that, the brand doesn't conduct any campaign or contest. The brand, has 2160 followers on LinkedIn. The hospital's Google+ page has 655000 views but very less number of followers. The brand is almost invisible on Pinterest and YouTube.
9. ESCORT HEART INSTITUTE
This hospital, though present only in Delhi they have a pretty decent presence on social media. It is the largest free standing private cardiac hospital in Asia Pacific region. Its social media pages are the same used by its parent company – Fortis Healthcare.
When analyzed the brand's website, we found that it has a domain age of 5 years. This shows that the brand has to update regularly to gain Google's recognition.  It has a Google rank of 4 and Alexa global rank of 385845. But the reference links being 16 is a matter of concern. The poor ranking can be attributed to the less number of reference links. Moreover, the website is not responsive and is not optimized for keywords.
Its Facebook, Twitter and YouTube channels are the same used by the parent, Fortis Healthcare.
As shown above it's quick in responding to customer queries. And it had recently conducted a live chat session on Asthma.
On Google+, LinkedIn, Pinterest and YouTube the brand is almost invisible. This leaves some scope for improvement in these channels.
10. JEHANGIR HOSPITAL
Jehangir is one of the oldest hospitals in India which is stands steadfast serving people for the past 69 years. Their online presence is in proportion to their offline presence. The registered domain has already served for 16 years and about to expire in the next 6 months, so it has to be renewed soon. In spite of having such a long online presence it is not able to impress Google with respect to Alexa global rank (1598222), the reasons for the same could be poor number of backlinks which is only 203 and non-responsive website.
They have accelerated their social media activities in order to improve their online presence. They post on an average 3 posts per day on popular platforms like Facebook and Twitter with lots of Hashtags. The commonly used hashtagas are #exercise, #fitness, #pune. However, even with a good number of posts, they are not able to attract traffic as the average number of people liking the posts is only 2. This can be attributed to very less number of campaigns and contests. They are yet to make its mark on other platforms like LinkedIn, Google+ and Pinerest. Here is one of the posts which they have posted recently: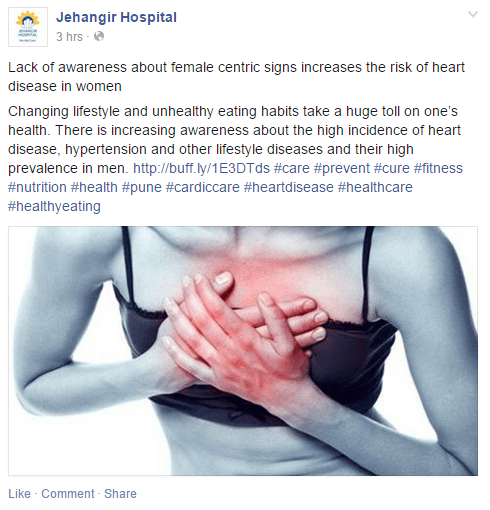 11. DESUN HOSPITAL & HEART INSTITUTE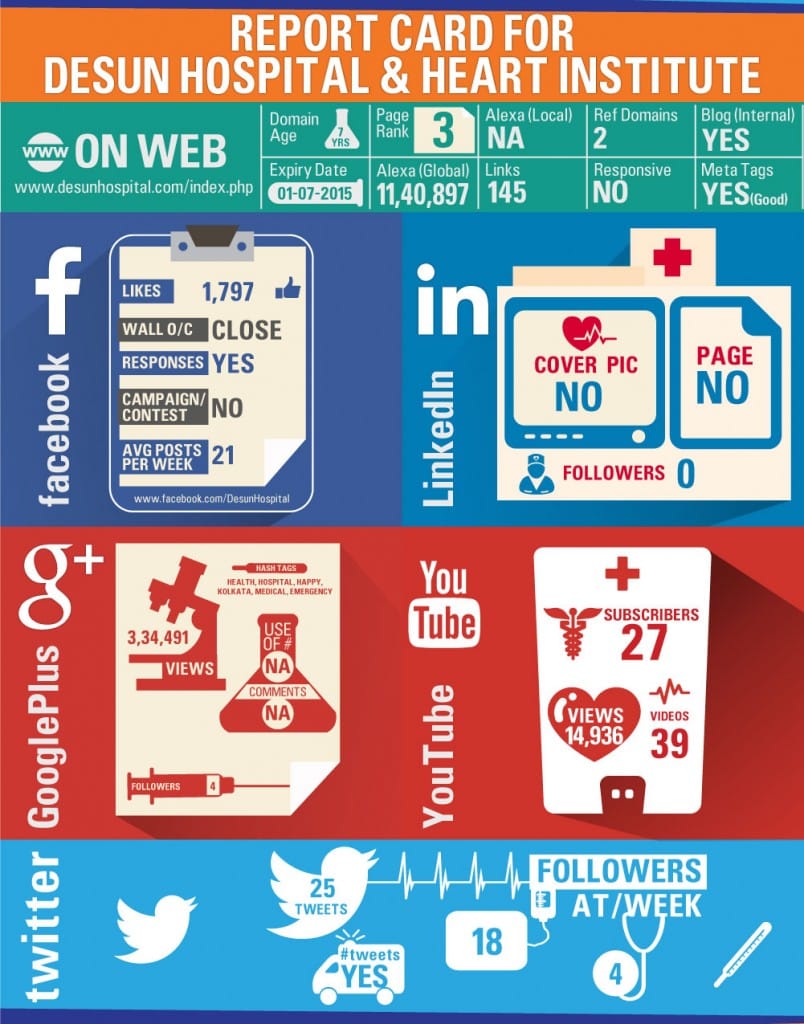 Ranked as a top hospital under West Bengal Health Scheme (WBHS), Desun hospital has earned a lot of name and fame in the eastern India with its dedicated service. One of its unique features includes being the only hospital in Eastern India to have steel operation theaters. As much it has gained appreciation offline , it seemed to do its best on social media also. In Facebook and Twitter it is marketing heavily with 2-3 posts per day with aggressive use of hashtags #exercise, #desunhospitalhealthtips. They also engage people in campaigns and contests. It also put interactive question & answer type post which are very educating. And its efforts have borne fruits as a trending increase in the number of Facebook page likes and Twitter followers has been observed. It is giving equal attention to dormant platforms like Google+ and Youtube. It has got 31360 views on Google+ and 39 subscribers on Youtube for 27 videos posted till date. It should also include LinkedIn and Pinterest in its social media marketing portfolio. Below is one the FB posts and a Tweet: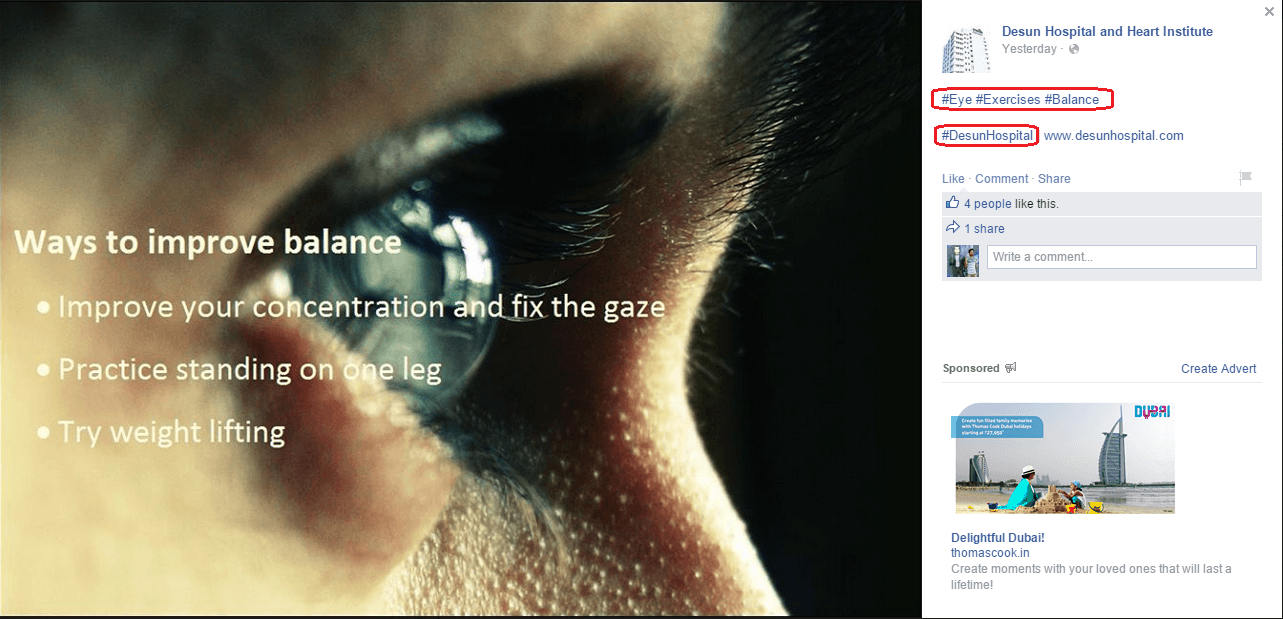 Moving on to SEO, Desun is yet to impress Google. Despite having a 7 years old domain it has managed to get only 145 links from 2 reference domains. This is holding its website to get a good score on page rank given by Google, which is currently 3. Its Alexa rank is also more than a million which suggests a lot of improvement in the above mentioned aspect. Presence of internal blog and keywords optimization reflect the fact that they have started working on SEO.
12. NU HOSPITALS
NU hospital is 16 years old dedicated nephro-urology care located in Bangalore. It is the only nephro-urology hospital in India to earn both NABH and NABL accreditation. Online it is 9 years old and going strong. It has a live chat option on its website which is very rare to find on other hospital websites. But when it comes to SEO, it is yet to make its mark. Non-responsive website, absence of internal blog and less number of backlinks (178) can be attributed for its poor SEO performance. It has a Google page rank of 3 and Alexa global ranking of 1078934.
The brand is present on all major platforms like Facebook, Twitter, LinkedIn and Google+. But it has justified its Facebook presence only with 10 posts per week, 50k page likes and running interactive campaigns and contests. Most of the content it put through its posts are healthcare tips and facts. On Twitter it has negligible presence with only 1 tweet per week. It uses hashtags like #kidneycare, #MedicalNewsToady, #kidneyFacts etc. on Twiter. The following is an example of its tweet:

Marketing on platforms like LinkedIn, Google+ and Pinterest needs to be improved. On Youtube they have 34 subscribers which will increase if they post informative and interactive videos regularly.
13. SHALBY HOSPITAL
Started by Dr. Vikram Shah in 1994 as a joint replacement, it is famed the hospital in which the highest number of joint replacement surgeries are done. Having completed over 50000 successful surgeries it is adding new services to its plethora. Not only offline it is going strong online also with 10 years old domain. Its future online plans can be anticipated from the fact that it has registered the domain till 2019. The not-so-good Google page rank (3) and Alexa rank (1401186) is suggesting its inactivity in the past. Lately it has received good number of cross links i.e. 1700 from 337 reference domains. Responsive website and good use of keywords point to its online revolution and at this pace it will make it to the top in the healthcare digital marketing space.
On social media also there has been changes noticed. It has 4795 page likes and 1184 page visits. With 1 post going live per day on FB and 2 tweets per day on Twitter. There are consistent responses provided to the comments to make the interaction 2-way. Recently it is also posting campaign and contest post to pull more crowds. Here is one of the contest posts:
On twitter it is seen to put the link to its Facebook post which is kind of redundant.
On other social media platforms also it is marking its presence. With 40 YouTube videos it has earned 91 subscribers. On LinkedIn it has 1457 followers. It has to definitely increase its activity on these platforms including Google+ and Pinterest, which are expected to boom in the coming days.
14. GLOBAL HOSPITALS
A part of famous Global hospitals group, Global hospital Chennai is a 500 bed multi-specialty care spread over 21 acres. It is known for its cutting edge technology and skilled medical specialists.
The social media presence of Global hospital is restricted to Facebook and YouTube. With 147 videos on YouTube it has received 72000 views, by which it plans to educate people with basic medical knowledge. It is evident from its FB posts also where it posts educating posts. Here are a couple of examples:


Similar posts are put on FB at the rate of 11 posts per week and receive 20 likes on each post on an average. Its FB page also witnesses timely campaigns and contests. However, on Twitter its presence is quite insignificant. It tweets only twice per week which is kind of negligible. Also, its LinkedIn and Google+ marketing needs to be improved.
When it comes to SEO, Global hospital has done fairly well with 357 links from 140 reference domains. Responsive website and presence of good Meta tags have accelerated its Google page rank to 4 and Alexa rank to 293778.
15. P D HINDUJA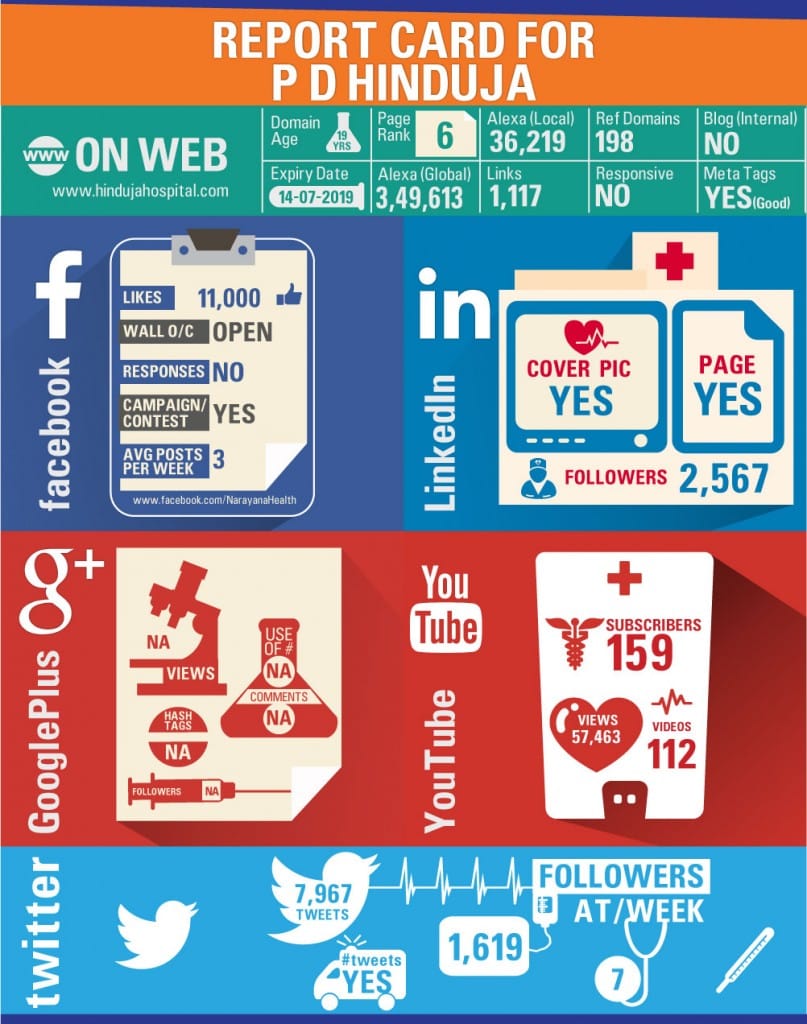 Leading to the way to glory, Hinduja hospital has been dedicatedly serving people for the last 64 years. It has successfully served over 3 million out patients during this tenure. This one of the oldest standing hospital also has one of the oldest domains in the health care sector earing it a Google page rank of 6 and an Alexa rank of 349613. It has 1117 links from 198 reference domains, making it more credible. Its online presence would have been much better if it was backed up with an internal blog and responsive website, which are important SEO parameters.
On social media, it is one of those few organizations which is more active on Twitter compared to Facebook. The average number of posts per week is 3, whereas the average number of tweets per week is 7. It has same popularity on both the platforms. On FB it has 11000 page likes and on Twitter It has got 1619 followers. It also runs campaigns and contests to engage its traffic. The campaign #mindfulEating was recently conducted. Here is an example:
The use of hashtags can also be witnessed on its pages and in tweets; the favorite hastags being #healthStar.
It is very active to cover all the important occasions related to medical field like health day, asthma day etc.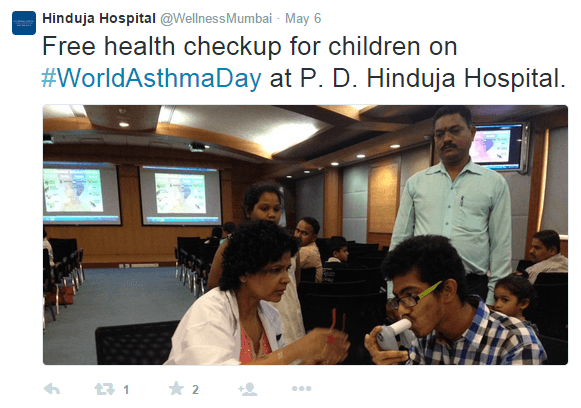 The only area where the hospital can improve is responding to comments. On LinkedIn it has a good company page with a cover picture and 2567 followers. On YouTube it has a distinct channel with 112 videos, 159 subscribers and whooping 57000 views. Such strong YouTube presence tells that it is keen in educating people in the field of medicine. However, no presence in Google+ and Pinterest might hamper the social media presence of the brand overall.
16. MIOT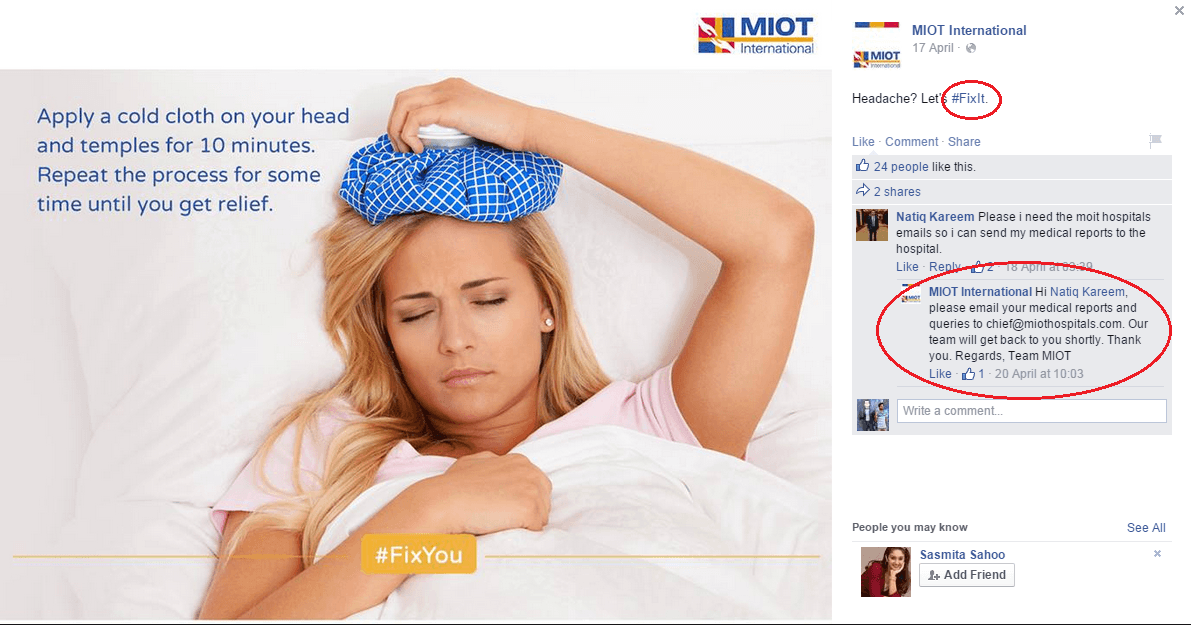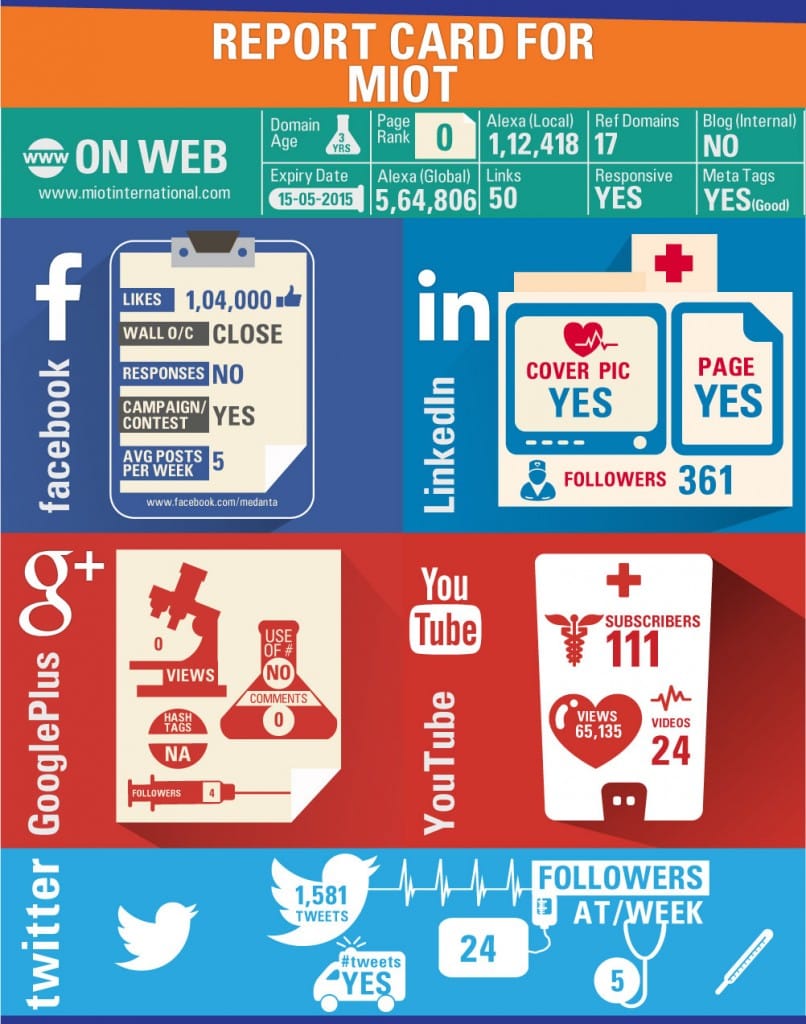 With great international reputation MIOT hospital gets patients from 129 countries all over the globe. It is a 1000 bed facility and offers treatment in 46 specialties by indulging a team of world-class professionals and state-of-the-art infrastructure.
However it has great international presence offline, its digital presence is little gloomy. The website domain is only 3 years old and it is about to expire. The Google page rank is 0 and Alexa rank is 564806. This suggests that the website doesn't get enough traffic and the website is yet to make its presence felt to Google. One of the reasons could be lack of backlinks (just 50) from 17 reference domains. One good thing is that the meta tags used in the website are intact. It has a long way to go as far as SEO is concerned.
To compensate for the poor SEO performance, the brand is doing its part to fix the online presence with good social media marketing. Its Facebook page has got 104000 likes and 1800 reviews. It posts 5 posts on an average on its Facebook page along with timely campaigns and contests. The same holds good for Twitter as well where it has 1581 total tweets. The number of followers is only 24, which demands improvement. But it is trying to catch the attention of its followers and make new followers by it campaigns and regular responses to the comments. Here is one post which shows the response of the brand and also the usage of hashtags:
The following post shows one of the contest which was conducted recently with hashtag #GetToKnow: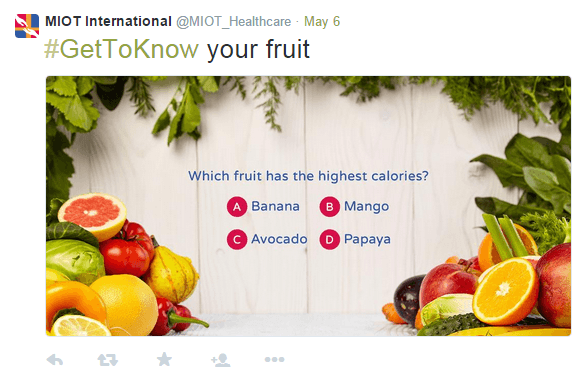 It has a good LinkedIn page with cover page and 361 followers. On YouTube also it has good presence but there is scope of improvement. It has uploaded 24 videos with 65135 viewers and 111 subscribers. This clearly speaks that their videos are popular and people want to see more. They should include Google+ and Pinterest also for branding which right now is missing.
17. MOOLCHAND HOSPITAL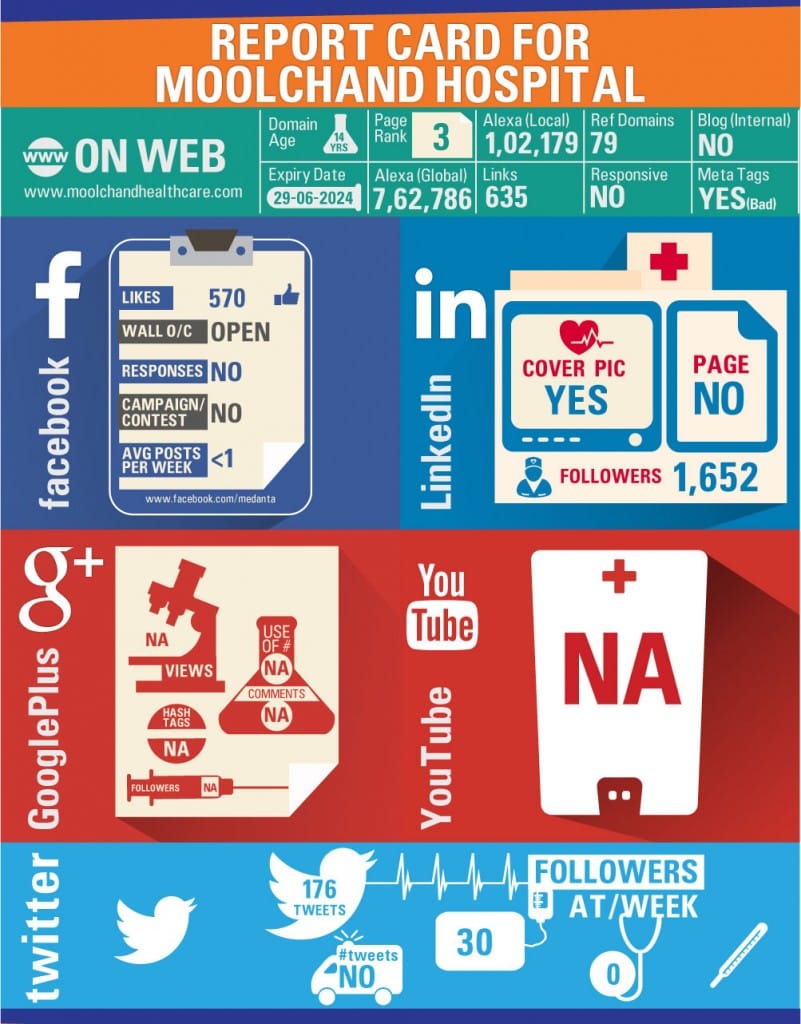 Being associated with healthcare services now for more than 50 years, Moolchand hospital has created a legacy in itself. People of Delhi identify this brand as embodiment of trust as they have seen their previous generations being served at the hospital. Some of the key features include compassionate care, integrity, affordable prices and trustworthy quality.
The website domain is registered 14 years ago and the expiry date is 9 years away from now. So it had planned for a good online presence along with its trusted offline legacy. But it has not been able to prove its worth neither in SEO nor is social media marketing. The Google and Alexa rank is 3 and 762786 respectively which should have been better for a domain registered for so long. Also it is receiving only 635 backlinks from 79 domains. To add to the woes there is no blog, absence of responsive website and lack of good meta tags in the code.
The inactiveness of Moolchand hospital is very much evident from the fact that it has 186 tweets and 570 FB followers only. Lately it has not posted anything substantial on the platforms as well. The average number of post per week is less than 1 on both Twitter and FB. The LinkedIn presence is somewhat better where it has 1652 followers and it is also one of those few brands which have a Pinterest account with 128 pins and 263 followers. But not much of activity is witnessed on these platforms also. On YouTube it has 23 videos with only 15 subscribers. Overall the brand needs to revamp its digital marketing strategy to stay strong among its competitors.
18. SAHYADRI SPECIALITY HOSPITAL
Spread across 11 different locations and having touched 25 lakhs lives Sahyadri group has the largest chain of hospitals in the state of Maharastra. It has strategically placed itself in locations where people can easily commute to the hospital. Online presence of the hospital can be little contrasting as the domain is registered for last 15 years but still the Google page rank is 2 and Alexa rank is 1134346. One of the reasons can be staggering number backlinks (135) only from 34 reference domains and absence of internal blog which is very crucial from SEO point of view. However, responsive website and good use of meta tags are keeping the hopes alive.
On social media platforms also the brand has failed to create a mark as it is seen to be active only on Facebook with 1269 page likes and 5 posts per week mainly of tips and health benefits. On other platforms namely Twitter, Pinterest, YouTube and Google+, the brand has to work a lot. On Google+ however, the brand is 6000 viewers and 15 followers. It uses hash tags also on the same platform. The number of LinkedIn followers is also 1902. This depicts a clear picture that people visit and follow this hospital on social media but due to lack of engagement and regular updates it is not able to retain its followers. Here is one of the recent FB post: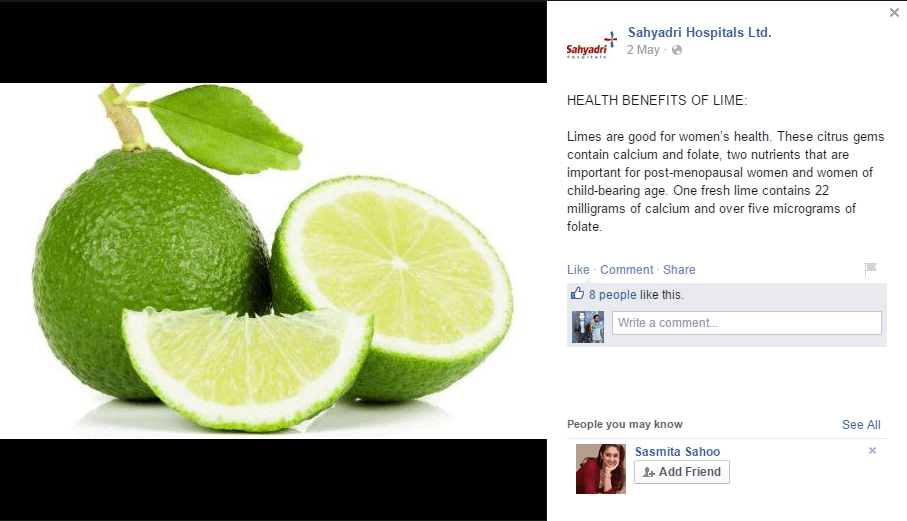 19. B M BIRLA HEART RESEARCH INSTITUTE
This hospital is a part of 150 year old CK Birla group. It is considered as the pioneer of cardio treatment. The social media marketing is a bit unique. Instead of putting educating medical posts and informative content, the brand seems to be supporting the IPL team KKR in its posts. On Facebook it has 1400 followers. The activity level is quite good as it puts 6 posts per week on an average. It also conducts campaigns and contests to engage the social media users but the posts are driven by love and support towards KKR team. The hash tags used are #KKR and #healthyFan. The Twitter page receives 4 tweets per week but it lacks engaging content. Since the Twitter Page is new we can expect growth in the days to come. It will be better for the brand if it endorse itself on social media rather that endorsing KKR cricket team. The hospital is completely absent on YouTube and Pinterest. Its presence on LinkedIn and Google+ is also going unnoticed due to lack of good content.
The SEO performance is not so impressive as well. In spite of having 11 years old domain it is not able to please Google and Alexa. The Google page rank is 3 and the Alexa rank is 3169264. The reasons for the same can be less number of backlinks (216), absence of internal blogging and inefficient mata tag usage. Recently it is seen that the hospital is making its efforts to make the website responsive and the work is still under process.
20. ARTEMIS HOSPITAL
Artemis is a 350 bed, state-of-the-art multi-specialty hospital located in Gurgaon. It is relatively a new entrant in the healthcare sector. Its domain is just 2 years old, but this doesn't limit the SEO performance as it has a Google rank of 4 and Alexa global rank of 287494. Despite of having non-responsive website and absence of internal blogging, the brand has managed to get 2017 backlinks from 500 reference domains adding to the credibility of the site.
On social media Artemis hospital conducts campaigns and contests. It is found to promote workshops also on its Facebook page. Recently there was a trending hashtag #WorldAsthmaDay featuring Mary Kom, the Olympic bronze medalist in boxing. It is very efficiently promoting its offline events through social media especially FB and Twitter. Here are a couple of FB posts: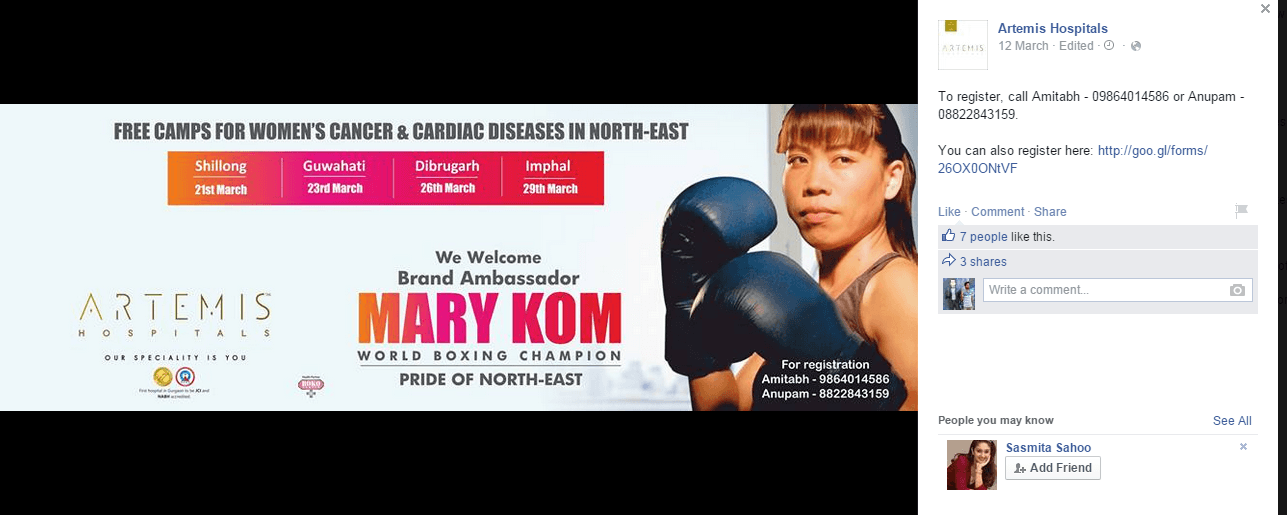 On Twitter also the presence is pretty good with 5 tweets coming online per week. These tweets also talk about campaigns and events which are conducted on regular basis.
LinkedIn presence is also appreciable as it is one of those few hospitals to have a cover page and 2000 followers. On YouTube, it has around 65 videos with 30 subscribers and 3000 views. This symbolizes the brand's efforts to have a distinct digital media presence. However, the inactivity on Google+ and Pinterest can be an area of improvement
HOSPITALS WITH WEAK SOCIAL MEDIA PRESENCE
Apart from these 20 hospitals, there are around 35 hospitals that were analysed. These hospitals do not have a very strong social media presence and website ratings. This can be attributed to the following factors:
Financial status – the hospital is not financially sound to fund social media marketing. E.g. Vivekananda Hospitals
Most trusted – these hospitals do not require social media marketing owing to their current high popularity levels E.g. CMC Vellore, Lilavathi hospitals, Nanavathi hospitals.
Government hospitals – the free service provided by most of the government hospitals attracts a lot of people from the low level income category who don't use much social media E.g. AIIMS, Delhi.
Reluctance to invest in social media marketing on the above mentioned grounds is not good. Moreover, in case a hospital wants to expand geographically, a strong social media marketing would be handy at that point. Also, certain hospitals provide world class facilities and service at an affordable price which is not known to many. Hence, a strong social media presence will not only benefit the hospital but also help a lot of people who are in need of good services at an affordable price.
Special Mention: Thanks to Shriram N and and Naveen L from TA PAI Management Institute to help us in getting this analysis rolling. Their internship at echoVME is greatly appreciated.