Republic Day is when everyone in the nation has an immense feeling of patriotism. The parade showing our strength of the army, various cultures and traditions, every place in our country decorated with tri color, various events across the nation. This automatically becomes a great opportunity for the brands to update visual republic day content and with a smart mix of their brand message to create a buzz on Facebook.
Republic Day is the first major national holiday of the year. Falling on the 26th of January, the entire month social media marketers are on the prowl for social media post ideas for republic day.
The underlying idea in these posts is the same as Independence Day; patriotism, nationalism and love for the country. In most of the Social Media campaigns for Republic Day, brands are seen using the tricolours and connecting the same with their brand elements.
Most of the agencies research by benchmarking some of the top brands for social media posts for Republic Day to find some ideas on their own. Here is a compilation of some of the top Social Media campaign ideas for Republic Day:
In the post, we'll take a look at the 16 brands which were able to create admirable post for India's Republic Day:
16 Republic Day Facebook Post Ideas
1. Lifestyle International
Featuring the Achievers: Creativity might not be the primary focus here. But the brand still manages to do the right thing. This collage manages to deliver the message of India's important events of the past that hold high sentimental value. Also, gives a push for building a better India.
2. Shoppers Stop
Celebrating the Nation's Spirit: Simplicity is always good and Shoppers Stop did use it to their benefit. This beautiful image with watercolor texture projects Celebrating India's spirit which is peace. Simple, yet effective.
3. Amazon India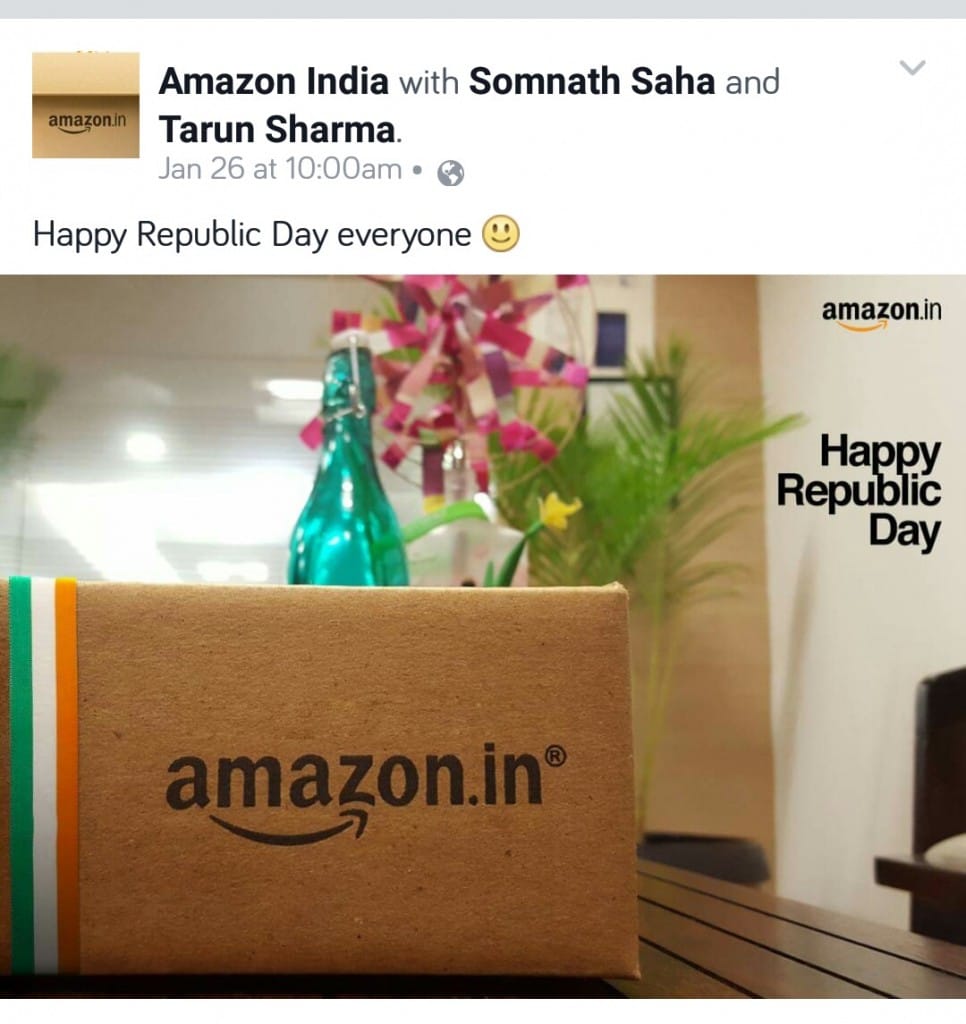 Brand Positioning: Amazon has always been known for witty ads and campaigns. It cleverly shows its packaging with the tricolor and guess what? Nothing beats effectiveness of this post. Just wishing you a happy republic day and still managing to position itself in it. Brilliant!
4. Flipkart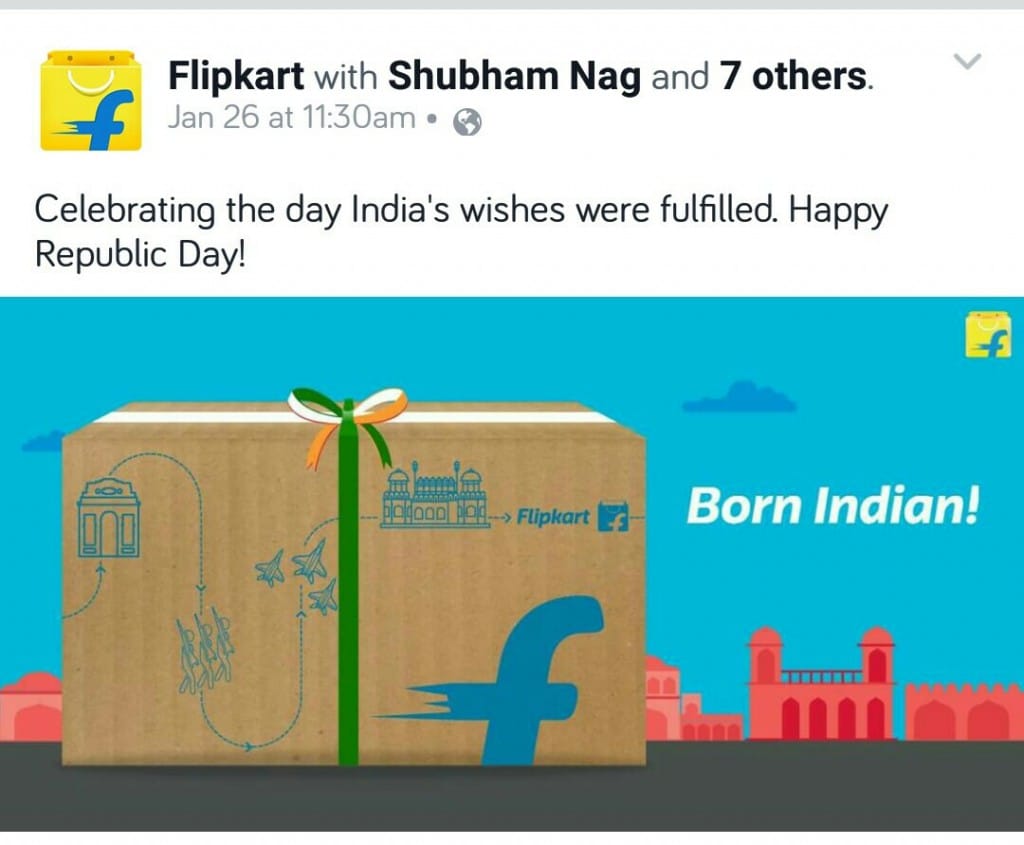 Competitive Marketing: Flipkart and Amazon have always been competing on digital platforms with each other. The post timestamp clearly shows the image was poster after Amazon's Republic Day wishes. The words "Born Indian" on the image, "Fulfilled" in the text content and similar image of Packaging Box but with India Gate, Parade and Red Fort Image on it subtly targets it rival's post.
5. HDFC Bank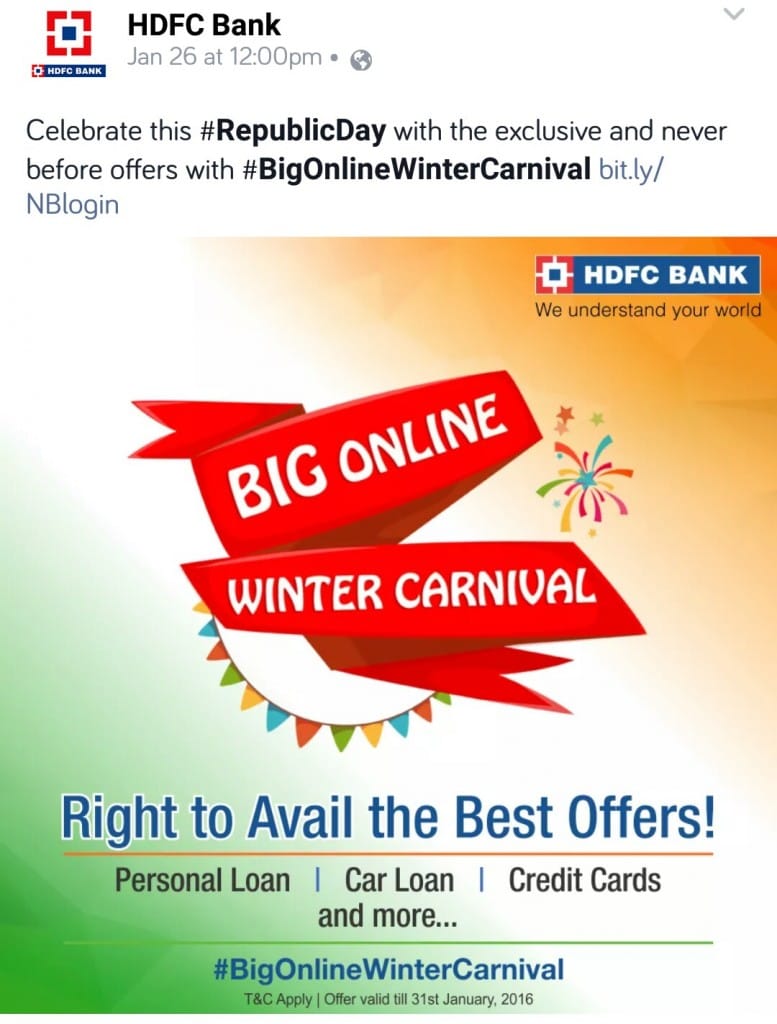 Offer-Based: Republic Day wishes may look on the sidelines on this post, but the brand clearly promotes its offer by the caption "Right to avail best offers." After all, Republic Day was all about Indians getting their Rights by the implementation of Constitution.
6. Apollo White Dental Care
Creativity & Innovation: One of the most important events on Republic Day, The Parade in Delhi where the Army showcases its power. This image shows similar parade with teeth posing as army and marching in the same way with red fort in the background. This mash up showing Protection of Teeth and Parade oozes with creativity.
7. Domino's Pizza India
Contest Based: How cool would it be if your share your feelings about India on Republic Day and win prizes? Yes, Domino's India with its Successful New York City Based Indian Chef, Vikas Khanna (Also their Brand Ambassador) and tag #LetItBurst inspires you to express your love for India and win vouchers.
8. Paperboat
Bringing out Emotions: Paperboat in most of their advertisement campaigns focus on a person's childhood. In this post, they do the same and it's great! That one image is relatable to every Indian student on Republic Day. The school event where one would don clothes as national leader and give speech. The text content and image runs high on emotions.
9. Zomato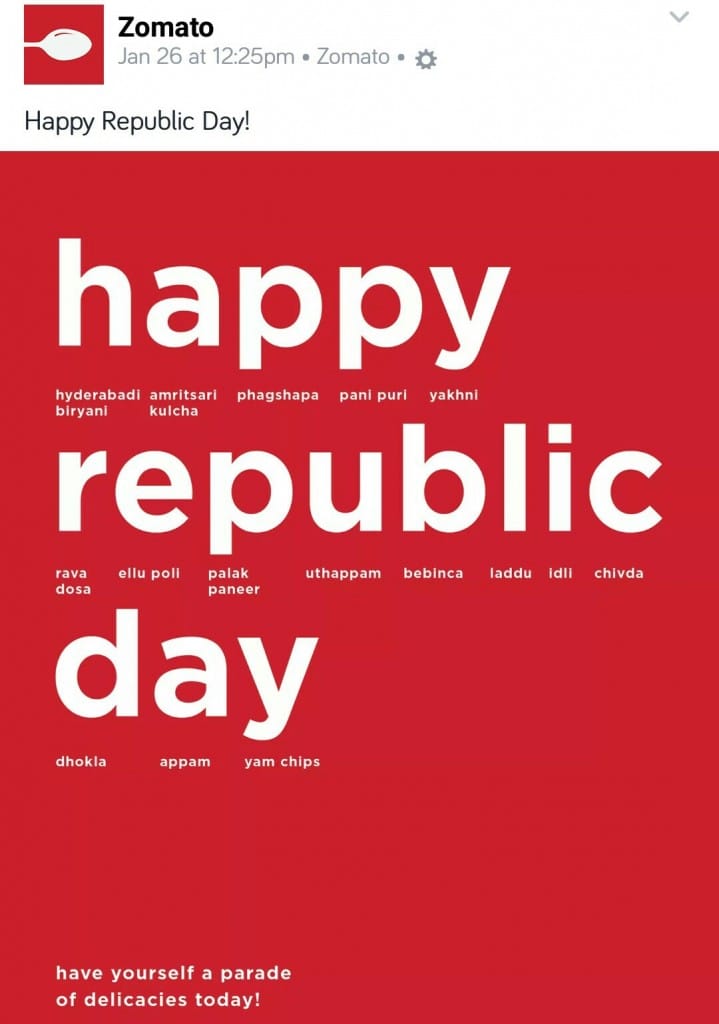 Triggering Response: At times it makes us wonder whether posting clever graphical content on digital media platform's comes under Zomato's scope of business. This image clearly shows the names of food starting with the alphabets in Republic Day. This might trigger a foodie's need to have them and automatically search for restaurants on Zomato. Smart, isn't it?
10. HTC India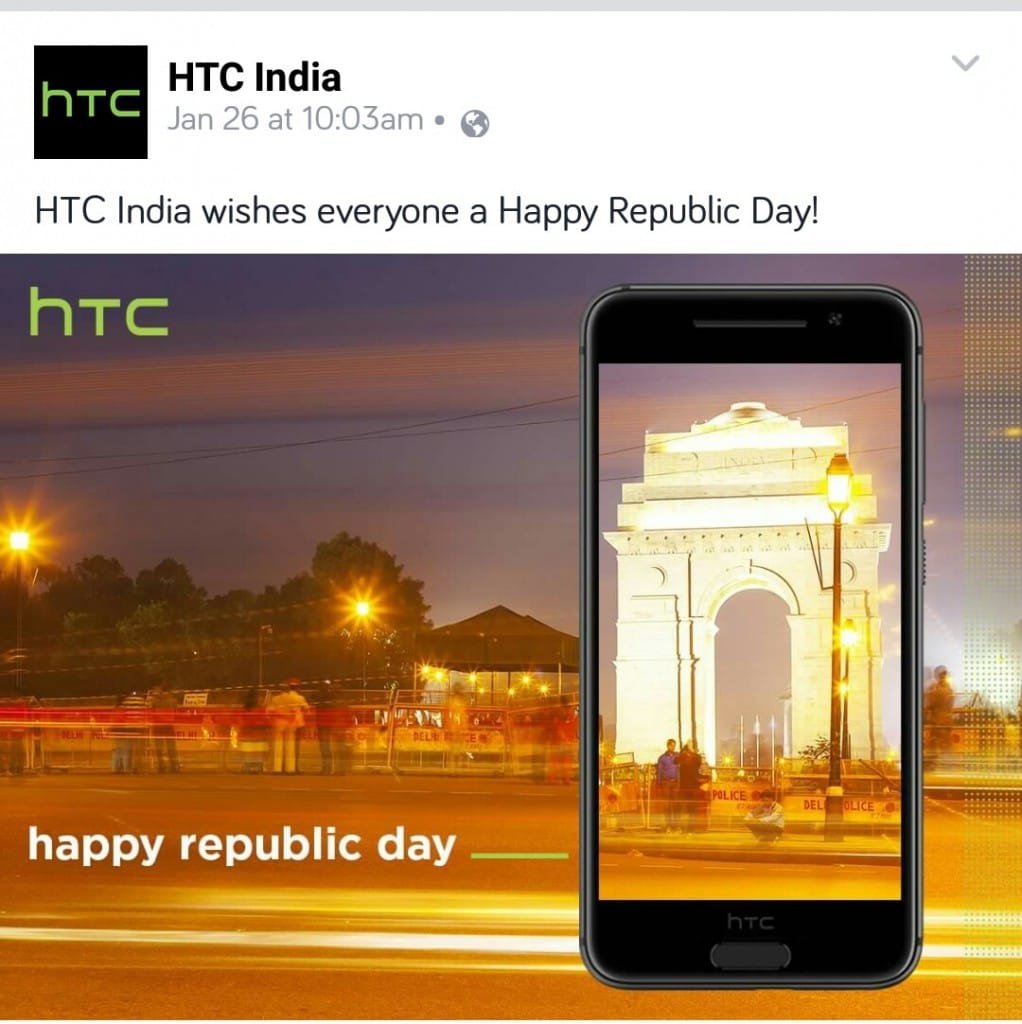 Product Positioning: Brands can place their product along with the wishes. HTC does that with a vibrant image and the monument "India Gate" within the screen of its Smartphone. The placement of product and monument does the trick for this brand.
11. Myntra
Thought Provoking: "Wearing stilettos to marathon" automatically makes us think about our fashion, how it is and how can we make ourselves stylish in a better way. This #RightToFashion post creates a thought provoking scenario with Republic Day wishes.
12. HP India
Image Experience: This post doesn't seem brand-centric but doesn't mean they cannot sneak in a bit of it. It's a well-known fact that Intel is one of the largest makers of processors. The circuit design placed surrounding the Ashoka Chakra gives us essence of brand as well as the nation.
13. YES Bank
Graphical Image: Yes Bank's post with inspirational text content and a graphical image forming "Happy 67th Republic Day" is a simple and effective way of wishing the nation. Though low on creative content, it manages to deliver the message required.
14. SBI Life Insurance
15. HP India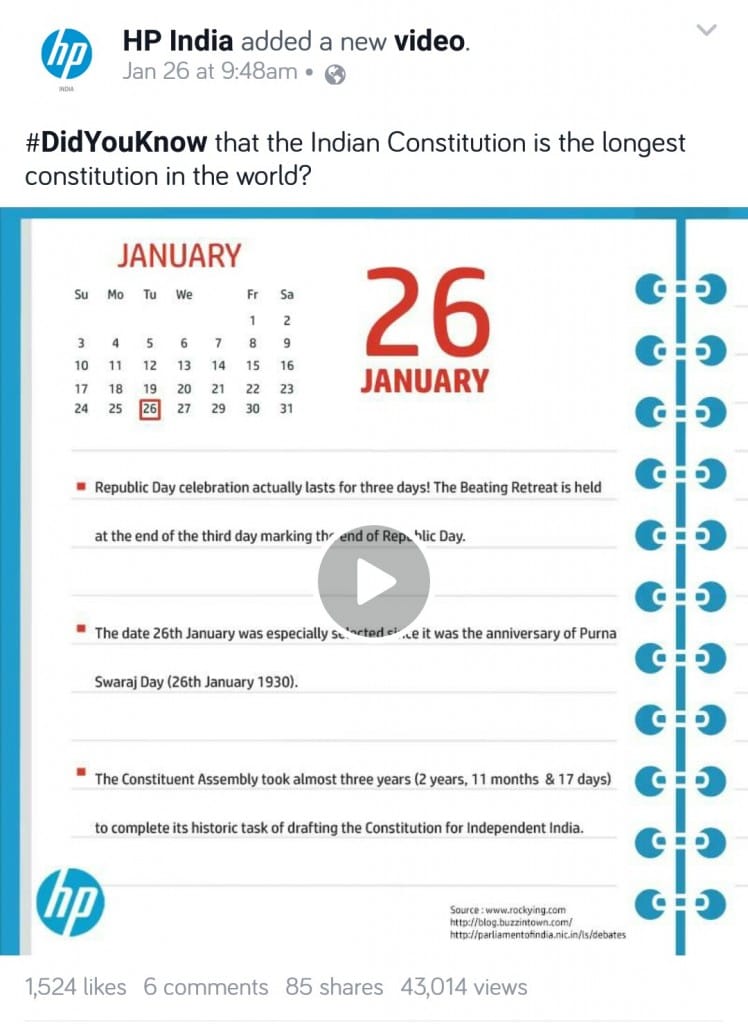 Factual Data: The video or the text description neither shows the brand promotion nor the wishes for Republic Day. But when you look closely, the HP Notebook [Product] gives us the important facts about 26 January [Republic Day]. If only the post didn't look so bland making in unattractive even for its follower to watch the video.
16. IDBI Bank
Wordplay: Posting "I Dream Big for India" with the Bank's name is genius. Considering Banks are vital for nation's development, IDBI in real stands for Industrial Development Bank of India, and the post on Republic Day plays all right, in every way.
In this post, we've explored various ways a brand uses to update their Facebook content. The important function here is to know who your target audiences are, what they expect and get maximum interaction. It is perfectly fine to promote the brand and products while wishing for Republic Day or any such event/festival but it should not lose its focus on the primary goal which is the event.
Make sure you let us know by commenting below how your favorite brands have used the above ideas to connect with their audience.