The coronavirus epidemic affected the paradigm of how firms worked overnight, resulting in the widespread adoption of digital marketing. Nowadays, the sellers meet buyers over the Internet rather than meeting them face-to-face in the market. It's true how covid-19 increased the scope of digital marketing, and we've already entered the era of the future of digital marketing.
Businesses, Schools, institutions, and other service providers continue to operate as we adjust to the new ordinary; Everything is moving online. Digital marketing is the first thing that comes to mind when we talk about the Internet, and Internet has now become the vastest marketplace for traders as well.
But, Why Do You Need Digital Marketing in India?
Before exploring the scope of digital marketing and how the future of digital marketing will take its digital shape, let us learn the significance of digital marketing for businesses and other institutions.
1. Low-Cost
One of the most significant financial burdens that businesses must carry is the cost of marketing and advertising. While large corporations may have no issue spending millions on marketing and advertising, small businesses may find this impossible or an unbearable nightmare. Marketing via digital media is more cost-effective as compared to traditional methods.
2. High Returns
Nothing is more important to a company than the return on its investment. Small expenditures in digital marketing yield a significant return. Email marketing and executing advertising campaigns on social media sites are inexpensive and far more effective than traditional marketing tactics.
3. Easy for Adjustments
Knowing how well an advertisement performs will help a company decide how to proceed. With only one click, you can increase the investment in a successful marketing campaign. However, if an advertisement is not performing as planned, it may easily be modified or stopped.
4. Easy Sharing
Several digital marketing platforms have sharing features that allow campaigns and articles to be shared with many people. This has the potential to boost sales outcomes by creating a multiplier effect extensively.
5.Targeted Customers
Digital marketing allows for targeted campaigning, where customers are shown ads based on their choices or initial action. Consider transactional emails (purchase confirmation emails, receipts, and password resets), which are only sent to customers when they take specific actions with the company. In other words, clients only receive what they ask for and are only shown what they want to see.
6. Global Reach
They claim that the world has become a global community. This has been made feasible because of technological advancements. Ad campaigns can be seen in any region of the world thanks to digital marketing. This provides modest start-ups with a once-in-a-lifetime opportunity to go worldwide because of the extensive exposure provided.
7. Greater Engagement
In today's highly competitive business world, maintaining a continual connection with your audience is vital to being relevant and retaining customers by engaging with customers through various digital media channels. Businesses can use these platforms to address customer concerns, clear up misconceptions, and even create purchases. This can be accomplished by regularly publishing helpful and informative blog entries, newsletters, shows, promotions, and more.
Also, become aware of the digital transformation, and stay conscious about the Digital Marketing Career in India.
By understanding the importance of digital marketing, you must have realized how significantly the need and scope of digital marketing would have increased after covid-19, making the future of digital marketing the only marketplace of buyers and sellers.
Scope of Digital Marketing in India after Covid-19
Everything has come to a complete halt due to the covid issue. Because everyone must operate in an online and digital environment, digital marketing has become increasingly important in the modern era. It has demonstrated the importance of a digital platform for a business and the benefits of using one(as emphasized above).
In 2020 and 2021, the breadth of digital marketing has expanded dramatically. The quantity of individuals reached by marketing tactics is the first thing that comes to mind when we think of essential indicators of marketing success. The Internet's adoption rate has surpassed all expectations. Looking at India, it contains the world's second-largest number of internet users.
From the statistics mentioned above, it predicts that by 2025, the active number of internet users in India will rise to almost 900 million. Is this a huge figure?
We witnessed a rise in data consumption as a result of so many people being online. In 2016, the typical user consumed 500MB to 1GB of monthly data. However, in December 2020, the average user is expected to consume over 13.5GB of monthly 4G data. This figure increased by 20% as more people began to subscribe to various platforms for video consumption and other Internet-dependent activities.
The below image shows statistics on the global digital population as of January 2021, in billions.
Now, how much, on average, an Indian user spends his or her time on the Internet and other digital mediums?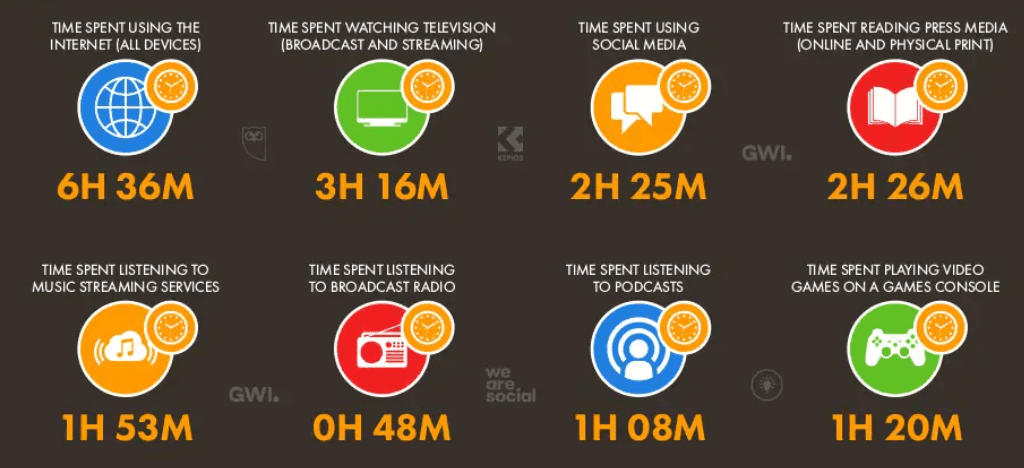 Learn more here.
Businesses are relying on digital marketing now more than ever in the wake of the COVID-19 outbreak. Due to the lockdowns, the Indian e-commerce business is expected to rise to $7 trillion by 2023, according to GlobalData.
All typical marketing attempts are out of the question, with every consumer cooped up in their houses. Businesses that previously did not have a social media presence will now be required to accelerate their digital transformation and develop a digital strategy to interact with their target audiences.
To sum up, the growth figures in the digital channels that we examined above strongly imply that the scope of digital marketing is on the rise and has been positively impacted even after the covid-19 pandemic hit India.
Role and Future of Digital Marketing in India
How did digital marketing affect businesses?
During the Covid19 pandemic, brands shifted from offline to internet marketing. They began engaging with online audiences and saw the actual potential of digital marketing.
Digital marketing's scope has expanded. Customers will be reached through a variety of platforms, including social media, websites, paid advertisements, influencers, virtual events, games, artificial intelligence (AI), augmented reality (AR), and virtual reality (VR) (VR).
As we gradually dwell into the future of digital marketing, it has rapidly contributed to employment opportunities sitting at our homes. Most people are switching their careers with digital marketing.
Although the demand for digital marketing will grow, there will be a significant scarcity of professionals. It's time to learn the abilities you'll need for a successful career in digital marketing.
Learn more about the Online digital marketing course.
4 Popular Mediums Which are Shaping The Future of Digital Marketing
These are the most commonly used digital marketing mediums, and chances are you've come across all of them more than once unintentionally.
1. Email Marketing
Email marketing is the practice of sending a commercial message via email to a group of people. Advertisements, business ideas, calls for donations, product promotions, and recurring discounts are examples of these messages. Every email sent to a potential or current consumer is considered email marketing in a broad sense.
2. Social Media Marketing(SMM)
The use of social media platforms to connect with your target audience is known as social media marketing. Its primary purpose is to strengthen brand identity, increase sales, and drive more organic traffic to your website. Social media marketing entails posting quality content to your social media accounts, engaging with your followers, analyzing the results of your posts and engagement, and operating dedicated social media advertisements on popular platforms such as Instagram, Facebook, Twitter, LinkedIn, YouTube, Pinterest, Snapchat, WhatsApp, and others.
3. Pay-per-click(PPC)
Pay-per-click advertising is a type of internet advertising that aims to increase traffic to your website. It is a type of marketing in which the advertiser pays the publisher every time a user clicks on an advertisement online. Pay-per-click advertising is most commonly associated with search engines like Google Chrome, Mozilla Firefox, and Internet Explorer.
4. Affiliate Marketing
Affiliate marketing is the process by which an affiliate earns a commission for marketing a company's products to prospective customers. The Affiliate marketer looks for a product that meets his specifications, and they then promote the product. As a result, they receive a portion of the profit from each sale. The sales are tracked using affiliate links on the website.
What Will The Future of Digital Marketing Provide Us?
As we all use digital marketing tools almost every day in our lives unknowingly, the scope of digital marketing in the future will expand more and more. As the technological sector combines and joins hands with the digital industry, advanced digital flexibilities on social media and other digital platforms and artificial intelligence ought to be seen.
1. Advanced Artificial Intelligence
For quite some time, artificial intelligence has been expanding what is possible in digital marketing. Still, in the coming years, we will see exponential leaps in what this technology is capable of.
Chatbots will become a customer service standard and increasingly replace live agents as machine learning algorithms become more complex and mimic humans with almost eerie accuracy.
Marketing is becoming more conversational and personalized, and chatbots allow you to capitalize on this trend without putting additional strain on your staff or resources.
Artificial intelligence is also being employed in advertising. While it hasn't quite reached human levels of creativity, Google is already using AI to optimize campaigns by recognizing the most effective ad styles and language and automatically modifying them based on user engagement.
2. Social Media – The New digital world
Social media will continue to infiltrate every aspect of our lives, integrating seamlessly with online and offline services.
Social media has spilled out of the screen and into the real world in an episode of the dystopian Netflix series Black Mirror. People score their interactions with others and are given better housing, jobs, and social standing based on their total rating. Woah!
Is this science fiction? Maybe for the time being, but the future isn't that far away. Most of your phone's apps are likely already exchanging data with your social media networks, and companies and recruiters are increasingly screening social media accounts before interviews.
What does this signify in terms of marketing? As AI algorithms employed in social media get more complex, it will be possible to understand each client as a person better and offer more tailored offers and services.
3. Influencer Marketing- The New source of marketing digitally
Influencer marketing has exploded in popularity recently, with top influencers on platforms such as Instagram and YouTube earning millions of followers and generating six figures from commercial deals.
Taking an example of our very own Sorav Jain, The future of influencer marketing is increasing as the scope of digital marketing expands rapidly.
4. Augmented Reality
Augmented reality isn't just a gamer's fantasy. It's becoming more and more popular as a way for businesses to communicate with their customers.
Fashion brands are beginning to use augmented reality to allow customers to virtually try on outfits in the comfort of their own homes. Ikea now has a virtual reality catalog in which you can position furniture in your own home.
Digital Marketing Careers in India
Digital marketing is an industry that has shown a lot of promise and has established itself as a sector with many job opportunities. The demand for qualified employees to keep up with the speed of demands is increasing as new communication channels become available.
The growing trend of business digitization has necessitated hiring professionals who are familiar with both the business and the workings of digital marketing.
1. SEO
Job prospects in the SEO business are at an all-time high, thanks to a surge in demand for SEO services. With the rise in online enterprises resulting from the Internet, an SEO consultant has become necessary for all businesses, brands, and agencies.
2. Pay-Per-Click
This position necessitates a thorough understanding of search engine marketing (SEM) fundamentals, including search engine optimization (SEO.) It is also necessary to be analytical and numerate, and this helps in increasing the ROI.
3. SEM
SEM specialists are in charge of designing, implementing, and administering the company's whole SEO strategy, which includes web marketing, web analytics, content strategy, and keyword strategy, among other things.
4. Content Writer
This is the most significant position for you if you are a grammar nazi with a gift for expressing yourself with words.
The content writer provides content for blogs, articles, product descriptions, social media, and the company website, analyzes analytics to alter content as needed, frequently updates the company website, and pitches pieces to various platforms to promote the company blog.
In that sequence, one can pursue a profession as a junior content writer, senior content writer, or content strategist.
5. Web Designers and Developers
The primary duty of a web designer is to create or manage the look, features, and associated applications of a website or web pages, which includes everything from designing a design to building the layout of a website or online pages.
Graphic design and computer programming skills are required for this position. Web designers collaborate closely with key development managers to keep the company's website current to achieve the desired goals, such as increased sales and brand exposure.
And a lot more.
Below image shows how much digital marketing job opportunities can pay for their respective roles—image via Sorav Jain's expertise.
Top 10 Career Opportunities in Digital Marketing in India
| | | |
| --- | --- | --- |
| S No | Digital Marketing Job Roles | Salary Range in Rupees |
| 1 | Digital Marketing Manager | Rs. 5,00,000 – Rs. 12,00,000 |
| 2 | Social Media Marketing Manager | Rs. 3,00,000 – Rs. 12,00,000 |
| 3 | SEO Manager | Rs. 3,00,000 – Rs. 12,00,000 |
| 4 | SEO Specialist | Rs. 2,20,000 – Rs. 8,00,000 |
| 5 | Web Designer & Developer | Rs. 3,00,000 – Rs. 10,00,000 |
| 6 | Content Writer | Rs. 2,00,000 – Rs. 6,00,000 |
| 7 | Social Media Specialist | Rs. 2,20,000 – Rs. 10,00,000 |
| 8 | Pay Per Click Analyst | Rs. 2,50,000 – Rs. 6,00,000 |
| 9 | Email Marketing Specialist | Rs. 2,00,000 – Rs. 5,00,000 |
| 10 | Copywriting Specialist | Rs. 3,00,000 – Rs. 8,00,000 |
Learn more about the best Digital Marketing institutions in India.
To conclude,
The scope of digital marketing has increased tremendously, creating flexibility and effective yet efficient modes of marketing digitally. The future of digital marketing holds a vast amount of digital changes and transformations in the world. Attracting customers via digital platforms and providing satisfactory customer service is the key to success in this competitive digital market.
Mobile apps are the way of the future in digital marketing.
This year, mobile devices will connect 30% of the world's population to the Internet. As a result, it's only natural that this technology is now more than ever utilized in marketing plans.
We hope that this blog has provided you with valuable information.
Kindly share your thoughts in the comment section about how the market is transforming changing digitally.
We give you an e-handshake!