I was very surprised to see a photograph of gang rape victim on my timeline, curious me who follows twitter, Times of India, The Hindu and many other news sources was really surprised because I didn't come across any such picture before on any news channel.
I clicked on the picture posted by the Facebook page of Movietalkies.com and realized it was a complete marketing gimmick as:
The page was asking for community members to like the post made by them as 1 Like on the post= 1 Prayer for the victim (as a Social Media Marketer I understand 1 Like is also equal to more people endorsing the post, more people promoting the post on their timelines and thus the page getting the viral traction, serving the marketing purpose).
The page also had posted the logo of movietalikes.com at the bottom of the fake image of the victim  (so that when people share the picture 'movietalkies.com' also gets promoted)
When I had opposed commenting on the photograph, I realized my comment was deleted and they also had added a disclaimer, by editing the description made on photograph:
(DISCLAIMER: Picture used for representational purpose/s only.) 
Disclaimer was only added once the particular post crossed 20,000 likes, 3500 shares and 1,500+ comments (Please refer to the print screen above and the print screen below – In the above print screen "Disclaimer" is missing and it was added later when the post got enough popularity, Disclaimer is visible in the below post )
When India is trying to face and pray for the victim of heinous gang rape incident. Movietalkies.com is busy using the victim's name and a fake photograph to continue its marketing gimmick.
Please note I have no personal grudges against the admin or the agency or the brand itself, I don't even know who are managing this page but I do have sympathy towards Daamini and her family and I only request the admin to remove this picture which is completely misleading. 
This picture is of Christo van Eeden from South Africa (Who is not a Rape Victim, read complete post about her here: http://www.news24.com/SouthAfrica/News/Womans-ex-attacks-her-son-20100810)
And the post is finally removed…
After a blog post was written on the incident with falseness reported (Disclaimer) and protests made by many social media friends against this post. The Post is finally removed. I have observed someone from their team has recently created a profile on Twitter and have updated me the status of the post: I am glad, her first tweet is to me  (Check her profile below 😉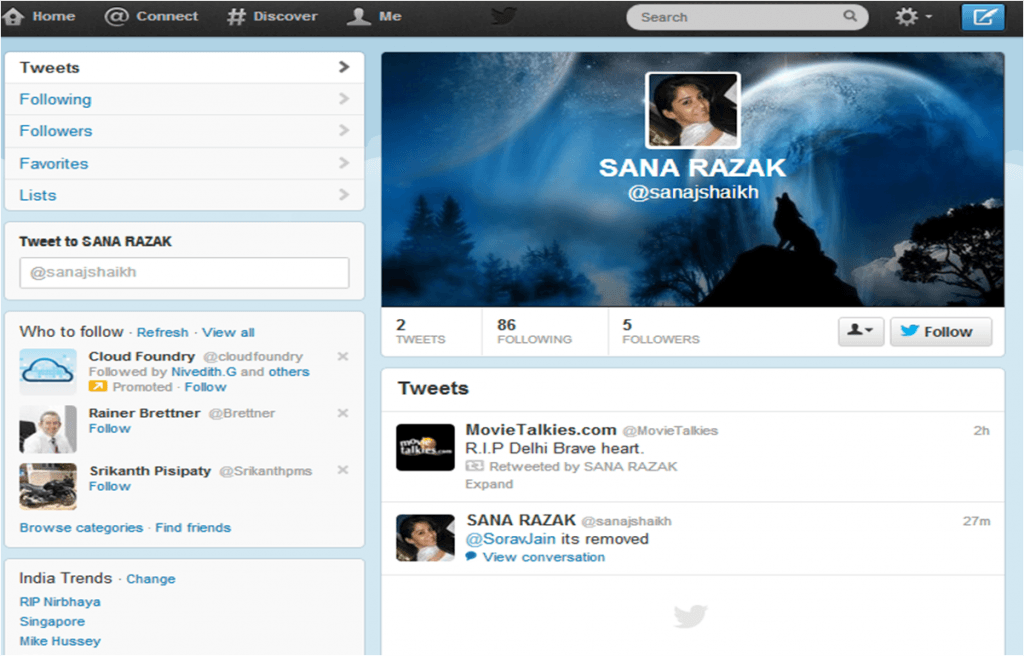 Apparently, www.movietalkies.com has met its purpose, increase in number of people joining the page was observed! + In India, its so easy no to make a statement and withdraw it later just like how humare pyaare Mr. Abhijeet Mukherjee did?