@Shoppersstop on Twitter came up with amazing application and hashtag based contest that stands unique when compared to all other hashtag based contests till date in the country. This time the contest is not about quality of tweet or creativity of tweet or number of tweet, it is about probability of the tweet.
Yes, Probability of the tweet! And your timely luck makes you win 🙂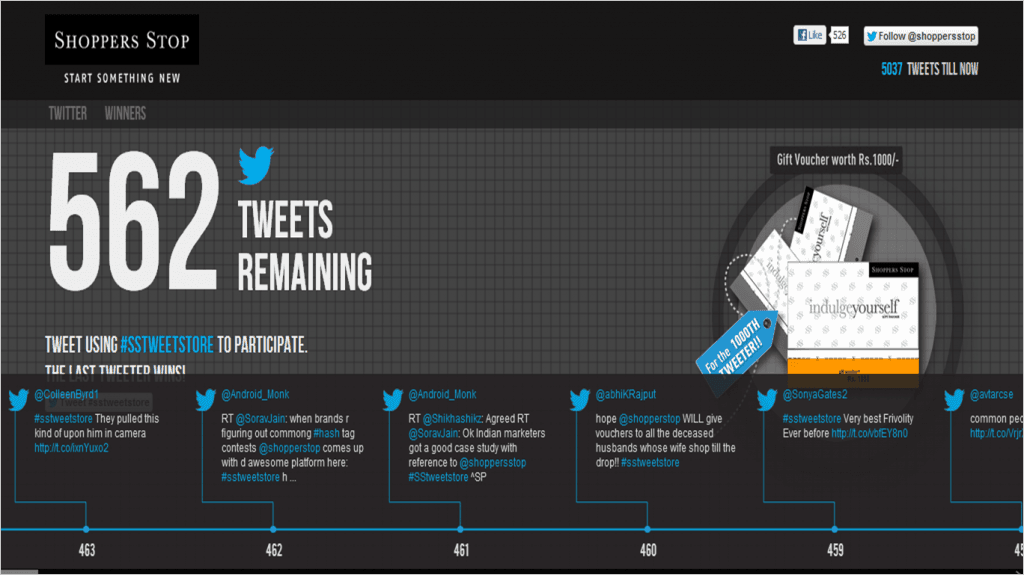 What did Shoppers Stop do?
@Shoppersstop came up with an external shoppers stop tweet store – first of its kind in India with an inbuilt twitter API that can track all your tweets with #SStweetstore .
@Shoppersstop announced give aways for every 850th or 1000th tweet or is picking up lot on different giveaways at different numbers for tweeters tweeting with #SStweetstore. For example the one displayed in the picture above shows a gift voucher worth Rs. 1,000 on 1000th tweet and there are about 500 tweets remaining to win that one up.
The application is smartly built, it tracks and displays every tweet with #SStweetstore. Every tweet is counted and a serial wise number is allocated to every tweet which is displayed on the tweet store. As the tweet reaches the bidding point or the announced number the tweeter is declared a winner.
What's the Result of the App?
Thousands of people started tweeting with #SSTweetstore. As of now there are about 5,000+ tweets made with reference to winning or appreciating contest.
Most of the tweets are highlighting craziness to win the contest.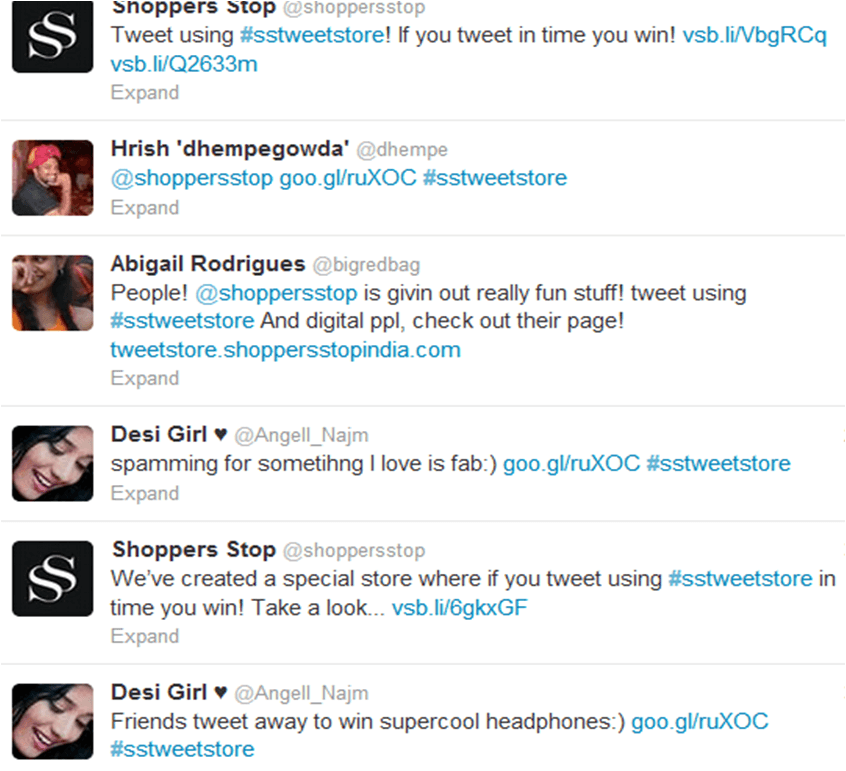 Some of the tweets are from marketers, thought leaders and social media enthusiasts who are loving the application and the innovation in the Twitter marketing tactics by brands.
Since the contest is pretty viral there are chances of #SSTweetstore becoming a trending topic of the country and thus increasing chances of more conversations and participation using #SSTweetstore
Pros of the Contest:
Contest is very smart and the application is very unique.
It involves no pain of tweeting with art or creativity and Tweeters don't really have to be fake.
The contest is very much timely so involvement of a third party decision maker or judge is not required to announce the winner.
The contest has triggered the virality and this will increase the chance of #SSTweetstore becoming the trending topic ( for that brand needs to encourage some quality tweets and increase the number of giveaways to increase the pace of tweeting)
Cons of the Contest: 
Since this is based on probability and luck. The quality of tweet is badly impacted. It doesn't give brand any value nor it helps them spread the Word of Mouth about the contest.  Look at some examples of tweet below:


The giveaways are too far to achieve for example the the gift voucher can be achieved with 1000th tweet and  there are still 400 tweets to reach there. This slows down the pace of tweeting.
Brand needs to encourage tagging of friends, encourage Influencers or hire them to tweet to reach to mass and thus making the topic more conversational.
What can brand do to overcome the cons?
Brand needs to encourage  people to tweet with some characters or answer a question probably. Example: Your tweet should at-least have 50 characters or can ask tweeters to tag one of their friends with #SSTweetstore
There should be many hidden giveaways which encourages many participants to go really and genuinely crazy about the contest.
Give aways should be with lesser gap in tweet numbers, this will encourage enthusiasm.
Brand also needs to do credibility check of the winner before announcing him/her as a winner. As it really doesn't make sense to make someone random win!