Snapchat globally is a thing of millennials, so it is in India. Very few brands have tested their hands on Snapchat. Brands in India, do not really wish to move away from Facebook, Twitter and now Instagram and LinkedIn – eventually impressions, engagement score is the focus, which is mainly available on the above-mentioned platforms.
What is Snapchat & Who Uses It?
Snapchat is a mobile application to share photos, videos and text. It is a free app available to download and send messages. It has become very popular within a short span of time especially with youngsters. The feature that makes it different from the other texting or sharing applications is that the message will self-destruct within 10 seconds from the recipient's phone. Snapcash is another interesting feature added recently which allows the user to transfer money to each other (currently available in US only)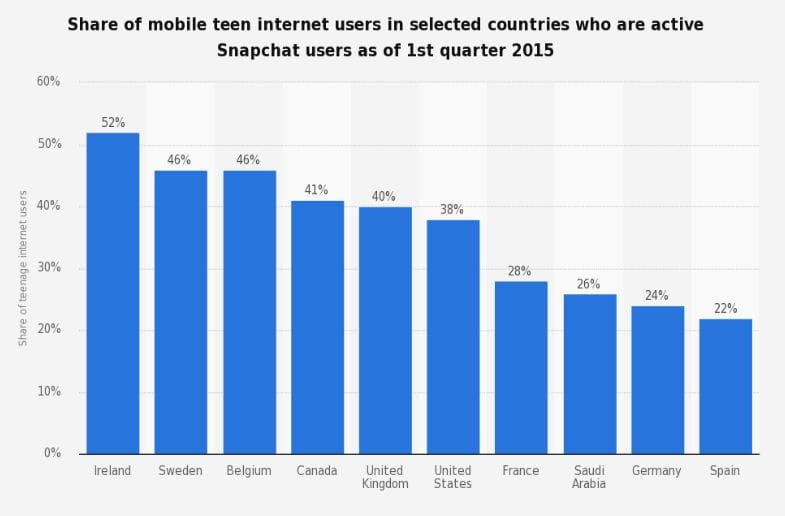 The brand is yet to hit popularity in India, with Facebook and WhatsApp topping the charts at present. However, with 9 per cent market share*, Snapchat has a huge competitive market to explore.
A study by exchange4media shows 52 per cent of Indian instant messaging users are on WhatsApp, while 42 per cent use Facebook Messenger. Skype is used by 37 per cent. WeChat has a 26 per cent share in the market, followed by Viber (18 per cent), Line (12 per cent), Snapchat (nine per cent), Kik Messenger (five per cent), Tango (four per cent) and Kakao Talk (three per cent).
What Makes Snapchat Unique? It's Features!
Use Two Filters at Once
Filters make the Snapchat experience a whole lot better but did you know that you could use two filters at once? Well, you can use an image filter along with one of the data label filters that are available. To do it, just apply the first filter on a snap and hold one finger on the display while using another finger to choose between the other filters
Save Data Through Travel Mode
Snapchat is a very addictive experience and that may result in your mobile data getting used up pretty regularly. Thankfully, Snapchat includes a cool "Travel Mode", which reduces mobile data usage by not loading any snaps automatically. When the Travel Mode is enabled, you will have to manually tap to load content like snaps or stories. It's disabled by default, so you will have to head over to app's Settings->Manage (Additional Services) and enable Travel Mode.
Check Out Rewind and Slow-Mo Filters
Along with some cool image enhancing filters and data labels, Snapchat also includes some cool filters for videos. After you take a video on Snapchat, just swipe across various filters and you will find three icons showing a snail, rabbit and a rewind button.
The snail filter turns your video into a slow-mo video,
the rabbit filter increases the speed of your video's playback,
and the rewind filter reverses your video.
Switch Camera Modes With Taps
Switching between the rear and front camera can be quite a hassle at times and thus, Snapchat has included a cool shortcut to switch between them with ease. You just need to double tap in the camera viewfinder to switch between the two camera modes.
Reply to Stories
Your friends can not only view your stories but also reply to them. For instance, you are viewing a friend's story and you want to tell them something about a particular picture. To do that, you can swipe up from the bottom, type your message and hit enter. Your friend will then receive your message along with the image.
Enable Night Camera Mode
Users have always complained about poor light images in Snapchat but there's a hidden feature, which lets you take brighter photos. The app has a built-in night camera mode, which is automatically activated in poor lighting or dark.
Send Photos From Gallery
Start Live Video Chat
You can easily start a video chat on Snapchat. When the person you are talking to is online at the same time as you, you will see a glowing Blue button instead of the Yellow one, which means the live video chat option is available. You along with the person you are making the video call with have to press hold the Blue button to start the video call. Once you remove your finger, the video call will be ended.
Friend Emojis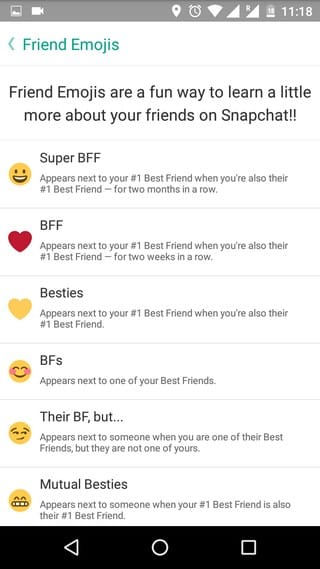 Control Camera With Volume Buttons
Tapping the capture button or holding it for videos can be a hassle at times, especially when you are using the front-facing camera and that might be the reason that Snapchat lets you control the camera with your phone's volume buttons. You can press any of the volume buttons to capture and press hold the button for videos.
Resize, Invert Emojis and Text
Emojis certainly make an image more fun and with Snapchat, you have the ability to easily resize them and even invert them. Just add any emoji after you have taken a picture and then use pinch to zoom to increase or decrease its size. You can also pan your fingers around to rotate it.
You can also resize and invert text the same way as emojis. All you need to do is just add the text in an image and resize it through pinch to zoom while panning it to rotate or invert.
Add Music to Your Snap Videos
Snapchat lets you add your very own music to your snap videos and it's pretty easy. All you need to do is play the song you want in your video through a music player app on your smartphone. When the song is playing, just go ahead and record a video on Snapchat. That is it and when you play the video, the music will be part of the video.
Snapchat and Recent Controversy in Indian Domain
Last week, a member of a comedy group AIB, Tanmay Bhatt's snapchat video of a mocked conversation between Bharat Ratna awardees LataMangeshkar and Sachin Tendulkar has resulted in public outrage. A police complaint was immediately lodged against Mr Bhat by Maharashtra's ruling BJP and Raj Thackeray's Maharashtra NavnirmanSena (MNS). Adding to this party members were also seen burning effigies of the of the comedian and expressing their exasperation.
How Bollywood Reacted to This:
I am 9 times winner of #BestComicActor. Have a great sense of humor. But This's NOT humor. #Disgusting&Disrespectful https://t.co/sTuTfbAOrU

— Anupam Kher (@AnupamPKher) May 29, 2016
Tanmay's Midsummer Madness :
When you guys write about me tomorrow can you please use my snapchat ID – it's thetanmay thanks

— Tanmay Bhat (@thetanmay) May 28, 2016
A snapstory is going to be on the news tonight. Congrats everyone.

— Tanmay Bhat (@thetanmay) May 29, 2016
Please pay me @Snapchat

— Tanmay Bhat (@thetanmay) May 30, 2016
The vexed question now is that if Snapchat is gaining popularity or it is because of Snapchat an unknown artist gets the much needed exposure or limelight. Well I leave that up to you to decide.
Attractive Features of Snapchat That Brands Can Adapt
Wondering how snapchat will help you to grow your business?
According to many people who use Snapchat in India, the primary focus has been millennials who found Snapchat easy for dating, flirting, sexting as rich media content doesn't last for strong and the idea of creating stories that can last for 24 hours is a great move. In India, Snapchat is fairly new and very few brands have attempted to create some engagements.
Snapchat can be used to create brand awareness and also surprise and delight your audience by the following:
Reward Customers with Coupons And Vouchers
Snapchat is widespread with the youth target market it allows brands to deliver coupons and offers within seconds. The motive of sending coupon snaps is not only to reward customers but provide incentives to bring back for more. Indians love takeaways so offer discounts to the fans that watch your snapchat story or offer promo codes who take a snap holding your product.
Video Answers to Customer Queries
Video blogging is gaining its popularity and it can be used to answer customer's questions. It would give a personal touch to them and maintain long term relationship. Best way to promote B2B business.
Access to Live Events
Snapchat can make your viewers excited because you're providing them in a different and more reliable way of what's happening in the event. It is perfect for social media marketing as it gives direct access to the audience. You can use it for new product launches and trade shows. Even a reward to your 100th customer to your store will make him delighted.
Get New followers
To retain the customers and gain new customers you can announce for takeaways. You can encourage followers from other social media platforms to add your brand on Snapchat and also generate leads.
Take People Behind the Screen
You can share birthday party snaps, Friday outings or company trips will help you to get closer to your community. Everlane used snapchat stories to highlight the happy hours and tours of the manufacturing office to pull the customers behind the screen. It brings the consumer into an overall product development starting from idea generation to execution all through Snapchat which makes customer think that they are a part of the overall process.
Provide Private Content
Snapchat can be used to provide special content to your audience which they will not receive in any other social media platforms. You can surprise them by the unique content. Michael Kors fashion brand used Snapchat to introduce their collections to the followers before they hit the best-selling tag.
Introducing New Products
Snapchat can be handy for launching new products and at the same time understanding the response of audiences over it. This will also give space for feedback and corrections if any.
Case studies of the Global Brands Using Snapchat
World Wildlife – WWF #LASTSELFIE Campaign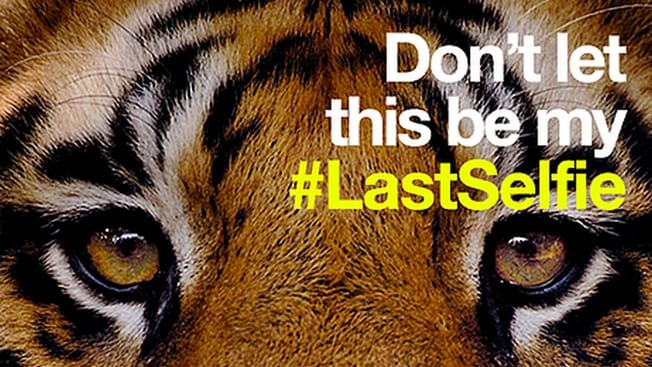 The campaign was meant to symbolize the diminishing population of the endangered species. #Lastselfie raised the global awareness and 40,000 tweets hit over 120 million Twitter timelines. Almost 50% of the active users were exposed to this campaign.
Taco Bell
Taco Bell launched its Spicy Chicken Cool Ranch Doritos Locos Tacos with a six minute movie in Snapchat story. The movie included a scene that was filmed on the red carpet of the MTV Movie Awards and was filmed and posted in less than 24 hours. The video received an overwhelming response from not only its fans but also from rest of the social media world.
It was not only successful but also has positioned the company as one of the innovative brands on social media.
Grub Hub:
Outside of marketing, another use case for brands using Snapchat is talent acquisition and hiring. As seen below, GrubHub has used Snapchat to create a sequence of Snaps to drive awareness around job openings relevant to their target audience –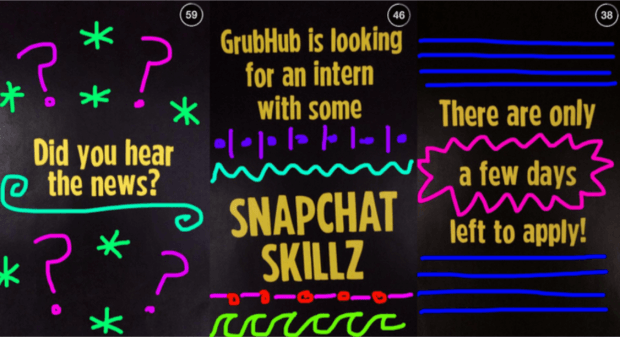 Source: www.socialmediatoday.com
AUDI+ The Onion's Superbowl Sunday
For the Superbowl, Audi collaborated with the Huge and The Onion to become a major brand to achieve a big Snapchat success. This campaign helped them to drive the online conversation and more than 30% online buzz about the brand.
The campaign received 1,00,000 total views on Snapchat and reached 37 million social impressions. It has tremendous reach and generated 10500 followers to Audi Snapchat account.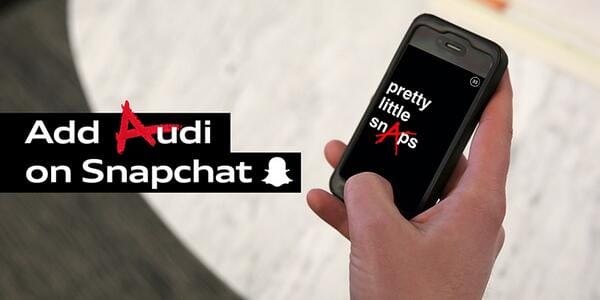 Calvin Klein
They promoted via Snapchat and Tumblr to increase their engagement and connect millennial generation. Celebrities were asked to take a selfie in a room called 'Self Exploration Lab'. It increased 15% engagement level and 140,000 content views on Snapchat.
Don't you agree that Snapchat is helping you to increase your brand awareness?
Disney
When Disney World launched its Snapchat account, they hired influencer Mike Platco to build excitement and awareness through his personal account, which draws 120,000 views per Snap. As seen below, Mike is a talented storyteller and artist who leveraged his skills to drive followers to Walt Disney World's new account. Then Mike did a 'Snapchat takeover' of Disney's account and Snapped his way around the theme park
McDonald's
When McDonald's launched its Snapchat account in 2014 they leveraged their existing social media presence by tweeting out an announcement -a smart move for any brand just starting out.
Have you added us on @Snapchat yet? We have a surprise for you all soon. Username: mcdonalds pic.twitter.com/c4cgPfSv46

— McDonald's (@McDonalds) February 24, 2014
Finally while Snapchat is still trying to add more features and monetize this platform, when looked from a business point of view brands have an immense opportunity to establish themselves as 'ahead of the game' and reach their millennial audience . In order to do a Snapchat campaign brands just need a creative strategy as it is both cost effective and easy to implement. One has to be creative on Snapchat, always and persistently and push the limits of creativity. Getting results though is not going to be a one day affair as relationships take time. One has to plan, measure and then work towards lifting their brand through Snapchat.
PRO TIP :
In order to make the most of this platform, the brands must promote their snapchat channel through various social media portals like facebook, twitter, youtube and so on as well as cover the offline audiences through its traditional approach. This will enhance the effectiveness and lead to a magnanimous brand awareness.
This article was contributed by Pravesh Shah and Sowmiya, digital marketing interns under the guidance of Sorav Jain at echoVME.