After a decade old endorsement with Akshay Kumar, Coca-Cola has once again endorsed Salman Khan as brand ambassador for its Thums Up. In many of firsts, Coca-Cola has launched its commercial on Sallu bhai's official Facebook page, a first for Salman Khan who has lent his pages for the same, kick starting its summer campaign.
Having an audience of 7.7million on Facebook, the commercial was well received and was launched on Saturday, the 23rd of February. Generating an average of 10k likes for each post, the Youtube page received upto 20k likes within a day of posting and reached roughly the same audience.
Standing 3rd on the list of highest Facebook users in the world, India has roughly upto 61499220 users. Till March of 2012, Khan was endorsing rival PepsiCo's Mountain Dew when Coca Cola bought Salman Khan's deal for an estimated Rs.18 Crores for 2 years, the highest endorsement deal signed on by a leading actor. It also has joined hands with the actor's charity Being Human – The Salman Khan foundation to promote social and charitable activities.
As PepsiCo has outdone Coca-Cola in clinching the IPL deals including the title sponsorship for all 8 teams, Coca-Cola has now turned to the country's most popular actor on the internet to leverage with his fan base. To leverage his fan base, I can observe the following changes on Salman's Social Media Channels: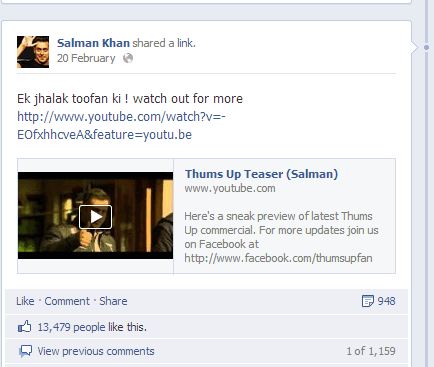 The Timeline banner of Facebook has been customized to Salman's endorsement.
The teaser campaign video of the advertisement was shared on Facebook initially (twice)
The original video was shared on 23rd February 2013
Later printscreens from the video was shared along with the YouTube link of the video. (Twice)
On an average every update relevant to this advertisement had received 1000+ shares, 60,000+ likes and 4,000 comments to begin with.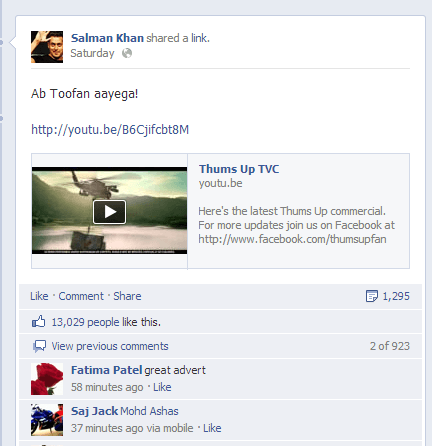 Social Media Tip: 
I truly appreciate the brand's choice of celebrity and idea of launching the campaign on Salman's Social Media Pages – This in true sense is Social Media Celebrity Endorsement were a brand leverages the influence and limelight of a person on Social Media to reach to its desired audience and 'Salman Khan' is finest choice as he was recently awarded as 'Social Media Star of the Year' by Zee Awards.
Coco Cola must have also endorsed Salman Khan to not just share the link or update the information about the new commercial on Facebook alone, they should have hired him to do so for Twitter with a new hashtag #Toofani as Salman hosts about 3.4 Million Followers on Twitter and the chances of It going trending and viral from there was higher. However, they had to incentivize around some contests for people to go #Toofani.
Pic Courtest: Printscreens from Salman Khan's Facebook Page.