On April 3rd we had Mr. R Naryanan the CEO of 2020 Media at the first Social Media Club Chennai session on 'Successful Social Media Marketing'. We missed out Mr. Krish Ashok (The Innovation head Web 2.0, TCS) as he was stuck in something unexpected.
Session started with quick round of introduction about members, enthusiasts and organizers, followed by a wonderful presentation by Mr. Naryanan on Social Media and Journalism. Mr. Naryanan discussed with us how Social Media in India is creating a hype that either creates over expectations or confused expectations.

Gartner Hype Cycle:
He placed social media in to Gartner Hype cycle- Innovation trigger, peak of inflated expectations, slope of enlightenment, trough of disillusionment, plateau of productivity and stated 'Blogs have gone past the peak of inflated expectations, where as Social Media on the overall level is reaching the heights'
About Innovation & Hype
Innovations are of two kinds internal and external innovations. Narayanan said External innovation is often sold to businesses through carefully crafted marketing strategies. As hype created on Social Media is connected to journalism it arises from interplay of innovation qualities and human nature. Ideas often behave as an independent viral entity, internet has acted as an accelerator of such contagion. Social media is subject to same hype that has created a buzz in the industry but there is no single value proposition that a social media agency could quote to their client. Social Media is largely PR controlled by public and not by agencies.
India and Social Media
*In India early adopters of Social Media will have an advantage. Early adopters are *unsure what to expect, but they are keen to adopt.
*Lack of understanding of the medium.
*Out of <6% English speaking population of India 3% active on Internet.
*The Internet users are urban populace that has strong purchase power.
*Social Media is largely a PR that is triggered and managed by public media gets benefited out of it.
*Strategies on Social Media needs to be designed and implemented in a way that could compliment to the present business scenario and should not to be considered as only medium of promotion.
The session ended by a question round followed by networking lunch.
Thanks to Mr.Shrinindhi for compiling down Mr. Naryanan's speech.
Pics of the event:
Myself Introducing the Event and Club
Mr. Naryanan Presenting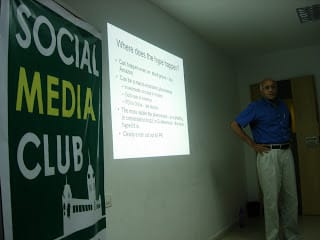 Kiruba Concluding the Event