Indian Healthcare on Social Media – Amazing possibilities, Inspiring Journey
India has been embarking upon a journey of healthcare system transformation for the past few years. The government introduced important structural reforms in the last decade and has re-emphasized its vision of creating access to a minimum set of healthcare services for all. The private sector experienced unprecedented growth during this period. Apart from the medical advancement and human technology, a significant change was the internet. The internet because it was a never-thought-of-before change that took the industry by storm. Just like every other sector, the expectation to jump onto the social media bandwagon slowly built up. While some hospitals did not give into the expectation, a surprising number did give in and tried to make a difference in their online presence. It is thus imperative to understand how the internet and the Social media world have influenced the healthcare industry. The dawn of this decade saw the rise of Social Media. Often known as a huge community in itself, 'Facebook' had revolutionised social interactions. Twitter, LinkedIn, Google+ and various other social media platforms are a part of every activity happening around the world. It is a curious deal to understand how this huge network is helping businesses share information and attract potential customers. Hence the idea of this report is to analyze the presence of the Indian healthcare industry on various social media platforms and understand how different has this been for the industry. 'People need to be able to visualize their health'- This trend was well experienced on platforms like Facebook and YouTube. There is enormous data on health in the form of infographics, animations and videos presented in a way that makes it easy for customers to understand.
To get more insights on the influence of social media on healthcare industry, including skin & hair care clinics, we thoroughly analysed a list of 40 hospitals and clinics. Information related to health and medicine is available in abundance on the internet. So how's it different from the hospitals sharing information on various social media platforms? What's important with this information is the sense of faith.These hospitals have the finest doctors in India and hence every medical fact or advice is completely trust-able. Here's a table to show their presence on the different platforms:
You can check the list of 40 Hospitals.
The Social media landscape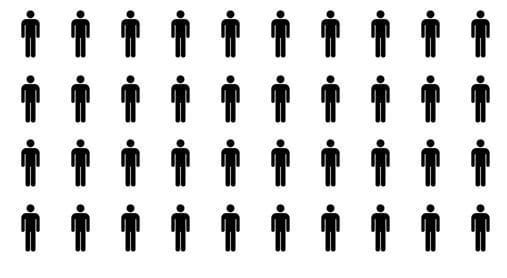 Only 20 of the above considered have an active social media presence in  one or more platforms.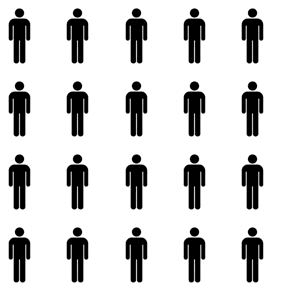 Among the 20 hospitals, we analysed in detail to find out the top 5 based hospitals on their presence on various social media platforms, their approach, engagement ratio etc. In conclusion, these are the 5 hospitals. A. Apollo Hospitals. B.  Fortis Healthcare C.  Kokilaben Hospital D.  NU Hospital. E.  Wockhardt Hospital.   According to our analysis and research method during the month of July, the below figure represents that only 42% of the hospitals had integrated social media icons on the websites, whereas 58% of the hospitals were found having none.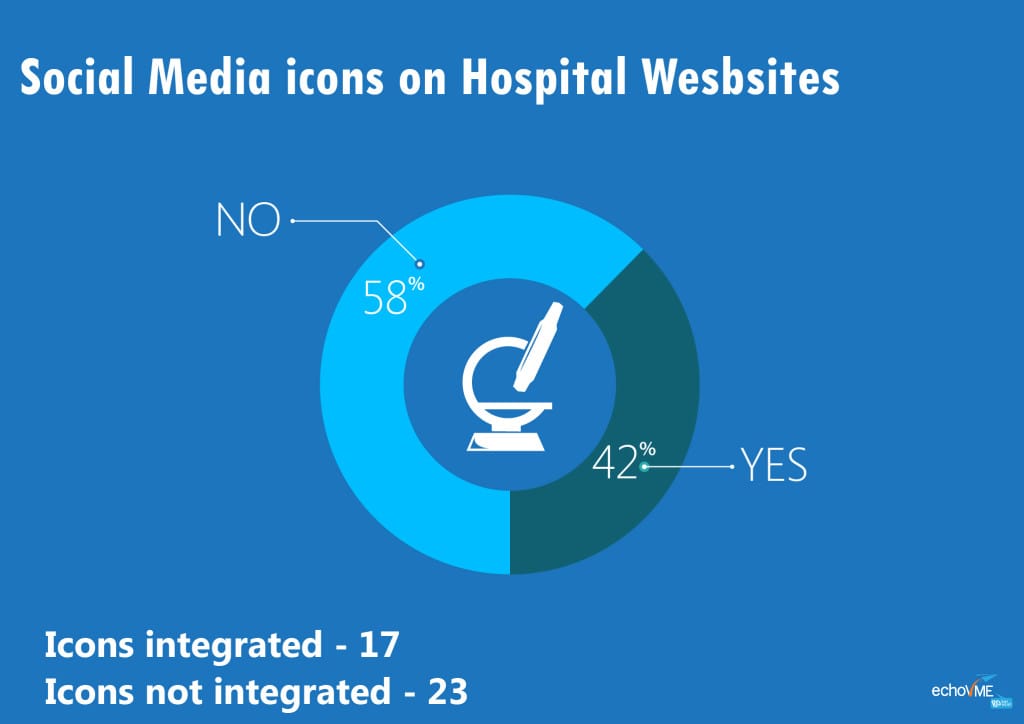 We were now curious to understand their objectivity, thus we followed their activities on various platforms. It was clear that they had extensively worked on their content and it served well to bridge the information gap. Often worried about getting the right information from the web, following a hospital's network gives us the best assurance. Below is the infographic clearly showing that most of the hospitals that promote themselves on social media is done mostly through Facebook, with the highest number of percentage (47%), following with Twitter (15%) and LinkedIn (14%).  Seems Facebook is a huge hit among the hospitals. Not very surprising.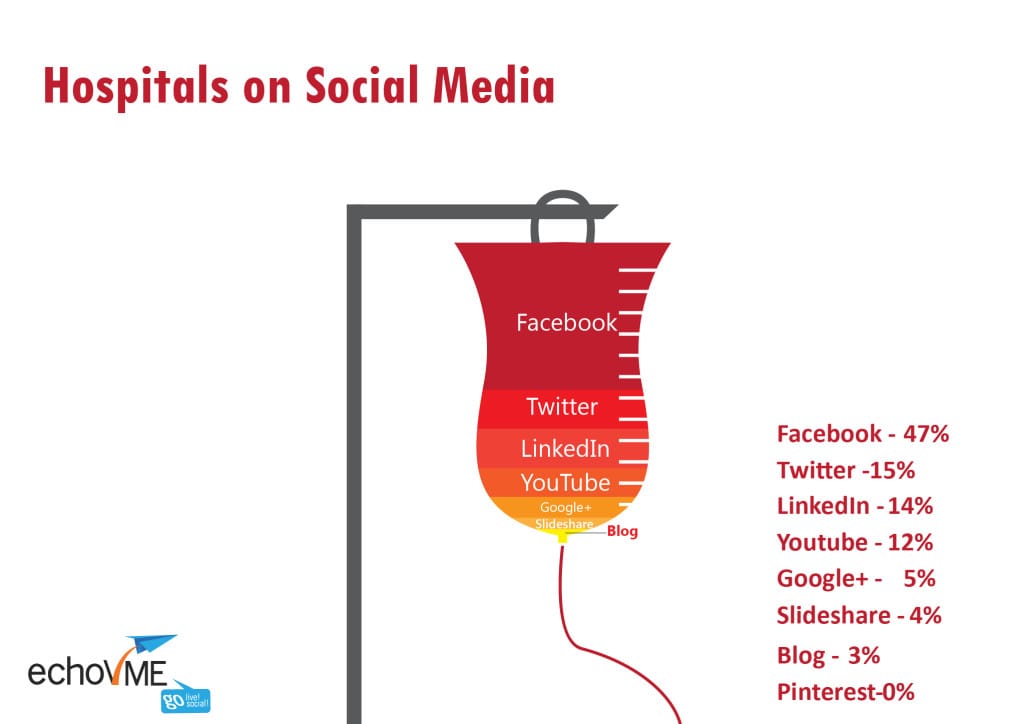 Now, when most of the hospitals are on Facebook promoting their industry, with curiosity we went further to find out whether they were highly active or dormant on Facebook, and other social media sites.  Shockingly, only 35% of the hospitals were highly active on Facebook, with every 5 update going on a daily basis. Apollo Hospitals was one such. Following which Twitter and YouTube was active by just 9% of the  share.  Find more in the below figure:
Hospitals on Facebook
With over a billion people present on Facebook, it was evident that businesses all over the world made their presence imperative, so have the Indian hospitals. With a plethora of visual information on Facebook, the hospitals have taken an initiative to share medical facts and tips and help patients resolve concerns. Pictures, videos and applications are extensively used to make information more appealing. Here's an idea of giving strategies used by the top 5 hospitals:
Strategy
Everyday health tips, easy to follow advice and facts that most of us ought to know.
Live chat conversations from specialized doctors on Facebook are smart ways adapted to keep their fans active.
Few hospitals are creating awareness about best food habits and exercises in their kind of updates.
Lifeline number, testimonials, Value added services etc are among the famous applications.
Highlights and USPs
Apollo's campaigns like "Blood connections" which is a social platform for blood requirement and "Ask the doctor" answers the FAQ's based on health and medicine. Surprisingly, they have minimal promotions or advertisements on their Facebook page.
Fortis has an amazing goodwill amongst all its patients. It gives quick responses to any feedback or query posted on its page. In its recent campaign of helping people from "Acid Attacks" the hospital gave it a very good reputation boost amongst followers.
With the uniqueness in their updates, Wockhardt aims to cover different sections of the health and fitness keeping their followers engaged. They also have a self explanatory apps for Back specialist, Knee specialist etc.
NU Hospitals is among India's leading nephro-urology care guide and their Facebook presence provides medical facts, brain teasers and important days to celebrate.
Founded just in 2009, Kokilaben Hospitals has a very different approach in educating the crowd about health and fitness. Creating awareness about best food habits and exercises is their choice of updates.
Most of the pages are giving advice or tips on maintaining or preventing lifestyle diseases.
Apollo Hospitals is also hosting live chats on Facebook that allows people to post questions on a particular topic that is announced as a status update and people are allowed to ask questions pertaining to it.
Hospitals on Twitter
Twitter has changed how some people connect, communicate and inform. Unlike other virtual worlds, Twitter is incredibly rapid and takes a relatively low time investment. With this in mind hospitals attempt to share quick facts and updates. 'To listen' to queries, doubts and give quick responses is a basic twitter policy. Let's understand what hospitals are doing to meet their follower's needs from the following image:
Strategy
On an average, a company profile puts up 3-4 tweets a day. Tweets are roughly categorized as tips, advising, information and broadcasting.
Most hospitals maintain the same content for Facebook and Twitter to ease the social media administration.
#Hashtag campaigns on common health topics gives follower's better perspective and valuable information.
Highlights and USPs
#monsoonmantra, a Fortis initiative for Twitter and Facebook gave way to a lot of amazing health tips for monsoons. Such campaigns, along with Organ Donation updates and self-promotion, Fortis is enjoying more than 2.6K followers on twitter.
Apollo hospitals on the other hand is very active in listening to its tweeple and responds promptly to their questions and grievances. For example: they search for tweets that has keywords like headache, cold, body ache etc., and provides them home remedies.
@KDHAhospitals' simple policy is to complement tweets with pictures. The most famous #didyouknow campaign is well executed by them.
They have a similar presence on Twitter, as on Facebook. Frequent health tips, live chats and timely quotes keeps Apollo on the top in Twitter with 4.6K followers.
NU's activity on twitter is much like an awareness portal for Kidney related problems. Regular tweets provide all necessary information.
Hospitals on LinkedIn
If  it's Marketing, Advertising or Networking- it's LinkedIn. Those who network best, experience the strongest practice growth. LinkedIn brings this proven business development technique into the social media century. The hospital industry is yet to exploit these services effectively but have shown an active presence so far.
Among the top 5, Fortis and NU hospitals do not yet have a customized page on LinkedIn.
A LinkedIn page is judged by the overall recommendations, listings or services and career sections. Among all, Apollo Hospitals with more than 10286 followers has the best LinkedIn presence.
It is suggested that these brands must use LinkedIn to target professionals and reach out to the corporate crowd.
LinkedIn also helps showcase the number of employees listed on the hospitals page – for example Apollo Hospital showcase profile of 3,000+ employees – This is a credibility factor.
Hospitals  here prefer to do regular corporate communication, prefers to talk about growth, financial details.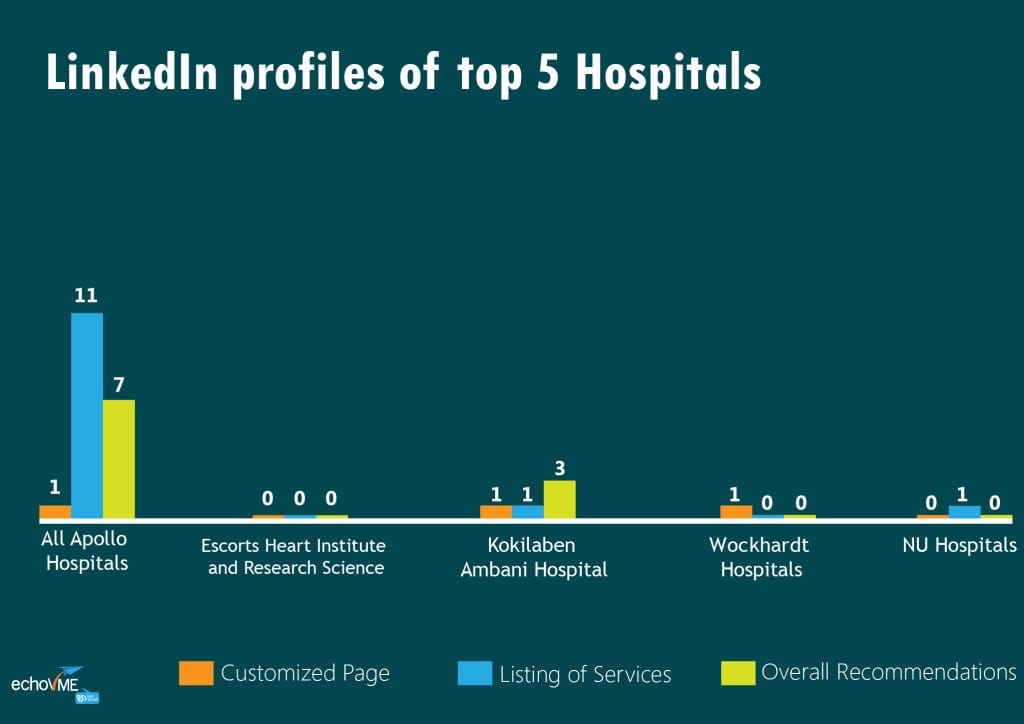 Hospitals on YouTube
YouTube is the second largest search engine trailing behind Google. Ideas conveyed through videos have revolutionized learning and teaching.  The hospital industry wished to deliver its services and testimonials through this network.
Apollo Hospitals with 147 videos and over 1.62lakh views, Fortis with 126 videos and over 1.69lakh video views top the social media presence on YouTube.
Apollo hospitals has taken a step further and have uploaded educational videos of medical emergencies. Videos like first aids for burns, first aids in seizures, first aid in choking and heart attacks are uploaded.
Videos are about the hospital, views from patients, testimonials, doctors say, media etc.
Brands are learning importance of infrastructure showcase, few videos showcase the infrastructure they have built.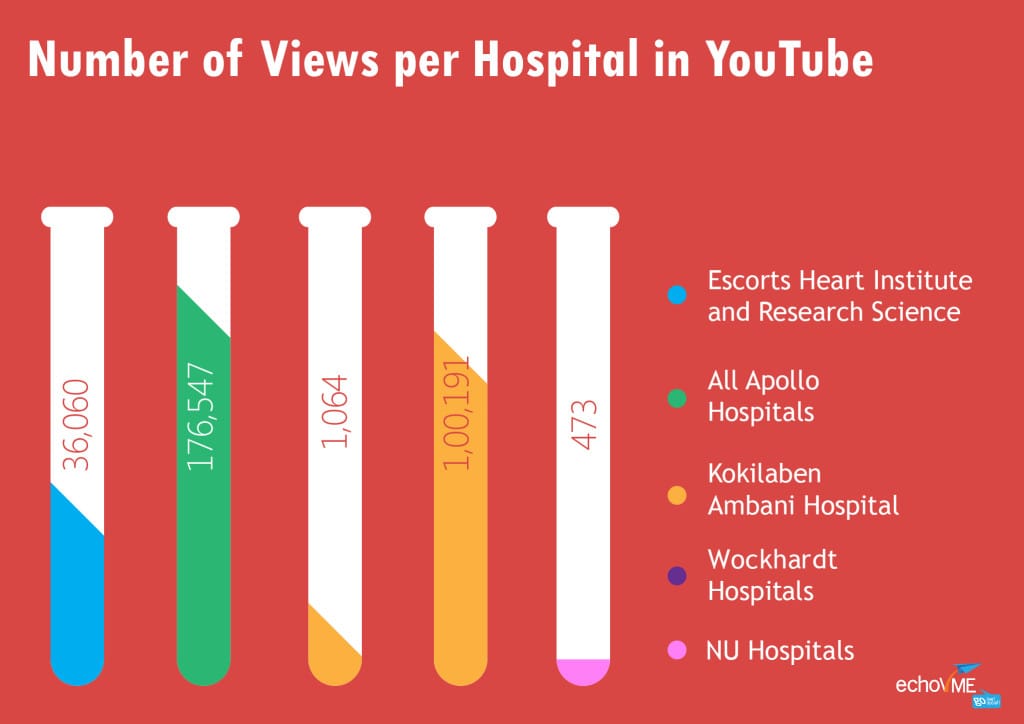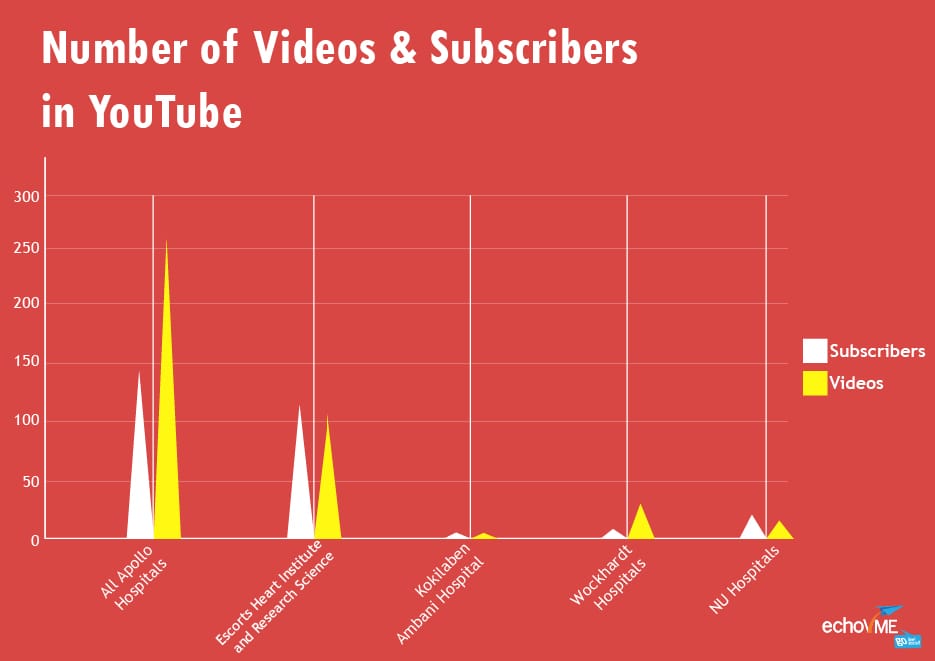 Hospitals on Google+
Though Google+ remains largely unpopular in literally every industry, the stats show otherwise. There are brands that update their Google+ channels undeterred by its unpopularity. The healthcare industry is no exception. Apollo hospital once again leads in being active on this channel while the others either stopped their activities with unsuccessful results a year back or just registered their presence with no updates whatsoever.
A general observation amongst the top 5 hospitals is an in-active presence on Google+.
Apollo and Escorts hospitals tops the chart with their mere presence.
Apollo hospitals are a little engaging with their audience while Escorts posts like facts, tips and health problems with solutions.
However, these brands mostly post contents that they have posted on Facebook.
We believe these brands must contact Google+ Representative from Google India office and figure out possibilities on how can they grow their community on Google+. Besides, they should also think of hosting a Hangout with Doctors on generic topic on which they can create awareness amongst public.
Conclusion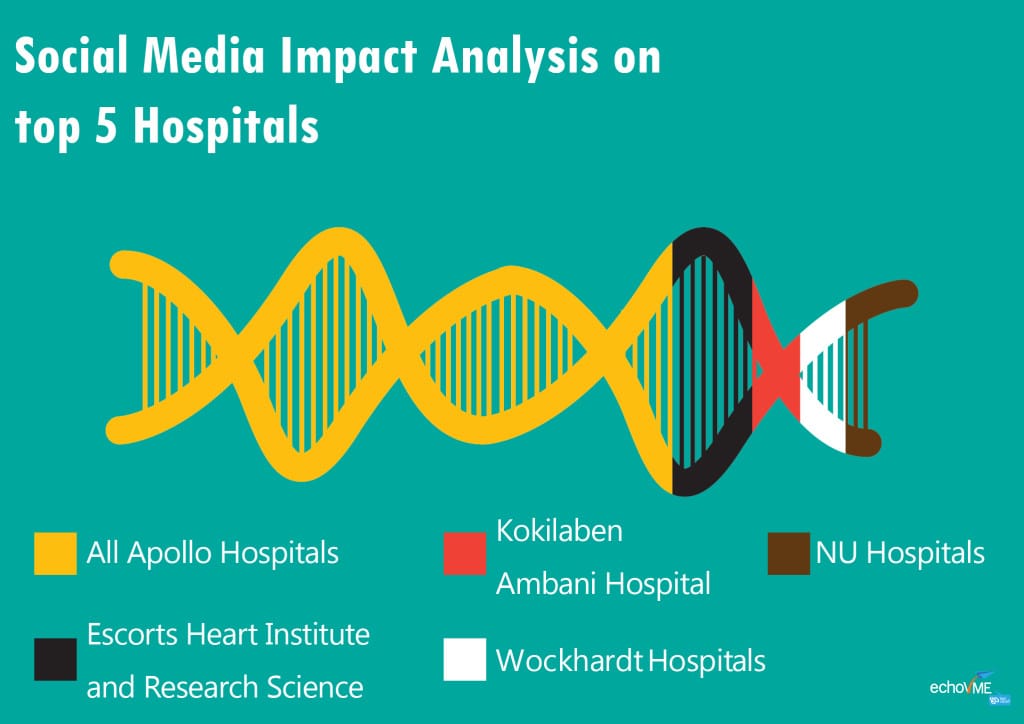 Hospitals on social media are a relatively new concept but these top 5 hospitals have proven otherwise to us by their simple yet tactful ways of social media marketing. Based on engagement on not only one platform, these top 5 hospitals have particularly excelled on all the platforms, outwitting their competition. But the most active on all the social media platform goes to APOLLO HOSPITALS. On the basis of our research, these five hospitals have already taken the social media world by storm and are most likely to survive with their innovative strategies and types of engagement. They have revolutionized the social media healthcare industry by reaching out to their audience effectively and engaging with them through updates like health tips, first aid situations, listening to audience and responding accordingly without just broadcasting. The difference between the other hospitals and the top 5 hospitals are that they haven't just stopped with broadcasting but continued to engage and thus build their follower base. They haven't just set up accounts and stopped trying on platforms like  Google+ either because of no audience but have continued to post updates and engage with their audience. They also incorporate different types of posts hence not being monotonous. These top 5 hospitals deserves echoVME's star for the great work they are doing. One advice from echoVME would be to also incorporate appointments and chats with the doctors on these channels and spend more time on Listening as we do observe many negative concerns across social channels that can be solved using active listening.
MEDAL OF HONOUR
*ECHOVME'S  SOCIAL MEDIA STAR PERFORMANCE :  ALL APOLLO HOSPITALS
Thanks to Pranav, Prashanth, Amrutha, Khusbu and Sailesh from Echovme team to help me get this report rolling!