One of my most favorite times of the year is when Holi is just around the corner! While we're eagerly waiting for the festival of colors, brands have worked round the clock to make it all the more colorful.
Here are some brand posts that brought that extra dose of color in the recent years for holi day.
#1 Urban Tree
The real-estate brand managed to craftily wish their audience.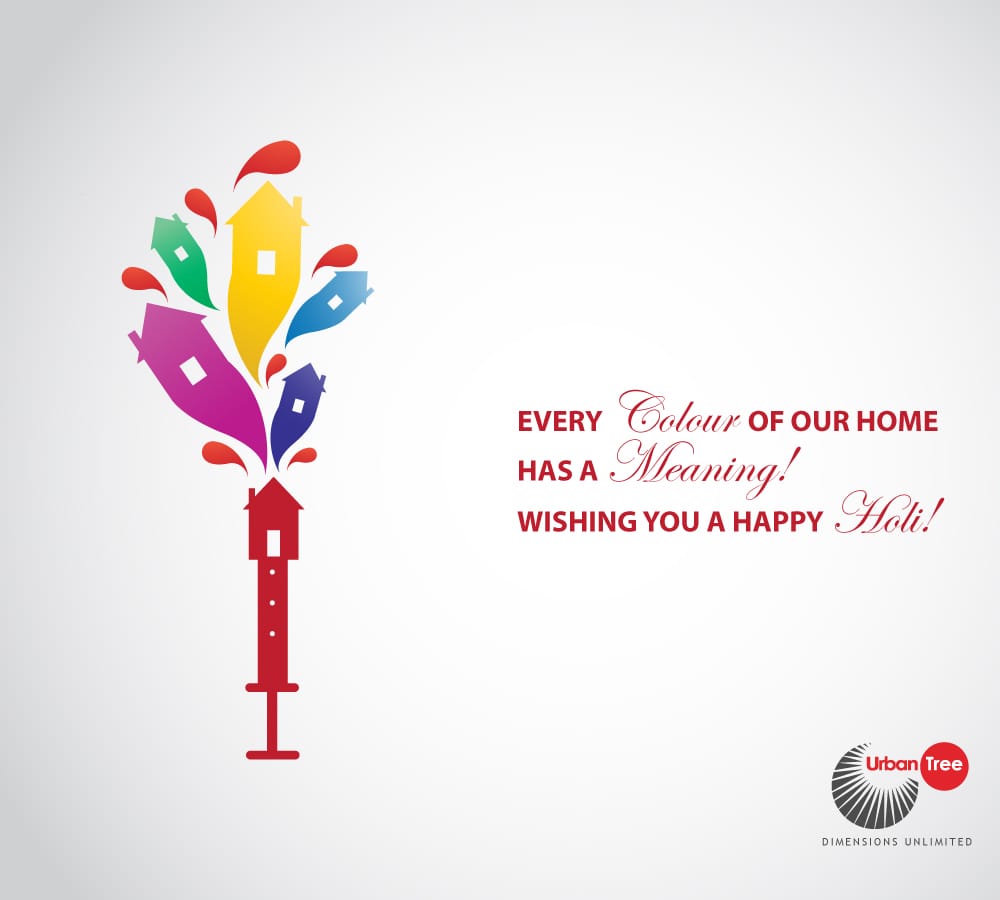 #2 Asian Paints
Keeping it simple with a vibrant display of colors.
Paint your home with different hues of happiness as Holi not only brings colours & liveliness to our abodes but to our lives too. #HappyHoli pic.twitter.com/Z9zhvQZv23

— Asian Paints (@asianpaints) March 13, 2017
#3 IndiGo
A peek through the window, into a sky that's spread with colors.
The skies are blue… and pink, green and yellow! IndiGo wishes you a very #HappyHoli pic.twitter.com/8EASqDwoDb

— IndiGo (@IndiGo6E) March 23, 2016
#4 Cornetto
It's double the fun when there's a friend around.
Yeh Dosti mujhe dede Thakur! This Holi, #ShowYourLove… #HappyHoli #Cornetto pic.twitter.com/J4p91pGkIa

— Cornetto India (@CornettoIndia) March 24, 2016
#5 Hike
Known for their creative stickers, Hike wished everyone exactly with what they are famous for.
Bura Na Mano, Holi Hai!! #HappyHoli #CricketWithHike pic.twitter.com/xMITXCKWOF

— Hike (@hikeapp) March 24, 2016
#6 Flipkart
We all end up discovering a new mix colors every time we play Holi!
Happy Holi folks! We hope this day delivers a mix of colourful and happy memories! pic.twitter.com/rfLMj4ozqh

— Flipkart (@Flipkart) March 24, 2016
#7 Aircel
Aircel beautifully brought in a humane touch to their wish.
This Holi, don't just wish your loved ones through a text or message; wish them in person, with a hug. #HappyHoli pic.twitter.com/hAT0Q3kURQ

— Aircel (@Aircel) March 24, 2016
#8 Tata Docomo
Holi is for everyone, Docomo's doodles included.
Have a great Holi! #HappyHoli pic.twitter.com/03oFHX1R23

— Tata Docomo (@tatadocomo) March 24, 2016
#9 Pepsi
You just might end up feeling thirsty, mid-way, while playing Holi.
Rang Tha. Laga Diya. Pepsi Thi Pi Gaya. #BuraNaManoHoliHai pic.twitter.com/K8DA36fdOF

— Pepsi India (@PepsiIndia) March 23, 2016
 #10 Reebok India
Go shoeless this Holi!
https://twitter.com/reebokindia/status/712843967885361153
 #11 Mentos:
When you need some Mentos to help you solve the anagram.
Solve this anagram to figure out our Holi wish to you. Because #DimagKiBatti doesn't take holidays. #HappyHoli pic.twitter.com/L8wjkSlxb4

— Mentos India (@IndiaMentos) March 24, 2016
#12 Zomato India:
There's no celebration without a feast!
Happy Holi! 🎉 pic.twitter.com/QgfTcPPRNT

— zomato india (@zomatoin) March 24, 2016
 #13 Vanish:
The 'Before – After' template used right!
https://www.facebook.com/VanishIndia/photos/p.724467331065267/724467331065267/
 #14 Toppr.com
 The irony of exams happening during Holi!
https://www.facebook.com/BeingToppr/photos/p.630506083822172/630506083822172/
 #15 All India Radio News
 Heights of creativity and effort for a festive wish.
https://www.facebook.com/airnewsalerts/photos/p.693832894091444/693832894091444
#16 Zomato
Just a colorful wordplay.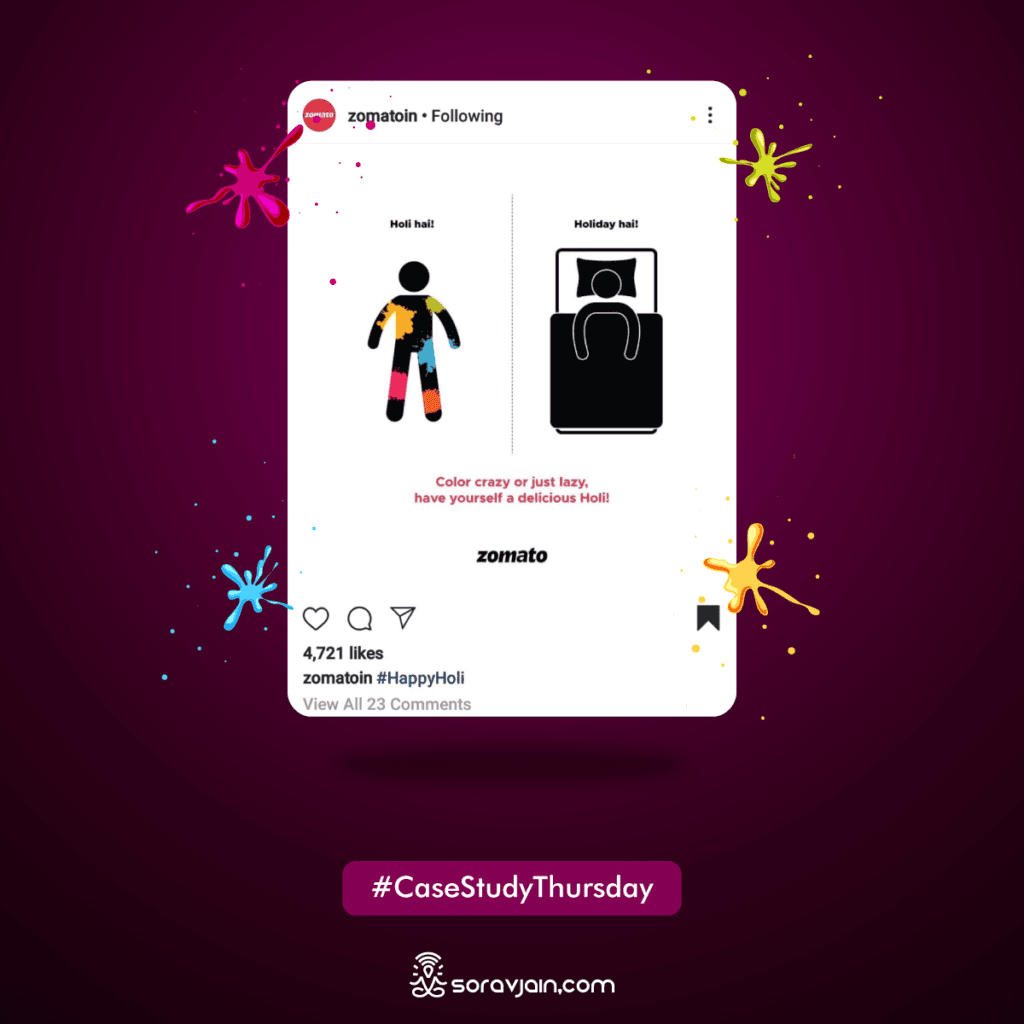 #17 Durex:
Educating audiences on how to play Holi and other important things in life.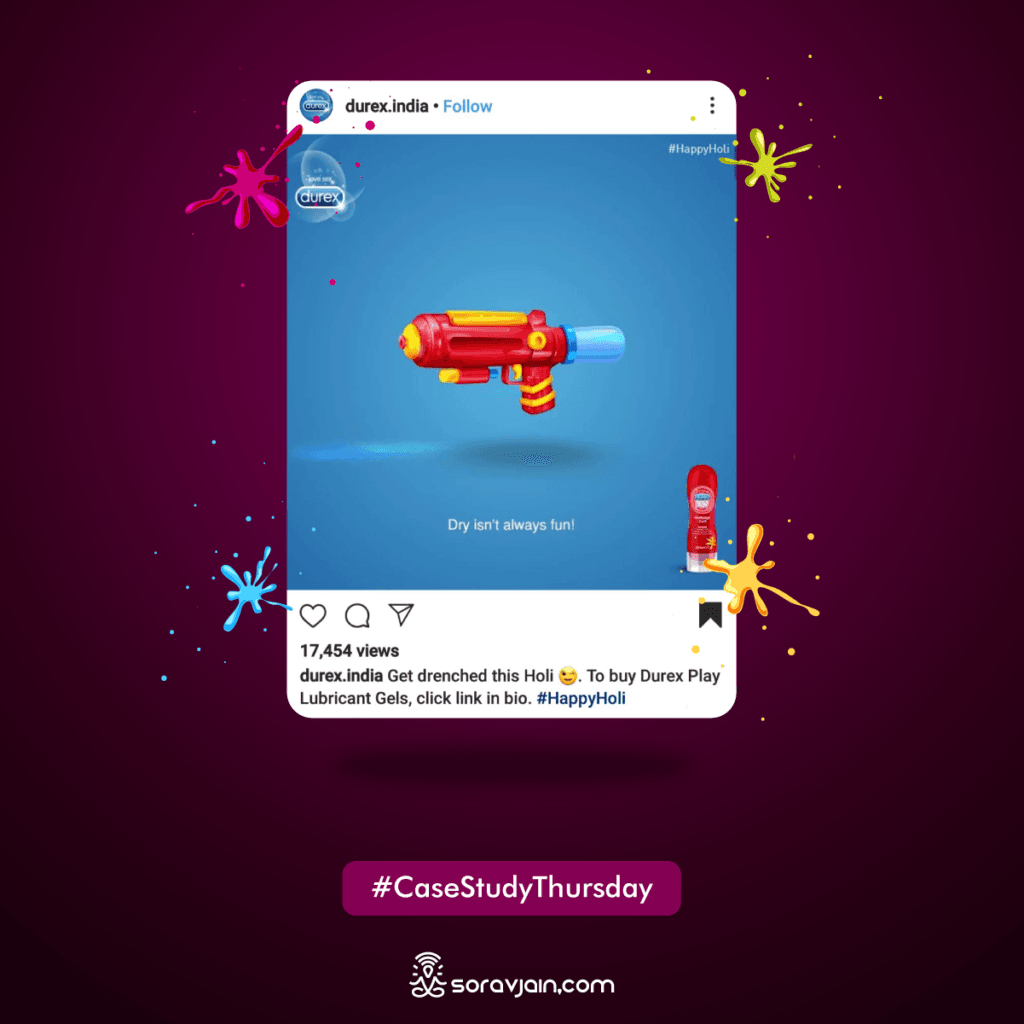 #18 Netflix India:
Memes can be a great option to increase your reach.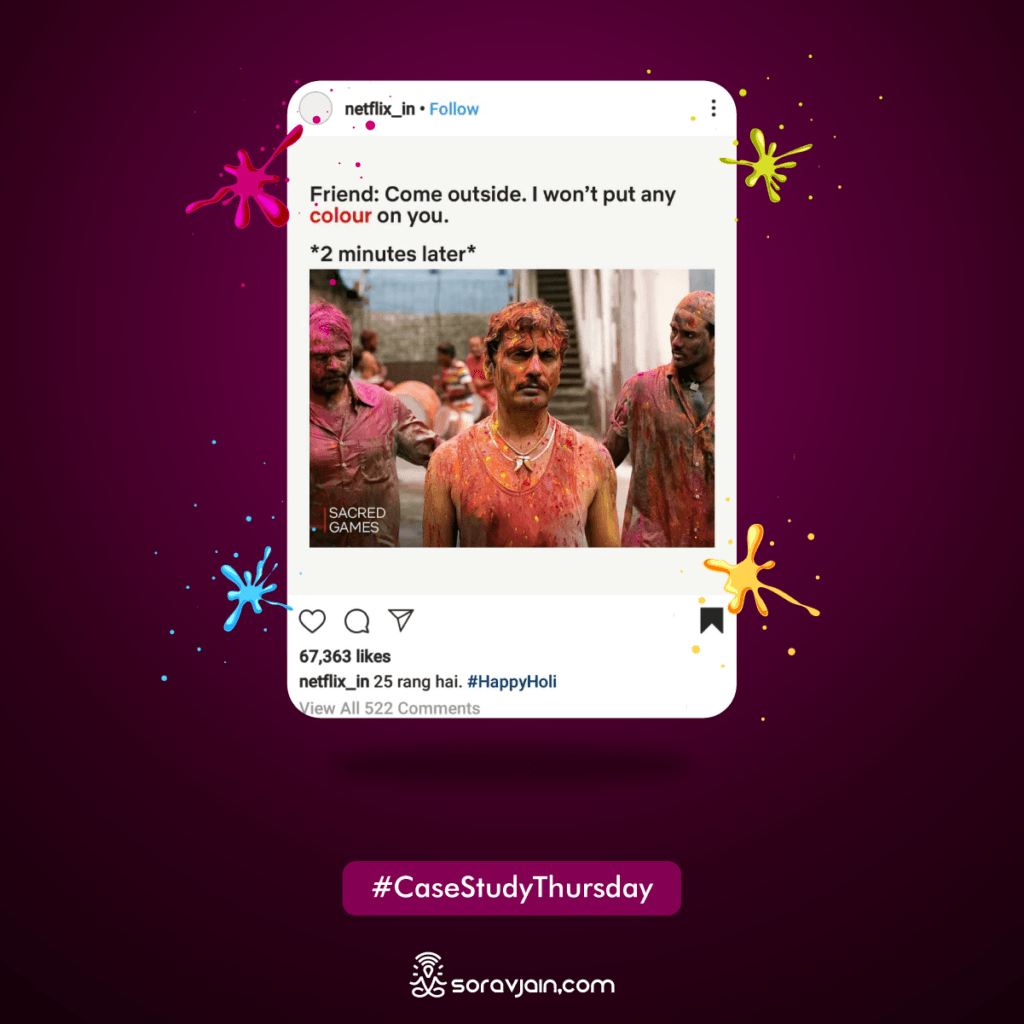 #19 Surf Excel:
The right act
https://www.instagram.com/p/BuqpikbDQZH/?hl=en
#20 Mahindra:
A journey through the colours of nature
Wish you a #HappyHoli! Live young, live free. pic.twitter.com/EGv9i9A1Lm

— Mahindra Adventure (@MahindraAdvntr) March 2, 2018
#21 JBL India:
A colour for every mood
We wish you a very musical and #HappyHoli 😀😀 #DareToListen #JBL pic.twitter.com/56pyR8tyvF

— JBL India (@JBLSoundIn) March 2, 2018
#22 Ola:
Take a break
Here's wishing you all a very happy, colourful and joyous #Holi.
This Holi, leave your car at home and enjoy the specially curated #RangBarse playlist on #OlaPrimePlay 🙌🏼#HappyHoli pic.twitter.com/pcwc5psL55

— Ola (@Olacabs) March 1, 2018
#23 Videocon D2h:
We wish your life is filled with colors of happiness! Have a safe and blissful Holi! pic.twitter.com/96xTkjWQSn

— d2h (@officiald2h) March 2, 2018
#24 Micromax :
D2H highlights the right way to celebrate Holi
Share a photo of you playing holi – with an EMPTY bucket. Coolest entry wins a surprise gift! #HoliBucketChallenge pic.twitter.com/qoXmwgEhr4

— IN by Micromax (@Micromax__India) March 23, 2016