The success of Social Media Summit 2011 = My Vision Come True!
After being the chief organizer of the Search Marketing Summit in year 2010 in association with TKF, where I was rolling up myself in setting up the agenda, speakers, flow of the event, emcee, I had ensured to myself to organize Social Media Summit 2011 all by my team and myself.
How did it Start?
It was Ms. Rita Menon who gave me a call and asked,
Rita: Hi Sorav I am Rita from M.O.P Vaishnav College, we want you to associate with a Social Conference we are planning". Shall I pass on your number to respective department to get in touch with you?
Me: Yes why not? I would be willing to help.
(At that moment I didn't think this association will be fruitful and was hoping it is going to be just a college event)
Our Association with M.O.P Vaishnav College:
Soon after my conversation with Ms. Rita, the staff from Department of Commerce (Ms. Kiran) approached me and we fixed the first meeting @echovme. Looking at the proposal they had it was a seminar that they were planning on social commerce, social entrepreneurs and anything that was associated to 'Social' – calling for papers from Academicians and with few industry experts as speakers. When Ms. Uthira, Ms. Nisha and Ms. Kiran approached me, I gave this entire thing a new phase and made the vision "Social Media for Business Centricity" taking out the element of social commerce, social entrepreneurship, papers from academicians (as I thought we need to create more awareness than call for research papers)
After a lot of discussion we planned to call it as "Social Media Summit 2011"
We fixed on dates!
We finalized the domain www.socialmediasummit.in
We designed the logo!
And Here We Start:
I contacted around 80 speakers across the globe to bring them for the Social Media Summit 2011 and got 25 fixed – they belonged to US and India.  Meanwhile, the team was getting the web design, brochure and the sponsorship kit ready. Soon the speakers were confirmed and I planned to fix the Agenda up. The 2 days of the agenda was planned considering the following points mentioned below:
First day to mainly focus on Social Media for Business Ecosystem with some of the top speakers: Mahesh Murthy, Gillian Muessig in the first phase. Kiruba Shankar and Eric Weaver post lunch.
After making the delegates, academicians and students believe in the business value of Social Media through the above mentioned speakers, we wanted to end the day with Mr. Ratan KK's presentation on Social Media and Careers so as to sow in them the visionary seeds of this field and to boost their will-power to join the "Future of Business communication"
There were two panels planned on the day 1 of the event so as to bring thoughts of more professionals from B2C and B2B perspective.
Day 2:
This day was planned to bring in the innovation in Social Media field and give this medium a total new spectrum away from business, marketing, networking.
A session for Academicians was planned.
A session on usage of Social Media by NGOs was planned.
Parallel practical sessions on Social Media was planned to bring more audience on to these platforms.
An Unconference session was planned so as to allow people who love to talk and contribute their thoughts.
Social Media for Entertainment was planned by bringing Blogologues on stage. (Initially screening of The Social Network movie was planned, but I found Blogologues more engaging, stress-busting and interesting concept)
Design | Sponsorship
Website was ready, a separate bank account was opened for the funds to flow, brochure was designed, and sponsorship kit was made in order to get the complete event rolling with all the possibilities of promotion.  Payment gateways were fixed with help of eventnu and the tickets were available for purchase through online payment | cash payment | cheque payment.
Wipro was the first confirmed sponsor and we called them the Gold sponsor following 25 other sponsors (Chakiat, Saravana Stores,Joyallukas,DCManor, Hanu Reddy Residences, Canara Printers etc.).
Sowing the Seeds of Social Media in M.O.P Vaishnav College: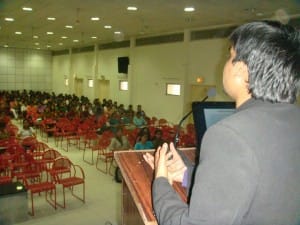 Social Media is definitely a new word in the industry and most of the students are aware of only Facebook and Twitter. I was invited by professors for two days to give 2 hour talk on Social Media as a new term for personal branding, for business and more. I also had introduced them to the Social Media Summit that was in planning.
From there, we picked up 20 active girls who were interning with echoVME for 2 months to get the whole event rolling. The group of 20 girls was segregated into four different teams:
(i)      Social Media Team
(ii)    Speaker's Team
(iii)   Sponsorship Team
(iv) Design Team
The Social Media Team and few professors were further called down to echoVME for 2 days workshop on Social Media Marketing for better and practical understanding of the subject.  Further we had planned special workshops for professors but unfortunately I was tight on schedule.
Promotion Ahead and Association:
We had extensively used the online medium to promote this venture through Facebook advertisements, my blog, online press releases, regular tweets, facebook community (social media summit, echovme community), facebook event page, LinkedIn connections, LinkedIn advertisements and email campaigns to the specific management crowd of Chennai.
To make these efforts more credible, we approached The Hindu for media partnership they promised us a write up in The Metro Plus and 10 x 10 advertisements in The Hindu newspaper. Big FM promised regular announcements about this event and NDTV Hindu assured for some pointers as headlines in their news channel. These traditional media effectively worked out to attract audience who has not used Social Media but still believe in its power. Humble thanks to them!
A press meet was planned to launch the event officially on 14th of October inviting all the main stream media to participate which help us reach the spectators of many other news channels and readers of newspapers including Indian Express etc.
Students went across the city to further reach out for sponsorships, sales of the ticket and create awareness amongst other college students. Staff approached all the alumni contacts, organizations who come for campus placements and other specialized institutions. Team echoVME worked hard to reach out to all the potential individuals, marketers, brands, marketing managers and more.
Team echoVME was handling the complete managing of lists, registrations, name tags, confirmations etc.
Speakers' Travel, Stay, Memento:
The logistics for speakers was sponsored. Economy class / 2 tier AC airfare was offered.  A welcome letter for the speakers was drafted for the convenience of speakers, in which we have also shared the information of nearby shopping malls, food joint for their references.
Usually the mementos in conferences are good for the showcase at workplace or home. But we planned a memento that speakers can take away and use it on a regular basis. A professional suitcase/ bag was purchased for every speaker along with a gifted watch by Joyalukkas.
Infrastructure Setup:
Upon request, Principal had announced holiday for students on two days of the event (4th and 5th of November).  My aim with this summit was to provide best of the standards and create international standards for the event across the city.
Hall Setup: The curtains on the stages were removed, red carpet was laid on the floor, the steel chairs were removed and replaced by cushion chairs with white covers, and 25 roundtables were set. (Thanks to professors for matching up with requirements)
WIFI: 8 Mbps free wifi was set with some 3 – 4 routers inside the hall.
Computer Cluster: High speed Wifi in computer cluster was made available for the Twitter session.
Stage and gate arch was designed by team @echovme with all the international standards. The technicians were guided on requirement of mic, lights, and screen setup. (Thanks to professors and technicians for making this happen)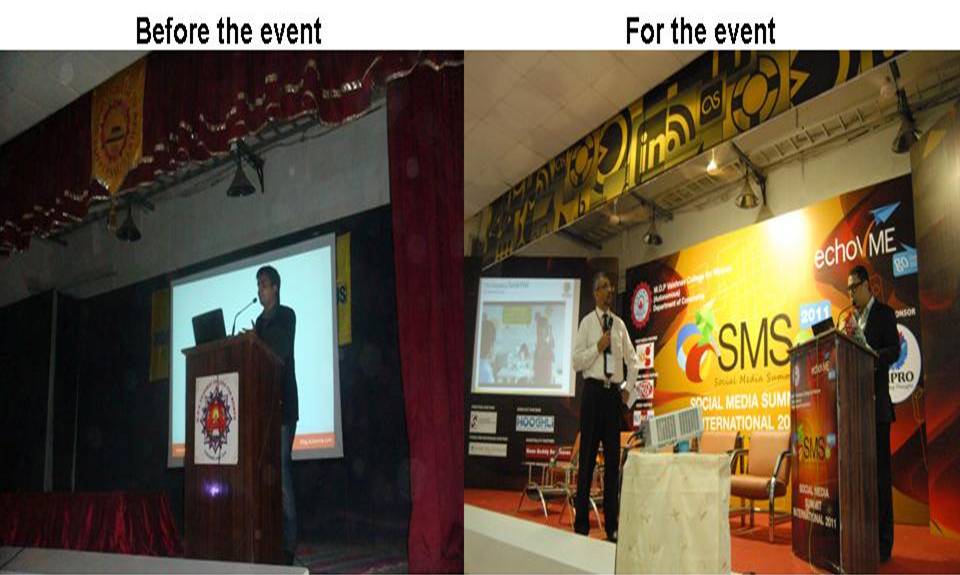 Hooghli was selected as live webcasting partner for this event. A meeting with photographers and videographers was fixed to plan up the coverage of the complete event and its connectivity with the live webcasting.
The Meghdoot hall was planned to host the skit by Blogologues.
Plan for lunch, morning tea break, evening high tea was set.
Day before the Event:
Staffs, Students, Organizers (Team echoVME) were up till 9 PM at the event venue setting up the standards as planned and finalizing individual tasks for the next day.
Special Mentions: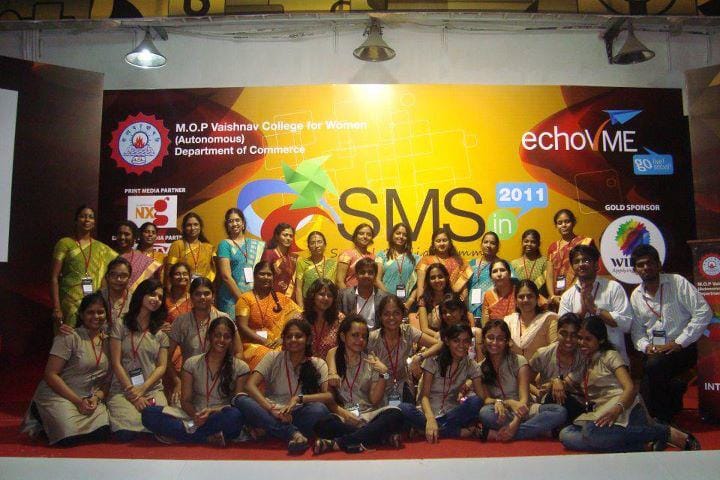 Megha: For being extremely supportive throughout the event planning and giving me novel ideas to gets this event rolling.
Vernicia: For setting up the design and branding standards of the event. To manage phone calls, sponsorships and for doing multi tasking, designing of promotions, brochures etc.  If you loved those vibrant logo and color of the banner its her mastermind behind it.
Richa: For supporting Vernicia and designing all those minute yet important elements of Social Media Summit.  She supported the Social Media Promotional activities of the event.
Arun, Suveeksha and Naga: For planning speakers' travel, registrations thro' phone calls and registrations lists. Suveeksha and Arun had put their soul ensuring registration details, speaker's travel and Naga in collecting cheques, cash.
Ponsakthi: For executing echoVME.in/live, for executing the technicalities of socialmediasummit.in and planning the complete online registration forms.
20 M.O.P Vaishnav College Interns: Students who were associated with echoVME in planning and execution of this event. They were very enthusiastic.
Staff of M.O.P Vaishnav College (Department of Commerce):  Highly supportive and quickly agreed to any requests made. They are very hard working and are ready to take novel ideas. Special mention to Ms. Uthira, Ms. Nisha and Ms. Kiran.
 This event was a "Vision come true"! And below are few testimonials directly from people.
I would not miss another one. I learned a lot and was really amazed by the level of engagement by the audience. – Dorai Thodla, founder, iMoprh
Excellent place to meet with industry experts and to gain and share knowledge. Sorav Jain and his team at Echovme are too dynamic to make it joyful and successful. One of the best investment of my time. – Ahmed Muzamil, Assistant Systems Engineer, TCS
It was very well organized, the MOP and echovme teams did a very good job of handling such an audience , and keeping us at our seats till the very end on both days! very well done, I know it couldn't have been easy! – Sruti, Brand Manager, Cavin Kare.
Kudos to EchoVme Team and MOP for organizing such a well planned event and needless to say the event was very informative and insightful with brilliant case studies shared by the speakers. Thanks to all the speakers as well for sharing your experience with us. – Prashant Kulshrestha, Marketing Support Specialist, CDG, a Boeing Company.
It was a pleasure to meet social media experts and hear them speak about best practices that they really practice.  Got a whole host of tips for social media success and i have started implementing them also! The venue and seating arrangements was excellent. Good show EchoVme and MOP. – Anitha Jebaraj, Entrepreneur, Schema Performs
Well organized and high energy program.  Created a great buzz online. Did you check the twitter trends to see if you trended? – Archana Raghuram, Cognizant, Technology Solutions, Director Outreach.
Speeches and Food. As our Tamil poet-saint Thiruvalluvar says "Sevikku unavu illadha pozhudu siridhu vayitrukkum eeyapadum" (eng version: When the listening ear has respite, the stomach will be given some food for the body's needs). The summit was wonderfully well organized. Apart from Social Media, I also learnt the art of organizing… Gayathri Raman, Senior Executive Media, Rage Communications
It was an awesome event. Please don't miss any event relating to social media. – Ramya, Business Development Executive, Intuit Management Consultancy
I have just added few and there are more to come!