For the first time in history of my blogging, I am writing a topic that doesn't suit the subject 'Social Media or Digital Marketing'. I am writing about Education in UK – I owe this to Leeds University Business School since long and British Council just triggered this up. This blog pitch is an open pitch to all the Universities in UK and Leeds University Business School to give me an opportunity to explore & accomplish my dream course! I am a proud product of education in UK, I completed my Post Graduation in MS International Marketing Management from University of Leeds | Sept 07 – Sept 08!
I reached Leeds and the student union of Leeds University helped me find a temporarily accommodation till I got to stay in St. Marks Residences a self-catering university accommodation. It was cold,  was raining and it was a Sunday! I was depressed! I thought this place is really not happening till the first Monday at Leeds came! The city sparked up with various kiosks for students by the city union, the clubs showcased reasons to join them and it impressed me all!
I made few friends of Indian origin initially and then got shifted to St. Marks with heavy baggage. Surprisingly, our block was a complete Asian blog – That was a very smart thought by the university – Asians almost have the same style of cooking and look alike! My flat had 3 more Indians and one Pakistani – initially I just got excited that I would get to stay with a Pakistani – That was so cool and slowly I realized Pakistanis are no less than Indians! We almost spoke same language, ate same food and fought over cricket matches.
The city union gave us the experience of learning English, dance, learn salsa and experience varieties of culture in first few days at Leeds and that's when I made few friends who were not Indians. We were asked to open bank accounts and Barclays was our preferred option as that was just opposite the University Parkinson building!
Life as a student is just so amazing in UK for few reasons!
You have fantastic night life (though I was not a party animal), I would still hang out with friends late night!
The city union of most of the college organizes day trips on the weekend which gives you an opportunity to interact with students from various department of the University.
You get to make friends with students from different parts of world.
You become independent and more responsible. I remember how I lit a lamp in my room while praying and how the table got burnt a bit. I was penalized 30 Pounds for that small mistake. On the last day of my stay at University accommodation I was fined 7 pounds for not cleaning the dustbin while handing over the keys. All these incidents made me more careful and responsible.
You become more courteous – I would never ever forget this incident that took place in the City Union in my initial days at Leeds. I wanted to eat pasta from the Leeds canteen, I just insisted the person there can I have some Pasta? And I didn't see any response coming! I asked again sir, can you give me some pasta? And he didn't respond yet again! After a minute of silence he said – Don't order! You need to request. I changed my tone. I said Sir, can I have some Pasta please and then he smiled and served me the food! Today Sorry, Thank You and Please have just become part of my lifestyle! Thanks to various experiences in UK.
The opportunity of experiencing the weather: summers, rain, autumn, springs, winter, snow – is just beautiful!
The infrastructure of the city, the gardens, the shopping malls, the street side Sunday market at Leeds, grocery shopping at Morrisons, The German Fair during Christmas is an unforgettable experience.
The dinner parties – pot pourri lunch by Indian students inviting other students to taste Indian food and vice-versa was a lip-smacking experience.
The opportunity of working part time is just satisfying. Many students who go to UK complain that they don't really get part time job easily. Which is not true: September, October and November is the peak season and usually there is a rush for openings! I didn't apply in any of these 3 months. I started applying during December on-wards and I finally got a job as a store keeper for 16-20 hours per week. They paid me about 5-6 pounds per hour and that was some good money! Working part time was initially very difficult as I wasn't used to the various tone of British communication. I would laugh if a customer laughed without understanding the context and that was too funny of me till I got used to the accent! I will never forget few things that I learnt in the UK at my part time job, I have mentioned them below:
–         No Job is Small: As a store keeper I had to mop the floor, clean the toilets, stand at the billing counter, arrange the clothes and address the customer when they  are in need. Initially, when I hesitated to manager that I am not so comfortable in wiping the toilet seat – she said okay not a problem I will take care, she would even mop the floor at times and that showed me that when you love your job, there are no restrictions!
Hilarious moment was when, I called up my Mom in India to say Momma, you won't believe I am awarded for best mopper in the store and she rolled out in tears saying oh my goodness my son never mopped floor when he was at home! 😉
–         Customer Service is Must: Usually, in India I have noticed customer representatives coming at your rescue even if you don't want them. Marks & Spencers had a different rule, they trained us to not to go and nudge customers, instead  look into their eyes and smile and they would come to you if they need something. I was also trained to end up a conversation with customer asking them "Anything else do you want sir" letting them think.  Even today, I end up conversation with a customer "asking them anything else would you like to discuss"!
Life at the University:
If god promises to give me an extra year I would wish to do MS International Marketing Management yet again! But, I guess that would be just too emotional a statement! Today, I run a Digital Marketing agency, I have hosted 100+ workshops on Social Media Marketing, have authored a book on 'Social Media for Business', trained 3,000+ professionals in India and Sri Lanka I owe some credits to all my achievements to Leeds University Business School and for the knowledge received in UK. I was introduced to Facebook by University of Leeds – I was told an informal group on Facebook will keep you informed about all the informal activities and parties planned. I joined the group and also made friends with 50+ friends from the class. Then got addicted to it and introduced the whole idea of Facebooking back home when I had come down for a vacation. Today, I teach and practise Facebook marketing and join all the innovative platforms on priority. The first mover advantage is always there!
MS International Marketing Management from University of Leeds is by far one of the best courses because:
–         Full time course: It was the only course in the Leeds University Business School that offered 5 classes a week, the other courses had about 2-3 classes per week! I felt lucky!
–         Theory and Discussions: There was a theory session each day followed by group discussions on a case study that was given to us a week before and that gave opportunity for ideas to merge and interact with a lot of cross cultural differences.
–         Cross Cultural Group: I was a part of group of 5 – Indian, Russian, British, Chinese and Thai and we had a lot of cultural differences and cross cultural discussions. In the second semester I acted like an emotional fool and made a group of 6 Indian students together. Ultimately, 2-3 of us ended up doing all the projects and the rest would just stay laid-back. This made me realize the importance of cross-cultural group than a having Indian only group in place.
–         The Best Market Research Presentation & Class Champion Award: Working as a group in marketing field is no less than an agency working in the field of advertising and market research. As a part of Multidisciplinary project we were working for Executive Shaving Company researching on Dubai Market for their products. After 2 months of complete survey we had presented a plan to the CEO and Managing Director of the organization in front of the entire audience and I was awarded with the 'Best Market Research Presentation' award and that was for the excellent presentation skills that we showcased as a team. We acted like an agency, we gave all the 6 members in the team a title, and we printed visiting cards (in Urdu – The official Dubai language) and gave those cards as important step of Market Research to enter Dubai Market. We hosted two flags in the beginning of the session a red flag and a green flag and handed a green flag at the end of the session to the CEO congratulating him that our research gives them a green signal to enter Dubai market if they consider the suggestions made by us. The entire act of agency, with flags, visiting cards gave us a standing ovation from the audience and a gift voucher of 100 pounds to dine at a Spanish restaurant! – This title and the appreciation made me more confident and have honed my skills as a speaker. Below are some titles that I received from the University.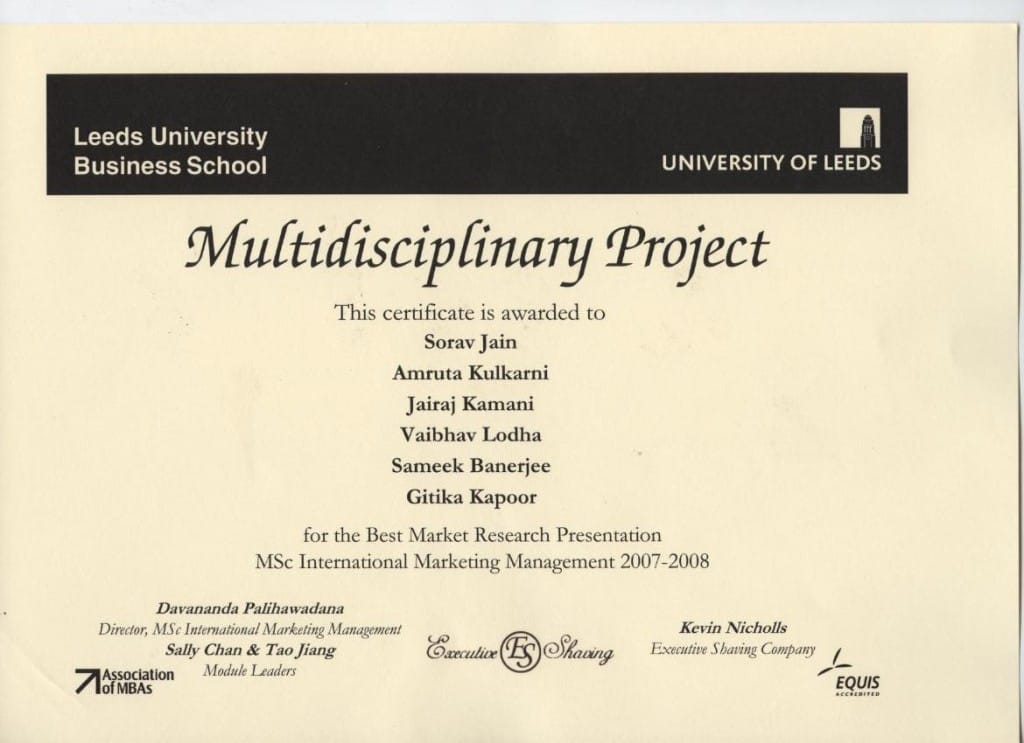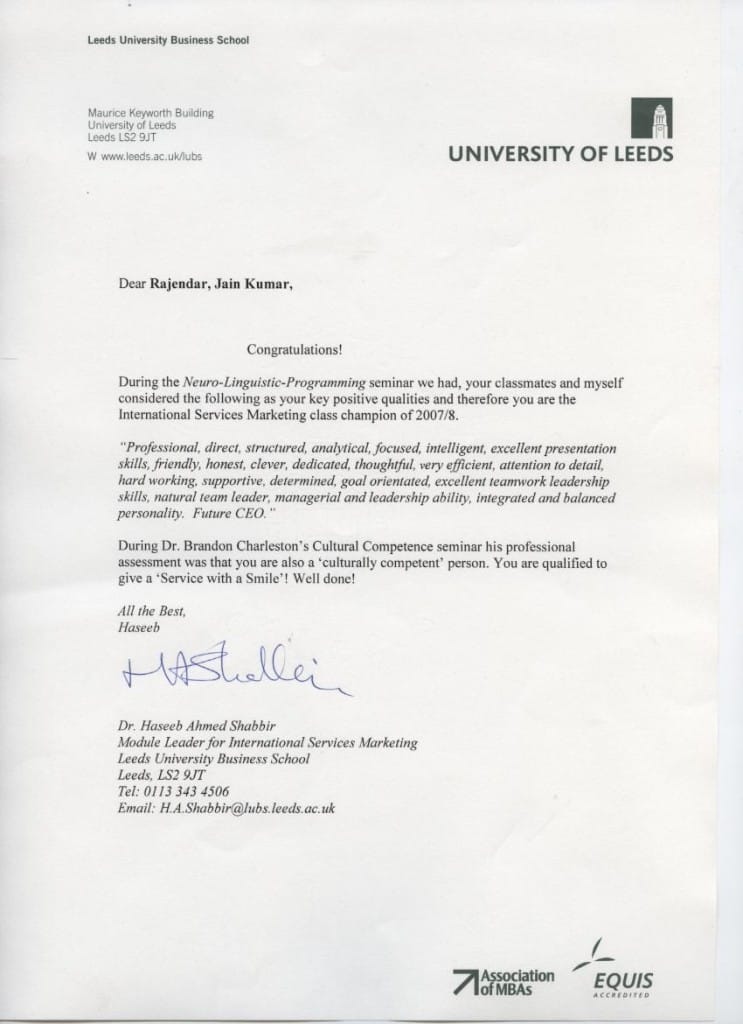 Strictly No to Plagiarism: I loved the fear factor that the university imbibed in us for plagiarism. I was never good at making assignments when I was in India. But, UK toned our skills, UK toned the skills of referencing, it threatened us enough about the consequences of plagiarism. Today, I run a blog, I have authored a book 'Social Media for Business'- and nothing is plagiarized. I remember, I was told in UK just because it is available on Wikipedia or any random website on internet doesn't mean it is credible. Use credible referencing. Use books more than the online links.
–         The University Library & Course Content: When I landed in UK, I was worried about text books. Usually in India when a course starts we are asked to buy or given text books for referencing. Professors in Leeds University gave us handbooks of the content in their presentation and that was helpful. The books for referencing were available in abundance in library and we used them, we never purchased books. The Library in Leeds  University was magnificent it was as big as a city college, with multiple floors and with varieties of books, journals, CDs, DVDs and study area. The entire automated system of billing for the book yourself, checking the due dates online, fines, returning books on time just made us more organized.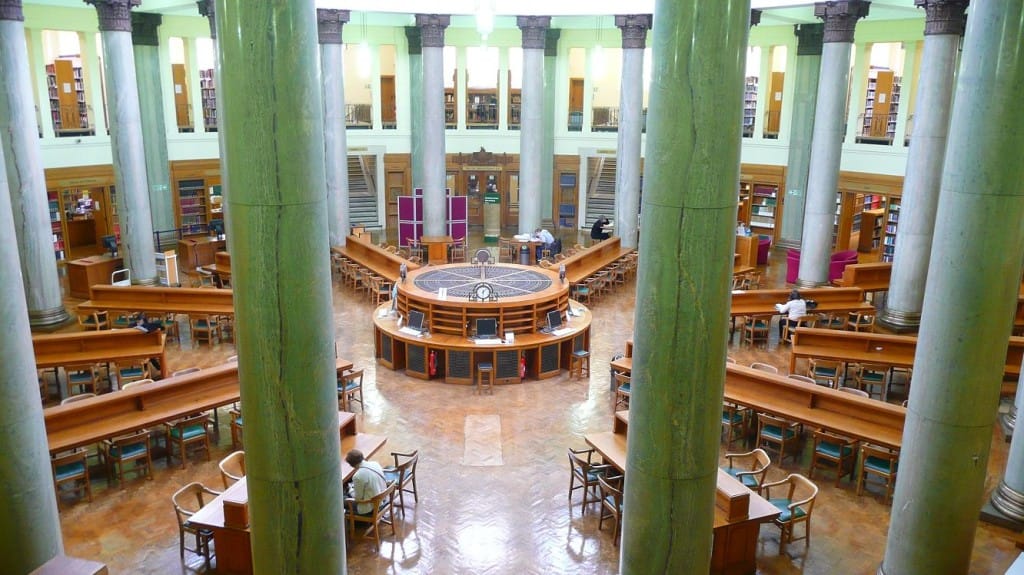 –         The University Clusters: Even if you don't have a laptop or your personal comp, you could still complete your work or check emails by accessing to the University Clusters – a place where you can sit and work on comps along with other students of the university. There were clusters that operated 24/7, they had scanner, printer making life easier. With your student ID card, you could join any of these clusters. As a student, we used clusters to complete our tasks late night as it was easy to get diverted to work from hostels but not at the clusters.
–         Excellent Faculties: I am biggest fan of some of the fascinating professors at LUBS. Caterina Pressi, Cristiana Lages, Haseeb Shabbir, Pali, Tony, Kishore, Angelina and lot more. They were extra ordinary in their teaching skills and had set a unique benchmark of standards. I am in touch with most of them via LinkedIn/Facebook and feel privileged to have learned the course under their guidance.
Education in UK is fantastic thing to experience! However, it isn't so easy to get a job there due to visa concerns. So, if your objective is to do a course in UK and landing up in job I would suggest you to carry some years of experience from India, be sure of what you want to specialize in and do your basic   groundwork on companies you want to enter in from day 1 of your education in UK. Grow your network and it might just happen! Unlike, Indian universities UK education doesn't take responsibility of placements – of course they have career cell and they give you advice on the latest openings! It's an independent game and you would want to win it yourself!
Where Would I Like to Study:
Leeds University Business School (LUBS): For the knowledge LUBS has given me, I would like to get back to LUBS for my PhD in Social Media Marketing – Creating a framework to understand Content Models in different business verticals on Social Media; a framework that can standardize and applied to the verticals by marketing professionals across the globe. If Leeds University Business School don't have Digital Marketing Guidance for a PhD I would like to do my PhD at London Business School or from any other reputed university that has a great Digital/Social Media Marketing research background.
London Business School is my 2nd preference for their world class faculty at the unique London location – the place I love the most in UK.
Education is absolutely fantastic in UK not for the subject you study but for the international experience you receive! After all, Knowledge in any form is Great!