We had earlier discussed the social media presence of the political parties in Tamil Nadu. Now, just 2 months away from the elections, we can see that the political parties have taken to social media to disseminate information, propaganda and their manifesto to reach more voters and win them over.
With just two months left for the commencement of Tamil Nadu state elections, let's take a look how much the strategies have changed and what is the current standing of the political parties on the social media front. Most parties have invested in three channels – Facebook, Twitter & YouTube. The content shared on these channels ranging from agenda to satirical twists on competing parties.
Click here to view the large version of Info-Graphics
AIADMK, DMK, DMDK, PMK and many other players have taken to social media to educate their audience about their manifesto and propaganda for the elections. Most parties have invested in three channels – Facebook, Twitter & YouTube. The content shared on these channels ranging from agenda to satirical twists on competing parties. Here is a comparative study of the most prominent political parties – from what they started with in January 2016 to where they are standing now as of March 2016.
All India Anna Dravida Munnetra Kazhagam (AIADMK):
The AIADMK party still leads with the most number of followers on Facebook & Twitter. There has been an increase in the followers of the Facebook page from 194,923 followers to 2,04,896 followers as of March 2016. There has been an increase of 2000 followers on twitter with the increase from 12,800 to 14, 248 followers in March 2016. The last checked number of subscribers on YouTube was 633.
The political campaign on Social Media focuses on positioning Selvi Jayalalitha as "Amma" and "God". The page is active with 4-5 posts every week. There have also been invitations sent to people to join the AIADMK party. The said posts revolve around Amma's opinions and views on the rail budget and various initiatives that she has been undertaking like free eye checkup, planting trees , free bus travel by issuing free bus pass for senior citizens. The social media team also opened the platform for people to wish Amma for her birthday as well. YouTube has videos centered around her initiatives and the common man appreciating her efforts and talking about how she has changed their lives. They have leveraged their social media optimally. They have an absolute perfect combination of building her image as well as highlighting on her work.
Dravida Munnetra Kazhagam (DMK):
Ever on the evolution, DMK have now revamped their website and even have reinstated a toll free number: 72200 72200 which is open to the public. DMK's Social Media surprisingly does not carry any political campaign but has posts just focused on MLA interviews and notes from the CM. There has been a slight increase in their Facebook and Twitter follower numbers. Facebook followers have increased from 27,781 to 28,559. Twitter on the other hand has increased from 9000 to 9464. 'DMK for 2016,' on the other hand is highly focused on promoting Stalin and his visits to villages, a few school visits , social campaigns, visits with part time teachers from Tamil Nadu SSA who are demanding the regularization of job and pay. Their Facebook followers have increased from 1,92,732 to 1,94,495 and Twitter has 1945 followers.
DMK's offline campaign claims that in 5 years the public saw Amma only in promotions and not by their side. Kalaingar's twitter account was used to promote the same along with the hashtag #EnnammaIpdipanreengalemma and #DMK2016. Kalaingar Karunanid's personal social media profile has been used to integrate the same.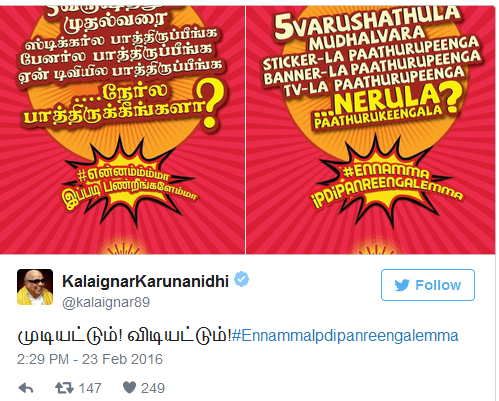 And AIADMK apparently had a response to it.

Tamil Manila Congress (TMC):
There has been a steady stream of followers aggregating on the Facebook page with the followers increasing from 8574 to 9137 followers. Twitter however, remains at 900 followers. YouTube on the other hand has seen an increase from 222 to 250 subscribers as of March 2016. Most  of their content is strictly centred around rallies and speeches and party campaign images.
The TMC  Social Media is updated with press coverages, interviews, rallies and speeches of GK Vasan and information on the party's alliance decision which is yet to be taken. Hashtag being used is #TMCforTN. We see more Retweets than Tweets.

Videos on YouTube are focused on the theme of new beginnings and change.
Bharatiya Janata Party Tamil Nadu(BJP TN):
There has been a surge in followers on the social media front of the BJP TN party. The BJP TN pages has seen a remarkable increase of 31000+ followers on Facebook and approximately 1000 on Twitter. Ever robust in their campaign, BJP TN has amassed a total number of 2,33,422 followers on facebook (previous number being 1,03,872 followers). Their Twitter followers have increased from 29,500 followers to 31,260 followers. The number of subscribers for their YouTube channel has increased from 12 to 134 subscribers. This may or may not be due to Smriti Irani's explosive speech at the parliamentary session which is translated in Tamil for the viewers to watch.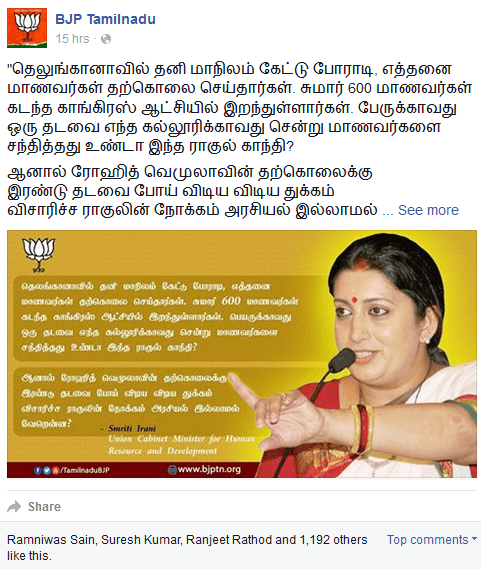 Desiya Murpokku Dravida Kazhagam (DMDK):
Though content is posted regularly on the DMDK social media channels, there has been only a marginal increase in the followers on Facebook. Twitter fares better with almost an 80+ increase in followers number. The DMDK has seen an increase from 12,000 to 12,305 on Facebook and from 513 to 621 on Twitter.
The content strategy circles mainly around information on party members list, images of meetings, appreciation letters , animated posts on policies and a campaign on "Turning Point Conference in Tamil Nadu Politics" to be held on February 20 at Kancheepuram, questioning the ruling party AIADMK's poll promise made in run up to the 2011 Assembly polls. They have also rolled out a new logo for the same purpose.
.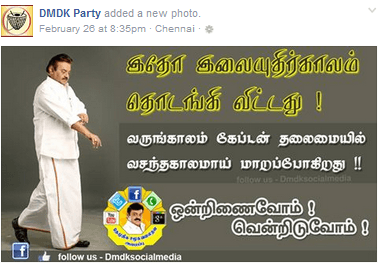 Pattali Makkal Katchi (PMK):
PMK again has recorded sparse increase in it's follower base with Facebook followers increasing to 7,257 from 6,711 at the beginning of the year. There has been an increase of 2000+ followers on twitter from 12,800 to 14,070
The PMK party is carrying out a campaign of 'Change and Progress with Anbumani'  where they showcase their agenda that promises of changes to come like Decentrailization of power, total prohibition of alcohol and rehabilitation for alcoholics and campaigns related to "The Chennai We Want"
Their Twitter has not been active after Jan 1st.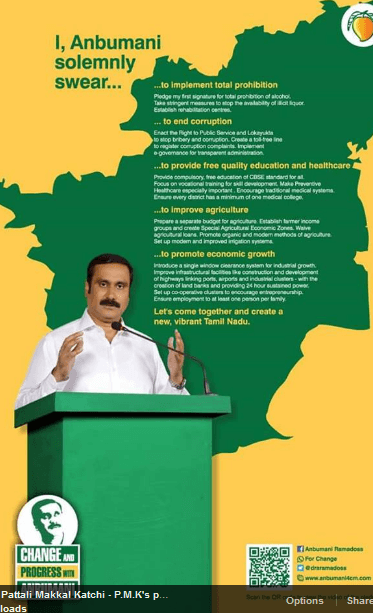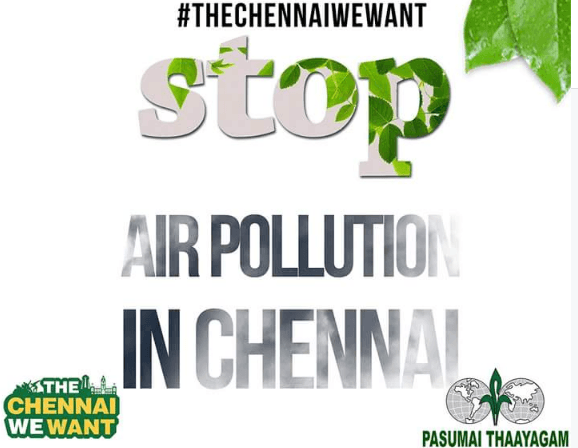 TN Election Commission
Not the one to be left behind, the TN Election commission has seen a leap in their numbers since January both on Facebook and Twitter. The Facebook followers number currently stands at 37,397 from 2,272 followers. Twitter followers have increased from 1,432 to  4,032.
The social media platforms of the TN election commission has focused on engagement and urging people to cast their vote. In order to engage, they have executed a contest – #memes2vote where audience can share memes with a message for people to vote. They have also initiated a hashtag -#TN100percent aiming for 100% votes. Twitter integrates most of their communication that goes on Facebook .
Two more pages to be taken note of are Enamma and Jaya Fails. These two pages have been highlighting and spinning their own take on the AIADMK party agenda.
Ennamma:
With 32,024 followers on Facebook and 237 followers on twitter, Enamma page's content strategy is cheeky and takes a satirical tone on the activities and agenda of the AIADMK party. There has been good traction and interaction on their Facebook & Twitter.
Jaya Fails:
As the name suggests, this page posts content on what they perceive as "fails" of the current government. With 86,918 followers on Facebook and  6,728 followers on Twitter, the page is replete with memes and videos highlighting the same.
Social media has now become the influencing arena to engage with youngsters and communicate with the voters for political parties and they have now taken to it with gusto. With only two months remaining for the elections, we can expect things to heat up on the social media front.
Click here to check :  Tamil Nadu Political Scenario on Social Media: January 2016 Report
Click here to check :  Tamil Nadu Political Scenario on Social Media: May 2016 Report