When I first followed Pradeep John's Facebook page a year ago he had about 50,000 odd followers and today he almost has 4.25 lakh followers. In just 2 weeks his followers count grew from 2.5 lakh to this number and that too organically! It is very rare to see such massive growth in this short span of time and without any investment on Facebook advertisements.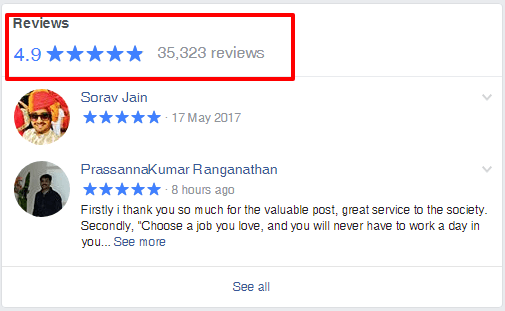 With his rising popularity on Facebook owing to his regular updates on Chennai /Tamil Nadu's weather, you can also see the rise in Google trends for the search term 'Tamil Nadu Weatherman' – This was at its peak during the first week of November 2017.
Not to forget, on an average almost 1,000 to 10,000 people search for this term every month (last 12 months' average).
We all know that the organic reach of Facebook pages are dying. Though Pradeep John's Tamil Nadu weatherman is not a page with a commercial agenda, there is a lot that bloggers and marketers can learn from the way he manages his page. Some of his style could be taken as good social media marketing lessons for digital marketers across the world.
1. Write Like You Speak:
If you read Tamil Nadu Weatherman's Facebook updates, you'll hear Pradeep John talking. The tone is very much colloquial and helps connect with the people instantly. He uses Tamil in between his English sentences and prefers to use high school English that strikes a chord with his audience.

2. Help Kill Fear / Burst Myths: 
We all know for a fact that when it rains in Chennai it's always extreme. Either there is no rain at all or there is too much ending in floods. While, BBC makes statements where they say Chennai is expected to be flooded, Tamil Nadu weatherman breaks the myth by giving appropriate facts and figures and helps people by giving the right information they need at the moment. Below is an example of how he kills a rumor about a broken wall of Chembarambakkam lake and gives appropriate reasoning to educate his audience.
3. Help People & Answer Those Key Questions: 
As a Social Media Marketer, I always insist people to first identify the key problems of their audience and see how you can address them through your blogs / social media channels. This is exactly what Pradeep John does. He identifies the key problems of people during Chennai Rains and addresses them in his posts which has helped him reach out to millions through word of mouth. His updates usually get thousands of shares and also get circulated in Whatsapp groups. In fact, when people plan their travel they first see his Facebook page before they leave their homes / office. Let's look at some of his updates and how they solve the most important questions people have on their minds during the #ChennaiRains: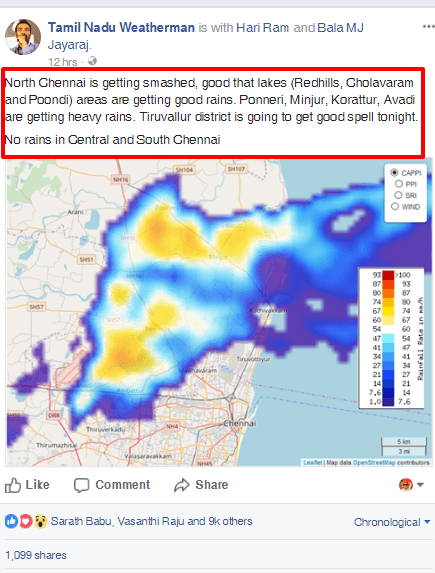 Like the above post, there are many questions that Pradeep tries to answer through his Facebook updates.
4. Focus on One Channel:
As a Social Media Marketer we try to use a lot of Channels and try to optimize all of them for our success. We need to understand the two most important things:  Where your customers are. | Which channel you are most comfortable with.
Facebook has 7.5 million users from Chennai alone and there are close to about 15 million people from Tamil Nadu. Instead of focusing on Twitter, Instagram and other channels Pradeep focuses only on Facebook – a platform that the Tamil Nadu audience is most comfortable with. However, he has connected his Facebook updates with his Twitter profile which gets him equal attention because of his rising popularity and great content.
He  doesn't manually update his Twitter much but never misses an opportunity to thank those media bodies who feature him. This shows how humble this gentleman is. I believe he should be a little active on Twitter with the hashtags like #ChennaiRains as that will help his content reach the super active Twitteratis.
5. Simplify Complex Things: 
Tamil Nadu weatherman sits throughout the nights, works during his non office hours to ensure information reaches to the right audience on time. But, something I love the most about his journey is, his ability to simplify the complex graphical representations. For example you can see in the below update he calls the rain band as a snake shaped cloud which definitely makes us look at those representations and understand with ease.
Many of us are able to understand these bands because of Pradeep John. It's not just that, the household discussions have been which area got the highest 'mm' of rainfall and it wouldn't have been possible for us to know all of this if he hadn't given us timely updates.
As a Social Media Marketer, your job should be to simplify complex subjects so that people can digest them. As a blogger this is the first thing that we should all do.
6. Be Quick: 
If you are the first to update about the recent innovations or latest trends in the industry, you earn massive respect as a blogger. As a marketer, if your brand is the first to bring about marketing innovations – it will help you become instantly popular. Something to learn from Tamil Nadu weather man is his ability to give us instant updates. Whenever there is a change, the forecasts are made and he would also add a little bit of a personal touch by telling people to not leave their homes or to not get fooled by the bright sunshine. Owing to his quick updates, his Facebook page is regularly checked by millions of us all the time to see what's new or what's next!
7. Be Consistent: 
When you start your Social Media community management journey, you start with a spark, in the heat of the moment and later it fades. Something to learn from Pradeep John is – he doesn't wait for Monsoon season to make updates (which he is most known for), even during the summers his page is active and he gives updates on Heat waves and more. His consistency is remarkable. He tests new things: memes, real images, quick videos, links to articles and more in order to engage his audience which is commendable.
8. Be Transparent & Honest:
Pradeep John shows his agitation, his love everything through his Social Media updates. When he is annoyed with the trolls he makes an update and when he wants to convey something to higher officials of Chennai, he conveys the same through his page. Embracing transparency and honesty in Social Media is very important as you can win people's trust immediately.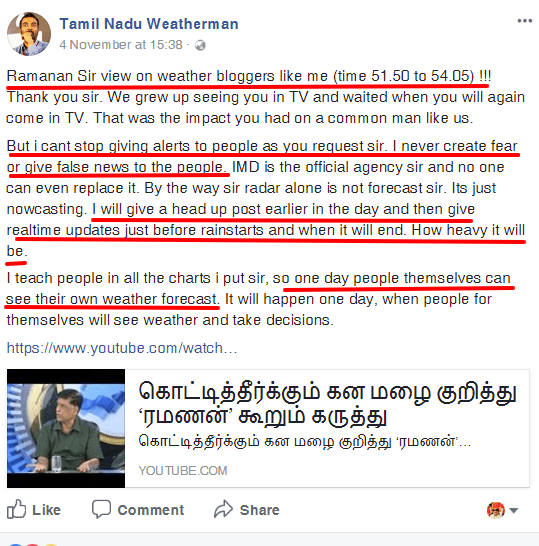 Tamil Nadu Weatherman with his deep understanding of the weather and his altruistic deeds to help people has won hearts and has turned into a phenom whom people look up to.
I am undoubtedly one of his biggest fans, he has got a style 🙂
Stay Updated With New Things In Digital
I send an email every Monday and That Will Overwhelm you with all new things in Digital.