TikTok is a Chinese small video-sharing app with 500,000,000+ active users all over the world, with 200 million users in India alone. It is a standalone app, not from massive empires like google or Facebook. Bytedance acquired Musically.ly in 2017 and rebranded it as TikTok in 2018. In a very brief period, people from nooks and corners of the country got hooked to the app. It started mostly as a network for local communities where people started lip-syncing for the local music and dialogues. People wanted to showcase acting, dancing and other skills, so it drew attention. TikTok went from being a lip-syncing app for entertainment to the most downloaded app in the U.S. during the 1st quarter of 2019.
What is that which made TikTok gain traction among the audience of a varied demographic?
AR in the app is too cool to ignore. Most features in the app are creative and give users the liberty to do the same.
The ephemeral approach. The videos usually last for 15-sec; it's a hit just like the instagram stories were a hit.
The variety of content on the platform. There are singers, dancers, orators, magicians, and actors who create unique content with signatures.
100s of trends start every day on TikTok. It's either a catchy sound or a music snippet or an eccentric filter. Also, if a popular creator does it, then the chances of it becoming viral are higher.
Overnight fame attracts people!
It is evident why brands would want to get on the bandwagon to ride the TikTok town. TikTok has a vast pool of marketing capabilities and brands make use of the app in different ways. A few TikTok marketing techniques that have deemed effective include:
#1. Viral content as a marketing tool:
The chances of an individual's content going viral on TikTok are 50/50 in most cases. Challenges are a concept that has proved to work for TikTok time and time again. There are three types of challenges on TikTok, user-generated, TikTok-generated and brand-generated. Brands launch a challenge with an influential TikToker with a unique hashtag for the challenge.
Recently Techno mobiles launched a challenge in India called #DekhoMeraSpark; it was kickstarted by Anita Hassanandani, a famous actress and a TikToker. The motive of the challenge is to promote the launch of their new smartphone Spark Go. The actress unboxes the smartphone and dances in joy after having to have opened it. The challenge for TikTokers here is to make a duet with the video. One duet that has max reach would be chosen to win the mobile as price
When I followed the hashtag to understand the kind of response the videos were receiving, within minutes, there was a massive growth in the number of followers, views and duets for the hashtag.
Some of the other famous viral content on TikTok include the lay's #Wavez4India challenge where PepsiCo, India wanted to create a buzz around the new launch Lay's Wavez. They roped in cricket superstar Yuvraj Singh to groove to a sound snippet; the video urged people to follow the challenge. The video nearly reached 2 million people within a couple of days.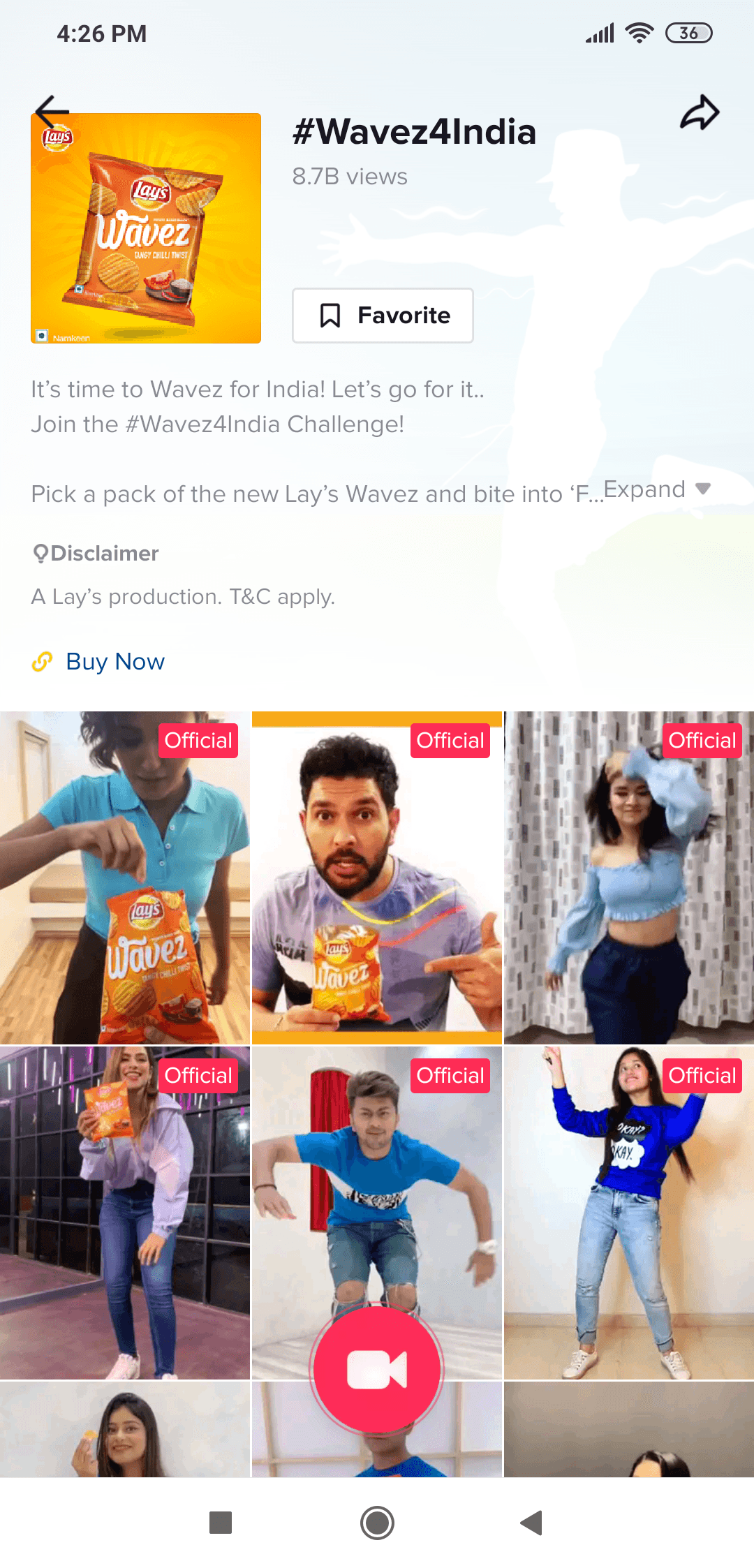 #2. Static or video ad in the beginning:
Once the app opens, you come across the ad at the beginning, which is either by brands or by TikTok themselves trying to promote a filter or an AR trend. The skippable option is available, but the ad lasts for 15 sec or so deeming the skip option regardless. Indisputable fact, the ad appears in a placing that millions can't avoid so, the pricing would be on the higher end.
#3. Influencers who promote brands:
You can see two types of TikTok influencers. One is TikTokers who create unique styles & trends and build their TikTok follower base. Another type is celebrities who create TikTok videos to grow an audience for their influencer campaigns. Either way, influencer marketing is a way in which popular creators make steady money. As of now, there is no proper way for it through TikTok. Influencers directly communicate with brands and promote products/services. They encourage by gifting, merchandising, challenging or participating in brand promotions. Live videos in TikTok are also an influencer marketing tool.
Garima Chaurasia is a popular creator with over 15M followers. The limelight she was able to gain overnight will leave you in awe! With one video she was able to reach 1M followers. Ever since her popularity and fan base has only been growing.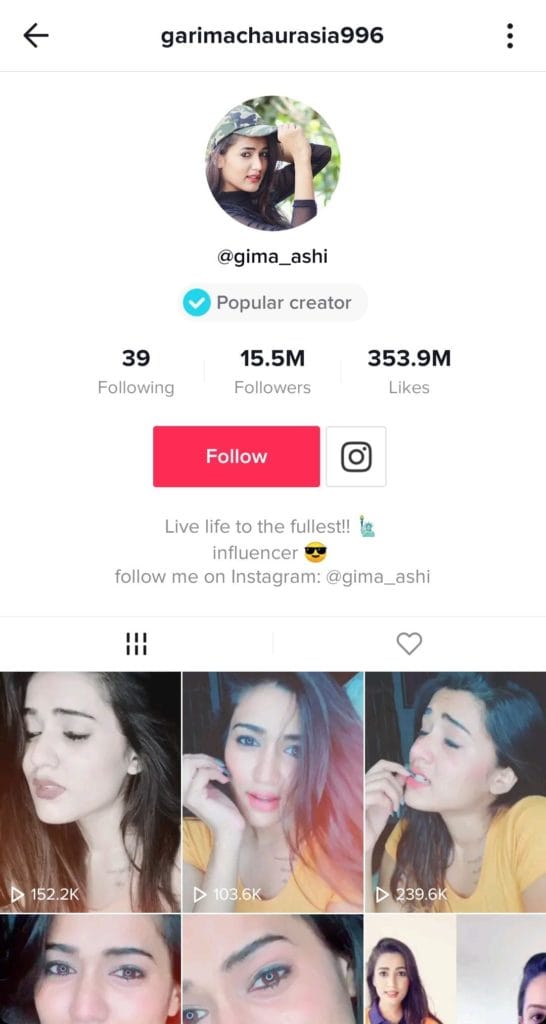 #4. User-feed ads:
These ads appear in the user-feed as they scroll through their 'For You' feed. The ads that work here include those that mirror the other trending content on TikTok. Predominantly, making the video ad as relevant and exciting to the target audience catches their attention and drives action.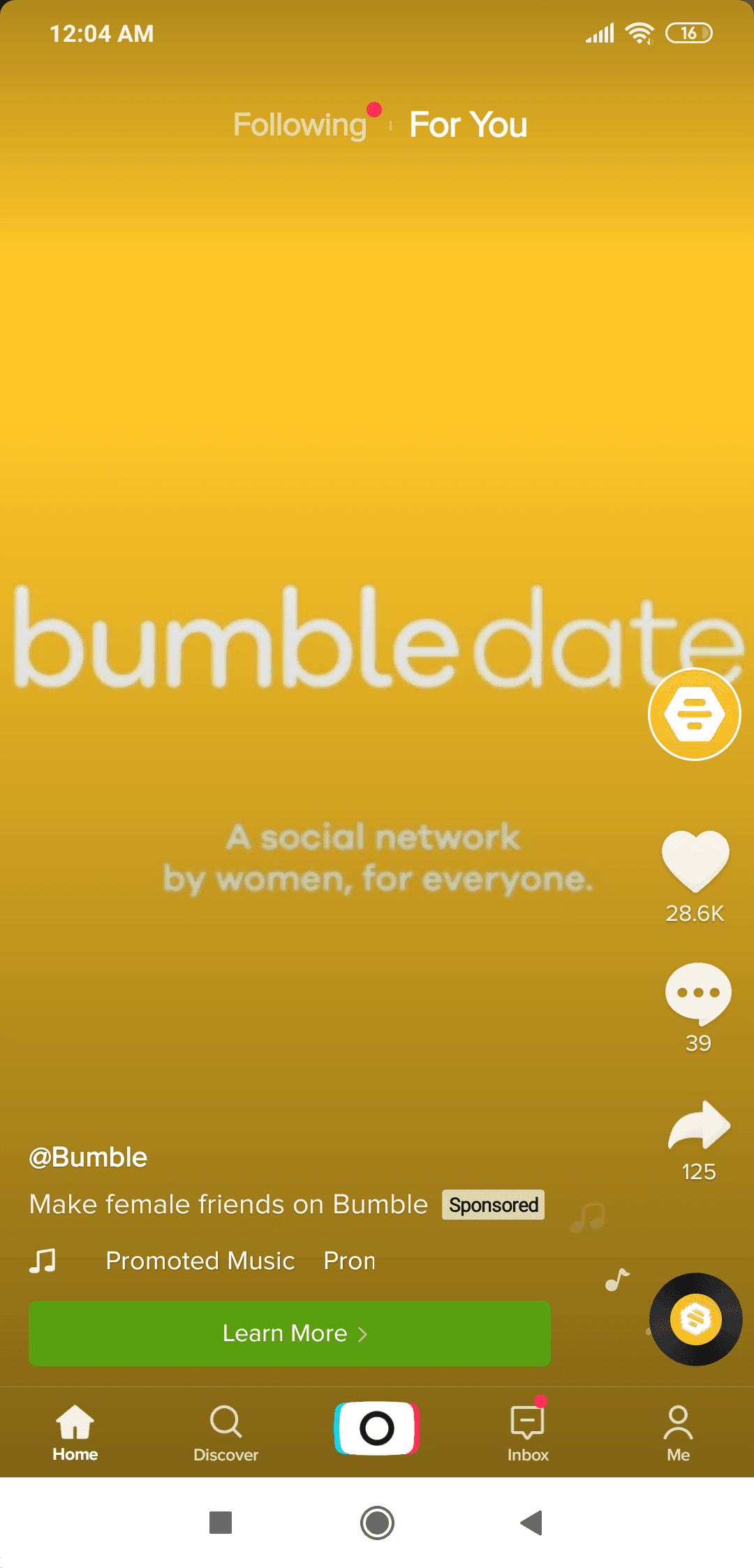 You just have to go to TikTok ads official site and create an account. You can target people based on the demographics and the type of content they view.
Current trends
I would say that the app has come a long way in bringing in optimistic and hopeful content pieces which are of use to people. Hashtags like #eduTikTok talks about bringing about changes to current issues.
Slow-motion videos are also another trend that TikTokers are going nuts for. #slowmo has 41.5B views on TikTok as of today.
AR is one standalone trend in TikTok that makes is interesting enough to retain creators and visitors. Every time there is a new AR released, there is heavy promotion done to TikTokers who start using it in the form of hashtag challenges.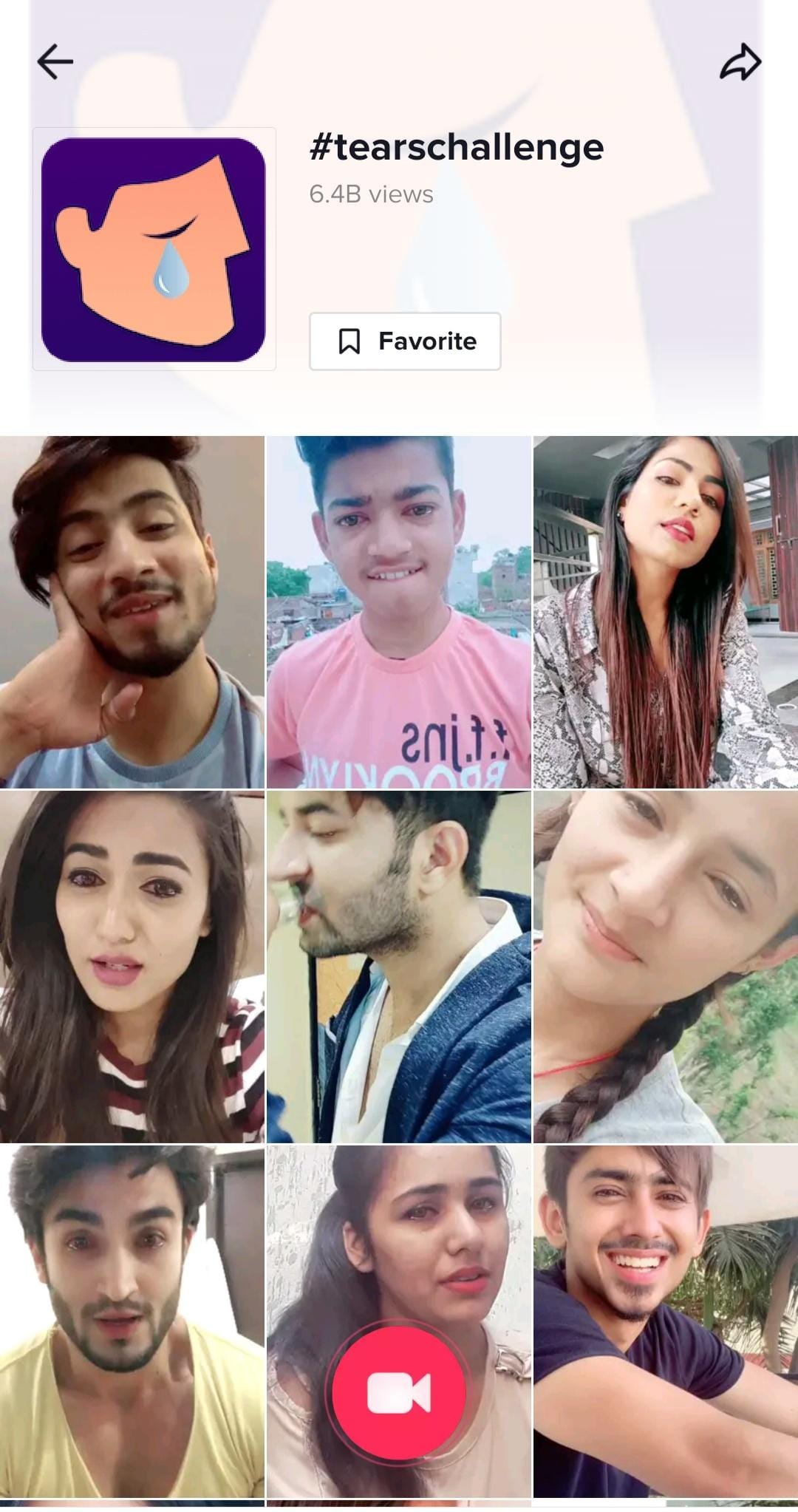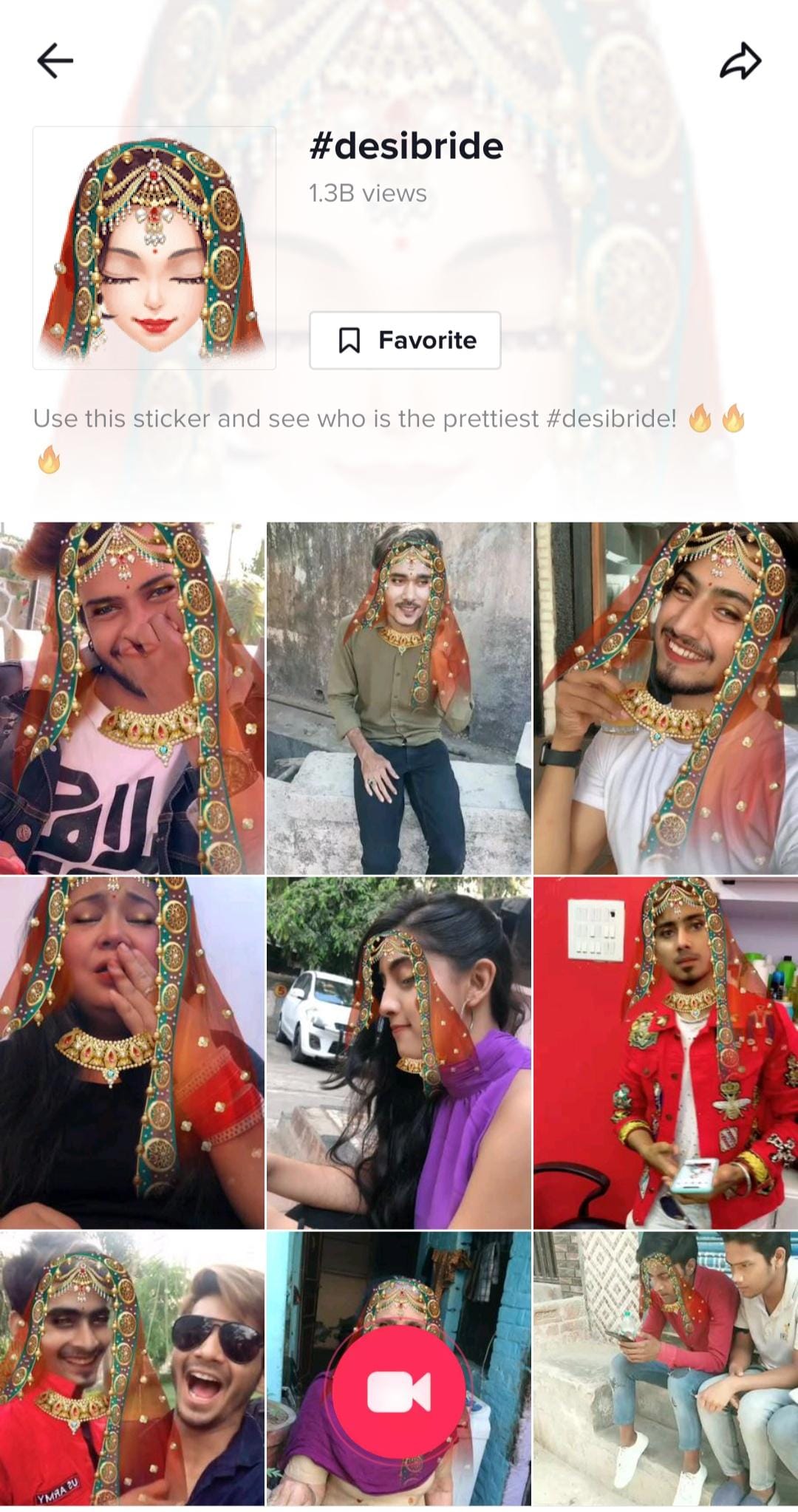 Even political parties have started to leverage the audience of tiktok to the benefits of their political campaigns. The AIMIM party is the first political party to get their tiktok account, verified.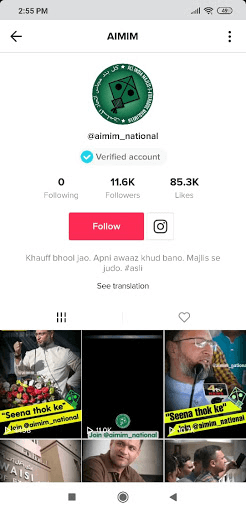 Ban of TikTok and the epic comeback:
Earlier this year TikTok was banned on an interim basis by the Madras high court. It was banned because it posed a threat to children who were exposed to adult content. For a brief period during the ban, the app was removed from the play store as well as the apple store.  Later, the ban was lifted, and the app was available in store again. The app grandly celebrated its comeback. They used #returnofTikTok to promote their recovery.
More recently, several hashtags are educating people to post videos that are beyond entertainment. #WaitASectoreflect started to trend a few weeks back. Popular creators lip sync to a song snippet which talks about publishing responsible content on TikTok.
Is it? It is.
I see tremendous growth potential in this arena as it has all the right ingredients in the right place,
Content is User-driven.
You have Loyal-audience.
It's fresh.
There's space for promotion.
Influencer marketing is 'the present'.
Any TikTok experts out there with crazy TikTok marketing strategies? Do share in the comments section.