An Interview with Sorav Jain – Founder & CEO of echoVME
Today I am interviewing Sorav Jain, one of the pioneers in Digital Marketing in India. Sorav heads echoVME, a self funded organization that helps other organizations with digital marketing. Sorav was also featured on my list of top digital marketing experts in India.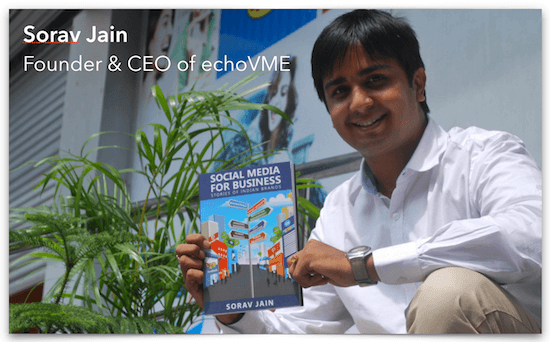 echoVME boasts of having some well known clients under their umbrella including Bosch, Urban Tree Infrastructures, Apollo White Dental Care, Oliva Clinic, Dr. Paul's Clinic, emhealth.in, infinitheism and more.
Sorav is a qualified trainer, he has hosted about 150 workshops in the last 3 years and trained more than 3,000 professionals in digital marketing. He blogs about digital marketing regularly at his personal blog SoravJain.com
Sorav has authored a book titled Social Media for Business, which contains stories and case studies of Indian Brands. So let's get started with the interview:
Deepak: What is the number one reason that someone should choose digital marketing as their career option?
Sorav: Digital Marketing is yet to evolve to its fullest potential and as the industry will boom there will be an all of a sudden requirement of professionals.
People who enter into Digital Marketing today has a great future provided the person gets 360 degree hang of the subject. Growth opportunity, possibility of innovation and integration is phenomenal.
Deepak: What would be the status of traditional marketing compared to digital marketing in the next 5-10 years?
Sorav: In next 5 to 10 years traditional marketing is here to stay! Internet penetration has just reached 15 to 20% of the total population – traditional media still inspires majority chunk.
It still is the credibility channel for many. 'Integrating' traditional with digital campaigns is the smarter way to drive the audience and cross channel promotions is the best ways possible to get a complete hang of the audience.
The practice of doing ONLY traditional marketing will surely come to an end. Digital Marketing budgets will become a must.
Deepak: Should every digital marketer be a blogger too? If yes, what are the main reasons they should be blogging?
Sorav: Not necessarily! Digital Marketing expertise can come without blogging too! It is not a mandate that they should be a blogger – it is just a value add.
Digital Marketing is now a vast subject – your focus can be on an individual subject such as content marketing, video marketing, organic traffic, analytics, lead generation through advertisements etc!
A Digital marketer can pick any of these subjects to become a pro at! However, blogging can help them position themselves as a thought leader.
Deepak: How to convince companies that have been doing traditional marketing to adopt inbound marketing and social media methodologies?
Sorav: It is industry focused. Agencies and consultants should focus on an industry! Set standards, show proven case studies, and showcase results! The portfolio can inspire many traditional players in the industry vertical.
Deepak: What are you thoughts on email marketing? How can we best leverage email marketing with other digital marketing methods?
Sorav: I don't remember when was the last time I opened a commercial email. Re-targeting across platforms with niche content as a solution – is a great way for a strong brand recall.
Occasional emails that provide content as a value proposition makes more sense for people than the highly commercialized sale oriented content. However, email consistently with different messages to the prospect is a good way to strike a chord.
Deepak: SEO seems to be tough nowadays and almost any method of building backlinks looks like a black hat method. What are your thoughts on SEO for the present and the future?
Sorav: My SEO advice is very simple. Focus on content. Focus on consistency. SEO will happen naturally.
Deepak: What are your thoughts on drip marketing and lead nurturing?
Sorav: Drip marketing at a personal level is brilliant! I often see people following up and personalizing the message on LinkedIn messages and email simultaneously! It doesn't go unnoticed.
Lead nurturing through email will slowly die – the relationship at every level of the sales funnel will be social media driven and strongly driven through the experiential marketing.
Deepak: As a digital marketing expert, how can I get more opportunities for speaking at universities & events?
Sorav: You need to start delivering things for free. Have a speaking record on your blog that inspires people who are checking out your profile to learn you are not a new speaker in town and you have been delivering value in this ecosystem – your records will say it all.
Its best to be associated with various local associations and pitch for a free talk. Communication skills play an essential role; if you master that art you don't have to search for the opportunities!
Deepak: Publishing a book is great for personal branding, or so I heard. How has becoming a published author helped you and your company?
Sorav: I had printed about 1,000+ copies of 'Social Media for Business' and the copies are sold out. Trust me, I didn't hard sell it – It was complete WOM! Book was launched to provide value to my workshop attendees and personal branding was not the focus.
My advice: don't write a book with a focus on Personal Branding, write a book that can provide true value to people, find a publisher / distributor and do complete justice to the book! Apparently, my book was self-published! But aiming to close my 2nd book with a publisher.
Deepak: One last personal question. When I look at the things that you do, sometimes it is hard to believe you are just one person! Any tips on productivity, focus and getting things done?
Sorav: I believe in working for people and not for self. When you work for people you are more likely to give more when you are working for yourself you would like to take shortcuts.
I have a beautiful team and they help me deliver substantial digital marketing value to clients – I learn from what we practice and I teach what I learn through my practice. I don't sleep much! I work on the weekends! I work on holidays!
I carry my laptops on vacations and aim at closing deals even while on vacations. I am passionate about digital marketing, events and customer experience and I need to do things with at-least 99% perfection.
Here are 6 things that I follow to stay productive:
I take breaks between works so that I don't get bored easily!
I plan my activities a week in advance.
Set goals for your team and help them achieve it.
Eliminate bad clients; they will only make you less productive.
Deliver beyond what you have promised; the appreciations will inspire you to do lot more for the client.
Keep your team happy and try solve their problems.
Deepak: Lot's of wonderful insights Sorav! Thanks for your time!
I hope you gained a lot of things from this interview. If you have any questions for Sorav, please leave a comment below. And I will make sure Sorav answers them 🙂