Using Twitter is fun and relatively easy, especially when you're selling. There are a lot of things you can do on twitter to let its users know of your products/services and successfully convert enquiries into new customers.
Twitter is one of the largest social networking platforms, if not the largest in the internet. Millions of people express themselves, discuss on current trends & casual subjects on twitter. As the micro-blogging wave, advanced, many business have resorted to twitter to gain more followers as well as to spread the word effectively.
While twitter can help, you promote/sell your products/services to your target audience effectively, you should also make sure not to blow your own trumpet on it. Here's how you can make use of twitter and its features more effectively:
What's your niche?

     

      
Identifying your niche can really help you refine in on your marketing efforts on twitter. Take the time to clearly identify your target niche, as it will help you get the most effective results. Narrow down your audience to a particular interest. Don't try to market to as broad an audience because "if you talk to everyone", it signifies "you talk to no one".
Now that you have picked your niche, you can start creating your twitter content around that niche. This can be posts you create, asking a key question, info-graphics, contests, etc. Also, keep in mind the 140-character limit on twitter. Find out what works best and create similar content which your followers are mostly engaging to. That's how you start building your twitter audience that you can market to for a long term.
Don't talk about sales every time, this will piss off your followers as they are not interested to follow you for your promotional tweets. Rather help, converse, connect and laugh around with them.
Is your twitter profile credible?
Whether you use twitter for business, personal or both, a sound profile is key to success. Twitter is a much different social media platform than others in terms of professionalism, purpose and functionality. Twitter lets you get found on the web easily. So, polish your profile efficiently with these tips:
Choose the perfect twitter handle. Never underrate the importance of choosing a reliable username. Keep it real – If your business name is readily available, snatch it up. SEO is everywhere – If your business name isn't available, the best option is to choose a SEO keyword phrase. Stay relevant, make it short and never use numbers.
Choose an apt profile picture. A professional look is the way to go, but make sure to complete it with a smile. While a lot of twitter profiles don't have a profile picture, Hubspot states that profiles with picture are 10X more likely to be followed.
List your location. Often unnoticed, precisely filling in the location field on your profile is vital. Choose a major, and nearby area or city to you and yeah, if you already exist in a big city, that's even better. Listing your location will enable others to easily find you and follow you easily.
Build a bio that is SEO friendly. A great way to stand out on twitter is by including a stimulating biography. You're given only 160 characters – make the most out of it. Describe yourself in a concise, buoyant way – let others know that there is a real person behind that handle. Avoid using hashtags and abbreviations, but include keywords relevant to your industry, to improve your profiles SEO value.
Never hesitate to link to LinkedIn. A great way to promote your business, website or blog is by linking it to your twitter profile. If you don't have any of those you can always provide the link of your LinkedIn profile, so that people get to know more about you.
Who should you follow?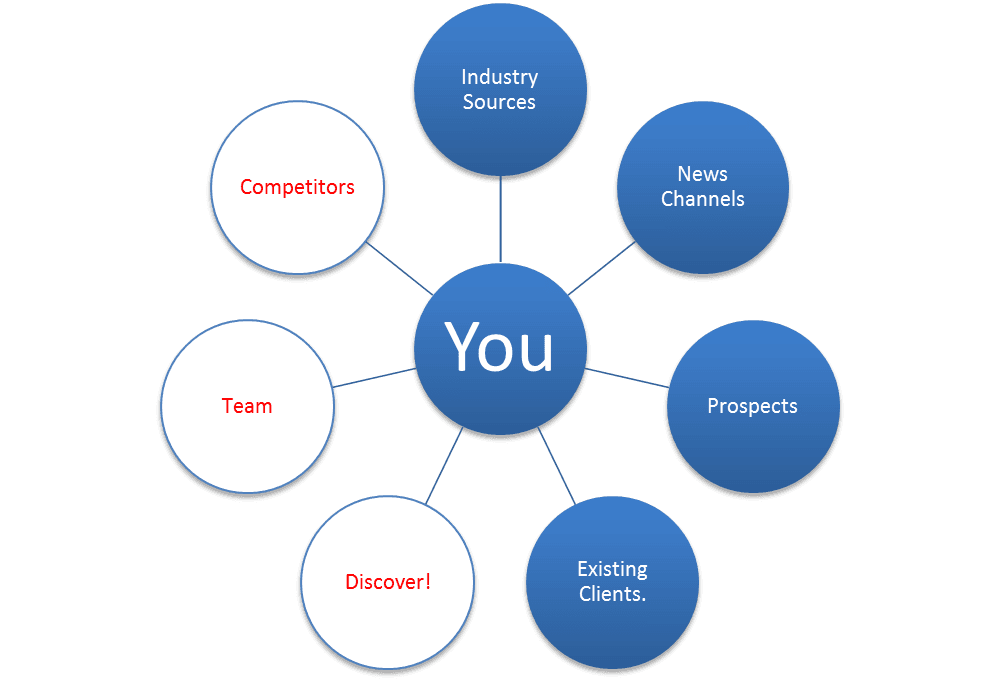 The most important people to follow on twitter are not necessarily the ones with the most number of tweets or followers. They are the ones that engage the most with your content, show genuine interest and respond to your tweets. They may not be experts in your field, but you can never miss out on following them. Also make sure you follow your,
Customers – existing ones or your future prospects. Find out their interests, their likes and dislikes. But don't start selling them, not yet. Observe, listen and engage but don't be too pushy.
Industry leaders and subject matter experts, this includes your competitors You probably know a few names in your industry whose views are well appreciated. Stalk them and learn from them and look for opportunities to contribute in discussions. Apart from their tweets, keep an eye on the hash tags they choose and events they participate.
Influencers – bloggers, journalists and media outlets. They may not be directly related to your company, but might be influential in the local community. Follow them and re-tweet content that might be interesting and relevant to your business. Engaging with them will help build credibility. Also they might help you with the much needed PR break.
Follow your buddies too. These are the people who will spread the word in the initial days. Engage with them, but remember – the majority of people you follow and interact with, should be those relevant to your business. But don't stress it – follow as many people relevant to your business, you can always un-follow them when they seem irrelevant.
How can you find them?
A common question in the minds of marketers/business-owners using twitter is "How do I find people relevant to my business?" Now that you are clear with "who you should follow on Twitter?" now let's look at how to find these people:
Use twitter advanced search: Sadly, it is a very rarely used feature in twitter. Using the various filters you can narrow down to the most relevant search result possible. Twitter search results will by default show you top tweets, so click on people to see twitter users who match your search criteria.
Click on a hashtag: It is probably one of the apparent ways to search for people on twitter. Click on a hashtag/trending topic to see who is talking about it. Again twitter by default will show you the top tweets, this is a good way to find influencers and subject matter experts. But you can click on "latest" to see the latest tweets and find other relevant people.
Check some lists: Once you find a few relevant people, check if they are part of any lists created by others. For e.g., if you found a blogger who writes for "bright side", chances are somebody has that individual in a list "bright side bloggers" or "Social media bloggers" or just plainly "bloggers" and you can find other relevant people on that list easily.
Just Google their name: Business cards/email signatures of your customers, vendors, industry experts might have their twitter handle, don't forget to check out them. You can also check out a business/person's website or just simply Google them.
Use third party tools: There are also other third party tools with advanced search options that can narrow down your search results. I prefer FollowerWonk to search twitter bios.
Twitter will also suggest you more people you can follow, but it will learn from the people you follow or engage with. So the more relevant your connections are, the better will be twitter suggestions.
Are they following you back?
When you follow someone in twitter, don't expect them to follow you back (those who are new to twitter might) instantly, it doesn't work that way. But you want them to follow you back rite? One of these remedies can help you make that happen.

Make them aware. When you follow your prospect or your customer, notify them about you following them by directly tweeting to them. Let them know that you are looking forward to having conversations with them. This makes you look professional and may even make them follow you back.
Strike a conversation or ask them a question (relevant to the Industry, relevant to the problem for which you have a solution). This is a great way to get the conversation going which will eventually lead them to follow you back.
I would advice you to do this regularly, but be wary of not talking about things you are not aware of. This will make you seem unprofessional and would eventually lead them to unfollow you.
Engage with your prospects:
Engaging your online community on twitter is very essential  to show the human side behind your brand and to let your customers/prospects know that you care for them. Answer their queries and provide them with content that are relevant to them, that's how you get started on building up a loyal following. You should also,
Have a clear weekly Goal of 5 key prospect.
RT their relevant & Interesting Tweets.
Like their Tweets and thank those who like yours.
Reply to their Tweet & Ask them a question.
Congratulate people on their achievements.
Build a conversation around what they share.
If the conversation turns into a quarrel, simply take off and switch to Direct messaging.
Have a blog post conataining FAQs, answering your customer queries and link to it regularly.
By contributing to their conversation you add value to their network. "Then it becomes natural for you to follow them and for them to follow you back.
Share Visuals (Facts/ Questions), Run Polls – Tag People!
Recent study states that there are 6000 tweets per second, now how can you stand out in the never-ending stream of 140 character limited tweets? Visual content can do that trick for you!
It will not only help you get more space in the timeline, but will generate more engagement and result in 18% more clicks and 35% more re-tweets. Not a bad way to drive engagement, right?
Nowadays more businesses have resorted to sharing visual content, your visual content will have to compete with 1000s of other images, so, how can you stand out? Add some text to your visual, this is will force people to scroll slowly, as they would require a few extra seconds the read the copy on your image. A great way to increase engagement is to use a thought-provoking key question in your image, visual facts and infographics is also a great way to strike a conversation with your target audience.
Run polls: Polls aren't only for presidential elections, it's a great way to engage your audience in a compelling fashion and also gain valuable insights about them in real-time. If you aren't familiar with twitter polls, this feature will easy enable you to create and share a native poll on twitter. Simply compose a Tweet, select the poll icon and adjust the duration, set the number of answer options, and then share the poll.
Tag people: Tag people on twitter to,
Notify someone that you're talking about them.
Give credit when it's due.
Increase the potential reach of your content by encouraging others to share it.
To encourage people to be part of the on-going conversation.
To connect with prospects you meet at an event.

Tagging people is very important to do when sharing photos in particular. You can tag upto 10 people per image on twitter.
Activate Drip Marketing on Twitter!
The main objective of activating a drip marketing campaign is to convert your prospect into your client and twitter can help you effectively in this process. Like i mentioned earlier, twitter is the best place follow up with people with whom you have connected earlie. Also,
For the emails you send.
For the LinkedIn conversations you pick up through sales navigator.
For the meetings you complete with your prospect.
For the Lead you have acquired through an expo!
You can use twitter to take your conversation with your prospect to a whole new level. Say Hello in Public through various means of engagement.
By contributing to their conversation you add value to their network. "Then it becomes natural for you to follow them and vice-versa."
Drive rest of the discussion through DMs – Ask a relevant question on DM as soon as they follow you.
Be consistent on Twitter.
One of the most important habits that brands/businesses have to embrace as early as possible is the habit of consistency – in the things you say and how often you say them.
Simply put – Who you are, What do you want to be known for, What are you using Twitter for and what is your content strategy, should be a constant.
Keep in mind, Posting 5 tweets a day is not your mission, focus on how you can help solve problems, ease pain, delight the customer, or be a solution provider to your target audience. Content like tips, checklists, reasons, ways and insights, all based around your areas of expertise, is how people get to know what you do and how you can help them. You can also pick content from your company's blog.
Sit down and make a list of the top 25 topics you can use for your content marketing. Focus on your top five areas of expertise, or the top areas of interest your audience will have.  Then create 5 topics from each of those areas, and voila! now you have your top 25. Take 30 quiet minutes and brainstorm often. These topics are what you use to stay on point with your content, so you don't drift too far off into areas that won't help generate leads.  Simply put, "It's not just about having a lot of content.  It's about having the RIGHT content."
Don't Oversell. Use 50/20/20/10 Formula.
One of the key things you have to keep in mind while using twitter or other social media platforms for business is not to be too pushy and obvious. Twiter is the place to build relationship, so, never make it all about you, When it should be about your audience. And while it's true that many people follow brands and small businesses on Twitter because they like to receive discounts and look out for special offers, no one wants a steady diet of that.
So one simple formula that works really well with regards to posting on Twitter and all other social media platform is:
50% Educate
20% Inspire
20% Sell
10% Keep it personal.
Why? Coz if you educate and inspire people, then you have a chance of motivating them, making a quality connection and eventually selling them something, that can be of value to them. Share your opinions on Global movies, trending topics, your personal opinions on professional events.
Direct Pitch – Yes or No?
No! Not a great idea at all, especially on twitter. It is a platform to build relationship. Direct pitch only when you observe an opportunity or when you already know that particular prospect.
Once you connect, don't immediately bombard them with pitches. Instead, read their profiles, get to know them and identify their needs. When you're ready to approach someone don't do it directly, do it privately – through DMs.
According to Forbes "A pre-scheduled call is often a great tool, but even a private message or e-mail can be a first step where you specifically reference what you've learned about that person through your interactions [on social media]. Then you don't feel like a pushy salesperson but rather a friend with a specific solution."
Time to activate listening.
Twitter is the most effective social media platform for businesses to measure the sentiments of their customers. This process is called listening. Being a digital marketing specialist, I have recognized the power of branding through twitter and active listening is key to establish one-on-one relationships with your online community. You can carry out 4 types of listening:
Competitor based. You know your enemies right? List them down and their products. Observe(everyday) @YourCompetitor for direct queries raised to them; if you feel its your opportunity to pitch in, do it without thinking twice!
Brand based. Seek out those who have mentioned your brand and/or products/services and listen to what they are saying, find out their feeling towards your brand & start the conversation. I would also suggest you to start a separate twitter account to provide customer support.
Need based. They are the people who are in need of your product/service. Generally these tweets will have the suffixes 'anyone recommend' or 'any advice on', engage with them in a conversation and gradually direct it to your brands service.
Industry based. List down keywords/hashtags relevant to your industry and search for them to seek if someone is speaking of it. Engage with tweeters who are speaking on something that is relevant to your industry.
Activating listening is key to mark your presence in social media and get more brand presence.
Use Quora to Identify Potential Prospects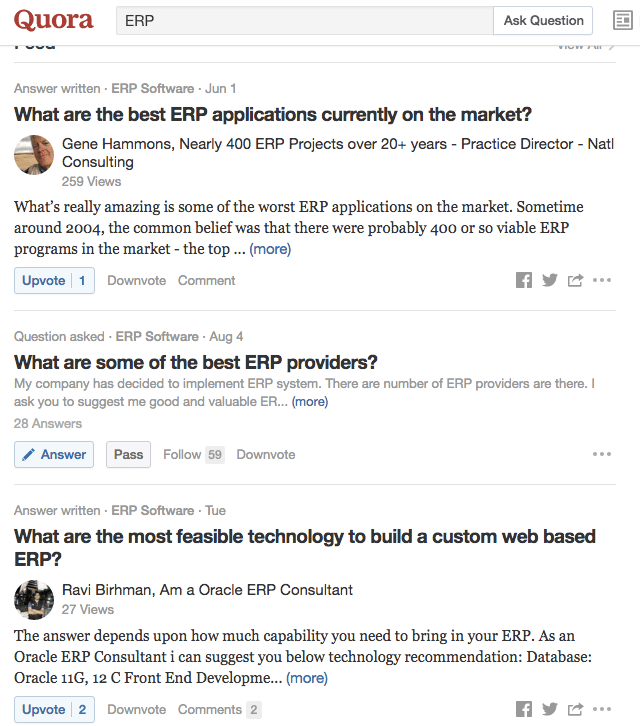 Your prospects might raise questions on Quora if not on Twitter. Identify them, answer their questions. Map them on Twitter. Remind them of the answer you made. Ask them more thought provoking, industry relevant, key questions. By contributing to their conversation you add value to their network. "Then it becomes natural for you to follow them and for them to follow you back."
Promote Your Twitter Presence Extensively:
Who's gonna call you, if no one knows your phone number? Let others know that you have a twitter account, so, that they can network with you. Make sure to promote your twitter handle,
Through your email signature.
Through your business card.
Through your presentations.
At the expo/event you are exhibiting(standees, business cards, give aways, etc.,)
At a conference you are attending (carry some excess business cards)
In the Collaterals.
In the blogs written by you.
Cross Channels (Facebook, LinkedIn)
Hope by now you would have formed a rough plan of action to start with your twitter marketing campaign. Do let me know if any other hacks have helped you hone in on your marketing efforts using twitter. You know how and where to reach me!