About Toca Boca:
Chennai's largest kid's carnival, Toca Boca was hosted by RCC Platinum. Though this carnival's ultimate aim was to gather funds for the installation of RO plants in schools for clean and healthy water, it became the supreme source of fun and enjoyment for children and parents bringing with it entertainment and learning.  This 1-day carnival was held on 4th February, 2018 at St. George School Ground.
Objective:
To spread awareness about the carnival by popularizing it on Social Media highlighting the fact that event was a noble initiative.
To get more online registrations for Jog-A-Thon, a kid's marathon, that was held on the day of the carnival. The run stressed on the importance of staying fit.
To create excitement before the event in the form of posts, ads, stories, contests.
 Creating an audience profile:
The audience with the following profile was targeted for the campaigns:
Since the event was happening in North Chennai people residing in North Chennai and around Kilpauk, Sowcarpet, Anna Nagar were targeted by dropping pins on Facebook.
Parents of kids between the ages 4 to 13 years across the Chennai city were reached out to.
Women whose age ranges between 27-45 years and who were married with the assumption that they have kids.
We reached out to fathers too separately who have kids between age group 4 to 10.
Targeted members of RCCP club who are the decision makers.
Last year Marathon Runners & Carnival participants, (Defined by database of parents of earlier marathon – seed audience).
Targeted People living in North part of Chennai (3 KM radius venue).
5-Step Event Promotion:
Step 1:  Creating an Event page on Facebook
An event page was created for Toca Boca on Facebook. A rigid promotion was run on the event page as well. The focus of the event page was to drive more organic engagement. It is suggested to have the following:
20% text based event image title.
The word has two important keyword: Kids Carnival, Chennai.
To sell an event, an event page is extremely important investment as the event page has more organic traction for content posted than the business page. So what you post on the business page, should be posted on the event page too as it sends a notification to all the people who have RSVPed going.
Step 2: Creating A Landing Page & Integrating A Payment Gateway:
The landing page was created with the following points in mind.
A colorful themed landing page, one that would match with theme of the carnival was created used LeadPages.
The templates used were designed by designers and integrated on the landing page.
A micro site with the assistance of GoDaddy was put in place to sell tickets of the carnival through the landing page.
The landing page was integrated with pixel codes on Facebook.
The enquiry about the Jog-A-Thon started flowing in the day the announcement of it was made. Hence an FAQ section was included in the landing page to be of assistance to the parents.
A payment gateway was set with PayUMoney to drive registration for the marathon and carnival. (If you are hosting any kind of event please ensure that you sell tickets online and not offline as its easy for you to keep a track of sales and at the same point of time it's a commitment that people give to your event in advance)

The landing page highlighted the events of the carnival, the registration form of Jogathon – a noble initiative, the benefits of taking part in the Jog-A-thon, online booking for the carnival tickets, a peak at the Toca Boca 2016, most importantly was colorful, had attractive images, and was revolving around the theme.
Step 3: Creating Long Haul Posts To Educate and Inspire:  
To create a funnel structure, we started the engagement saga with a long haul video that spoke about 20 reasons why you should attend Chennai's biggest kids carnival.
https://www.facebook.com/RCCPTocaBocaKidsCarnival/videos/1144296352370193/
We also created a post that talks about jogathon, registration details and what benefit would kids get on registering for the jogathon – this post kept floating for period of 10 days in order to create maximum number of likes, comments, shares and tags for the given budget.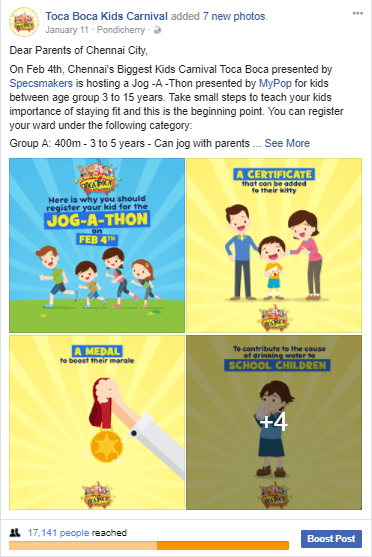 Step 4: Creating Contest & Engagement Element for Recall:     
We created an audience out of those people who had engaged with the video, posts, event page, Instagram business page and the Facebook page on the whole – this audience along with the fresh audience was approached with below set of posts to create a strong brand recall and remind them that the team is very proactive with respect to this event.
The series post showcased 25 exciting things that a child can do when visiting the Toca Boca kid's carnival. The post had a staggering reach of up to 25,000 people.
A contest post was put up depicting a carnival where the viewers had to spot the differences. A total of 118 entries were seen on the event page and 45 on page.
To add a little human touch we also showcased photos of the drawing competition.
A lot of posts on the above lines were shared to keep the momentum going.
Step 5: Creating Excitement For Last Moment Closures:
The key to success for any event is a rigid promotion a week before the event. The same mantra was followed for Toca Boca. The following post about the key highlight of the event – an inflatable base on which a video was made. The video witnessed very good traction, receiving about 3,251 views. This was mainly to those audience who had visited the website, watched the videos, RSVPed, messages us and interacted with earlier posts.
Countdown videos were made every day. These videos, while giving away the days left for the carnival, also showcased what would be in store for them. Thus, it created an aura of excitement and fun among the viewers.
https://www.facebook.com/RCCPTocaBocaKidsCarnival/videos/1159941740805654/
Budget:
This event page was promoted to the above audience for a budget of Rs. 9000 that helped us reach about 2.3lakh people and get 3700+ responses.
The video was promoted for Rs. 5000 the video campaign received a relevancy score of 7 from Facebook. The video also witnessed 5000+ people taking action.
The important posts were boosted for a budget of Rs. 3,000/-
Result:
The above activities helped us get about 29,000+ unique visitors on the landing page. Remember, a lot of these credits also goes to traditional advertising as 25% of the traffic was direct and through Google search for the keyword 'Toca Boca'.
As the result of the above traffic, we saw total of 2793 transactions and we would denote almost 75% of transaction due the impact that Social Media could bring to this event.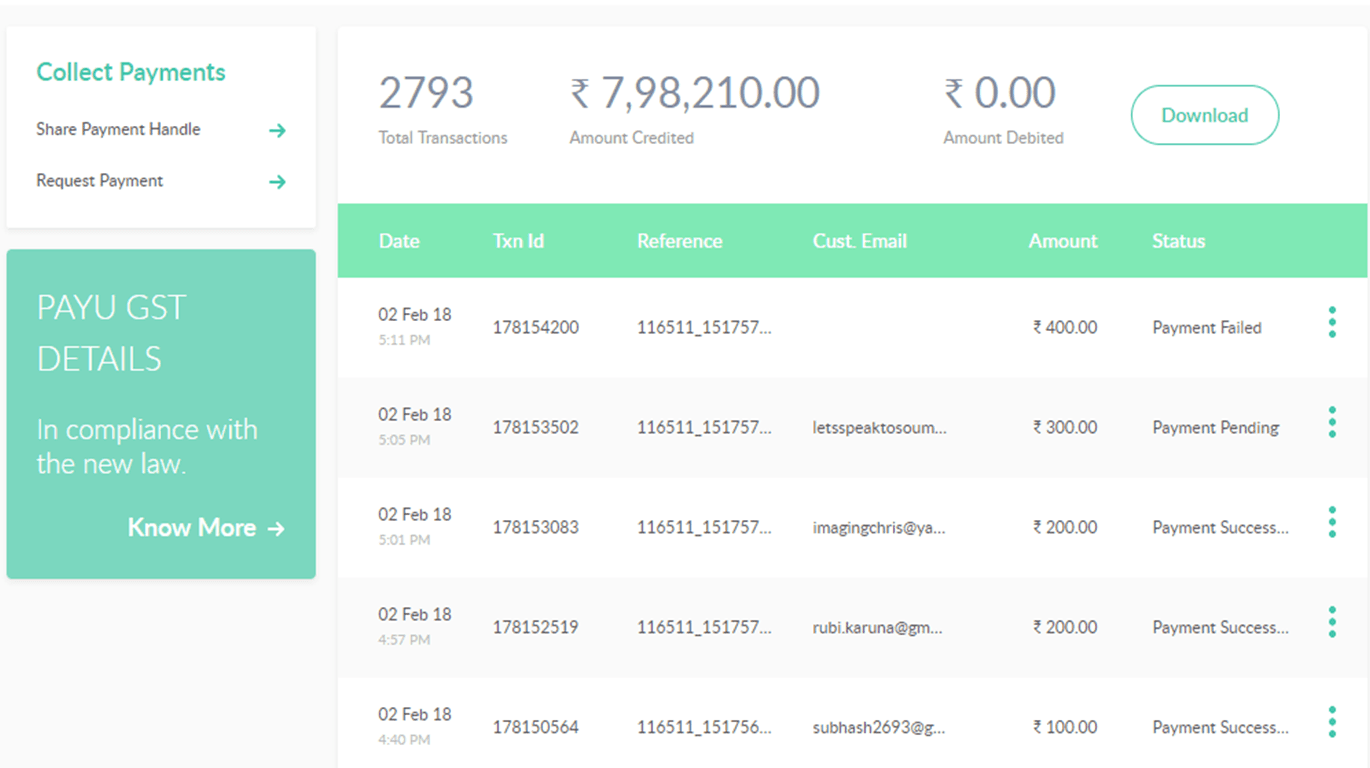 Some Learnings & Tips:
Selling an event on Social Media is fun, echoVME has sold close to about 10+ events till date that includes events like: Indian Federation Of Culinary Association's #IFCA2015, Credai Fairpro, TieCon 2016, TiECon 2011, Smart CEO's Startup50 – 2017, Startup50 – 2015, Hackathon by LYNK, Digital Marketing Summit 2017, DusktoDawn Marathon, TiE Woman Global Summit, Social Media Marketing Road Show, Jeff and Kane's event and FACIA's Shipra Khanna workshop. In my observation here are some things that I have learnt while selling TocaBoca:
Selling kids' event is a lot more easier than selling professional events as the emotional drive to make kids participate in event that makes their kids excel is little high in Indian parents.
Visuals matter, if your brand cannot invest in good visuals, it is difficult to make the event look wow on Social Media – so please don't hesitate to make your investments there.
Video Funnel: Creating video funnels are very very important to drive a very relevant conversation. So, first thing that you should do with your event is to create videos and market them really well.
Test with your audience – don't get stuck with the number of parents alone as a category, target married people too under the assumption that they might have kids but have not registered on Facebook – so use your common sense while targeting.
While selling events please do choose a radius, especially when you have stringent budgets – there is no point selling your event to someone who lives 30 Kms away from the event venue.
Associations and Club events are lot more fun to sell as they have members who can help you drive initial traction to all your Social Media posts and not to forget, the way these guys drive Whatsapp sales by sending forwards is just super crazy.
Team echoVME, had an amazing time hosting this event and we just loved the aura of TOCA BOCA. Oh yes, our clients love us too. Here is a Testimonial from the client who got overwhelmed by the performance of this event on Social Media as last year the event had only 25% of turnaround when compared to Toca Boca that was conducted in 2018 for a noble cause.