[Transcript of my talk at the recently organized International Conference on Tourism Technology 2017 on Tourism and Hotel Marketing and Future of Story Telling on Social Media]
We have one common addiction today and that's Facebook or probably Whatsapp. This is a global addiction and probably, very soon, there is going to be Facebook Rehabilitation centers across the world. Kerala has already mastered Ayurveda Tourism and it's time they also mastered Digital Deaddiction programs because I am sure the future is heading towards a bad addiction scenario.
There lived a man named Sorav, he joined Facebook in the year 2007. I am sure many of you here have joined Facebook in year 2007! May I know how many of you? Congratulations, you have completed a decade on Facebook and that's amazing! 

Like him, there were many men and women who joined Facebook in the year 2007. Many continue to join even today. Thanks to Facebook, many of us are celebrating 5 years, 7 years, 10 years friendships! Sometimes, we don't even bother about the person yet, we celebrate these notifications. This is an age where friends on Facebook exceeds what we actually have in real life.

Sorav started his company echoVME a Digital Marketing Agency based out of India and changed his job title to CEO. 

Sorav loves Digital Marketing and he has joined a lot of pages related to Facebook Advertisements, Digital Marketing, Twitter Marketing and more.
Sorav was so fascinated by Facebook that he, in fact, proposed his girlfriend on Facebook by changing his relationship status.

When Sorav became a dad, he created a Life event on Facebook. Even before registering his kid with the government of India, he felt that it was more important to let the world know that he has become a proud father.

Sorav is a Digital Marketing Trainer and speaker and travels around the world to teach Digital Marketing and speak at forums. Wherever he goes, he checks into that particular city and that particular airport. Facebook knows what he is up to next and in fact, knows that he is a frequent traveler.
Sorav loves Apple products! He proudly logs into Facebook using his iphone, ipad and macbook air!  We all have our own choices, don't we?

When Sorav eats in a restaurant he checks into Facebook; when he watches a movie, he writes a review. Basically, everything that interests him is informed to Facebook. 

There is one common thing in Sorav's lifestyle and that's Facebook. I'm pretty sure it's the same for many of you here! 

Facebook probably knows Sorav better than his own family. His family at times doesn't know where he is till he checks in to Facebook. God damn addiction I say!
You might be wondering why am I sharing this with you! The fact is simple, like Sorav there are 1.94 billion active Facebook users across the world who share something or the other on Facebook. 
Based on the stuff you share, you don't share – you get categorized. Everything that we do today is informed to Facebook and that helps Facebook create better categories.

This categorization comes as an opportunity for marketers today! Categorization of the audience is Facebook's biggest strength today. 
As a Tourism Social Media Marketing professional, you can target people on the basis of the following categories:
Basic Demographic: You can target people on the basis of Age, Gender, Location, Language. For example, You can target people who speak Malayalam all over the world. Helps you bring NRIs back to Kerala for a vacation.
Advanced Demographic: You can target people on the basis of sexual orientation, relationship status, job titles, parenting status, colleges they study and a lot more interesting data that people feed in their profile and use life events to describe their milestones.
Interest: On the basis of groups you join, pages you like, status you post, reactions to post, your interests gets defined on Facebook. You can target people by jotting all the interest as keywords and run advertisements exclusively for them.
Behavior: You can reach out to people on the basis of mobile phones they use, frequent travelers, business travelers, expats, Facebook page admins and more.
Your Audience: If you have a decent number of people visiting your website, you can create a custom audience by adding a small pixel to your website that tracks all the visitors to your website in common to Facebook. You can run your ads for them. On the same basis, you can collect all the email ids of your target audience and your customers – upload to Facebook and you can run your advertisements exclusively for them.
Your Engaged Audience: Facebook has got a new feature. Since the organic reach is now dying. How about targeting people who have engaged previously with your page? You can call that as an audience.
This is not the end! Sorav is back. He has lot more to tell. Like any other Facebook user, Sorav got bored of it. He thought of moving to another platform.
He lost his interest in Facebook. He moved to a different platform. He started liking Instagram.

Facebook acquired Instagram.
He moved on to Whatsapp! And started creating smaller communities of family and friends. In fact, WhatsApp became the first thing on his mind.
Facebook acquired whatsapp. 🙁
Sorav got inspired by the teens at his work place and used all sorts of Filters on snapchat and sent those 24 hours stories.
Facebook copied stories, filters and stickers for Facebook and Instagram.
Sorav got glued to the Live feature Twitter had introduced in association with Periscope.
Facebook introduced Live.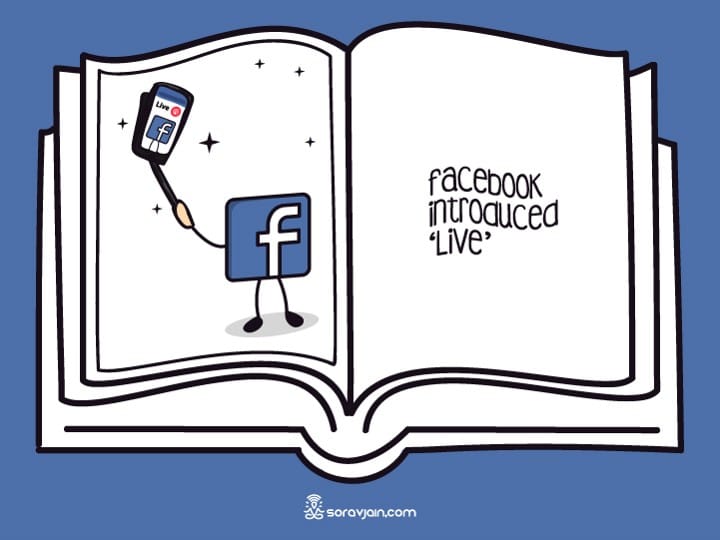 Innovating or replicating the best of innovations is Facebook's 2nd biggest strength. Facebook is by far the most used Social Networking site and I foresee in next 10 years nothing is gonna change. This platform is only going to grow further.
Sorav realized Facebook is here to stay! And guess what he did?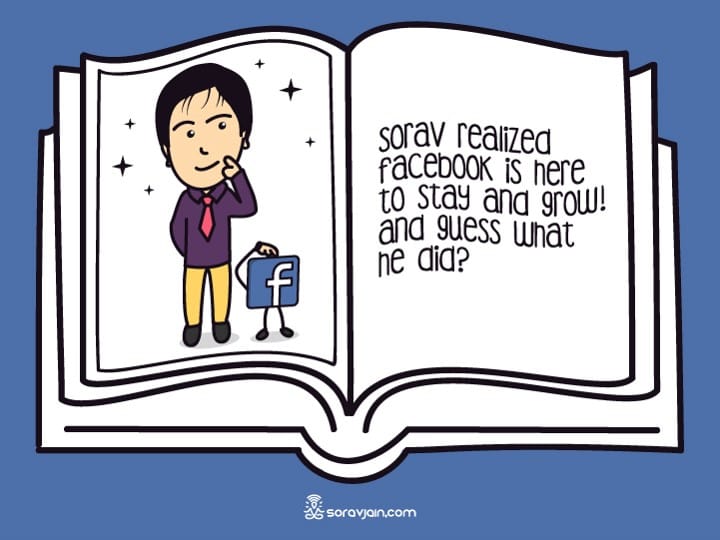 Any guesses? Well, he created Facebook profile for his 3-year-old son. Like any other Indian dad he was trying to secure his kid's future.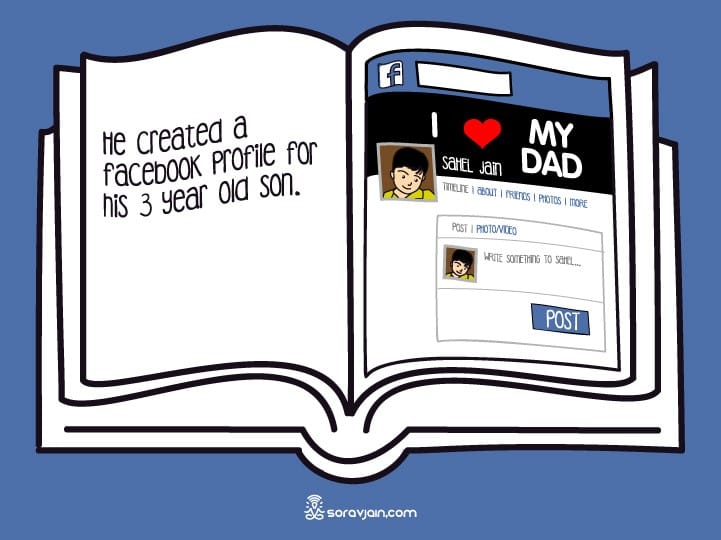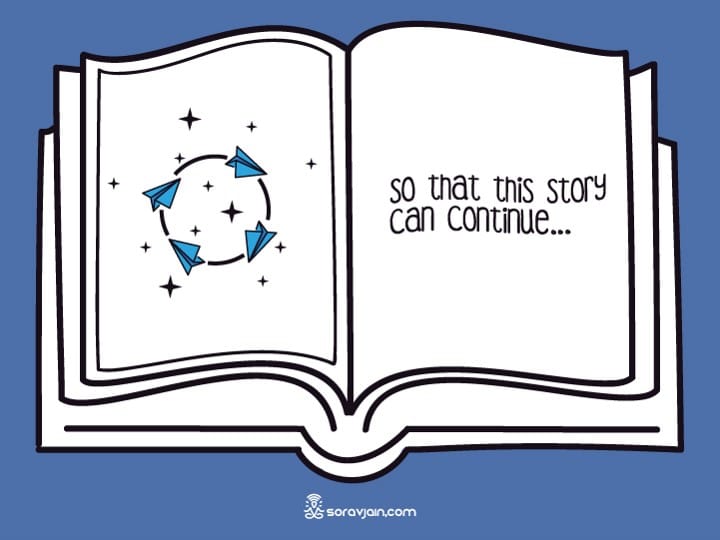 Social Media today is not about storytelling but who you tell your story to. That's more important.
To tell your story on Social Media, first, classify your audience. As a Tourism Social Media Marketing professional, you should categorize your travelers into:
Lonely Traveller
Honeymoon Traveller
Religious Traveller
Backpackers
Family Vacations
Luxury Freaks
Exotic Destinations
Wildlife Lovers
Short Escapes
Cultural and Historical freaks.
Medical Tourist and there are lot more.
While you categorize them, you need to pick either few as niche and have a great content marketing strategy that can help and excite them. Or create these categories as themes and create campaigns around them. But, have something for everyone.
India alone has about 3,00,000 people who are celebrating anniversaries in the coming month as per Facebook advertisements dashboard, As a marketer, you need to tell them why should these couples celebrate their anniversary with you and how you make it special for them. There are 2,20,000 first time parents who would be looking for short escapes. They might want to see how well can you help them in taking care of their kids. Why don't you create an amazing piece of content that matches their needs?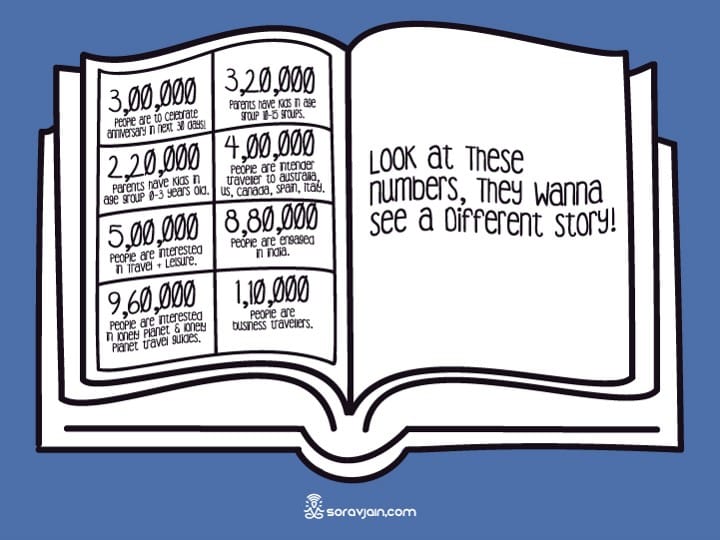 Brands that tell stories are more successful on Facebook. Brands that have sequenced CTA have much better ROI when compared to brands that just go and sell stuff on Facebook.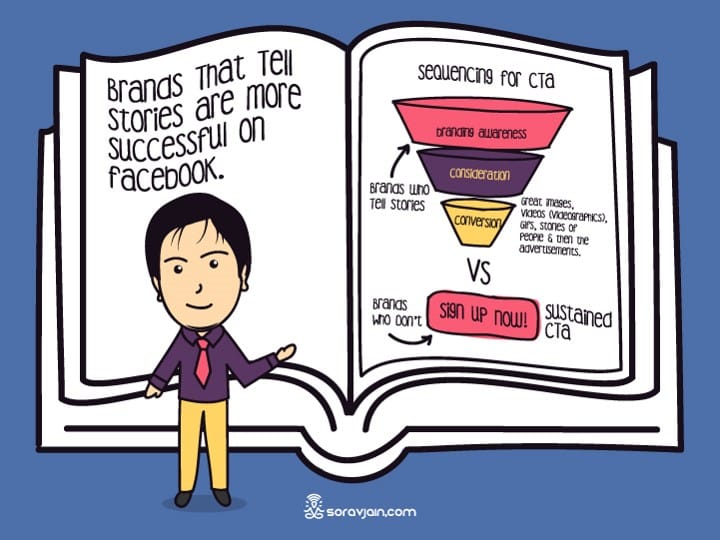 As per Facebook, brands that tell stories through sequenced ads has 35x more engagement than brands that doesn't tell stories on Facebook. 
Coming to the last part of my presentation. These are 5 key chapters for you to take away as a Tourism / Hotel Marketer.
Chapter 1: Create stories with better shelf lives. There are stories like special days but they die as the day ends and then there are stories that can be posted today and boosted for a lifetime.
Example: Hotel Le Medien Kochi can post 10 Reasons Why Le-Meriden is Must-Visit Hotel in Kochi and boost it to everyone in Kerala. They can talk about 21 reasons why honeymoon couples should stay Le-Medien kochi and target all the engaged couples. This content piece will never stale and the likes, comments, and shares that it would bring will motivate most of them to show interest. So post something and boost it for a lifetime.
Chapter 2: Please stop clicking that Boost button! Stop boosting your page to friends that are too boring. Why don't you experiment with your target audience? Try to boost the same post through advertisement dashboard to a different audience. It helps you engage with your niche. Boost it for the audience that has engaged with you in the past or have visited your website for a strong brand recall.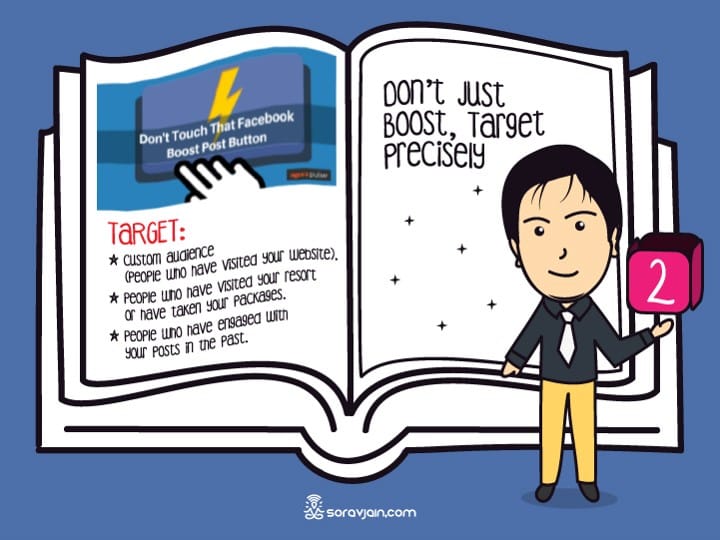 Chapter 3: Feature your customer's story! As a travel planner, you usually don't see them mentioning you. They might mention a hotel but not the name of the tourism operator. Why don't you feature them and thank them for choosing you? They are more likely to ReTweet your post or tag themselves. Introduce a hashtag with every individual or group taking your services. Let there be enough Social Media friendly elements for them to engage and report.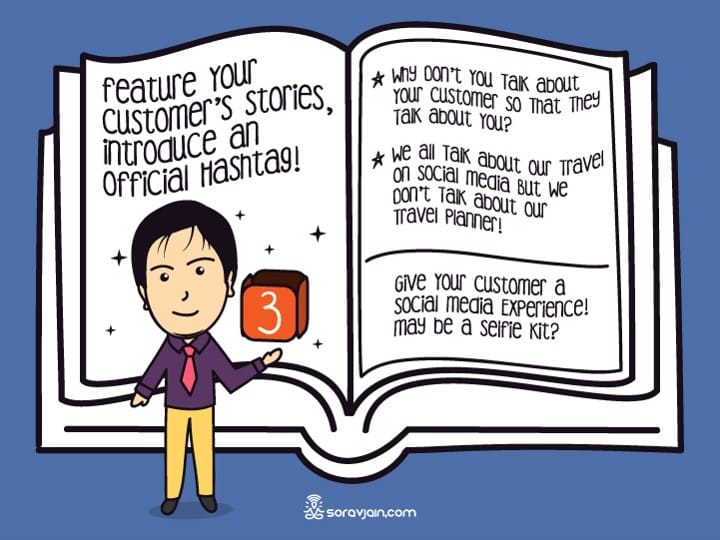 Give a Social Media edge to your customers. Everyone is giving Shaving kit, dental kit, sewing kit. How about a Selfie Kit? Be the first to introduce selfie kit. Give your customers a booklet which says 'Selfie Spots At Your Hotel' have a kiosk at your hotel where people can use props and click photos. You need to give them enough reasons to share. It can be as simple as 'Bored? Tweet with #HotelName and We Will Give You Something to Entertain Yourself'
Chapter 4: Stop using your phones to go live! Schedule your live event on Facebook. Buy a professional equipment, buy a HDMI Cable, a wirecast software, a high-end laptop and then go Live. Create so many smaller chunks of Live elements. Example: a half day city tour, a recipe in making, a live artist and behind the scenes of some big event taking place at your hotel.
Chapter 5: Start using Stories big time. This is an era of instant stories. Hotel Marketers, you cannot rely on your agency all the time to give you artwork. You need to share small things like celebrities who have traveled with you or visited your hotel, create your own properties #poolthursday, #vegetarianfriday, #localtuesday, #DeliciousSunday. Talk about chandeliers, art work, floorings, decors, floral decorations and everything that you think can inspire people at that moment. Stories don't stay for long but definitely creates lasting impressions.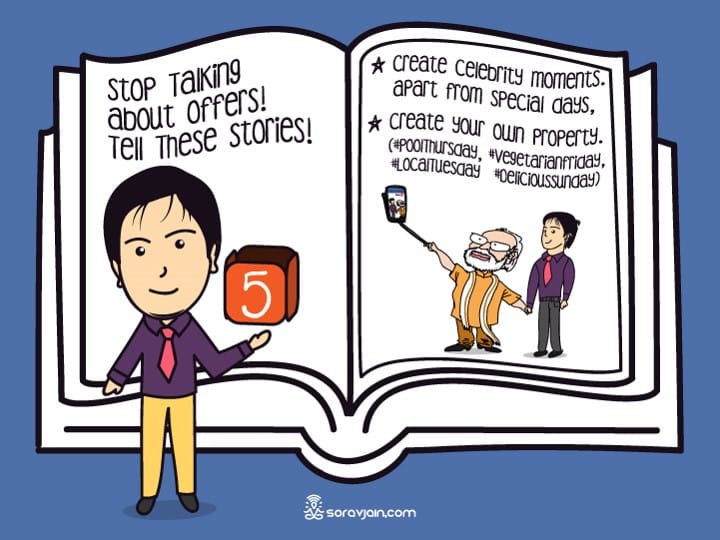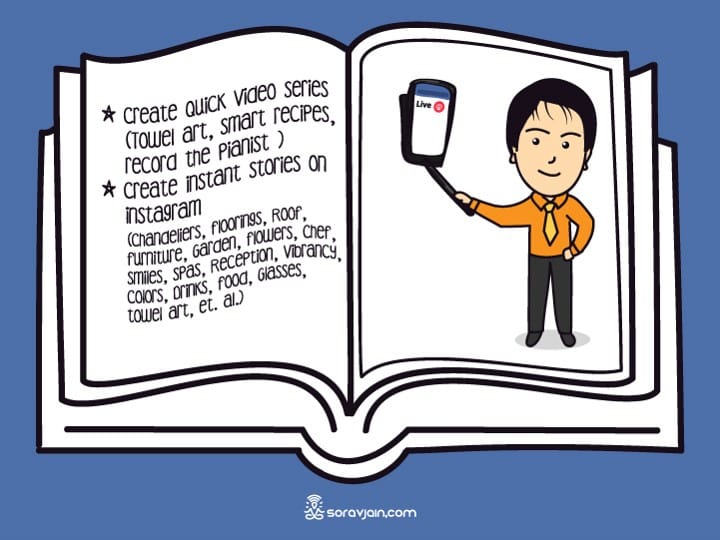 First, start telling smaller stories to take the bigger leap and make huge investments in content marketing. Have an in-house Social Media person who can help you create instant stories.
Let me end this presentation with my favorite saying for the day 'It's not about how you tell your story but who you tell your story to'
Thank You! This is where you can connect with me.