Twitter Statistics and Facts 2017
About Twitter
Twitter is an online social networking service used to send short 140 character messages that are called as tweets. In the content marketing world today, Twitter has undoubtedly become a platform for voicing the strongest of the opinions.
According to recent industry figures pertaining to the social media industry, Twitter has the most active users. We can also see the prominence of this platform and its increased usage during events. Live – tweeting of events has become a popular way to engage online, for users to put their thoughts through and for brands to send out brand specific messages. According to U.S. Millennials, live-tweeting events make them more fun and 67 percent of them would also follow hash tags which are related to events.
Twitter was created in March 2006 by Jack Dorsey, Evan Williams, Biz Stone, and Noah Glass and launched in July 2006. Jack Dorsey sent the first ever Tweet on 21 Mar 2006.
Some impressive statistics of Twitter in 2017 are listed below.
Twitter Facts and Statistics
Twitter has

328 million monthly

active users.
Twitter users send more than

500 million Tweets per day.

At present, Twitter is valued at

$16 billion.

As of Feb 2017,

90 percent of the U.S. population

was aware of Twitter, this makes it the second largest after Facebook.
Twitter is available in

40 languages

worldwide.

24% of all males users

on the internet and

21% of all internet female

users use Twitter.

79% of Twitter accounts

are based outside the United States.
Twitter's

top 5 markets

(countries) account for 50% of all Tweets.
There are over

67 million Twitter users

in the US alone.
Twitter launched its newest feature –

Live streaming

as of March 2017.

Katy Perry was the most-followed celebrity

on Twitter with more than 96 million followers.
Mobile advertising revenue was

88% of total advertising revenue.

Twitter's advertising revenue in the US is projected to be approximately

$1.15 billion in 2017

, in mobile ad revenue.

Total ad engagements

were up 91% year-over-year.
Twitter can handle an astounding

18 quintillion user accounts.

65.8% of US companies

with 100+ employees use Twitter for marketing.

'Tears of joy

' is the most Tweeted emoji, with 14.5 billion Tweets
A day's worth of Tweets would fill a

10 million page book.

58% of top brands

have over 100,000 followers on Twitter.
Tweets associated with images receive

18% more click throughs,

89% more likes, and 150% more retweets.
92% of companies Tweet more than once a day, 42% Tweet 1-5 times a day, and 19% Tweet 6-10 times a day
The average Twitter user follows

five businesses.

Twitter is an

important platform for customer service

– American Airlines alone receives more than 100,000 questions, complaints, and comments every month.

84% percent of shoppers

search for deals, product reviews, and gift ideas on Twitter.
In a recent survey,

63.5 percent of social media managers

listed Twitter as one of their top social media platforms in terms of return on investment (ROI), second only to Facebook.
Source – Omnicoreagency, Bradwatch, Statista, Hootsuite, Recode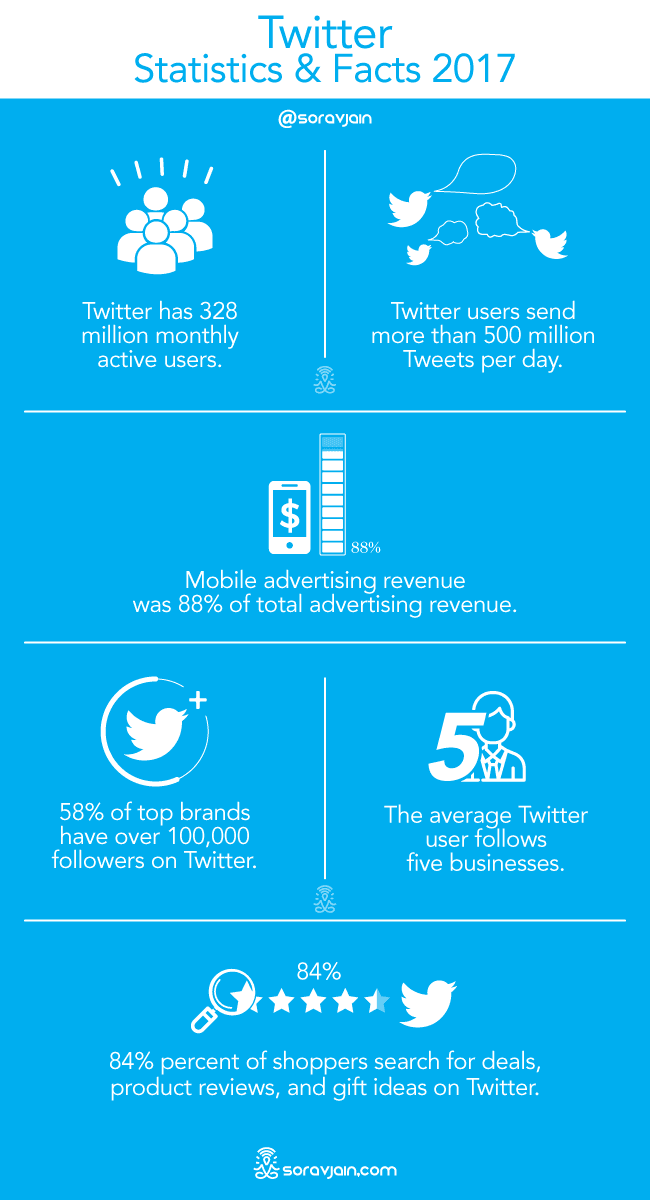 Instagram Statistics and Facts 2017
About Instagram
Instagram is definitely the most visual platform available today and is also the fastest growing social platforms in the world. It has been named "one of the most influential social networks in the world" at present.  Creative images and quirky captions are one thing, added to that are the hash tags and keywords that helps you build a community of followers and creates a virtual presence for an individual or a brand deeming to have a social presence. Instagram has the highest user engagement too.
Launched in 2010, as of April 2016, the reach had reached to 700 million. That means that the reach and its ability to grow more is nothing but absolute. It is predicted that it will soon reach the number of engaged users that Facebook and WhatsApp enjoy. Here is a list of interesting and engaging facts about Instagram.
Instagram Facts and Statistics
There are over

40 billion photos and videos

shared on Instagram since its conception.
There are

16,600,000 Google searches

for "instagram" per month.
This year,

70.7% of U.S. companies will use Instagram for marketing,

edging out Twitter for the first time.

8 million registered businesses

having their business profiles on Instagram.
There are

more than 500,000 advertisers

on Instagram and growing.
There are 1 million monthly active advertisers.
60% of the top brands on Instagram use the same filter for every post.
In March 2017, over

120 million Instagrammers visited a website

, got directions, called, emailed, or sent direct messages to learn about a business based on an Instagram ad.
eMarketer projects that Instagram's global mobile

ad revenues will reach $2.81 billion this year.

32% of all Internet users are on Instagram.
50% of Instagram users follow at least one business.

60% of users say

that they have learned about a product or service on the platform.

59% of internet users

between the ages of 18 and 29 are on Instagram.

33% of internet users

between the ages of 30 and 49 use Instagram.

Clarendon, Juno and Gingham

are the top filters used across the world.
Instagram is currently used by

48.8% brands.

There are

more than 500,000 advertisers

on Instagram and growing.

Top hashtags used for marketing

are #social #branding #socialmedia #success #sales #entrepreneur #entrepreneurship #marketing #branding #tech #business #contestalert #sweepstakes #giveaway #discount #travel #deal #smallbiz

Top hashtags used in general

are #love #instagood #photooftheday #tbt #beautiful #cute #me #selfie #tagforlikes #happy #followme #fashion #summer #picoftheday #slike4likes #fun #art #friends #instadaily #girl #smile #repost

5% of Instagrammers

take action after being inspired by a post, like visiting a website, searching, shopping or telling a friend.
The top brands are

Nike

which has 68.1 million followers followed by

National Geographic

which has 65.7 million followers.
Instagram videos get 2 times the engagement of photos that any other social media platform.

Instagram influencers

are charging up to $100,000 for a sponsored post.
Source – Louisem, Wikipedia, Statista