Started as a complex mix of Social Media and a Microblogging site in 2006, Twitter caught the attention of the global audience and rose to prominence very quickly with 140-characters at a time.
The very idea of using Social Media with the concept of SMSing at its base clicked well with people, as the letter restriction forced people to be to the point, making the space more meaningful for point to point discussions.
At present, Twitter has grown from 140 to 280 characters, is known as a platform where trends begin, people openly discuss, pass judgements, troll, insult, praise and open their heart out. Let's take a look at some of the most intriguing Twitter stats:
Twitter Usage Stats and Facts:
Twitter is considered as one of the mainstream Social Media accounts, alongside Facebook and Instagram and it has a large user base from all over the world. Here is a list of Twitter usage stats: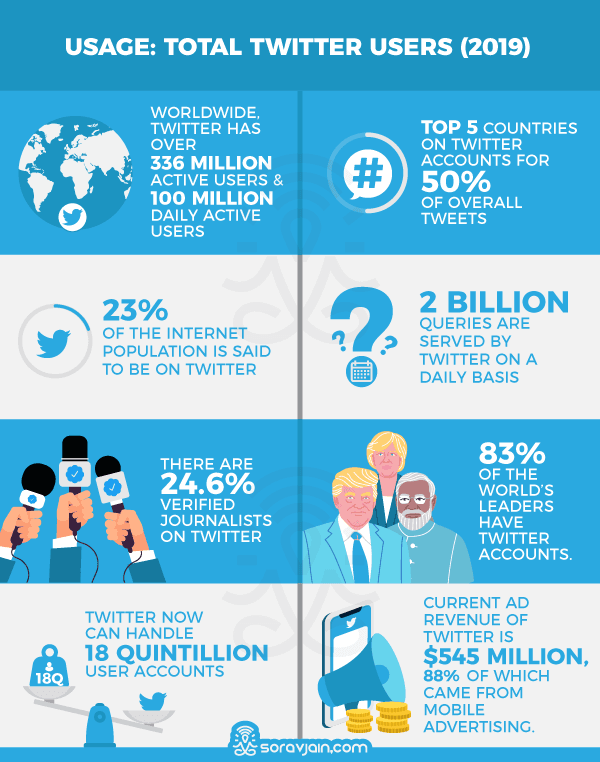 Worldwide, Twitter has over

336 million

monthly active users and 100 million daily active users.

23%

of the Internet population is said to be on Twitter.
Top 5 countries on Twitter accounts for

50%

of overall Tweets.

2 billion

Queries are served by Twitter on a daily basis.

83%

of the World's Leaders have Twitter accounts.
There are

24.6%

verified Journalists on Twitter.
Twitter now can handle

18 quintillion

user accounts.
Current ad revenue of Twitter is

$545 million

, 88% of which came from mobile advertising.
Twitter Engagement Stats and Facts:
Twitter was one of the first few platforms which made the celeb-fan interaction a fuss-free one. Many politicians, sportspersons, movie stars, and other influencers took on to Twitter to keep in touch with fans and make online discussions. Here are a few engagement stats:
On average, users on Twitter have

707 followers

.
On average,

391 million

Twitter accounts have zero followers.
Katy Perry's account is a most followed account in the world with

108M followers

on Twitter.
Tweet with Images has

150% higher

retweet ratio and 18% more CTR.
Twitter User's Activity Stats And Facts:
Despite its character limit, Twitter is one of the most used and happening platforms online, with millions of users being added and tweets being tweeted day by day. Here are a few facts about Twitter User's activities: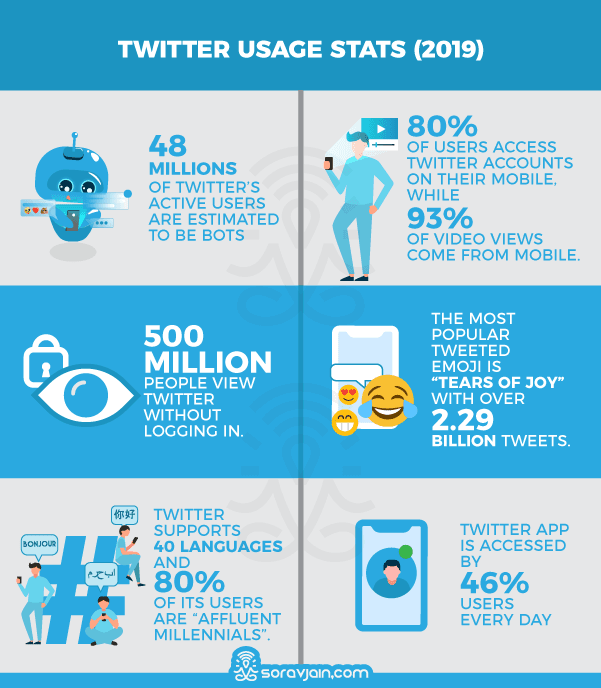 500 million

people view Twitter without logging in.

48 millions

of Twitter's active users are estimated to be bots
The most popular Tweeted emoji is "Tears of Joy" with over

2.29 billion

tweets.
Twitter supports 40 languages and

80%

of its uses are "affluent millennials".

80%

of users access Twitter accounts on their mobile, while

93%

of video views come from mobile.
Twitter app is accessed by

46%

users every day.
Twitter Brands Stats And Facts:
The easy and public interaction on Twitter has opened a great opportunity for the Brands to maintain their PR and solve customer queries online. Here is how Brands stand on Twitter: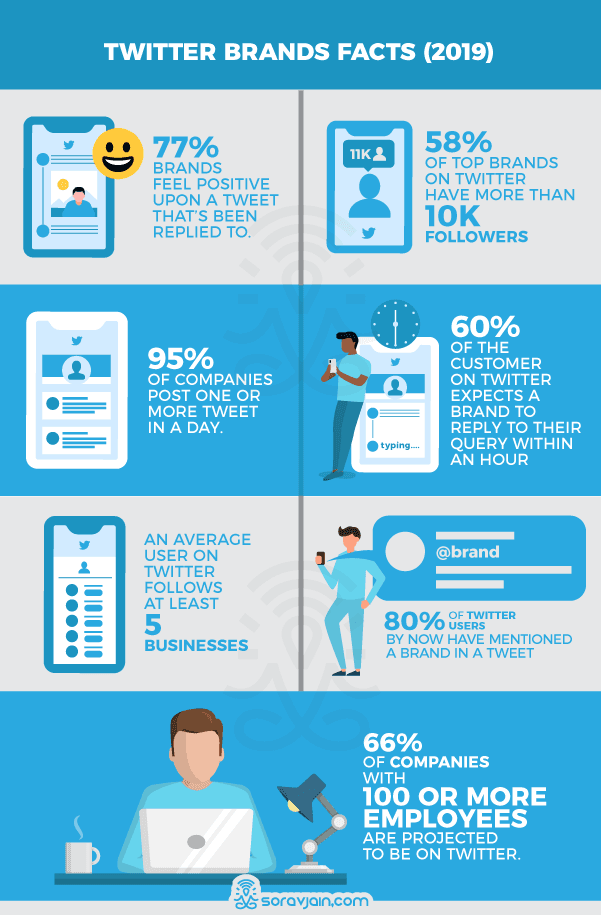 77%

brands feel positive upon a Tweet that's been replied to.

58%

of top brands on Twitter have more than 10k followers.

95%

of companies post one or more Tweet in a day.

60%

of the customer on Twitter expects a brand to reply to their query within an hour.
An average user on Twitter follows at least 5 businesses.

80%

of Twitter users by now have mentioned a brand in a Tweet.

66%

of companies with 100 or more employees are projected to be on Twitter.
Twitter India Stats And Facts:
India has been in the Twitter game right from the beginning and is an active nation to contribute to the Tweets. Here are a few facts about the Indian Twitter scene:
India has over

34.4

million monthly active users on Twitter.
PM Narendra Modi has the largest audience in India with over

48.1M

followers on Twitter.
Twitter Demographics Stats And Facts:
Unlike other platforms, Twitter is not totally Youth Centric and is a mixed bag of all type of users from all walks of life. Here are a few Twitter Demographics Stats and Facts:
37%

of Twitter users are of 18-29 age and 25% users are of 30-49 age.

24%

of male and 21% of female Internet users are on Twitter.

25-34

age group is the top advertising audience on Twitter with 31% contribution.
In spite of being in competition with giants like Facebook and Instagram, Twitter is a totally different world on its own. This is where the trends being, the news is first heard and the online discussions pick up heat. What are your thoughts on Twitter?