About Urban Tree
Urban Tree Infrastructures is one of the Chennai's biggest real estate player targeting the budgeted segment and now heading towards the luxury sector too. They are one of echoVME's oldest clients, my favourite client too!
Favourite, why?
Well, as a marketer you need to have the creative freedom and the Founders of the company have given us that freedom in the last 3 years.
Challenge Faced
Urban Tree as brand was looking for ways in which it can make its presence felt in Chennai's Real Estate market. With the whole world already on Social Media, branding for Urban Tree there was further becoming a challenge.
Solutions Suggested
Recreate the website in a way that connects to the hearts of the people and tells stories of people who believed in Urban Tree and now living a healthy lifestyle.
Create influencer marketing strategies to boost up the local presence of Urban Tree.
Captivate the Social Media channels to create brand awareness.
Help Urban Tree stay on top through the means of innovative SEO strategies.
Help Urban Tree generate Leads for their business through Google Ads, Colombia Ads, Social Media Advertisements and 3rd party advertisements (such as Magic bricks, Roof and Floor etc.)
Digital Brand Revamp Strategy Suggested:
#1 Audience Profiling:
We first identified the profile of the audience and understood the pain points of the industry before addressing the strategy:
Audience Profile 1: People living in and around the property location.
Audience Profile 2: Existing customer base.
Audience Profile 3: Total number of enquirers and website visitors.
Audience Profile 4: IT Professionals who are under the middle class category.
Audience Profile 5: People who are interested in Real Estate and investment.
Audience Profile 6: People who cater to rich segmentation (for few of their properties)
Audience Profile 7: People who visited their website (after a particular traditional ad campaign)
Audience Profile 8: People who are interested in the competitor's channels and communication.
The above categorized audience was addressed through different channels. Focus point of revamp was how to make 'Urban Tree' a pacca local brand. Urban Tree has always been boasting about  their team all this while but never addressed the crucial point – Are their customers happy?
A new strategy was proposed considering 'Customer Story, Customer Journey and Namma Chennai' flavour to connect with the local chords and the following tasks were done in last 2 years to build brand equity in the digital world:
#2 A New Website That Tells Customer Story:
The website base was shifted from a builder's perspective to a consumer's perspective. Happy customer faces and testimonials were posted to create a customer to customer connection. The integration of the chat bot made the website more user friendly. This website does the following things:
Tells customer stories on the first go.
Inspires people with the numbers on the home page. For example: 851 apartments delivered is a credible number to boast about. You immediately win over people's trust.
Talks about USP on the home through the means of Green homes positioning, customer testimonials.
The website now has well above 20,000 visitors every month as a result of the diligently optimized layout and marketing campaigns.
Check the complete website here: www.urbantreehomes.com
We are currently revamping this site. The brand wants to look unique every 2 years and this time the story is gonna be different. Stay tuned to their website or my blog and I shall keep you posted about the journey.
#3 Building a Property For Property Seller:
A blog was made for its website, which today serves as the directory of Chennai. The blog made on the website initially offered home ideas and then started on with everything else that would attract the common public. Like for instance- 10 best places to eat PaniPuri in Chennai and also 10 home improvement ideas can now be found on the Urban Tree Blog. At an average 10 blogs are updated every month. And at present there are more than 250+ blogs on the Urban Tree website.
This blog was to increase their visibility on search engines.
Someone asked us how this is relevant.
Okay, let me crack this for you:
Do you read  luxury magazines? Newspapers? And then you see advertisements?
Could the ads be of a Real Estate player? 
Yes?
Same way, we write down content that people search for on Google and especially those people who comes from IT background. We write content that we believe NRI audience is going to search for.
You can check out how we rank on top.
This has resulted in so many visitors in last 1 year alone.
As these visitors visit their website / blog, they see advertisements, they see a pop up which helps us growing in subscriber base for Urban Tree's email list. This strategy help us in getting relevant audience subscribing for our updates.
A property developed online (blog) for an offline property seller (homes)
#4 Re-Defining Their Social Media Journey:
Starting from nowhere and Urban Tree today has reached a milestone of 1,50,000+ Likes on Facebook page, 100+ subscribers with 64 videos ,more than 5000 viewers on YouTube, 200+ Followers on LinkedIn and 7000+ Tweets with 1000+ followers on Twitter. There are a total of 7 posts posted on these channels in a month exclusive of the posts related to current trends and news updates.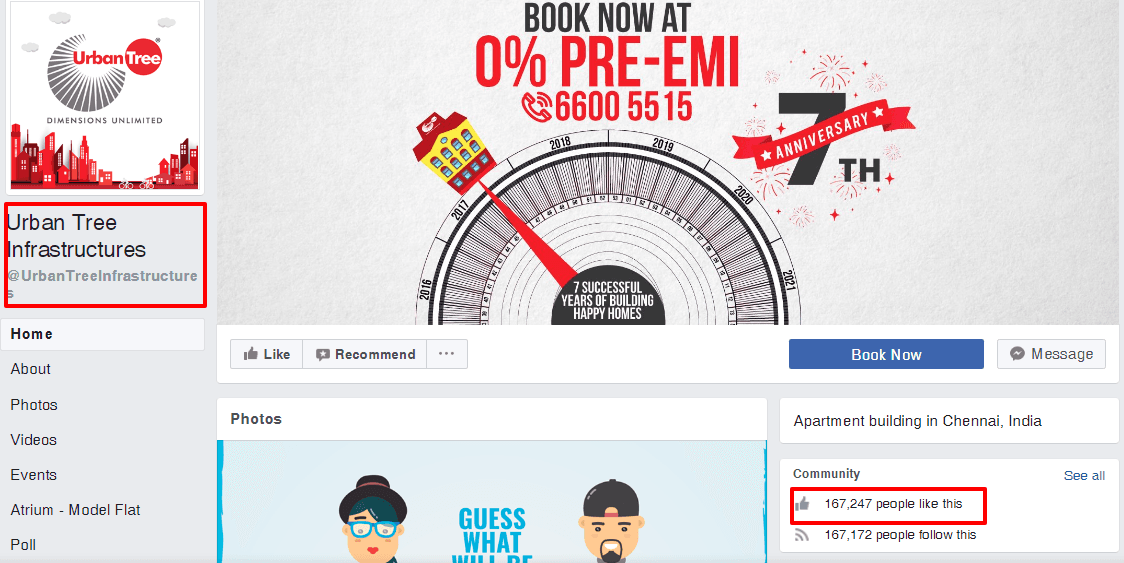 We continue to invest in the growth of their community!
You might ask me: Sorav, how is it relevant to grow the number of likes on Facebook Page?
Well, there is a case study here. Abhishek Mehta, the CEO of Urban Tree Homes once told me how they closed a Facebook follower as their potential customer. On asking, why he purchased a home from Urban Tree, he said, "After the leading player in town, you guys have the highest number of likes on Facebook page and that wins my trust."
Psychology says: Big numbers inspire!
#5 Property Promotion-
Launches of the upcoming apartments were done in the form of teaser post and contests. We use the 'Area' as highlight and we start running our campaigns around areas where the upcoming property is planned. Educating about the area is very important in a real estate digital marketing campaign. Trust me, this wins your customer's interest.
In last 3 years of relationship with Urban Tree we have made hundreds of advertisement campaigns. Ads for every new property are made which gives large number of leads and also make conversions. A few of the ad samples are given below.
Given below is one of the best performing ad that was created which has reached 84,918 people obtaining a total of 164 leads with Rs. 263.76 being the cost per lead.
#6 Creative  Urban Tree Campaigns That Drove Maximum Engagement:
There are a lot of Engagement Posts, Special Day Posts, Informal Updates, Current Affairs, Contests and other things which are regularly posted on Urban Tree accounts. Given below are few of the most loved post which were creative and connected to the people of Chennai.
1. Targeting the Emotions of the people of Chennai-
We've made it a priority to make posts that connect with the Tamil audience and this is one posts that outperformed its counterparts.
2. The Search Behaviour of a Chennaite-
The Chennai crowd is always on the look-out for new place to hang-out and we made a list out of it. The motive here is to add value to the posts for the audience and posts like these are bound to be shared by them.
3. GIF for Property Promotion-
This has been one of our top performing GIFs for Urban Tree's property 'Awesome'.
4. Towards A Social Cause-
We also made sure that the brand wanted to contribute to the society and awareness posts were the way to go. Here's one we made for 'No Tobacco Day'.
5. Contests Posts-
Short Haul Contests:
These contests usually bring in a tide of participants owing to its simplicity and because they are fun!
Long Haul Contests:
We ran this contest post well in advance of Golu, where people had to send pictures of their Golu decoration to enter the contest. The contest came with exciting gift vouchers worth thousands!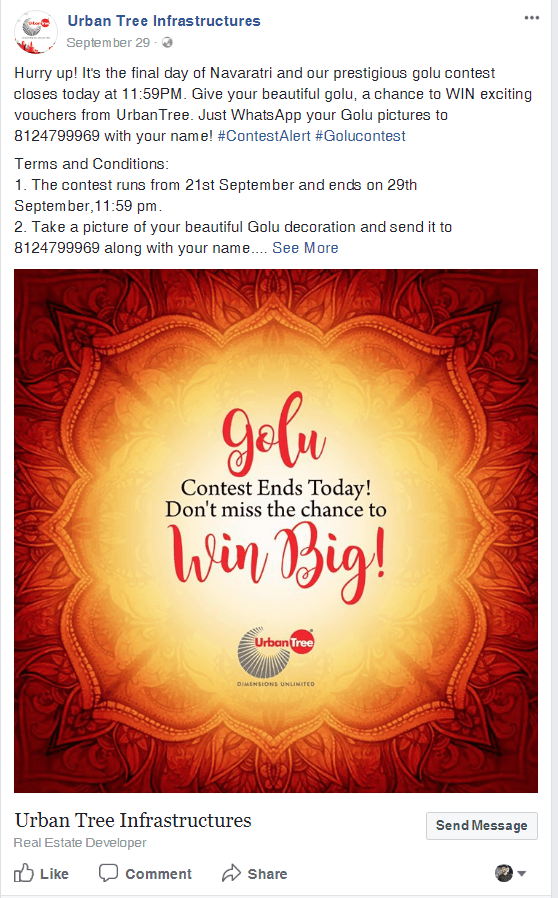 They come with vouchers worth thousands and the winners are also announced on the page.
Movie Based Contest :
The summer movie season called for contests and we gave our audience exactly that! We asked the has ranked top on Google Search ever since the movie Baahubali came out and were open to funny answers. The funniest won 2 tickets to the movie!
6. Posts on Chennai Trends:
When Chennai was being bashed by the North East monsoon that did not fail to get in the way of us making to work on time, one of our very own teammates came in late and started working like this.
#7 Influencer Marketing Meetup
Our influencer marketing wing organized first of its kind real estate bloggers meet-up in Chennai titled Urban Chennai Bloggers Meet. The CEO had an opportunity to educate bloggers about Green Homes and their vision for Chennai market which was well received by the audience. There were a lot of fun activities and games that were conducted and the emphasis was on the importance of blogging and how meet-ups like these should often happen. The whole meet was a great success and a great way to make people aware and appreciate the brand Urban Tree.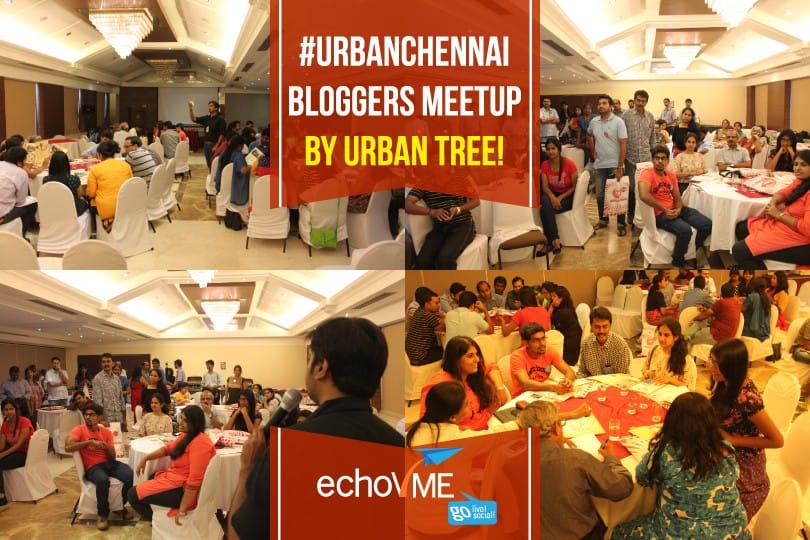 Another one of its kind of influencer meetup was organized titled 'Urban Tree Journey' where Chennai's top 5 lifestyle bloggers were taken across different properties in the city and they shared their experience on Social Media channels as they traveled from one property to another. We formulated a Royal experience for all the bloggers by picking them from a defined location and treating them in pacca Urban Tree style. You can read one of the reviews written by super popular bloggers: Shrinidi Hande.
We are now giving Urban Tree the next level touch which is important for a brand that is embracing digital marketing. Remember, in Digital there is always a question of 'From here to where?', because you can't stagnate with same strategy all the time.
If you loved this case study and want to read more of it directly on your email. All that you have to do is, subscribe for the email newsletter to stay updated in New Things In Digital.