On my daily routine of reading some interesting insights on Social Media, I had come across Chief Marketing Officer (CMO) Council and Lithium report on a survey taken by 1300 consumers and 120 CMOs called 'The Major Disconnect between Brands and Consumers When It Comes to Social Media'. The survey throws a clear picture of what exactly customer expects from brands on Social Media and what CMO perceives. An attitude and behavioral study was done amongst two different categories (usually done on one ;)), the behavior of consumers didn't match with what CMOs perceived. Below mentioned facts support the same:
The above images shows about 65% of the consumer connect with brands to participate in games and contests and avail promotions, discounts the brand offer. In another question 67% consumers responded that they connect with brands on Social Media to avail exclusive offers. This clearly indicates that people are connecting with brands on social media because they expect something in return. Surprisingly, 57% of the CMOs perceive that customers engage with brand because content is agreeable. Only 33% CMOs perceive that customers engage with brands for rewards or incentives.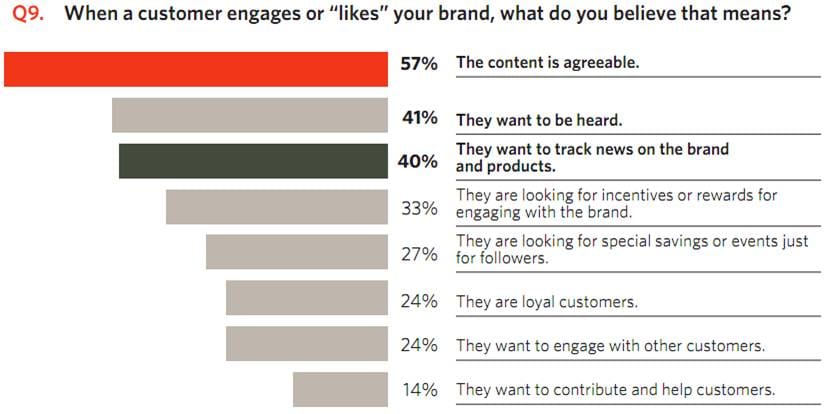 Another similar study revealed by Chief Marketer produced similar results. The study in Part 1 shows 59% Marketers believe it is unique content that matters for engaging customers in Part 2 at 39% you'll see the actual motivation consumers want to connect with brands and follow: coupons, promotions, exclusive offers, etc. And even further down the chart are flyers, offers and discounts that can either be shared with their customers or accessible via a geo-location service such as FourSquare.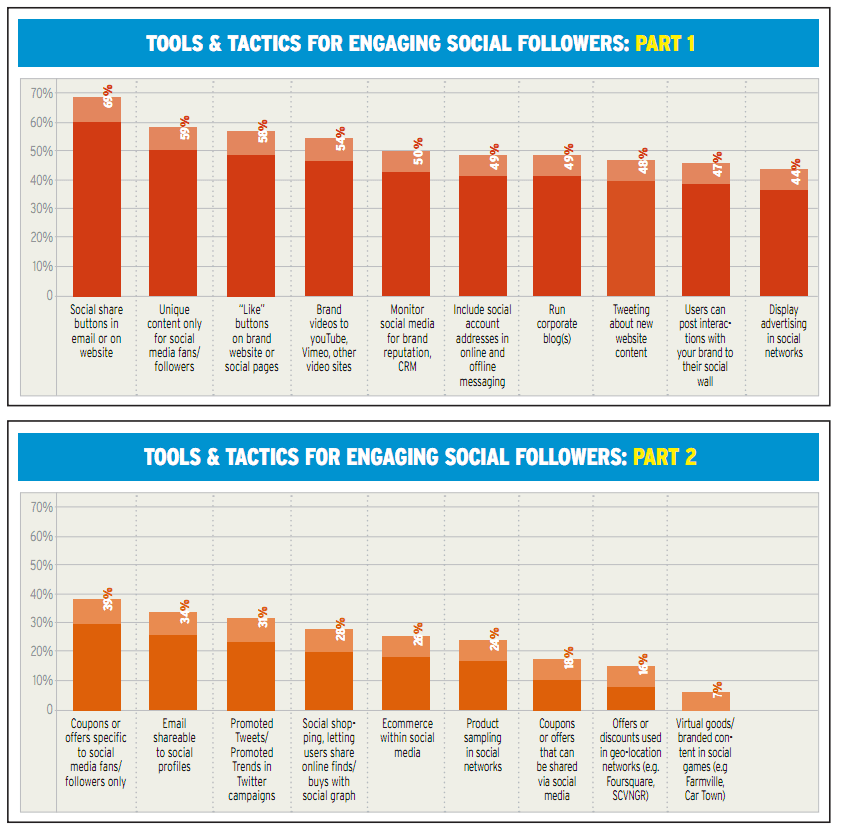 Both the studies above clearly indicate the gap between the customer needs on Social Media and marketer's perception. The study also brings the importance of freebies / promotional offers / coupons for marketers to consider as the true Social Media Currency that their customers can earn.
I Contradict!
Though both the study indicates customers are actually looking for promotional offers, coupons, discounts, freebies etc. Brands also need to believe and understand that it is essential for marketers to make a brand credible on web to make people believe in the offers shared via brand's channel. In many cases I have seen people don't engage with brand if it just shares promotional offers / contests they also need some valuable insights about the products/services, industry, backstage activities of the brand, relevant event pictures, team work photographs etc.
A B2B brand prefer to go on Social Media to keep their well wishers, stake holders informed and engage their customers with detailed information about the products and organization. As a customer I don't expect a B2B brand to offer me discounts, I follow them because I am loyal to the brand or expecting solutions that can help me decide over its products / services. Whereas a B2C brand creates a channel on Social Media for various purposes: thought leadership, integrated marketing communication, customer engagement/relationship management, as a channel to advertise its new products / services, to gain customer insights and more. In a nutshell to meet various purpose of business.
Bringing a brand on Social Media = Setting up a Virtual Office/Store:
When I go to a shopping mall I necessarily don't go to a store that highlights 'Sale / Discount' or offers me a freebie to enter. I do consider the below mentioned points too
1. The way store is put forth
2. Loyalty towards the brands the store sells or loyalty towards the store itself.
3. The way store puts across its products on the display.
4. The crowd standing inside the store, at times I prefer to enter the store which is crowded at times I prefer not to enter a store if it's overcrowded.
5. After I enter the store I also prefer to look at the price tags, product displays inside the store and the way staff behaves with customers
6. Most of the times, I relate to above incidents with brand's positioning in reality and from people's perspective
A brand entering on Social Media considers all the social media intangibles such as customer services, research and personal, image branding which definitely are important component in business. Brand's presence on social channels impacts every aspect of business from HR to finance, research, marketing, business development, CSR, operations and more. A marketer adapting "Social Media for Marketing" soon realizes Social Media is about complete business ecosystem. Social Media can never be considered as a pure marketing platform it has its set of responsibilities which a brand manager needs to understand before adapting to it.
Final Verdict:
Promotional offers, contests, games and content are all equally important to run a brand's Social Media campaign. Content helps you engage with your audience on regular basis and keep them updated about what's happening with your organization, industry (it also does impact to the overall brand equity, relationship building and generating sales). Promotional offers grab your customer's attention for quick action. Remember, promotional offers / contests / games are more tangible to calculate than the ROI of a content based activity. Your content creates mindset to relate to your brand and that works in the long run. Offers and gamification are instant. You might want to contradict or support the facts shared above, please share your views in the comment section below.
Sources: Google Images, Chief Marketing Officer (CMO) Council and Lithium, Chief Marketer