Ever since its acquisition Facebook has not taken any steps to monetize Whatsapp until a few months ago. The Whatsapp Business was first launched to a select few Indian businesses like BookMyShow – the ticketing giant in India. It's been a while since it has been testing and now, the platform has finally been launched into the Indian Market. This is going to be a cost-effective marketing strategy for small to medium businesses that are unable to build a website or a landing page.
What is Whatsapp for Business?
It is a platform exclusively for businesses to leverage the amazing features of Whatsapp with its own set of unique features. Facebook is also rolling out the call-to-action feature where your audience can directly click on the button and end up on your Whatsapp chat.
2-Step Registration:
Step 1 – First download the Whatsapp Business Application from the PlayStore/App Store.
Step 2 – Register your business mobile number- If you're already registered on to the existing Whatsapp platform, you are asked if you want to change it into a business account, as the same number can't be used on both the platforms simultaneously. Remember that once you register your business' name, you can't change it, so be sure you do it right the first time.
I have converted my number into a business profile to receive and respond to all the inquiries I personally receive, leveraging the amazing features that it brings with it. While this might be a good idea for me, a lot of people don't mix their personal and professional life. These individuals can register a new number for their businesses. This can also be done for numbers that is shared by a team to take up business enquiries and client calls, like we do at echoVME. If you're on a device that supports dual SIM, you can register the secondary number as your business number and use both the platforms simultaneously, on the same device.
The Business platform includes all the features of the normal messenger platform like stories, groups, normal messaging and broadcast messages.
In the settings you will find an option to set up your business settings where you'll find the following features:
#1 Setting Up Your Profile:
Here you can add your business address using the maps extension, business category, business description, e-mail and business. I've completed my profile and this is how it looks now.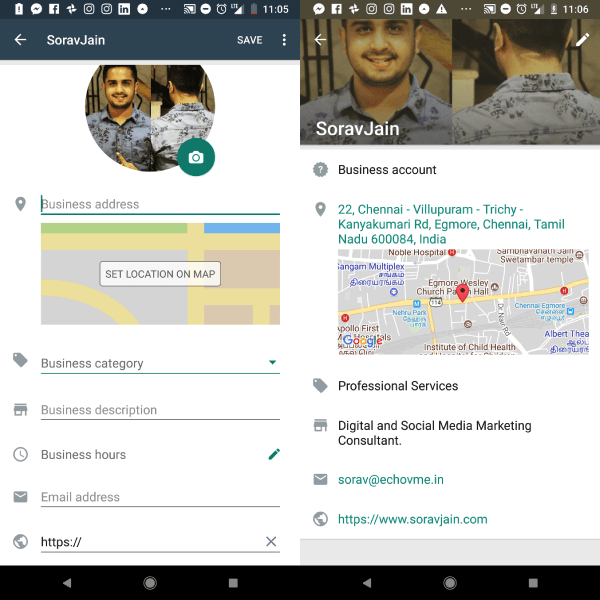 #2 Statistics
This feature doesn't have much to talk about right now. It shows the number of messages sent, received, delivered and read.
#3 Away Message
I receive a lot of messages on Whatsapp everyday and at most times am unable to reply to them promptly. This feature fills in for me and replies to my contacts with a pre-written text. You can use this while you are in a meeting or on business or personal trip. It ensures that your messages have been acknowledged. The catch with this feature is that it doesn't work on group messages. The feature can be disabled and enabled as required.
Here's a screenshot of how I've used this feature
#4 Greeting Messages
This feature sends pre-written texts to people who are texting you for the very first time or after 14 days of last contacting you. It is an effortless and pleasant way of starting conversations with new people.
Below is a screenshot of how I've used it. Since I've enabled both the greeting and away message options, the person is receiving them both, one after the other.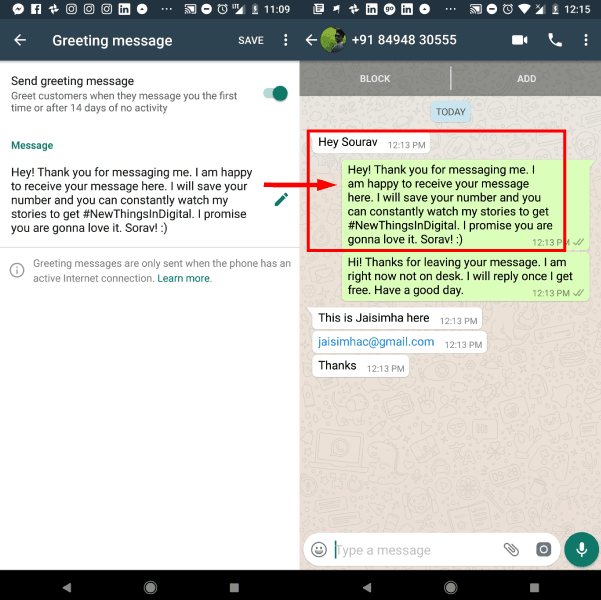 #5 Quick Replies
This is one fabulous feature that has made me love this platform even more because it helps me save so much more time when replying to texts. You can add messages under a keyword in this feature. I've saved messages that I frequently type and send to people with regards to my courses, workshops and responses to their feedbacks.
This is how I've used the keyboard shortcuts. All I have to do is type a slash and pick from the reply  from the pop-up list or just type the entire keyword.
Key Benefits Of Whatsapp Business:
#1 Initiating Conversations
The first benefit of this is that businesses can display their numbers on Newspaper ads, TV commercials and hoardings and start getting conversations with the customers and prospects driven with greeting messages and automated replies.
#2 Chatbot Automation
I've integrated this feature with the chatbot you can find on my blog. My visitors can send me a Whatsapp message and they in-turn would immediately get a greeting message from my side. This would help me in two ways,
I get to converse with the audience in a much more personal level
I can add their numbers to my Whatsapp database and market my courses and workshops to them directly via Whatsapp from now on out
What can we expect?
Sequence Automation – I'm sure that automation is going to come into play pretty soon on Whatsapp Business
Search Businesses using their names on Whatsapp – They will be rolling out the verification option soon which can make this feature much more useful
Ads- The whole idea of launching this platform was with a monetary motive, so we'll inevitably be seeing ads on Whatsapp
Whatsapp is all set with this new business model and there definitely will be more updates to follow with a whole lot of exciting features, for which I'm very eager. How all this will change the experience of normal Whatsapp users will only unfold with time.
Found this article interesting? Share your thoughts in the comments section or just ping me on Whatsapp! 🙂