I was asked by many If I am attending Click Asia Summit 2012 and I had to clearly tell NO and this blog post will put across the reasons behind it. Please carefully read the below email conversation: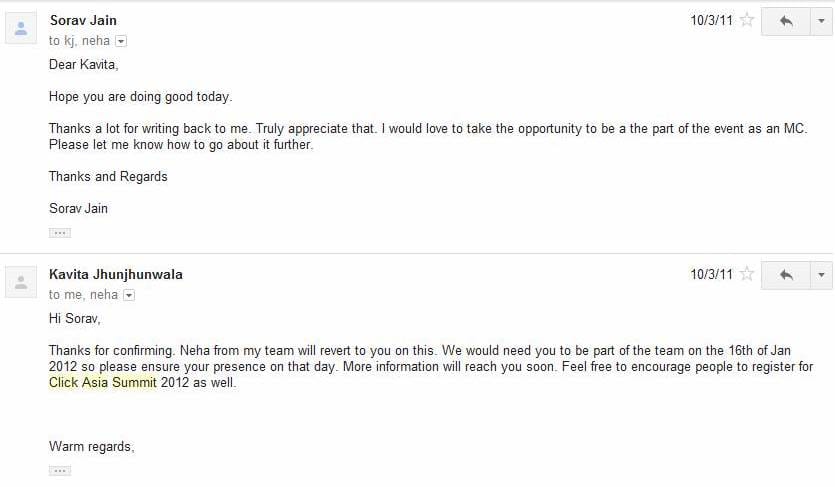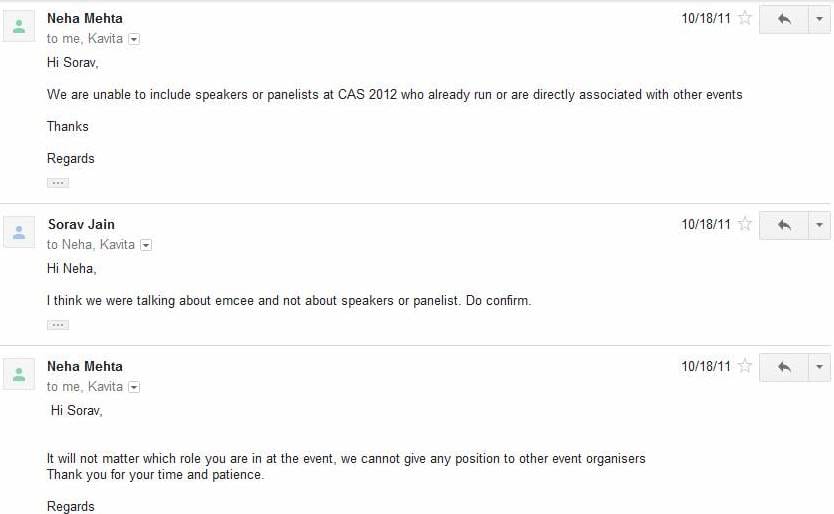 Now that you have checked the conversations, I would like to share some more points that might help trigger some thoughts about such act:
1. I had applied to Click Asia Summit as any other panelist/speaker and in response to the same Ms. Kavita had reverted to me stating the event can't host me as a speaker but I can host the event as MC.
2. I had already expressed my interest and confirmed that I would be willing to participate. In revert Kavita wanted me to promote this event via my Social Networks (I had tweeted, facebooked, blogged about it and also hosted a small banner about the event on my blog's advertising section, they were all deleted later)
3. Later when I wanted to re-confirm the status Ms. Neha Mehta responded to me stating 'we are unable to include panelists / speakers who are directly running or associated with other events". There was no such policy given while applying for speaking/panelist slot and wondering what makes them device such policies all of a sudden? I wasn't sure of what they mean't by "directly running or associated with other events" – I wished Ms. Neha had clearly mentioned in the mail the kind of events she was referring to as I am associated with several events right from my nephew's birthday celebrations, social media workshops, mashable meetups to Social Media Summit 2011.
4. I still thought Ms. Neha was confused about my presence in event as panelist/speaker as Ms. Kavita had confirmed me as a emcee ,I thought of clarifying in the response mail and I was perplexed with the tone of her response back stating:
"It will not matter which role you are in at the event, we cannot give any position to other event organizers. Thank you for your time and patience"
The above response was humiliating, any speaker/panelist on earth would expect apologies!
I am Still Curious For Various Reasons!
1. I am still not sure why other event organizers cannot participate in Click Asia Summit? Are they keeping the Click Asia Summit's organizers insecure?
2. Why was confirmation given to me on first place by Ms. Kavita with a request to promote the event? Was it to benefit the network and influence I share and later fool me?
3. Does organizing a event mean that the person cannot ever participate in Click Asia Summit even if they really have good knowledge and experience in the subject?
PS: I have no intention to bring down the brand image of Click Asia Summit with this post. My only intention is to be respected and get the above questions answered, few of which was previously raised to @ClickAsiaSummit on Twitter.