I am writing this article on day 2 of the' #kolaveri' trending on twitter! This is one of the smartest word of mouth marketing strategies adapted by movies I have seen by far after Paranormal Activity. In less than a week 'Why this Kolaveri Di' a popular song sung by Dhanush for his movie '3' directed by his wife Aishwarya starring himself and Shruthi Hassan became sensational, conversational track on Twitter, Facebook, Traditional Media and beyond.  The statistics (As of 22nd November 2011, 6:00 PM) below shows its success:
The song has got about 56,65,817 views, more than 67,740 likes, around 27523 comments on YouTube (As of 26/11/2011, 11 AM)
The song is trending on Twitter in India from past 3 days with hash tag: #Kolaveri
The song was shared by 1 Crore, 97 Lakh 1 thousand 637 people on Facebook (as of 26/11/2011, 11:10 AM)
As per Youtube's Trend Dash Board Kolaveri song is trending in the top 10 is US today and number 1 in India past five days.
This song was played in almost all the Radio Stations of Mumbai today.
This would be the first tamil song to be aired on MTV tomorrow (As said by the Music Director)
On November 22nd, 2011 on the basis of the last 1,000 tweets 8,36,069 impressions were generated, reaching an audience of 709,636 followers within the past 24 hours. Of the 1000 tweets 576 were original tweets, 302 were retweets and 122 were the @mentions.
On November 23rd, 2011 on the basis of the last 1000 tweets at 5:45 PM. 1,000 tweets generated 727,204 impressions, reaching an audience of 616,932 followers within the past 24 hours.
Some of the celebrities or popular channels who added value to the song promotion making  it to reach their thousands of followers: Amitabh Bacchan, Anand Mahindra, NDTV, Singer Shreya Ghoshal, Actor Vivek (Comedian), Madhavan, Trisha and more.
The song was released on 16th of November 2011 on hearing it first I felt this number would be a TamilNadu sensation but it went beyond what I predicted and is now becoming a national sensation by becoming a twitter trend for 2 consecutive days.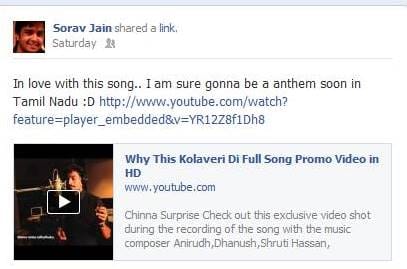 Reasons for National Sensation:
The song definitely is catchy and makes you addicted, especially the foot tapping beats that makes you shake your head (at-least).
The lyrics of the song is in English (mostly) sung in tamil style thus making this understandable worldwide,  glad they have added the subtitle bringing to it a karaoke approach.
The video of the song is very personalized depicting the recent national best actor award winner singing the song (showcasing his singing talents), his expressions and smile that shows soulful singing, presence of Shruti Hassan and Aishwarya at the studio that indicates involvement of the entire crew to make this song and lastly direction of Aniruddh a 21 year of young music director who has made this possible.
The sequence of shoot is wise, basically hero should have been depicted in a pub with a glass of whisky in hand (typical bollywood style), the choice of shooting it in a studio is wise and very personalized.
The movie marketing is well strategized with involvement of Social Media from day 1. The recording of the video at the studio with natural movements and expressions itself for the sake of promoting it on YouTube proves the efforts.
Its a smart choice to make the National Award Winner actor winner – Dhanush sing this song as his fan base is huge and I the initial spark on Social Media started from them.
The song is sensation in US, Australia, India and many other countries – love the way the movie is promoted, a song can speak more than a trailer and thanks to Social Media for making this possible.
I am sure the song has helped creating an identity of the music director, talented actor cum singer and the movie '3'.  Click here to view the song> Why this Kolaveri Di!