As of February 2019, WordPress is still a market leader in the Content Management system space with a 60.1% market share. One of the prime reason behind such a vast audience reach for WordPress is its ease of usage and the wide variety of plugins they offer.
With WordPress, you can get a plugin for almost any web functionality you desire. Today there are over 55000 plugins available for WordPress CMS which includes both free and premium versions.
To get the most out of your WordPress e-commerce store, you need to bolster your website with the right plugins. With the right plugins, you can improve customer engagement, online sales and, your overall revenue.
While this sounds really exciting, care should be taken to avoid overloading your website with too many plugins that will end up with slow loading time, poor SEO score and so forth. Choose the right plugins by the impact of their functionality to your business.
Here we narrow down to 16 WordPress plugins which can play a pivotal role in your online store's success.
If you search into the WordPress plugin column you will get thousands of search results for the same. The point is to choose the right plugin that will suit your business.
It depends on the product you sell (physical, digital downloads etc.), the ability to add more options to the plugin (a payment plugin with the option to add multiple gateways), theme compatibility (the plugin's theme should be matching with your current WordPress theme) and more.
However, there are some common plugins you can use which form the vital structure of a basic e-commerce website.
The moment you search for e-commerce in the WordPress plugin store, the first result popping out will be Woocommerce. Launched by Automattic (acquired by WordPress) Woocommerce is an open source plugin that allows you to set up your online storefront right from scratch. The plugin can further be integrated with most of your marketing and analytics tools.
The open source nature gives developers the freedom to play around with the plugin and it offers great scalability on the long run.
The open source tool is further supported by thousands of developers who constantly come up with new functionalities and themes that are compatible with the plugin.
Downloads – 4 million +
Rating – 4.5
Alternatives – Ecwid, ShopConstruct
Jigoshop brings your hundreds of in-house extensions along with it. With Jigoshop, you can easily set up your store to sell your digital products, virtual products or physical products in minutes.
With the layout manager, you can customize the theme to match your existing website's colors and fonts. You can also use CSS styling to do the same.
One of the highlights with Jigoshop is its reporting dashboard. With all buttons in one place, they generate simple graphs to infer data in the fastest way.
Downloads – 4000+
Rating – 4.5
Alternatives – Woocommerce, Easy Digital Downloads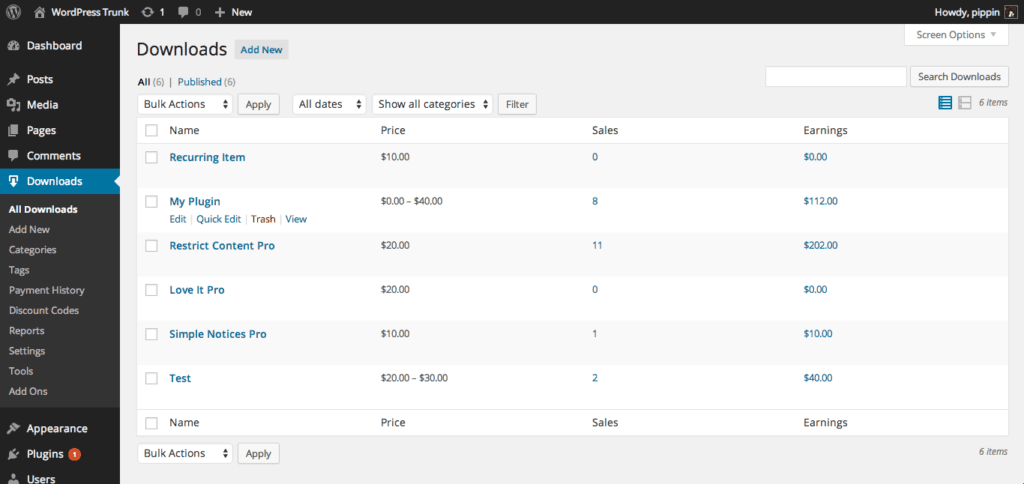 If you are selling digital products via your e-commerce store, you should strongly consider Easy Digital Downloads. Whether you are selling software, documents, graphics, songs or any digital file EDD helps you to simplify the process.
They offer some cool out of box options such as Language Localization to create a native experience, secure payment integrations (Paypal, Braintree, Stripe, Authorize.net etc. )
If you want to find more third-party plugins, you can simply look for them in the EDD add-on library that works seamlessly with the EDD plugin.
EDD also offers you the best customer management support. For every customer, a unique record is created and their online activity is mapped to it. In addition, they also provide the lifetime value of every customer which offers great value to business owners.
Downloads – 60,000+
Rating – 4.5
Alternatives – Sellfy, Gumroad
Shopping cart is powered by WP EasyCart that allows you to sell anything o its platform. Be it physical products, memberships, subscriptions, digital products – you can set your e-commerce store with this in minutes.
It comes with loads of pre-integrated extensions such as payment integrations, shipping integrations, invoice generation etc. The best part about this plugin is that it works well with all themes available. This avoids your efforts in integrating a new functionality to enable working with your existing theme.
If you are looking to set up a visually appealing e-commerce store with strong support, you should give this a try.
Downloads – 4000+
Rating – 4.4
Alternatives – Cart66, e-commerce WD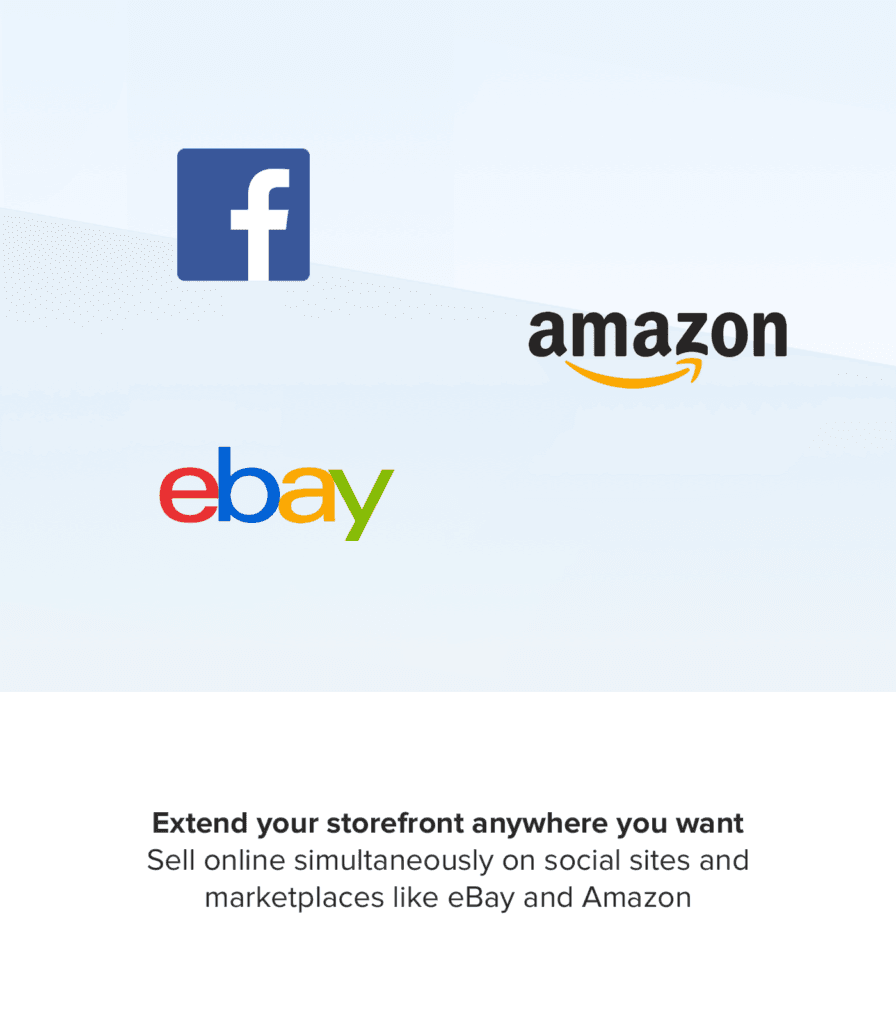 Ecwid helps you integrate your Facebook e-commerce storefront with your WordPress e-commerce store. It automatically synchronizes the products between the two platforms and helps you generate professional and simple check out pages that increase your chances of conversion.
Ecwid designs are responsive in nature and they also have mobile applications that allow you to sell, scan and accept payments on the go.
Out of the box, Ecwid supports 45 different languages and 40 payment support. They also have a support team to help you with installation and ongoing support 24*5. Ecwid has both free and premium versions which you can consider on a long run.
Downloads – 20,000+
Rating – 4.5
Alternatives – Marketpress, Easy Digital Downloads
Sumome is Marketer's best friend which aids marketers in both SMB and Enterprise level organizations to grow their customer database, improve average order value and reduce cart abandonment rates by a great margin.
The plugin which is used by 600.000 + businesses across the world has some eye catchy features you cannot refuse to accept. You can find a detailed review of this plugin here. It has a number of inbuilt integrations that will improve the user engagement and conversion across your website.
Downloads – 100,000+
Rating – 4.2
Alternatives – Mailoptin, Icegram
One of the challenging things in scaling your business is increasing your database. With the right CTA at the right place and time, you can opt users to enroll for more subscriptions which can be later optimized for promotions and other marketing activities.
Wp forms allow you to build contact forms, payment forms, email subscription forms, Mailchimp forms, Survey forms, create custom captchas and a lot more with a simple drag and drop feature.
Used by over a million users, this easy to use feature is a must-have in your e-commerce website to grow your business.
Downloads – 1 million +
Rating – 4.9
Alternatives – Contact form 7, Form maker by WD.
Most online sellers today follow a multi-channel store set-up. They sell with their own online store and in addition through third-party stores such as eBay, Amazon etc.
With Veeqo, you can integrate your third party store and your online store to monitor and manage your inventories in one place. This gives a one-dimensional view for the sellers and allows them to not oversell or run out of stock without their knowledge.
Veeqo also allows you to generate weekly, monthly even daily reports for your analysis.
Downloads – 200+
Rating – 5
Alternatives – ATUM Inventory Management, Status and order tracking
For those who want to create a visually rich product gallery and are not satisfied with the basic layout offered by WordPress, Envira gallery is a good option. It allows you to create and manage your pictures in a common dashboard.
You can create responsive galleries with popups, albums, Slideshows, Video galleries and a lot more with Envira Gallery. The best part is you do not need a developer to help you implement this feature. Envira Gallery is also optimized for best performance that ensures your website's load time is not affected by the implementation of the same.
Downloads – 100,000+
Rating – 4.8
Alternatives – FooGallery, NextGEN Gallery
If you are using WordPress even for a month, you must have come across the top SEO plugin in WordPress – Yoast SEO. With over 5 million active installations, yoast has been the favorite plugin for most users in WordPress.
Yoast offers huge functionalities to its users with respect to Content (Content analysis, Search snippet preview, Keyword analysis), Website SEO (Sitemaps, Title, Meta description, Canonical tags etc.), Site performance (Redirects, Google search console integrations, Social previews etc.)
Undoubtedly a good SEO plugin for WordPress users, it comes in both free and premium packages.
Downloads – 5 million +
Rating – 4.9
Alternatives – The SEO framework, All in one SEO pack
Learndash is the best fit to set up your store if you are selling educational courses online. Learndash comes packed with features tailored for educational websites. You can create courses, downloadables monetize it via various options like membership, one time purchases, subscriptions etc.
There are many subordinate plugins to Learndash such as Buddypress which can be used on top of Learndash. Buddypress helps you to turn your E-learning website into a Social platform. Every enrollment is turned to a member and a group is created under every course with the members enrolled.
This helps you to improve your visitors' engagement and opens up the way for cross-selling and up-selling.
Downloads – 5000 +
Rating – 3.3
Alternatives – Lifter LMS, Learnpress
FAQs are great assets in the build-up of the sales process. They are a quick and easy way to address customer query forehand and help them jump the decision making process line.
In some cases, they also help you explain better about the complex product you are selling online. With fonts in bold, FAQs also help you improve your SEO score by improving the keyword density of the page.
Quick and Easy FAQs help you create groups of FAQs in the simplest and quickest way. You can create these FAQ groups and then choose to display a particular group by shortcodes wherever necessary.
Downloads – 10,000 +
Rating – 4.6
Alternatives –Ultimate FAQ, Accordian FAQ
Supercache derives a static HTML page out of your dynamic WP site and caches it to the local server. When a user visits back your website the cached static HTML site is loaded for the visitor. This is relatively faster compared to loading the dynamic website.
This plugin helps you load your website 2X faster than your normal load time. You can customize this on how or what content to be cached based on the user's activity on your website.
Downloads – 2 million +
Rating – 4.3
Alternatives – Faster cache, Total Cache
Simple membership tools help you create subscription level content or digital asset access within your website. You can choose the different levels of subscription and allow content access based on the same.
It is a simple set up and there is an active support offered behind. The tool further comes with language translation support for over 30 languages. It works with any WordPress theme and allows you to protect any digital asset such as Images, Gallery, Videos, Ebooks etc.
Downloads – 30,000+
Rating – 4.4
Alternatives – Members plugin, Membership 2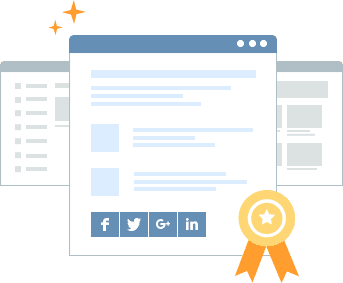 SEMrush is a brilliant tool and offers a wide array of features to help you make your SEO decisions. It has its writing assistant pack which gives you suggestions based on the keyword score and the keywords used in top 10 search results of Google.
Apart from this, integrating with SEMrush you can view your competitors' traffic, their golden keywords, Social media tracking and a lot more.
Create a mobile responsive countdown timer on any of your posts or page by pasting a simple shortcode. As an e-commerce seller, you might wanna run some offers and time limit deals. Well, this widget plays handily to run the clock on the front end for the visitors.
The widget is completely customizable with colors, format, and choice of metrics (days, hours, minutes and seconds)
The pro subscription offers more customization with 12 different clock designs, Custom CSS options, Multilanguage and more.
Downloads – 10,000+
Rating – 4.8
Alternatives – Widget Countdown, T- Countdown
These are some of the top plugins that can be used for an e-commerce store. As you would've inferred by now plugins are dependent on the products you sell and the method by which you monetize.
Keep in mind your business goals and understand how a plugin will help in reaching it. While choosing customer facing plugins such as Payment and Shipping gateways, find your audience's choice from the past or find from your competitors on which gateway is the most preferred option for your target segment.
Do you have more ideas in mind? What is the most exciting WordPress plugin you have come across? Let me know in the comment column.