Founded in the year 2005, YouTube has grown to be the biggest video gallery of the world. With free access to the videos, YouTube is also the biggest video platform in terms of the user base. The platform is owned by Google and is the second most visited website of the world in terms of time spent.
Where there are multiple Social Platforms fighting for the top spot, YouTube doesn't have any direct major competition and with its feature of easy sharing options on any Social Media site, it's compatible and easy to use.
It is the major source and support for many movie trailer releases, news channels, online content creators, educational agencies, skills agencies, artists, and almost every major happening around the world.
Here are some very interesting stats and facts about the beloved YouTube:
YouTube Usage Stats and Facts:
YouTube is available by default in almost all the smartphones, and hence the user base is a mixed bag with online and offline users, here are some Usage facts about YouTube:
Worldwide, YouTube has over

1.9 billion monthly active users 

(logged in)
YouTube has over

30 Million visitors

daily.
YouTube is available in more than 91 countries and it supports

80 different languages

.
Every minute

300 hours of videos

are uploaded on YouTube.
YouTube is currently the

2nd most-viewed

social platform and 2nd highest ranked site.
Out of 86% overall on-demand music streaming demand, YouTube accounts for

47% of music content

.
In 2018, YouTube doubled its number of pre-roll display ads
YouTube contributes

6%

of total Google's ad sales revenue.
YouTube is the

4th most valued

social platform according to B2B marketers.
YouTube Engagement Stats and Facts:
YouTube has a simple interface and allows users to watch the videos whether registered or not, this makes engagement with the app easier. Here are a few YouTube engagement stats: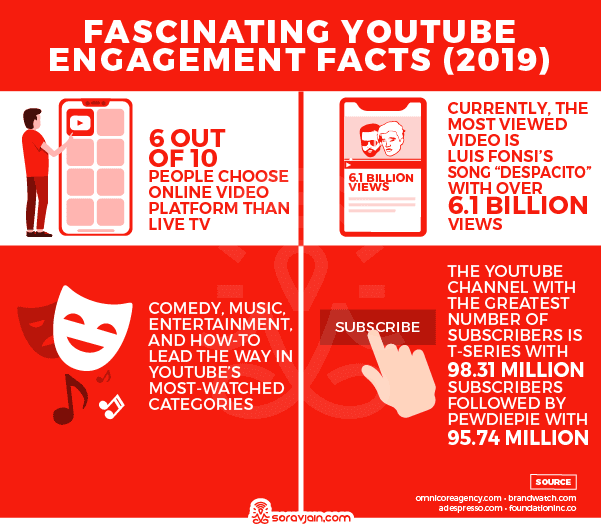 6 out of 10 people choose online video platform than live TV
Currently, the most viewed video is Luis Fonsi's song "Despacito" with over

6.1 billion views

.
Comedy, Music, Entertainment, and How-to lead the way in YouTube's most-watched categories.
The YouTube channel with the greatest number of subscribers is T-Series with

98.31 million subscribers

followed by PewDiePie with

95.74 million

.
YouTube User's Activity Stats and Facts:
For many, YouTube has become a daily routine. They make it a point to spend a few hours before sleeping on YouTube. Here are a few stats about the user's activity: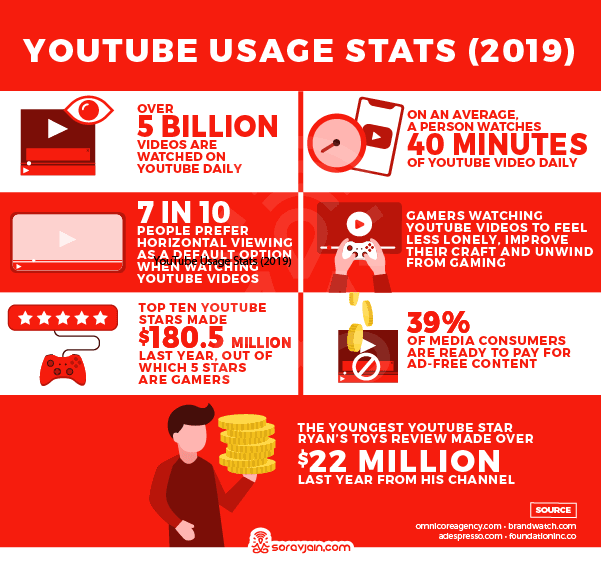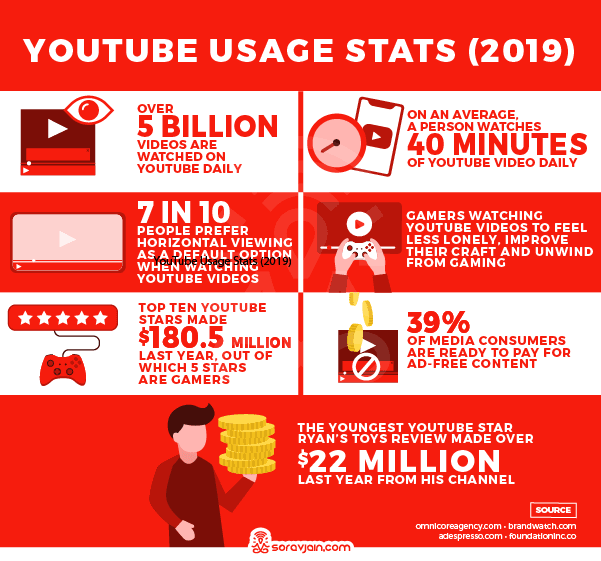 Over

5 billion videos

are watched on YouTube daily.
On an average, a person watches

40 minutes

of YouTube video daily.

7 in 10 peopl

e prefer horizontal viewing as a default option when watching YouTube Videos.
Gamers watching YouTube videos to feel less lonely, improve their craft and unwind from gaming.
Top ten YouTube stars made

$180.5 million

last year, out of which 5 stars are gamers.

39% of media

consumers are ready to pay for ad-free content.
The youngest YouTube star Ryan's Toys Review made over

$22 million

last year from his channel.
YouTube Smartphones Stats and Facts:
Smartphone has been a boon to YouTube. With Android owned by Google, it has made YouTube default as one of the many Google apps that are available on a smartphone by default. Here are a few smartphone facts: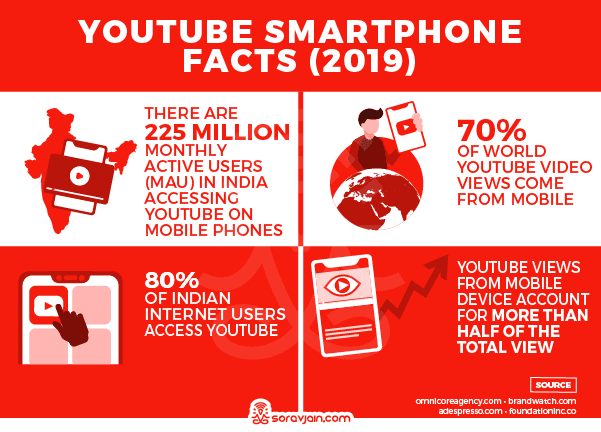 There are

225 million

monthly active users (MAU) in India accessing YouTube on mobile phones.

70%

of world YouTube video views come from mobile.

80%

of Indian Internet users access YouTube.
YouTube views from mobile device account for more than half of the total view.
In 2018, YouTube became the top IOS app.
YouTube India Stats and Facts:
T-Series, the Indian channel, recently became the most subscribed YouTube channel and the first one to cross the 100 Million mark. Here are some facts related to YouTube India: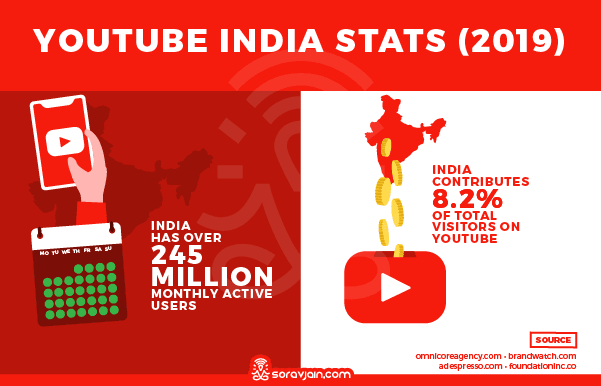 India has over

245 million

monthly active users.
India contributes

8.2%

of total visitors on YouTube.
YouTube Demographics Stats and Facts:
YouTube is one of those platforms that attract youngsters and old people alike, due to the diverse range of content available. Here are a few YouTube demographics Stats and Facts:
38%

of YouTube users are Female and

62%

are male.

94%

of 18-24-year-old use YouTube platform.

59%

of people between the ages 16-24 have increased their YouTube usage in 2018.
YouTube is one of the fastest growing Online Video community, and it is a great source of content for viewers and a great source of earning for creators. And being a Video only based platform, it pushes people to create content that can actually connect with the users.
Are you a frequent YouTube user too?