In this digital age and life, we all want to make our life faster, easier yet better. That's when advanced technology helps us with some great timesaving methods, so that we don't vacillate following organized schedule. I'm personally make most use of digital technology tools  to accomplish specific task and business structures. In the urge of remaining up-to-date and automate my routine tasks I scoured the web and came across Zapier – My Smart Web Automation App!
I already reviewed SumoMe  and AWeber  that does awesome work for generating traffic and building email subscription lists, let's see what Zapier can do:
Introduction – What is Zapier?
Zapier is a web service that let you automate tasks between other online apps you might be using. It is actually an action automated cloud tool that helps to integrate with other apps making everyday work time efficient and simpler. Wade Foster is the CEO and Co-founder of this excellent Integration Platform as a Service (iPaaS) Zapier, which integrates with more than 500 web apps. User interface is very simple, even non-technical people can handle it well.
Zapier is often compared to IFTTT, as they work alike, I have also used IFTTT recipes for Facebook  and Twitter, but Zapier's Zap (automation action) can somehow manage to do more of collaboration work and syncs with many other social media marketing apps than IFTTT. The free version of Zapier allows you to create up to 5 Zap a month, which is limited to 100 tasks per month and offers syncing once in 5 minutes.
Zapier's Zap is a combo of, Trigger and Action, when a Trigger takes place in one app, Zapier will automatically do the Action in other integrated app.
Example of Zap
Gmail to Dropbox Zap – When you receive a new Email in your Gmail (an Trigger), Zapier will automatically send that to Dropbox (an Action) for saving a text file of received email.
Instagram to Twitter Zap – When an image is posted on Instagram (an Trigger), Zapier automatically shares it (an Action) with your Twitter follower.
There are enormous ways to create a zap, you just need to use your creativity to make them and then forget them!
Why should we use it?
If you love automation, you will love Zapier, here is why:
It automates Email, for example – saves my Gmail attachments to Dropbox.
Automates repetitive social media tasks
Manages Twitter contacts and Connections on Linkedin in few hits
Auto-posts blog content on Social Networks
More than 500 apps allows to create integration with each other. Most popular ones include Google Spreadsheet, Wufoo, Twitter, Facebook, Dropbox, Evernote, Aweber, Paypal etc.
Creating "Zap" is just quick and easy.
Thousands of online Zap available to use that's been shared by users.
It is more of an organization tool that integrates, automates and makes you happy!
Functionality and features of the Zapier
Quick API Connections – Zapier's API is simple and quick in action, which allows one application talk to another without any technical intervention. Also the process of connecting the app you are using to Zapier gets done in few clicks.
Drag and Drop Functionality – Drag and Drop functionality of this tool is just cool. Using this simple interface of Zapier you can integrate one app with dozens of app on web. Ease of use is the most important feature for Zapier's sustainability.
One Zap, Many Integration – Once you create a zap on the platform, Zapier will allow you to integrate with all other web app using the same zap.
Automated Feature – As you create a Zap, the tool will continuously (every 5 minutes) check for new trigger and perform action on other app. This task automation can really be helpful when you are in to social media marketing business or any business that require time-saving.
Multi-step Zap – An excellent addition was done by Zapier to this trigger-action mix. Now they have Multi-Step Zap that let you chain as many Actions as you want to a single Trigger. You can create any number of multi-step zap, for example- when a new email is received in Gmail, you can get the alert in slack, save the attachment in dropbox and email text can be saved in Evernote. The choice is yours to create 3 step, 5 steps or 20 – 14days free trial is available to try multi-step action.
Customer Support – For any issues regarding dealing with Zapier can be sorted out by mailing the team or via faq section. As there is nothing technical about Zapier, you would mostly have no need to check the help section.
Other Key Features:
Regular maintenance of available APIs
Manages connected accounts
Varieties of online zap templates
Online user community
Manage all Zap from one activity dashboard
Upload your own zap to make it public
Easy Developer Portal
Zap Control – On/Off
Recently added folder feature
CRM, EPR, POS, SMS, Social Media, eCommere and many more integration
What all we need to use this platform?
Zapier is useful for both – professional and business life, here is what you would require using Zapier:
You must be a registered user of Zapier
You must be using the apps displayed on Zapier
An urge to automate work flow and save time
How to use Zapier – Step by Step Process
To get started sign up https://zapier.com/sign-up/ and log in with Zapier
Now you need to select (minimum 5) of social media accounts or apps that you might be using. There are over 500 apps so don't just settle on recommended ones.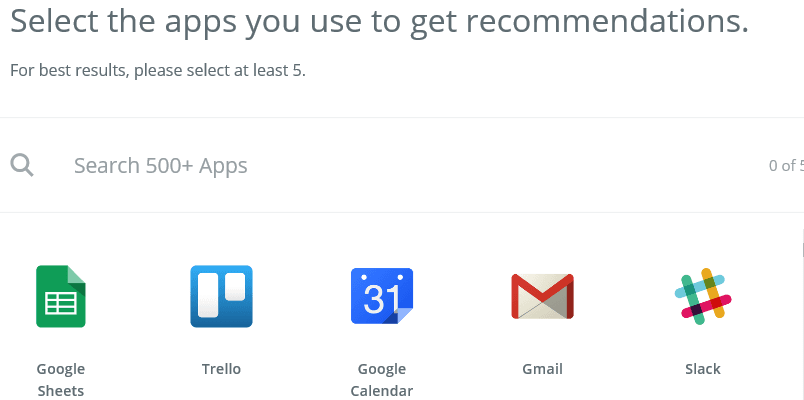 You will now see "Make a Zap" link and apps that you have selected.
You can create your own zap by slapping on "Make a Zap", here you will be asked "Choose a Trigger App" again most popular apps will be listed, so choose accordingly.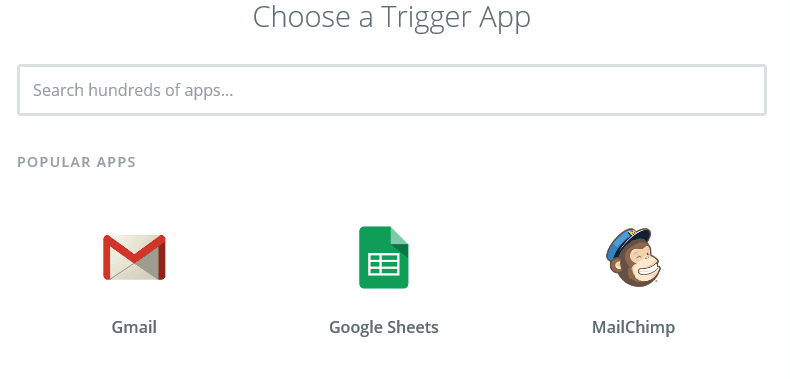 For example if we choose Gmail in the Trigger column, Zapier will suggest various Gmail Triggers available – New Email Matching Search, New Attachment, New Theard, New Starred Email, New Email etc. Select any one and click save+continue to go further.
Adding your Gmail account to Zapier is the next step and go with Save+Continue.
Here you can select Label/Mailbox (optional)
Now the test Gmail Zap is done.
Now it's time to select an "Action App".
Say for example you choose Google Calender for Action Purpose: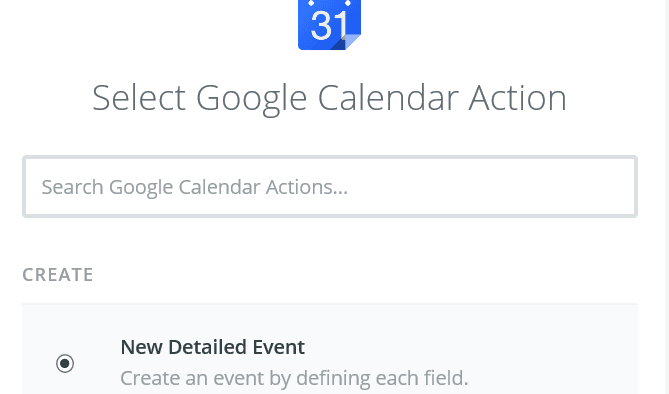 It will prompt you to connect to calendar account just like how did it for Gmail.
Fill the required information Calender, Describe Event, Attendees etc.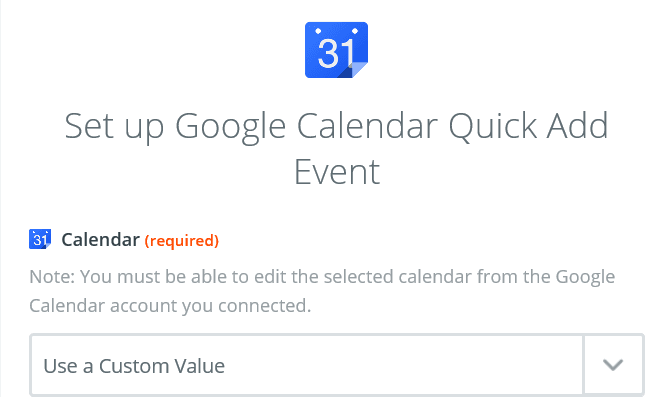 That's it click continue and you are ready to turn your Zap on, however don't forget to name your Zap to keep track.
This is how many more zaps can be created, however to save some more time you can choose from the range of Zaps created by other Zapier users displayed on the dashboard.

Ways to use the Zapier
Sky is the limit when you speak about integrating apps using zap. Almost all types of people use Zapier, like Freelancer, Large Enterprises, Mid-Size Business, Non-Profits and Small Business for making their work flow simpler. As mentioned earlier there are more than 500 apps for which you can set trigger and action to automate things. Further if you build new app (with API) or run a SaaS service, it can be added to Zapier by contacting the company at Zapier Developer Platform 
Here are top ways how people use Zapier:
Wufoo to AWeber: Wufoo form builder to AWeber email marketing – just superb!

Twitter to HipChat – Never miss a Twitter update when it comes on HipChat!
PayPal to Gtalk – Receive alert on Google Chat when a payment is received on PayPal.
Likewise extend your imagination and make more interesting zaps that can really help in your day to day life!
Results that the Tools Bring:
No more tedious manual work such as exporting files, making entries, tracking, reporting or rooting the contact forms on Google Spreadsheet.
Blog content, Tweet, Instagram Photos, Facebook Update and many more tasks automatically gets shared.
Automates everyday tasks such as SMS for email received, RSS feed posting on Facebook, Saving AWeber entries to Google Docs etc.
Keeps my customer and followers updated, which harvest more business leads.
Also able to handle sales inquires instantly.
Tremendous improvement in site traffic.
Helps to assign and manage workflow in-between teams and staff.
Time-saving trigger action zaps allows me to "do more with less"
No more repetitive and duplicate tasks – works smarter, not harder.
More time for family, business and life!
Pros and cons of the Zapier
Pros
Facilitate data transfer between two separate apps.
Easy to make connections without coding knowledge
More than 500 apps to produce integration
Brings different platforms together – no grudges!
Great customer support service
Free trail
Cons
Harder to master when just getting started
Just 5 Zap and 100 repetitive tasks on free version
Checks for updates frequently (every 15 minutes) but not instantly
Just web based, no platform support for iPhone, Windows or Andriod
No phone support and videos tutorials
Pricey
Zapier Pricing
Free $0– 5 Zap, 100 tasks
Basic $20/Month – 20 Zap, 3,000 Tasks
Business $50/Month – 50 Zap, 15,000 Tasks
Business Plus $75/Month – 75 Zap, 20,000 Tasks
Infrastructure $125/Month – 125 Zap, 50,000 Tasks
Conclusion
What I think about Zapier
If you want to receive maximum share on your blog, take care of entire social media activities or just want to increase the work fluency, this app can really help. I use Zapier to connect my digital media business application to other apps and it makes my workflow smoother. Few ways I use Zapier:
Storing the Aweber registration on my Google Drive.
Bridging the gap between Facebook ads and Email marketing tool through automating the direction of leads.
Sharing of new Facebook pages post to LinkedIn.
I would highly recommend using Zapier, especially when you have a free trail of 14 days. So are you a Zapier user? Let us know what wonder it did for you!