Chatbot in simple terms is your digital assistant built to take care of your business interaction with the customer to a certain extent. It is gaining great popularity in the field of digital marketing. That's because it saves time and effort by automating customer support system. This interactive agent not only responds to customer's queries, but also does business tasks, such as gathering user's information, setting up the meeting, and of course reducing the overhead cost.
Chatbots can be integrated with messaging apps, such as Whatsapp, Google Hangouts, Viber, Facebook Messenger etc. These messaging apps are picking up the pace at a tremendous rate. Especially, the Facebook Messenger today has 70 million daily active users and 1.8 billion monthly active users. Those that consider Facebook Messenger more than a tool for personal communication and regard it as an effective channel for business interaction should try adding an effective Chatbot to their messenger.
There are more than 30,000 active chatbots on Facebook's Messenger and I have tried my hands on ZoConvert that let you create your Facebook Messenger bot quickly and do offer productive results.
ZoConvert is an online tool that lets you create Facebook messenger bot in a matter of minutes. It's an easy-to-deal-with marketing tool that marketers can use to capture business, retain leads, build an audience, personalize updates and automate the messenger marketing process.
Digital marketers can create their own chatbot and add it to their messenger so that their Facebook messenger audience can reach them directly and quickly. ZoConvert is an extremely effective tool to engage with the audience and resolve most of their query without any human interaction.
ZoConvert was founded by Atyab Mohammad in 2017.
How does ZoConvert help Facebook Marketers?
Fast and Flexible – ZoConvert hardly consumes your time to get installed, even you are not much into coding. Also, the UI is easy to understand and follow.
Automate tasks – ZoConvert automates some of the tedious tasks such as setting up default replies, schedule notification based on time zones, trigger campaigns, broadcast marketing messages and segment the subscribers.
Better Engagement – It's a no-brainer higher engagement with which your customer can boost conversion rate. ZoConvert does exactly that, it responds to 100% messages from the customer and tries converting visitors to the buyer.
Push Subscriber – ZoConvert does an excellent job of turning your Facebook page fans into active subscribers.
Available 24*7 – With ZoConvert your target audience will have zero wait time for receiving a response. This Chabot works 27/7 and is slowing replacing live chat and other forms of communication such as emails and phone calls.
Collect and Analyse Customer Data – This platform understands customer behavior and gathers data about them. Data such as location, gender, characteristics, type of device, browsing habit can all be gathered and analyzed effectively.
ZoConvert – Pricing
ZoConvert Pricing model is quite appealing. They charge you on the pay-as-you-go model basis on the number of subscribers per month. However, the interesting thing is that you can engage up to 500 subscribers for free, forever!
Once you cross the 500 subscribers' mark you will be automatically be billed based on their price slab. They charge $39/month for up to 5000 subscribers and $59/month for 10,000 subscribers.
Comparison Study between ZoConvert, ManyChat, and Chatfuel
Like I said earlier, there are many Chatbots available for Facebook Messenger, choosing one could be confusing and tedious. So to help you guys in setting for the one you may need, here is a comparison study between the most popular Facebook Messenger Chatbots – ZoConvert, ManyChat, and Chatfuel. This study is purely based on ease of use and features, to assist you to pick the platform that might work best with your business.
| | | | |
| --- | --- | --- | --- |
| Chatbot Features | ZoConvert | ManyChat | Chatfuel |
| Personalized Dashboard | Yes | Yes | Yes |
| Broadcast | Yes | Yes | Yes |
| Easy UI | Yes | Yes | Yes |
| Chat Plugin for Facebook | Yes | Yes | No |
| Audience Builder | Yes | Yes | Yes |
| Custom Pop ups to get Subscribers | Yes | Yes | No |
| Free Version | Yes | Yes | Yes |
| Comment Tool | Yes | Yes | Yes |
| Flow Builder | Yes | Yes | Yes |
| Click tagging and data | Yes | Yes | No |
| Non-Branded Main Menu | Yes | No | No |
| JSON API Plugin | Yes | No | Yes |
| Advance Growth Tools | Yes | Yes | No |
| Location Share | Yes | No | Yes |
| AI Powered Platform | No | No | Yes |
| Live Chat Within Platform | No | Yes | No |
| 24/7 tracking | Yes | Yes | Yes |
| Cloning | Yes | Yes | Yes |
| Automated Messages via RSS | Yes | No | Yes |
| 24/7 support | Yes | Yes | No |
Clearly ZoConvert is packed with the robust feature; however, ManyChat is also faster and easier way to get started with. Go with a free trial and explore which works best for you.
5 Problems ZoConvert Solves 
There are many salient features of ZoConvert, but the most important 5 things this tool is trying to solve is as follows:
1. Use ZoConvert in Facebook: If you have a Facebook account, this could be the app that helps you do marketing with your customers. Engage with them when they are at your store and ensure that they there and ensure that you give them all the comfort they require and engage with them. This keeps users engaged and entertains them while in your store and helps them pick you over others.
2. Easy creation process: This product is one of the best in the market because it does not need developers or experts to work with it. All it needs it some adaptation to the technology as is true with all the easy to use tools in the market. This helps users and developers alike to ensure the easy access to the tool to provide feedback.
3. Increases your audience set: More often that, in today's day and age social media is an important piece of any product that needs to be sold. This ZoCovert tool actually helps enable you to convert potential customers on Facebook to subscribers thereby increasing your visibility. Additionally, they don't even have to interact with you on Facebook to do this.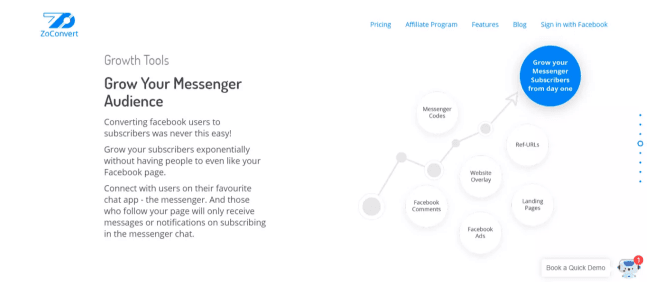 4. Send messages across the globe: Broadcasting messaging can be tricky; making it look like personal messages, even more so. ZoCovert helps you broadcast information and messages all over the world seamlessly, that too within the Facebook system using Facebook Messenger.
5. Keeping it personal: ZoCovert lets you keep messages personal and on a 1-1 basis. More importantly, it is an interaction based on a recent activity making it more relevant and useful for the end users.
How can ZoConvert be used across the industry?
A Chatbot today can answer questions, solve customer issues, recommend the product, and do many more activities without errors. It has become an important customer service tool in various industries. This technology is constantly improving and tools like ZoConvert can help a number of industries achieve their customer engagement goals. Here are some examples:
Many brands have installed chatbots and have successfully leveraged user data like web habits and area of interest to create customized communication. By installing ZoConvert digital marketers from various fields can automate anything from receiving food orders to answering millions of customer queries and booking a hotel. Further, it offers social media analytics that will make a great addition to the brand's digital marketing strategy.
The good thing is, a customer today is ready to converse with chatbots, and the technology is here to take advantage of chatbot's potential and change the way of brand's engagement with customers.
Step by step process to integrate ZoConvert with your Facebook Page.
Open ZoConvert on your browser.
Click on Sign in with Facebook button, a new window will open with the Facebook login page.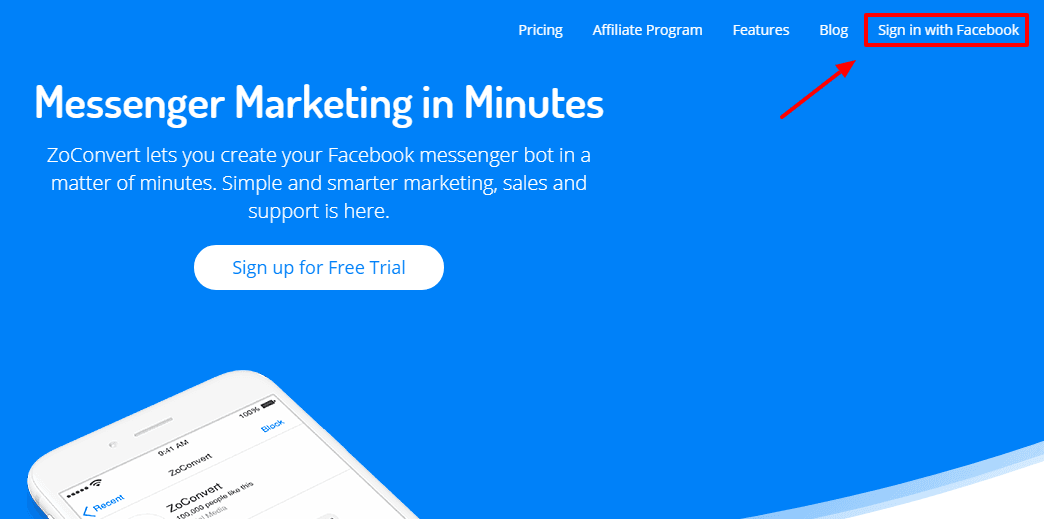 Enter your Facebook login credentials to proceed.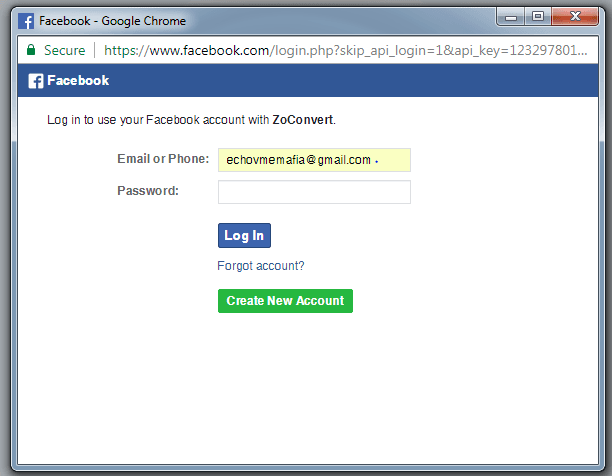 The next page will show all the pages associated with your Facebook account.
Select the page you want to link with Zoconvert, click on connect to proceed.
Once you have clicked on the pages to be connected and linked with Zoconvert you can see and check your audience growth.
If you don't have a Facebook page, create one and browse back to ZoConvert to complete the process.
Conclusion
Today, many digital marketers have started to understand the benefits of using a Chatbot. This technology is however still in a developing stage, the capabilities will continue to increase and I'm sure the best Chatbots have yet to be created.
Having said that, for now, ZoConvert is one of the best in the market, so try your hands on this platform and be at the forefront of innovation.