What is Zoho Campaigns?
Zoho Campaigns is an email marketing tool that can help you to expertly carry out your email marketing campaigns and nurture your leads through it. It has several cool features that can boost the efficiency of email marketing campaigns by 10x.
I, personally, in an email marketing tool, would look for automation and regular analytics report. This product is one of the best that I've used as it helps a great deal while segmenting the audience, and analysing the performance of the campaigns in batches. Also, it can be integrated with the Zoho CRM tool so that sales and marketing can work in sync with each other. The tool can also be connected to many third-party applications including G suite, Facebook, YouTube and WordPress. With the different categories of email templates such as saved, pre-designed and basic, email creation can be wholly done using drag and drop options which are comfortable and time-saving.
The dashboard and the overview of Zoho Campaigns.

Each module will be covered in-depth in the sections below.
Overview of the Zoho Campaigns
Here's an example of the mock email that I created. This shows the ease of functionality of the product.
Step1: Click on the create campaign option and fill-in to the necessary information such as campaign name, subject, etc. Here one of the essential steps is to turn on the reply tracking option. This will allow you to keep track of the replies from the audience. I will show an example of this in the subsequent sections.
Step 2: You can choose a template depending upon your business goals. If you are code-savvy, then you can use the HTML code editor to modify certain aspects of the format. You can also import HTML and CSS files.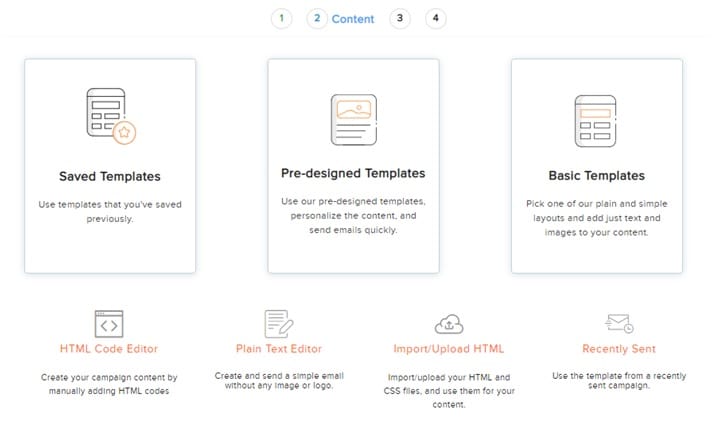 Step 3: I chose the Pre-designed template option by Zoho Campaigns.
Step 4: Create the best email for the campaign objective, here.
This is the mobile preview of the email.
Step 5: Choose your email contact list or create a list. You can turn on tracking options, response actions and social interactions here if need be.
Final step: Click the send option, or save option for future use.
There is also an option of sending mock emails to multiple recipients. This is to check the look and visual appeal of the email/newsletter.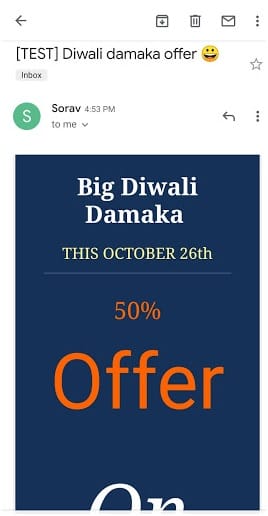 There are several other advanced campaigns that can be performed in a few simple steps.
The strongest features of the product, and their benefits
-> Subscriber management:
You can manage your subscriber list here using the subscriber management features. Right campaigns can be sent to the right audience at the right time using the contacts module. There are also templates available for signup forms and QR codes that can be incorporated in the website and social media sites— a great way to gradually increase genuine subscribers.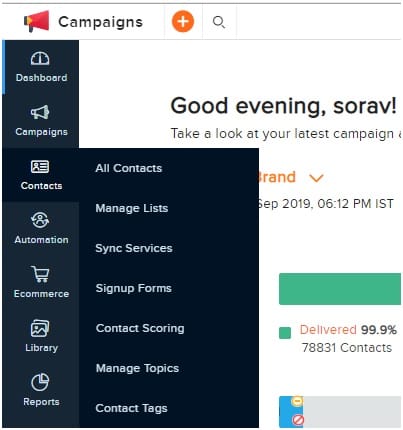 Templates for signup forms.
-> Sending messages in batches:
Sending messages in batches. This feature can give you a hand while sending to a huge mailing list. You can separate one campaign into several batches and send them at your own pace. This way, there will be more time to review each batch's performance intensely.
-> Test audience behaviour by A/B testing:
Not hitting that conversion rate mark has often been a problem for many email marketers. With this A/B testing feature the risk of getting a low conversion rate to an extent. You will have to send different emails to similar batches of audiences.
-> Autoresponders:
This part is what makes me excited the most about this product. Scheduling the response for emails comes in handy with this autoresponder module. The major part of the work in the email marketing campaign lies in the execution part, i.e. follow up. Using this tool, you can create follow-up plans for signup, a particular data-field, a group, etc.

-> Workflow:
Many predefined workflow templates are available here. You can choose from the existing template or create your workflow to construct a defined pattern for your email marketing campaign. This is a crucial tracking assist. Also, you can implement different strategies of workflow for every batch and test the outcome. The crucial part of the email marketing campaign would be follow-ups and re-engagement; with the help of workflow, you would be able to concentrate more on nurturing the leads.
The bonus is that the workflow can be customized by just choosing a template and customize according to the business needs only using the drag and drop options.
The bonus is that the workflow can be customized by just choosing a template and customize according to the business needs only using the drag and drop options.
The part where it gets harder is when you start keeping track for the performance of each one in your email campaign. With workflow, you can know exactly what path that each lead has taken. Trust me; this data can change the way we look at email marketing because it's so thorough and regular.
-> Pre-designed Newsletter templates:
There are templates for several occasions that you can pick from. Or you can develop your template using HTML coding. Using the autoresponder option, you can schedule newsletters to batches of audience.
-> Dynamic content:
For personalized messages, you can use the dynamic content option where you can change the email content for a specific group of audience
If you have a different audience from different cities, you can customize the content for each city accordingly. This can be done for many other categories.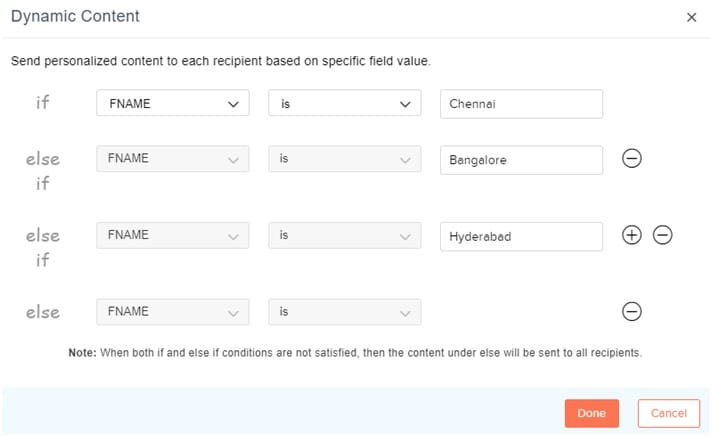 -> Merge tags:
Creating a personalized connection with the audience is one of the significant sales-drivers. This feature allows you to do just that. You can establish personal relationships with the audience by even addressing them on a first-name basis.
-> Limited campaigns that do not alert the audience as spam content:
You can restrict the number of emails that goes out to your subscribers by setting a limit on the number of mails they should be receiving.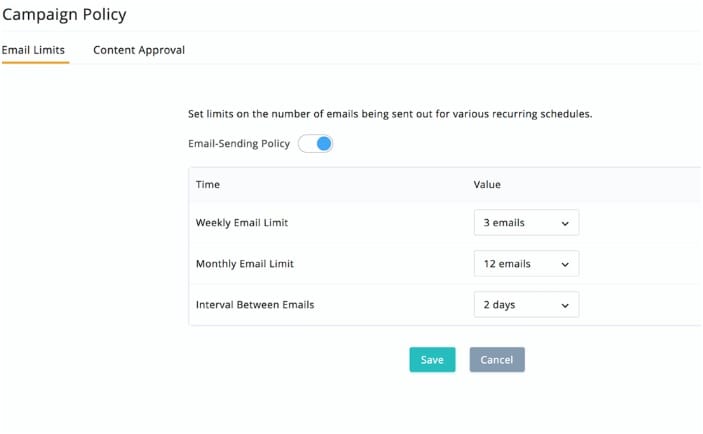 -> Easy report assessments:
They offer real-time analytics which gives the current state to your email campaigns. You can track the bounce rate, open rate, the unsubscribes for your campaigns. One feature to note here would be that you can get the geo-location reports of your campaigns and what device people are using to view your campaigns. You would also be able to get a timeline on when your subscribers read or viewed your message.
What makes the product stand out?
The ease of use, as I mentioned earlier, is a significant pro. There are several email marketing tools in town, but Zoho Campaigns provide a good range of features at adorable pricing.

They also offer a subscriber-based plan that you can calculate the amount based on your subscribers.
Other than email marketing campaigns, you can also create posts here, for different social media platforms.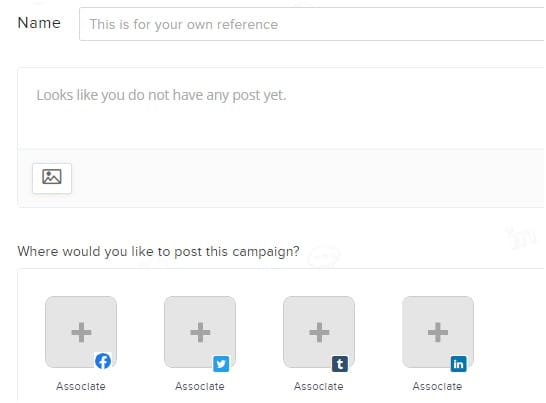 Social media post creation entry field.
I found all of the smart tools such as personalized emails, dynamic email, test email, send time customization, bulk segmentation, reply tracking, etc. to be focussed entirely on the growth of sales.
You can sync it with Zoho CRM so that the sales and marketing can stay in sync with each other.
Automation for literally anything is available in the tool. You can even set a limit to the number of emails a subscriber should receive.
You can integrate it with many external softwares and platforms. There are also advanced campaign options available.
Advanced campaigns options.
Videos are the next revolutionary trend in digital media. You can add videos in the mail with the merge tags option.

Wrapping up
Zoho Campaigns is an excellent tool for integration, automation and analytics. I would recommend the tool to bring holistic email marketing to your business.