2020 is almost here, and we can see the platforms finally rolling out all the significant updates they planned for the year. However, we can already see them prepare for the next decade with some of the basic updates seen this month. Where will they lead to?
From Instagram testing 'TRY ON AR', Snapchat's 'Dynamic Ads', to Facebook's expansion of search ads and Google's Conversions by Time reporting; let's look at the round-up of the new things in digital for October.
#1 Instagram's Now Testing New AR 'Try On' Ads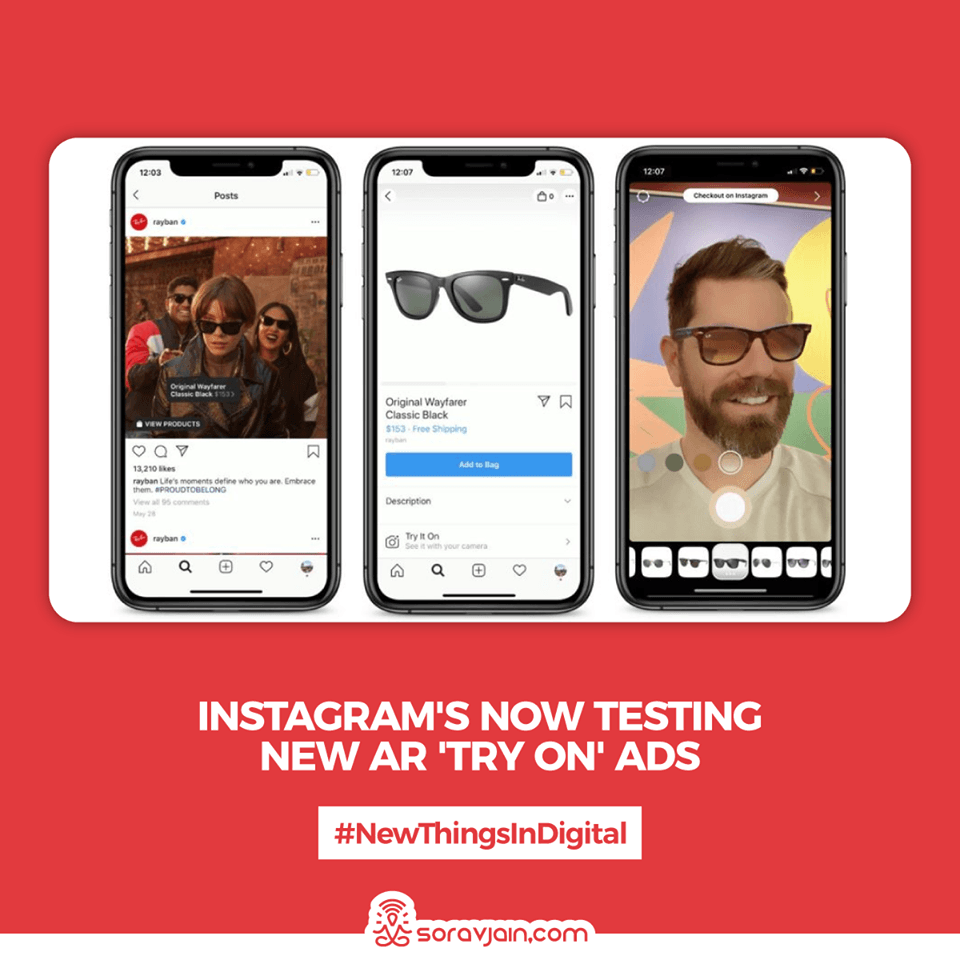 Instagram has now launched a new test of AR 'try on' ads with selected brands, through which users will be able to actively engage with the advertised product virtually and see how it looks.
#2 Google Takes Aim at Pinterest with 'Style Ideas' and Improved Google Shopping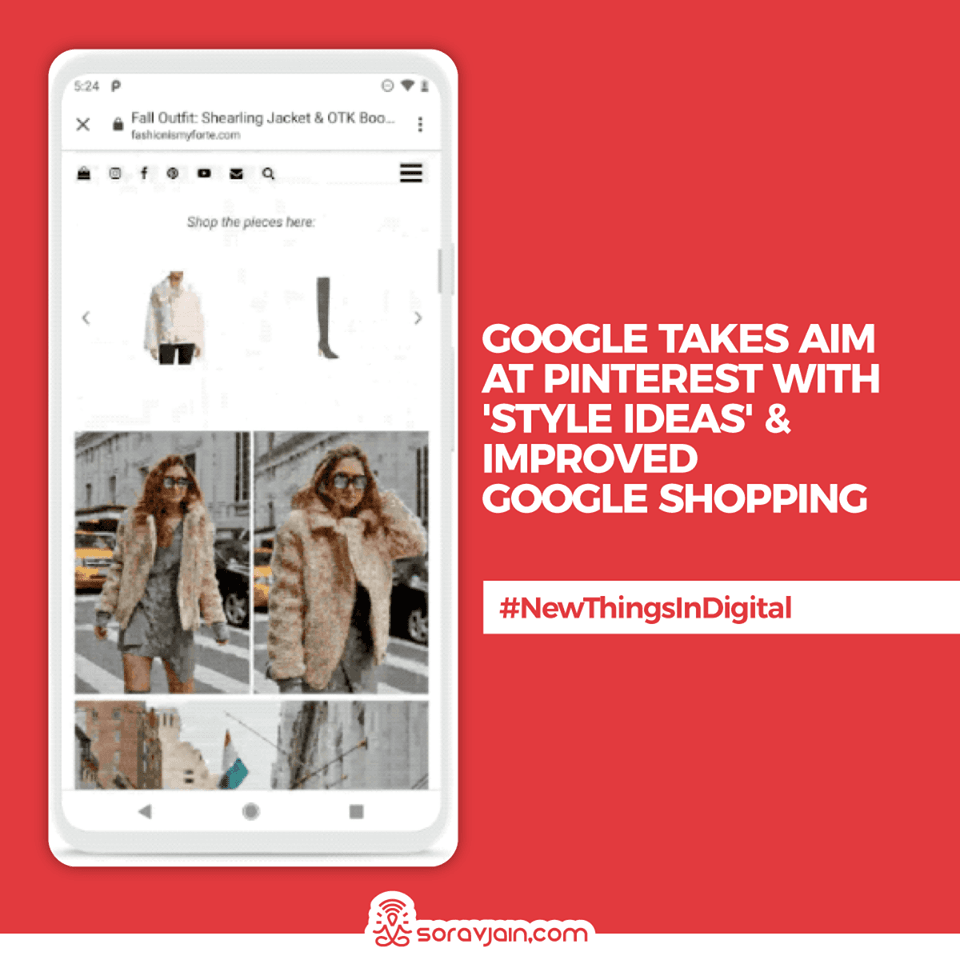 It seems that Google is indeed keeping tabs on Pinterest's growth, as this week, it's launched a new tool which replicates Pinterest's 'Shop the Look' Pins, offering relevant product matches based on an image captured through Google Lens, or via screenshot sample.
#3 Twitter's Testing a New Option to 'Stream' Tweets in Real-Time
Twitter is testing out a new option which would enable users to 'stream tweets', meaning that their timeline would be updated as tweets happen. The new test sees the addition of a 'Stream Tweets' toggle, which, when activated would mean that you will see new Tweets as they are shared when you're at the top of the timeline
#4 Instagram Adds New 'Restrict' Option to Limit the Exposure of Trolls and Cyberbullies
Instagram is rolling out a new option called 'Restrict', which will enable users to limit the exposure of certain users when the comment on their posts. "You can restrict someone by swiping left on a comment, through the Privacy tab in Settings, or directly on the profile of the account you intend to restrict. Once Restrict is enabled, comments on your posts from a person you have restricted will only be visible to that person. You can choose to view their comment by tapping "See Comment
#5 Google Now Lets You Hide Your Location History With The New Incognito Mode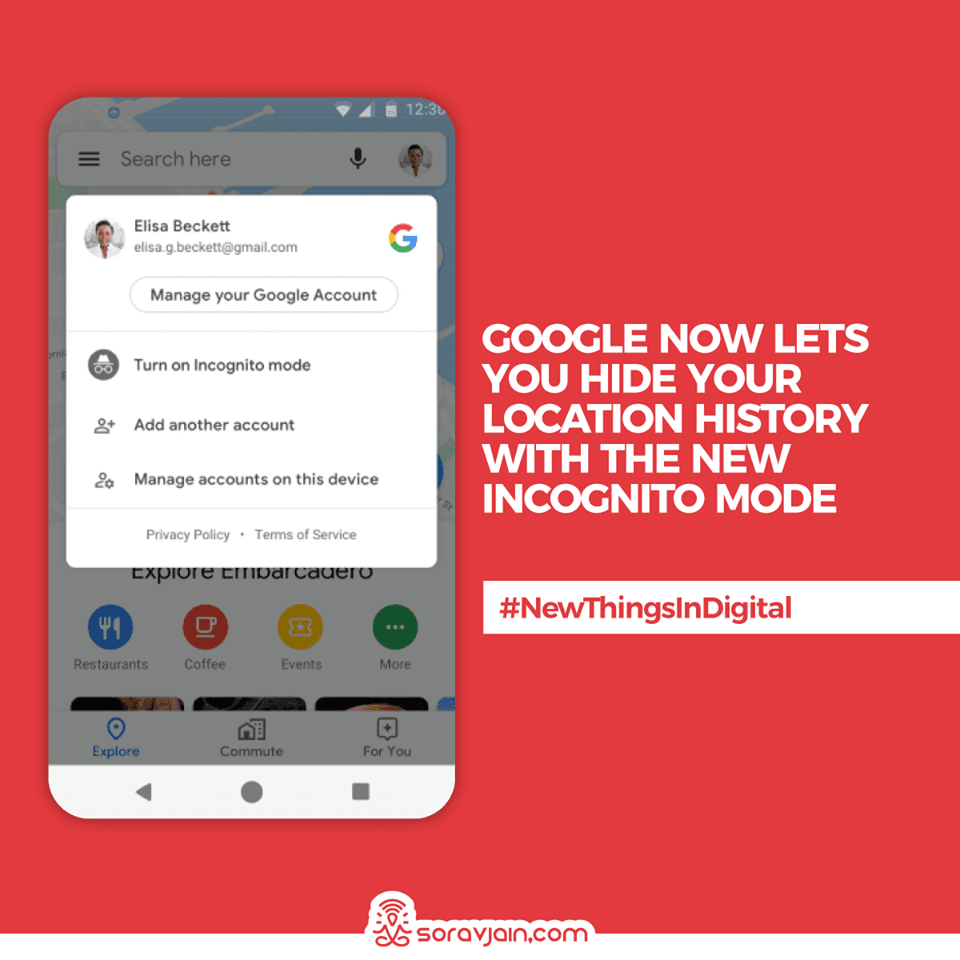 Google has announced a new set of data control and security options to help users better maintain their digital presence, and avoid potential misuse. With that intention, Google's adding a new incognito mode to Google Maps, giving you the option to hide your location history. When you turn on Incognito mode in Maps, your Maps activity on that device, like the places you search for, won't be saved to your Google Account and won't be used to personalize your Maps experience.
#6 Google is Adding a New Option To Set An Auto-Delete Timer on Their YouTube Viewing And Search History
Users will have the option to set their auto-delete time period for 3 months time, 18 months, or manually enacted, giving you control over how long YouTube tracks your activity, and also provides recommendations based on that listing.
#7 Google Search Console adds Change of Address tool to new interface
Google announced on Twitter that they have added the Change of Address tool to the new interface of Google Search Console. The change of address feature was available in the old Search Console but was not migrated when Google shut down the old interface.
#8 Google Ads' Switch to Standard Delivery Starts Oct.7
Google Ads announced that it would be removing the accelerated ad delivery option for Search and Shopping campaigns as well as shared budgets.
#9 Google's New Take on Shopping Goes Live in U.S.
The new Google Shopping offers personalized recommendations. "Buy on Google" is featured prominently as the company responds to Amazon.
#10 Instagram Launches a New Messaging App for Close Friends Called 'Threads'
Instagram has introduced a new way to message with close friends in a dedicated, private space through a new app 'Threads'. This would include a new 'Auto-Status' feature that would help to keep people updated on your movements throughout the day. It has been rolled out to all users on iOS and Android.
#11 YouTube's Testing a New Option to Reserve Ad Space Months in Advance
YouTube is reportedly testing a new option which would enable advertisers to reserve ad space up to 120 days in advance, which could be beneficial for organizations looking to tie into major events. By being able to lock in ad space in advance, advertisers will be able to take a similar approach to traditional TV ad buying, mapping out long-term strategies to secure prime placement, and likely improve their response.
#12 Quora adds 3 new targeting options for advertisers
The new options include a) keyword history targeting to retarget people who've viewed questions with keywords you're targeting within a specific timeframe, b) gender targeting and c) browser targeting
#13 Google showing mobile 'search by photos' option in selected local verticals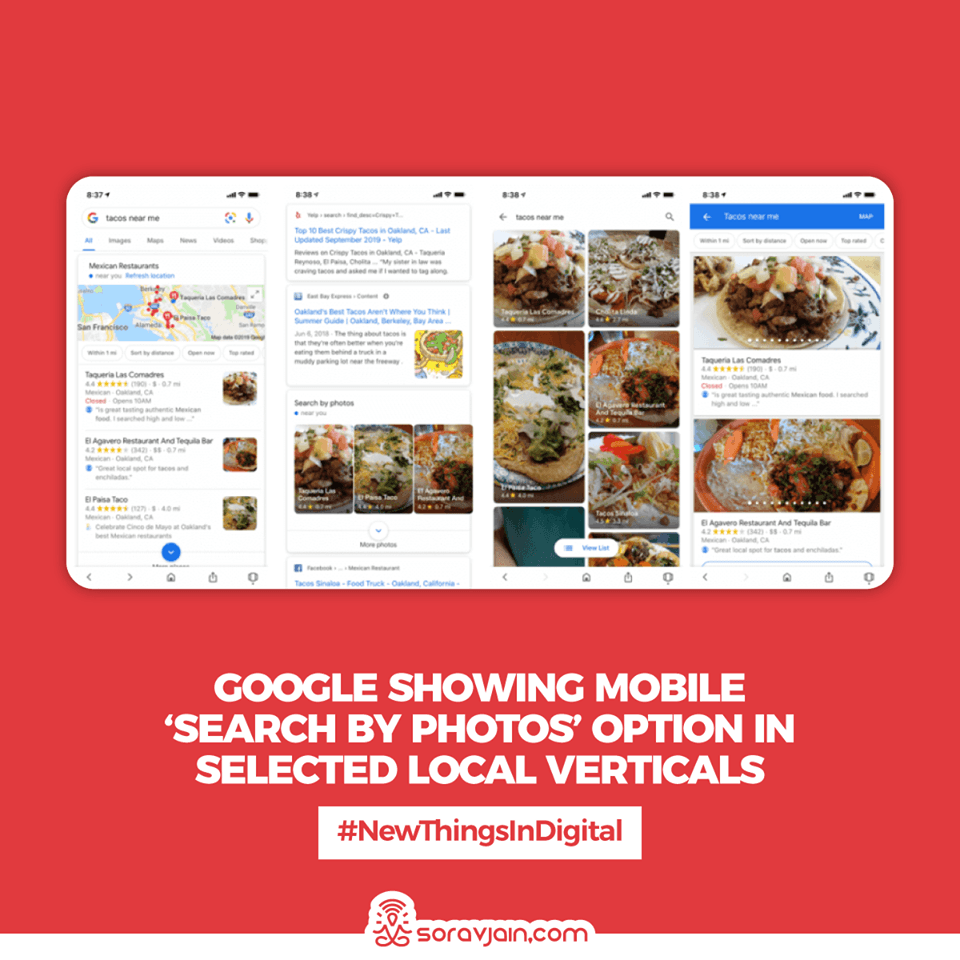 Google is starting to show a new option to "search by photos" box in certain local verticals. It appears only in mobile results right now and is distinct from "interesting finds" and "discover more places," which are also photo-centric boxes in SERPs. This was discovered initially by Mike Blumenthal.
#14 Facebook Tests New Photo Layout Options for Multi-Image Posts
Facebook is now experimenting with a new set of layout options for multi-image updates, which would enable users to choose different presentation styles for their images. The new process would give users a set of four different presentation options for multi-image uploads within a single post. You could choose to highlight certain feature images or give your post a more dynamic style, or even a coloured background, dependent on how you wanted them to look.
#15 Instagram is Looking to Bring Direct Messaging to its Web App
Instagram is looking to bring its Direct messaging functions to its web interface. That would make Instagram's messaging tools more widely accessible, with specific benefits for those in regions where mobile connectivity is not always present, or possible, due to data limits and the like.
#16 Instagram Updates its Stories Camera with New 'Create' Mode to Highlight Creative Options
Instagram is now rolling out a new format for its Stories Camera, which will make the app's various Stories tools – including GIFs, Countdown Stickers and Polls – easier to access and apply, direct from the main function bar.
#17 Instagram Tests a New Event 'Invites' Sticker for Stories
Instagram is reportedly testing out a new Stories sticker option to facilitate event participation, with invites via story. It would enable you to add details of your upcoming event – including title, date and location. Viewers would then be able to RSVP direct from the Sticker, providing another way to generate interest or share exclusive events.
#18 Snapchat Launches 'Dynamic Ads' Which Will Create Ads Based on Uploaded Product Catalogs
Snapchat has launched a new 'Dynamic Ads' option which will essentially create your Snap ads for you based on your uploaded product catalogue. The system will then display your products to relevant audiences as it sees fit. Based on the product images and information you upload, Snap's Dynamic Ads will use in-built templates to create variations of different Snap ads in vertical view format. Advertisers will be able to choose from various templates, which will guide Snap's systems in building the relevant ads.
#19 Facebook Adds Search Results to Automatic Placements
Facebook is now making search ads available to all businesses. It's also adding search ads to its Automatic Placements option. All new ad campaigns using Automatic Placements will automatically include the Facebook Search Results placement. You can also manually select the placement when setting up your campaign. Once you opt-in, ads will be eligible to appear on search result pages which include general search and Marketplace search.
#20 Facebook Expands Search Ads Availability on Groups Tab Feed
Facebook is also exploring ad placement in the Groups tab feed. The question then is whether the new placement options will be effective.
#21 Affinity Audiences Coming to Google Search campaigns
Google announced on Wednesday that it would be rolling out the two new audience targeting options for advertisers over the coming weeks. In-market audience seasonal event segments like Christmas are also rolling out for Search and YouTube campaigns.
#22 Google Ads Debuts 'Conversions by Time' Reporting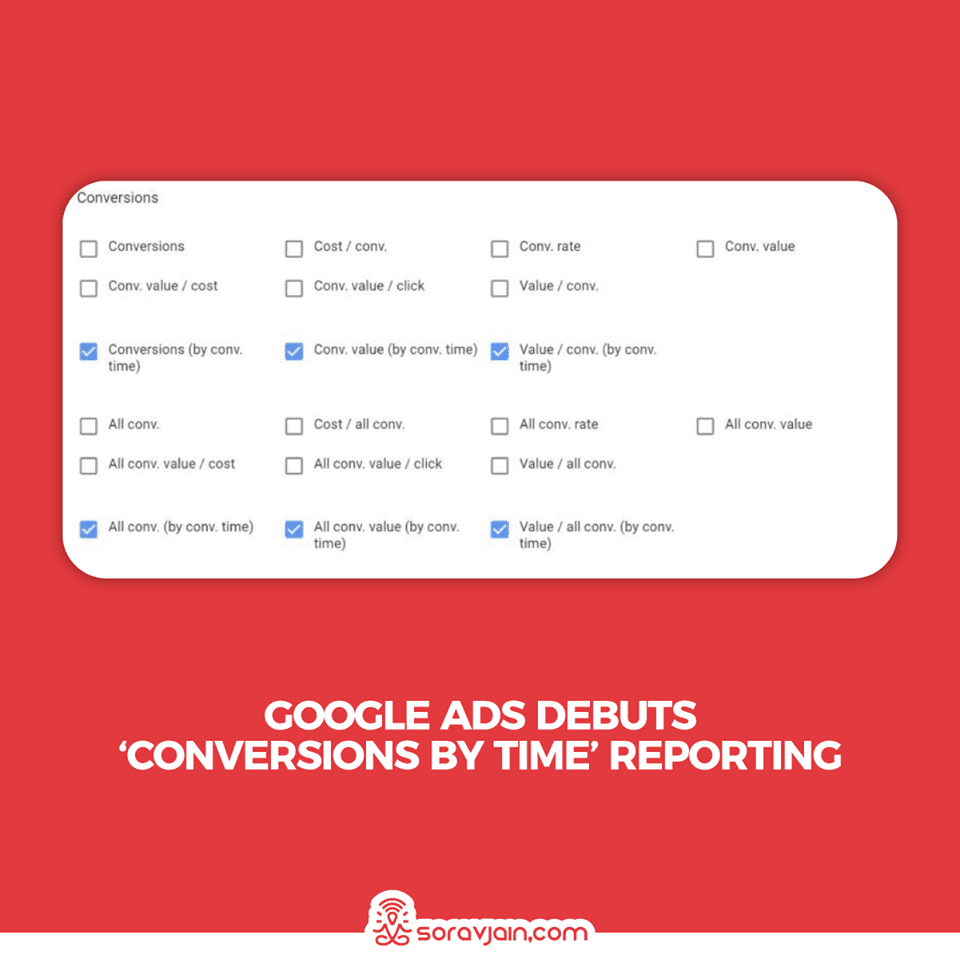 Google has rolled out new conversion reporting columns that capture when a conversion actually occurs. The new columns report conversions on the days they occur instead of by ad click date.
#23 Facebook Tests 'Suggested Time' Feature for Scheduled Posts
Facebook is reportedly testing a new 'Suggested' option within its post scheduling options for Pages which would enable Page admins to reach their audiences when they're most active on the platform to maximize the engagement
#24 LinkedIn Launches Events to Facilitate Professional Meet-Ups
LinkedIn has now officially launched the option, providing the capacity for members to create and organize event pages, and facilitate in-person meet-ups via the professional social network.
#25 Instagram Tests New Following List Categories to Help Manage Your Content Feed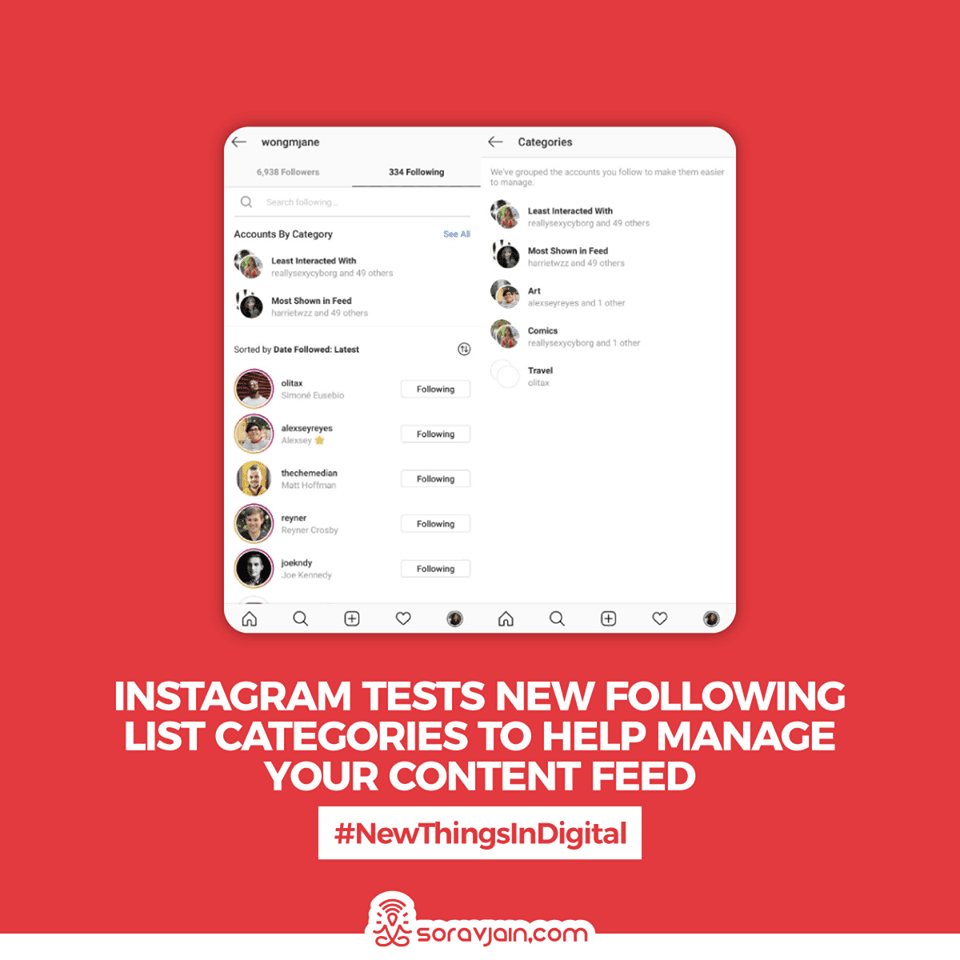 Instagram is testing out a new process which would categorize your 'Following' list into both topic categories and listings based on your engagement with each. This is to help users better manage what content appears in their main feed.
#26 Twitter is Considering a New Checkmark to Highlight Bots on the Platform
One of the common problems raised with Twitter is the prevalence of bot profiles; non-human Twitter handles, which can amplify, manipulate and replicate tweet engagement. Twitter has decided to identify them and mark them with a unique icon.
#27 LinkedIn Rolls Out New Format for its 'Daily Rundown' Professional News Updates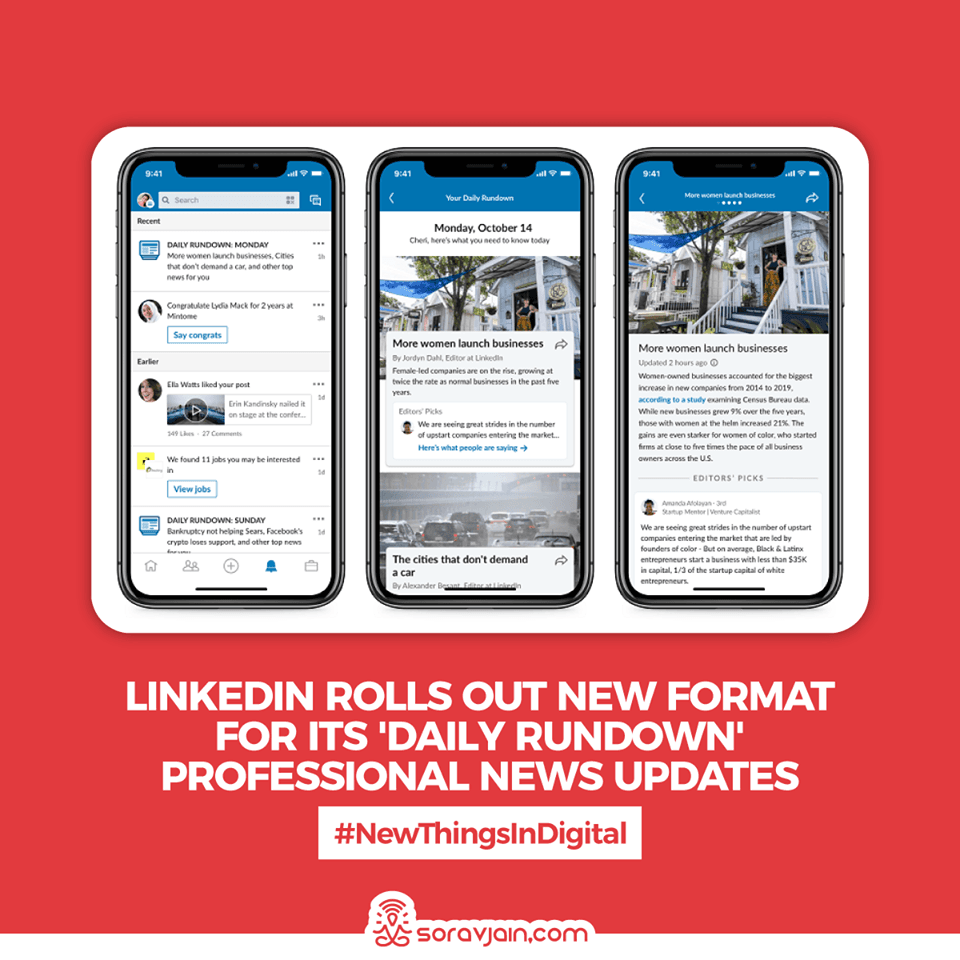 LinkedIn has this week announced that it's making some changes to its Daily Rundown professional news listings, which users can opt-in to, in order to be sent a key business news overview each day. Now, you can more easily move between each story and dive deeper into the ones that interest you the most. Clicking on one of the headlines within the Rundown will show you relevant conversations members are already having. In fact, over a third of the posts we see from our members are related to "info and ideas." By joining one of these conversations, you'll ensure your views are reaching the right people."
#28 Twitter Rolls Out Darker 'Lights Out' Dark Mode on Android
Twitter is now bringing its darker 'Lights Out' dark mode option to Android after criticism that its basic dark mode was still too light. Within your Twitter settings, when you switch on Dark Mode, you'll also see a second toggle for 'Lights Out' as well.
#29 Google's Latest Search Algorithm to Better Understand Natural Language
Google is making the largest change to its search system since the company introduced RankBrain, almost five years ago. The company said this would impact 1 in 10 queries in terms of changing the results that rank for those queries.
#30 As App Campaign Placements Expand, Google Ads Aims to Improve Asset Combinations For App Ads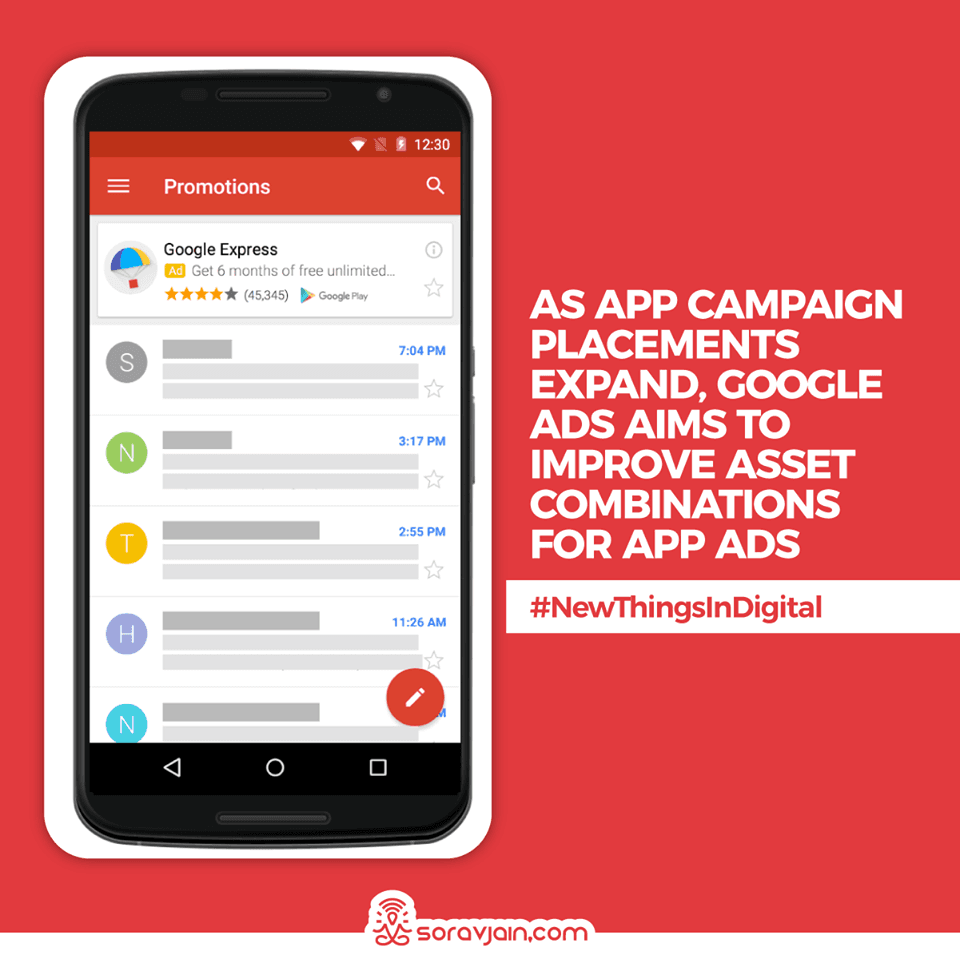 Google announced it would be extending App campaigns to show in the Discover feed and YouTube search results. Now, the company says it is working on updates to the way it treats and reports on creative assets across inventory sources.
#31 Google to Stop Indexing Flash Content
Google announced it would stop indexing and ranking Flash content in its search engine. This means Google will no longer process content within Flash SWF files, either on websites designed fully in Flash or web pages that have portions of the page in Flash.