And it's a wrap. The month, the year, the decade has finally come to an end. As a Digital Marketer, it was tremendous to see so many updates and growth this year. There were a few updates that were already predicted and foreseen; at the same time, there were updates that shook everyone. December was no different. From YouTube enabling Voice Search to Screen Casting, WhatsApp and Instagram adding a new opening screen, to Google's package tracking, & Amazon's new ads policy, December had many new updates. Let's review what December had in store for us.
And it's a wrap. The month, the year, the decade has finally come to an end. As a Digital Marketer, it was tremendous to see so many updates and growth this year. There were a few updates that were already predicted and foreseen; at the same time, there were updates that shook everyone. December was no different. From YouTube enabling Voice Search to Screen Casting, WhatsApp and Instagram adding a new opening screen, to Google's package tracking, & Amazon's new ads policy, December had many new updates. Let's review what December had in store for us.
1. Twitter is Testing Tweet Scheduling Built Into the Tweet Composer
Twitter has officially confirmed that it's testing a new option to schedule Tweets within the Tweet composer window in-app, which would enable you to compose, then schedule your Tweets to post at a chosen time, without ever leaving the composer window.
All you have to do it tap on the three dots menu to the right of the lower functions listing, select 'Schedule Tweet' and you would then be able to input the date and time that you want it to go live.
2. Facebook is Testing a New 'Favorites' Friend Listing for Facebook Stories
Facebook is reportedly testing out a new option that would enable users to share their Facebook and Messenger Stories with smaller, selected groups of friends, as opposed to all of their connections. Tap on the Favorites listing, and you would be able to select users to include on the list.
3. WhatsApp Introduces Self-destructing Message Feature
WhatsApp's 'Delete Message' feature will automatically delete the messages and make it seem like the message never existed. The 'Delete Message' feature will come with a toggle on/off button and users can choose a particular time interval for the messages to disappear automatically. There are five options for time intervals to choose from – one hour, one day, one week, one month and one year. Accordingly, the messages sent to that chat will disappear. For instance, if the user opts for one-hour time interval, the messages sent post-selection will be deleted after an hour.
4. WhatsApp Launches Call Waiting Option For iPhone Users
Earlier, the receivers didn't get a 'Call Waiting' notification and instead, it would notify the user of a 'Missed call' once they disconnected the current call. In this update, users will be able to receive another WhatsApp call while they are already on one call.
5. Google Lets Businesses Add a Custom List of Services to GMB Listings
An update to Google My Business will allow service-based businesses to specify the types of services they offer to customers.
6. YouTube Changes Rolling Out January 2020 May Impact Creator Revenue
YouTube is rolling out policy changes in January which have video creators concerned that their revenue may be adversely affected. The upcoming changes will address concerns raised by the US Federal Trade Commission (FTC) regarding YouTube's compliance under the Children's Online Privacy Protection Act (COPPA).
7. Twitter Introduces New Privacy Center to Better Communicate Platform Rules and Processes
There is always a debate on data privacy, and the use of personal information for targeting. In line with this, Twitter has announced the launch of its new Privacy Center, which will provide more clarity around how Twitter will protect the information people share on the platform. It is the central place that hosts everything that's a part of the privacy and data protection work: related initiatives, announcements, new privacy products, and communication about security incidents. It should be easier to find and learn more about the work they are doing to keep the data secure.
8. Facebook Launches Custom Ad Metrics For Better Targeting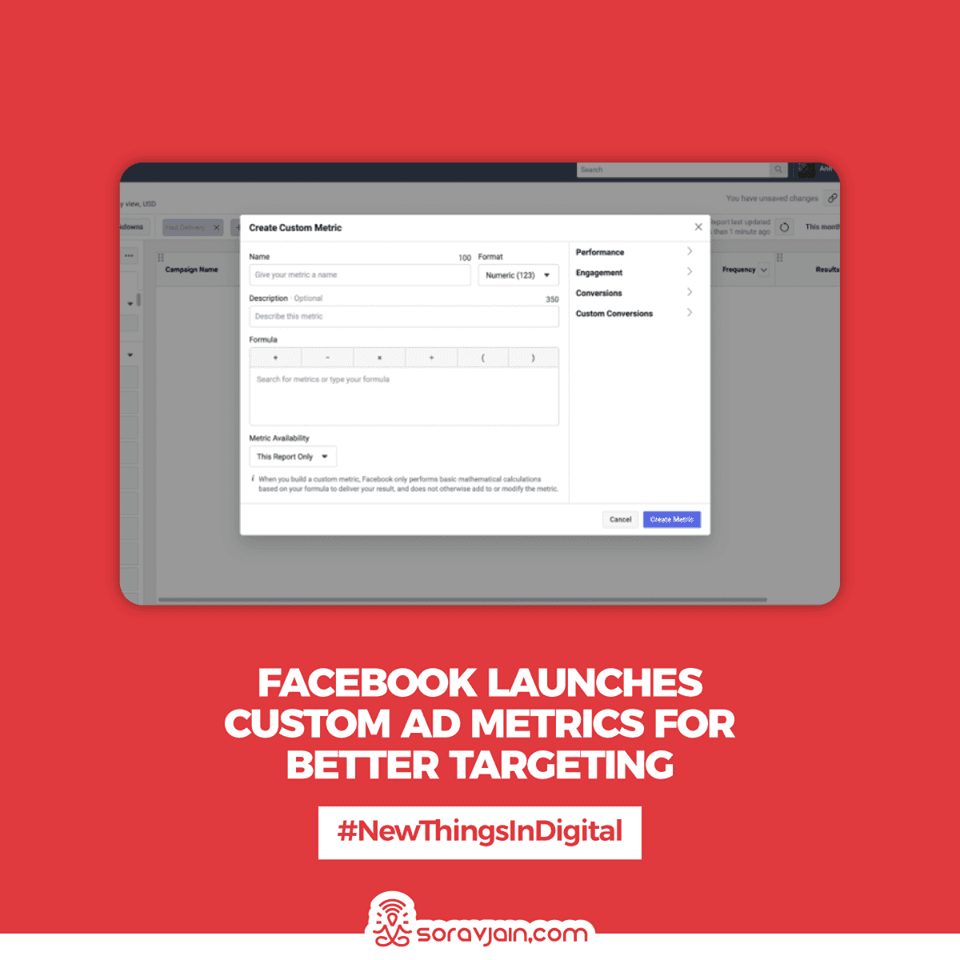 Facebook is also rolling out a new custom metrics option, which will enable advertisers to build metric formulas most relevant to their goals and then save them for ongoing tracking.
9. Facebook Introduces Cross-Account Reporting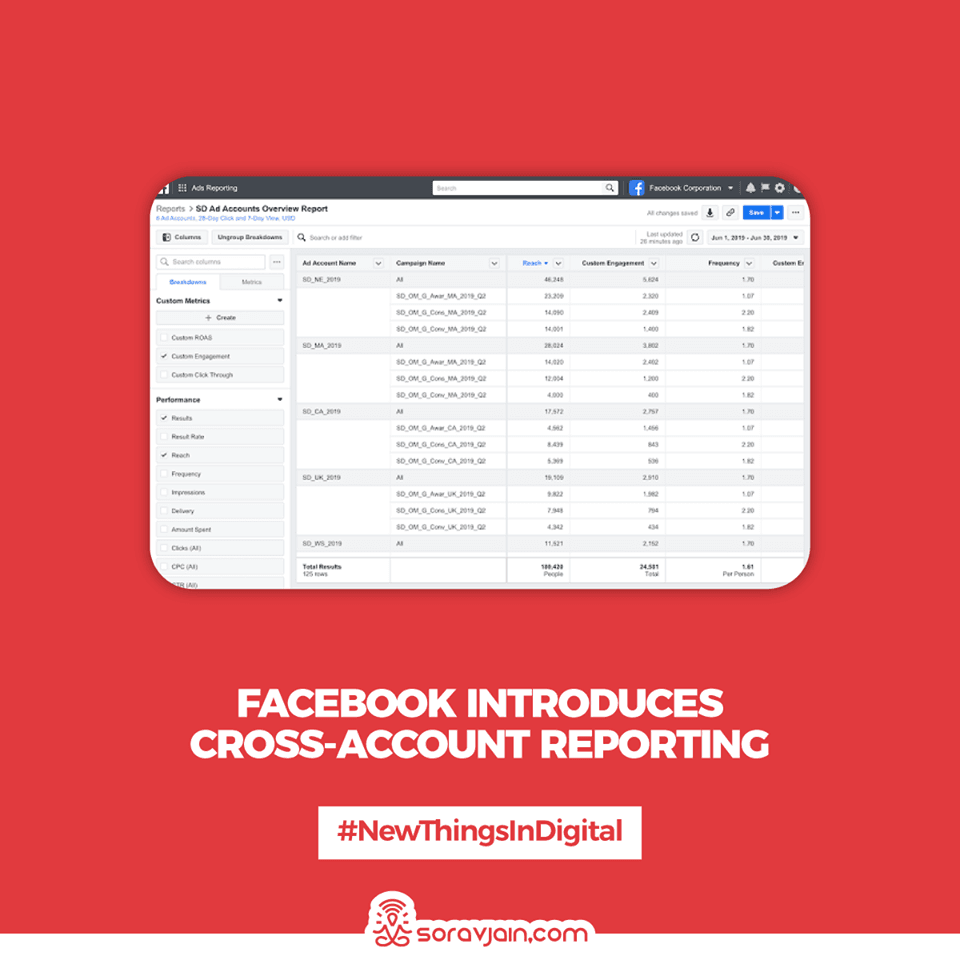 With the new cross-account reporting, when you're managing multiple Facebook ad accounts, you'll be able to get a clearer, overall view of ad performance, all within the Ad Manager dashboard, as opposed to having to extract the data for each account yourself.
10. Instagram Adds New Options to Restrict Messaging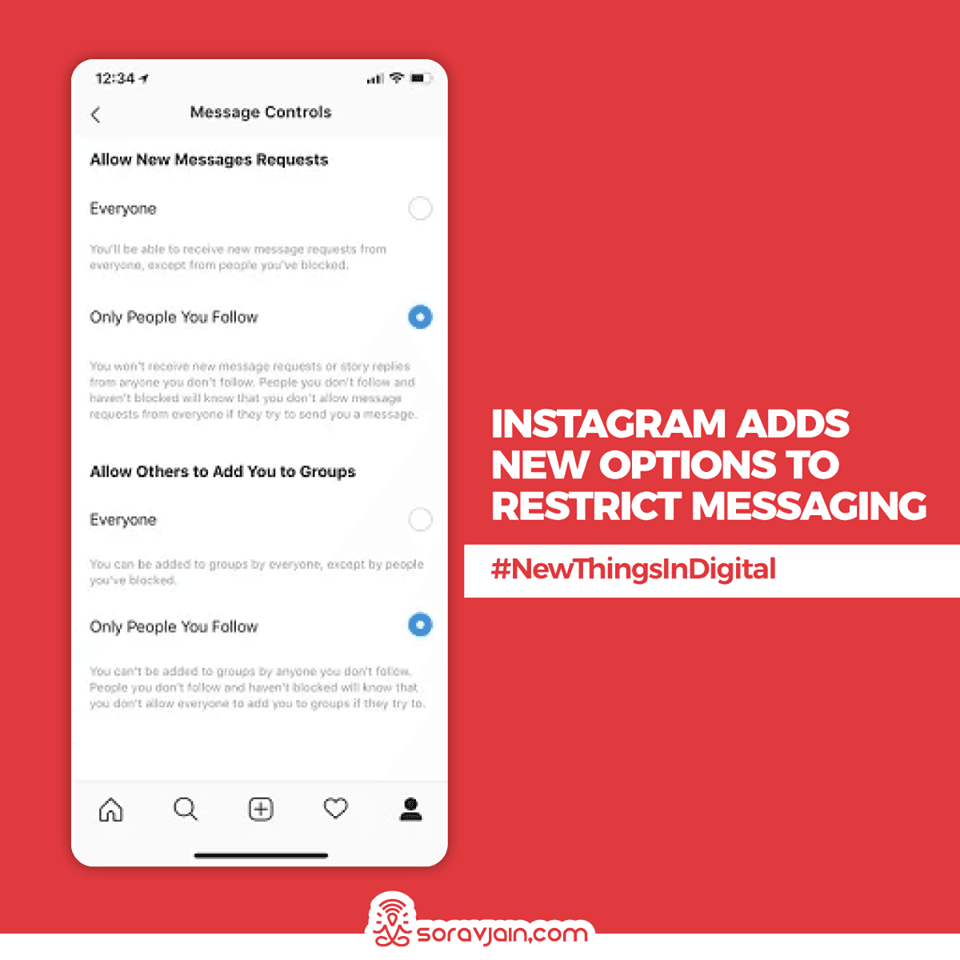 Instagram is also implementing new controls for messaging, which will enable users to choose who is able to message them. The new messaging option gives you the ability to allow only people you follow to message and add you to group threads. People who enable this setting will no longer receive messages, group message requests or story replies from anyone they have not chosen to follow.
11. Google Tests Package Tracking Directly In Search With Opt-In
Google is testing an early adopter program to let shipping companies like UPS, FedEx, DHL, USPS and others integrate their tracking data with the search company. This would allow Google to show the status of the package directly in search, as opposed to just showing a link to go to the shipper's website to check the status.
12. Google My Business Reviews Select Rated Highly For Tags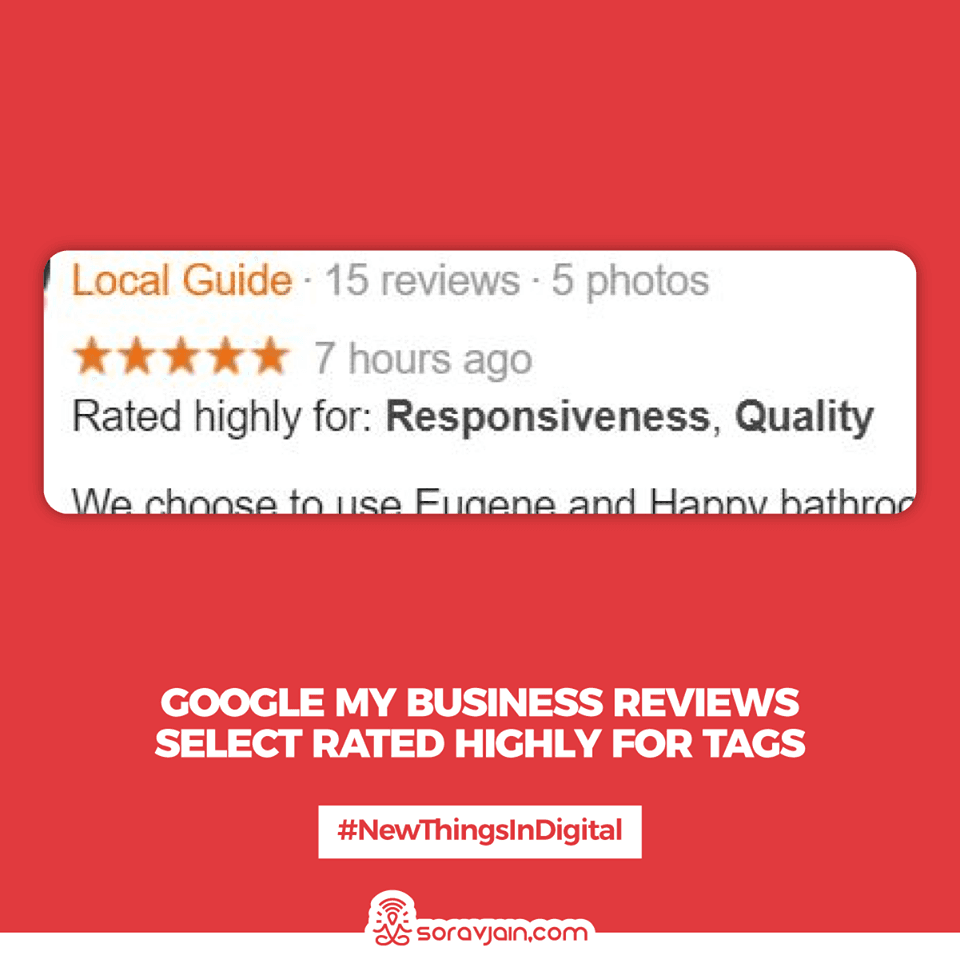 Google is now letting local guides and maybe other Google users select a tag to describe why one likes the business one is reviewing, and not just leave a star rating, review and photos.  The descriptive tag can help Google sort information in a more structured fashion.
13. Google Keyword Planner Now Lets You Share Keyword Plans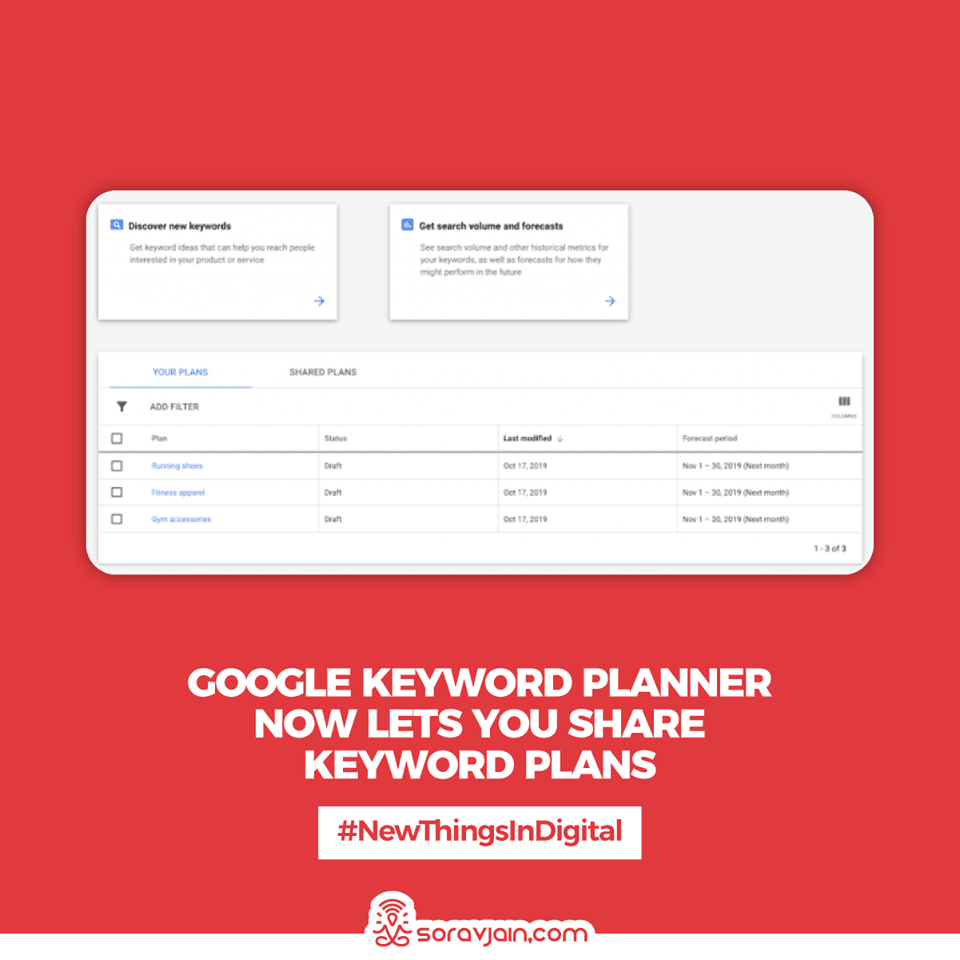 Google Ads announced that you can now create and share keyword plans in the Google Keyword Planner tool. Google said "you can now create, save, and share plans from directly within Keyword Planner.
14. Google Search Console Updates Messaging Interface
Google announced a new method for viewing messages in Google Search Console.
You can now access these messages in the bell icon at the top right, it will have a red indicator when there are new messages for you to view. You can even view the messages by category.
Google said the "main difference from the old interface is that now you'll have access to your messages throughout the product, no need to leave your reports." You can also mark all or some as read, so if you get a boatload of messages and want to mark them all as read, you can quickly do that.
Plus, Google is now categorizing these messages into several types of categories including Coverage, Enhancement types, Performance, and others.
15. WordPress Announces Gutenberg 7.1
WordPress Gutenberg 7.1 has been updated with a large number of improvements. While there is a small performance slowdown introduced in this version of Gutenberg, the scope of improvements may override those concerns.
16. Twitter Lets iOS Users Post Live Photos as GIFs
Twitter is rolling out a new feature to its iOS app, which lets users easily upload their live photos as GIFs. This feature is exclusive to iOS because live photos are an Apple innovation. A "live" photo captures 1.5 seconds before and after the user taps the shutter button. That means it would turn into a 3-second GIF on Twitter.
17. Instagram Begins Rolling Out Collaborative Group Stories Option
Instagram is rolling out yet another Stories tool, with some users now seeing a new 'Group Stories' option which enables users and their friends to collaborate on a private Story. The new option is aligned with Instagram group chats, providing another way to engage and interact with group members.
18. Instagram is Working on a New 'Poses' Mode for Stories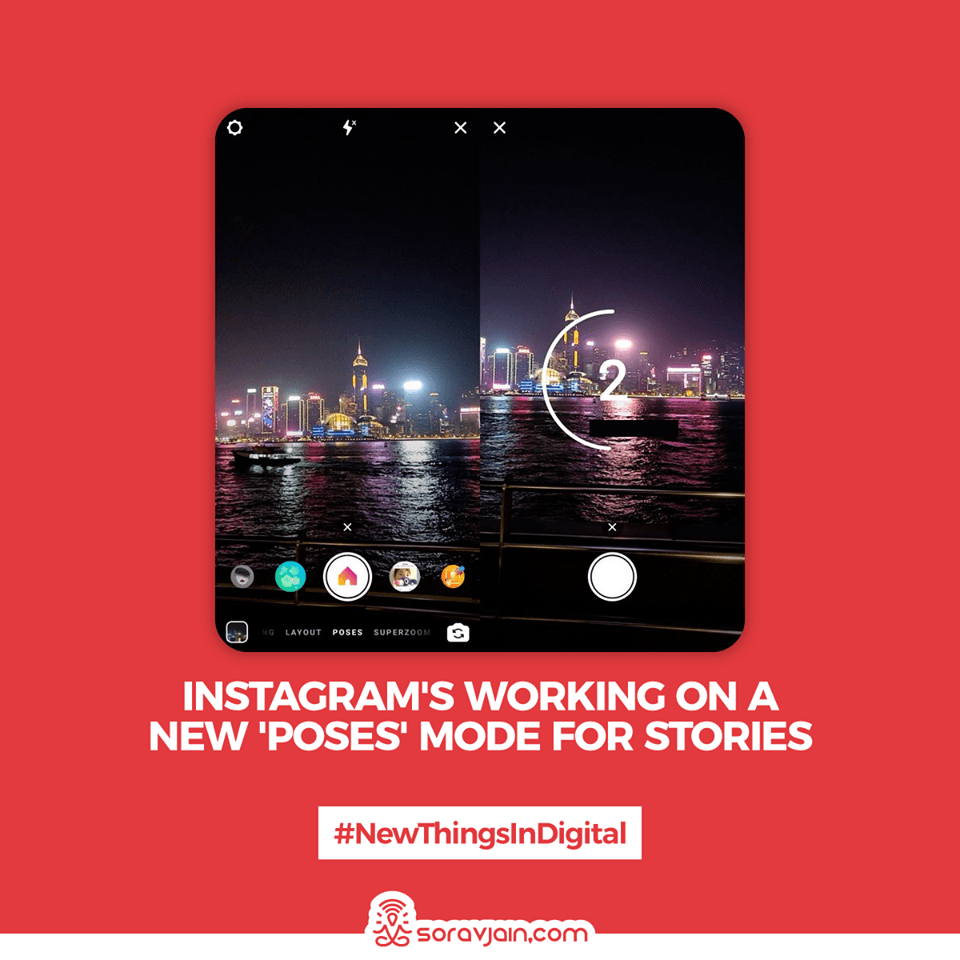 Instagram is reportedly developing yet another Stories camera option, this time in the form of 'Poses' which would create stop-motion style clips out of multiple images.
Poses would create quick reels of different images, which could be another way to create more interesting and engaging Stories content.
It could be a good option, for example, for showcasing product shots, with different angles in quick succession.
19. Instagram Now Testing New Layout Options for Instagram Stories Frames
Instagram has now begun testing of a new 'Layout' option on Instagram, which enables users to present images differently in Stories. The new option lets you add a selection of images to form a collage and post it as a story.
20. Instagram Has a New 'Shoutouts' Feature for Stories
The feature comes in four options, including standard wishes like – Happy Birthday and Happy Anniversary. You will be able to customize the colors of the backdrop, and you can put old Instagram stories or posts with the person to whom you are giving the shoutout. The option of adding a users' Instagram handle into the text field, which then provides a listing of images that the two of you have shared, from which you can choose one to feature in your update – quite similar to Facebook's 'memories' feature.
21. Snapchat Tests New Image Recognition – Triggered Ads With Popular Brand Logos
Snapchat is now moving forward with its new 'Snapchat Scan' ad option, which will enable users to 'scan' a brand logo in order to unlock a unique, branded AR experience.
22. Instagram Provides New Age Restriction Options for Business and Creator Accounts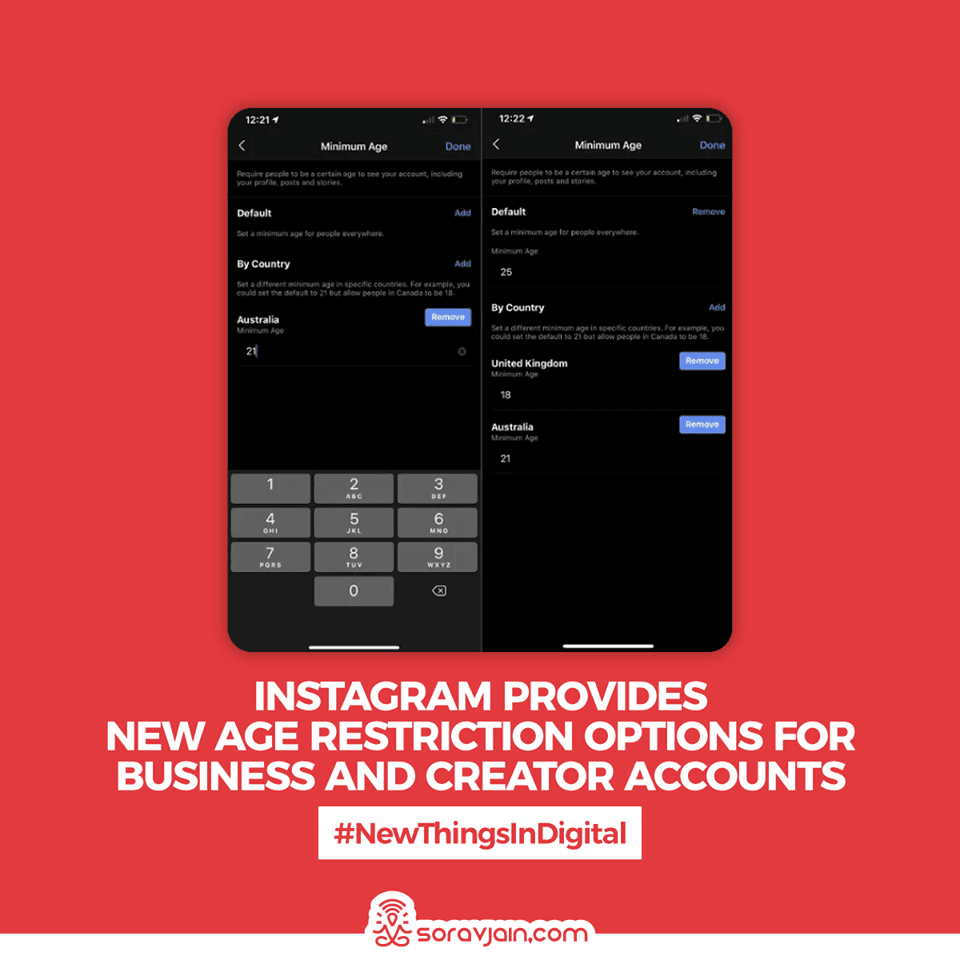 Instagram is now also rolling out an option which will enable brand and creator accounts to set age restrictions for followers of their profiles.
 23. Facebook Expands Brand Collabs Manager To Include Instagram Creators
Facebook is opening up Brand Collabs Manager to Instagram creators as well, which will make it a more comprehensive creator marketplace tool and could, potentially, establish the building blocks for the definitive Instagram influencer database.
24. Twitter Adds New Preview Cards When Sharing Twitter List URLs
Twitter has added a new, list-specific card format when sharing Twitter lists. At present, you can't customize the included image – you get whatever Twitter's system auto-generates when you share your list – though Twitter is also considering new options that could further enhance these links.
 25. Linkedin Adds New Features For Groups To Help Boost Engagement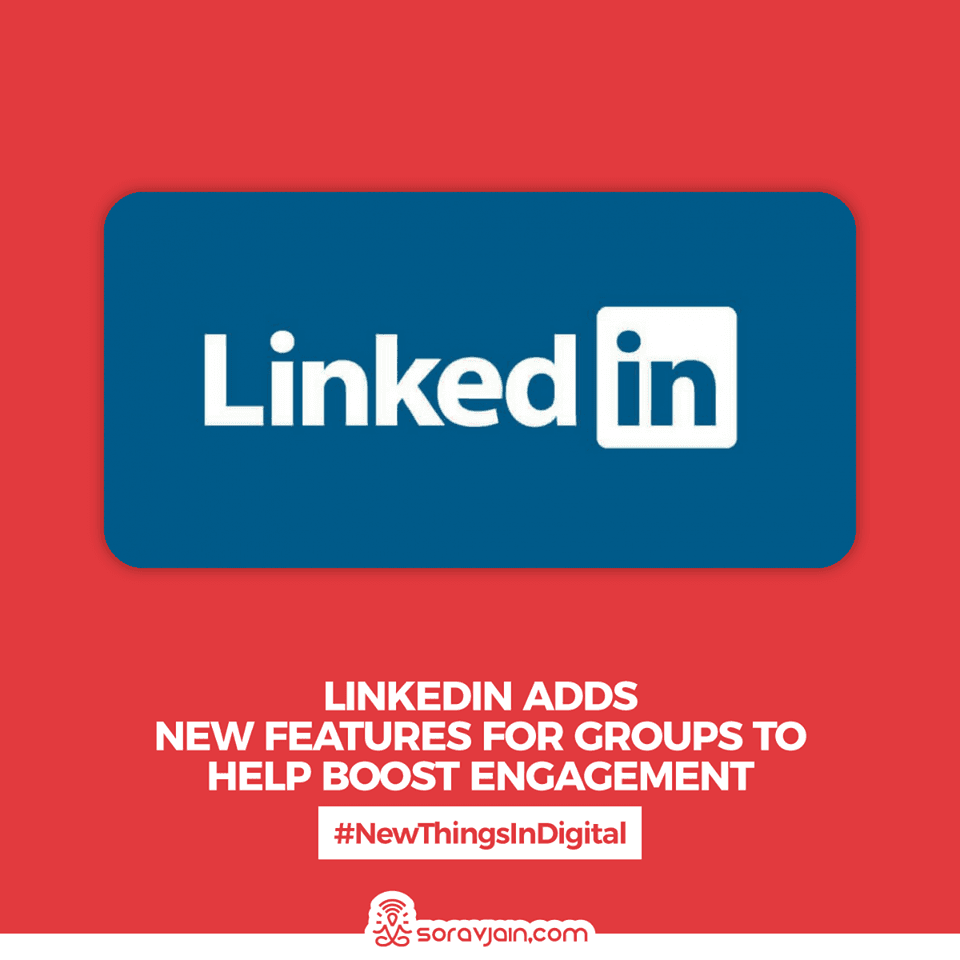 LinkedIn groups gradually lost user focus as they became increasingly bogged down with random spam and self-promotion, to the point where, for most, they just weren't usable anymore. LinkedIn has now announced a new set of group updates and tools designed to help drive more engagement and interaction.
Here's are the new announcements:
-Moderate New Posts
-New Invitation Setting
-Filter Members
-Delete All Posts
-Block Member from Comment
-Search for Content
-Share Groups
-Admin Recommendations
-Refined Notifications
26. Google Tests Features Snippets With "See What Other Say"

Google shows the main featured snippet but below it has a section with "see what others say" and then lets you click on an accordion interface to expand those other sources.
 27. Google Adds Checkmarks In Boxes For Search Console Reports
This is a small but useful change Google made in Google Search Console. So the Report Overview Pages for the performance reports, the coverage report, etc. now have small checkboxes in the boxes, so you know when a specific category is selected.
28. Facebook Messenger requires a Facebook account to sign up now
Facebook has announced that it's requiring new people who sign up for its Messenger communications app to tie it to their Facebook account, effectively forcing them to reveal their identities and tie their communications to their social networking profile.
29. Google Ads to End Customer Support Via Social Jan 1, 2020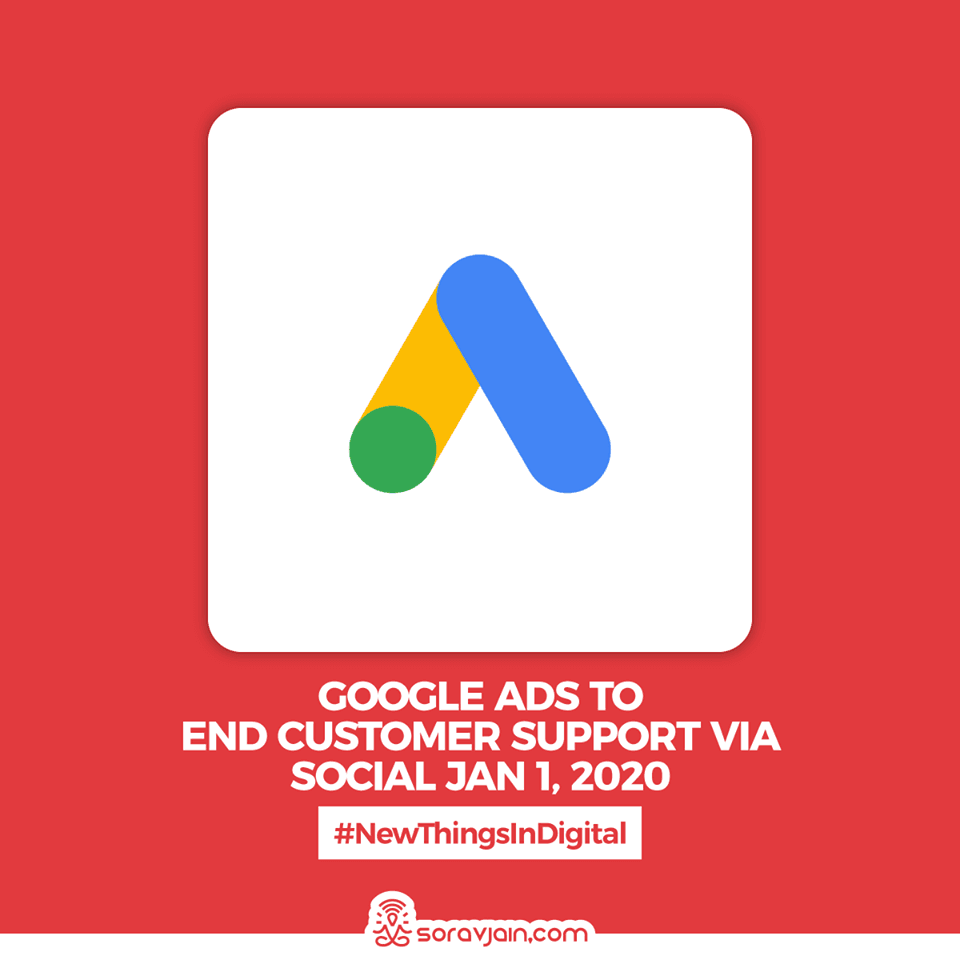 Google Ads announced it is shifting customer support requests to an online form and will no longer supporting customer service through Facebook and Twitter. Google said that, as of January 1, 2020, direct messaging on the Google Ads' Facebook and Twitter accounts will be deactivated, and users will see a pinned post directing them to the online support form.
30. Amazon Makes it Easier For Agencies to Advertise on Their Clients' Behalf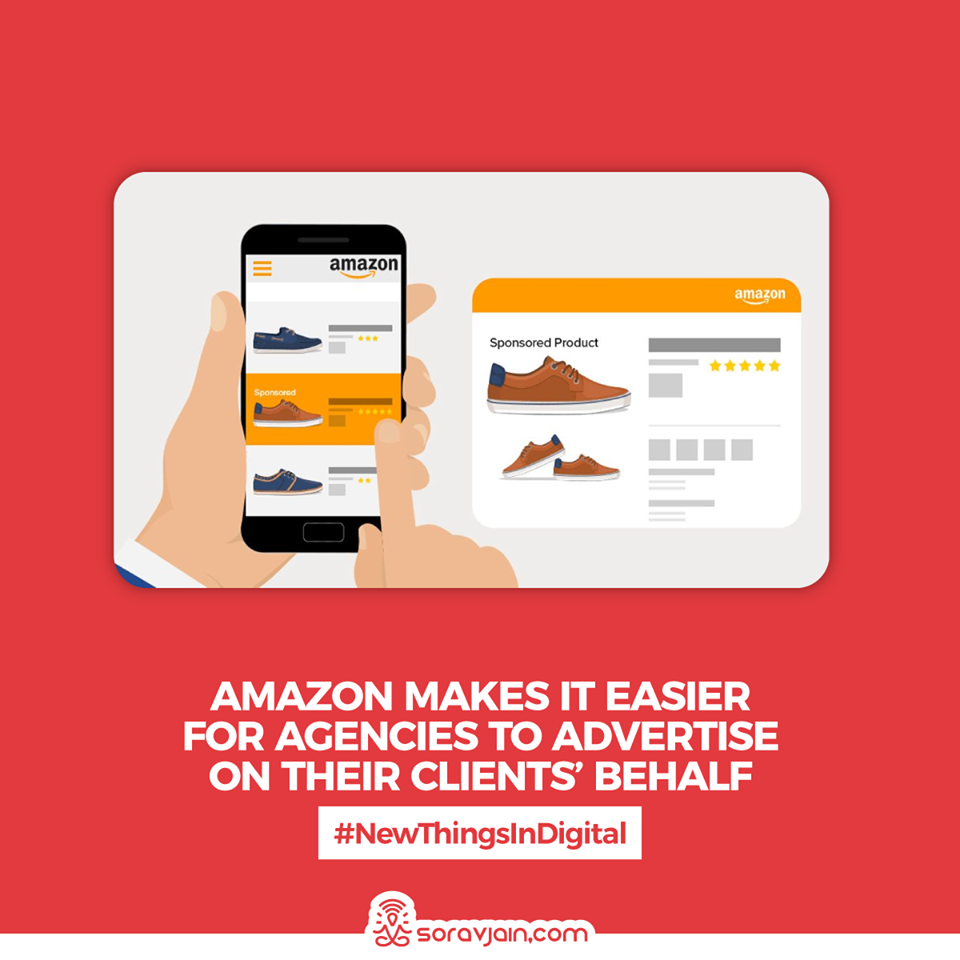 Amazon has changed the registration process for agencies and marketers running sponsored ads campaigns for Amazon vendors. No codes required to register for vendor advertising.
31. YouTube Adds Voice Search Support to Screen Casting
Google now lets you search videos on YouTube with voice commands when you're casting the app on a bigger screen. The latest feature is available for both Android and iOS platforms.
32. YouTube Is Testing 'Featured in This Video' Update To Showcase The Collaborators
The new feature is aimed at making collaborations more intuitive for creators. Instead of creators themselves having to push the details of the creator they've collaborated with, YouTube will now automatically a "featured in this video grid" where viewers will be able to find and subscribe channels they've seen in a video. Right now, this is being tested only on android.